Army rescue child NPA courier in Samar
By 2Lt. JELYNNE UNABIA, 34th IB
June 10, 2009
SAN JORGE, Samar – The Presidential Decree 603 (Child and Youth Welfare Code); Republic Act 7610 (providing for special protection of children against child abuse, exploitation and discrimination) and the Anti-Violence against Women and Their Children Act (RA 9262) which defines violence against women and their children, providing for protective measures for victims and penalties for the perpetrators of the violence. But these laws are constantly violated by the New Peoples Army in Samar.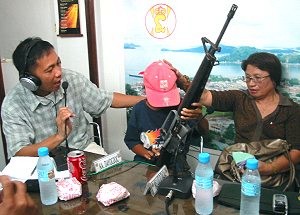 Rescued NPA child courier alias Dayocdoc demonstrates his skill in handling an M16 armalite rifle during a press conference in a radio program over DYMS-Catbalogan on Tuesday, June 9.
On 06 June 2009, the 34th Infantry (Reliable) Battalion had negotiated and talked to Hon. Leonardo S. Berbes, Ex-Brgy Chairman of Brgy. Hinayagan, Gandara, for the surrender of a child courier of the CPP/NPA by the name of Joel Silverstre alias Dayocdoc, a 12 years old and a native of Brgy. Montalban, Matuginao, Samar.
According to Hon. Leonaldo S. Berbes, this child had been used by the NPA as their courier for almost a year. He is in charged of the collection of Revolutionary Taxes of the populace, a look-out for government troops operating in the area and as an errand boy to buy foods and supplies for the members of the NPA and was also taught how to fire a gun.
Joel Silverstre is an orphan and had stop schooling. His mother died years ago and his father had left them without support and worked in Manila. His likes for gun and adventurism were used by the NPA and recruited him as their courier at the age of 11 years old. According to him, he was promised by the NPA that he will be given a firearm once he is also capable of handling one, for the meantime he will first serve as a courier.
LtCol. Dionisio C. Miguel, commanding officer of the 34IB, had given orders for the immediate turn over of the child to the Department of Social Welfare and Development (DSWD) to undergo consultation and that this unit is committed to uphold the standard and policies for the welfare and protection of children in our Area of Operation. This unit also condemns the CPP/NPA of using children as their courier and combatants.