Pacquiao now calls Roach 'My boxing master'
By ALEX P. VIDAL / PNS
November 13, 2009
LAS VEGAS, Nevada – Manny Pacquiao flashed a smile most of the time during the final press conference of the "Pacquiao vs Cotto: Firepower" at the Hollywood Theater in MGM Grand, here, November 11 , as he announced a change in the way he addresses his adopted father and coach, Freddie Roach.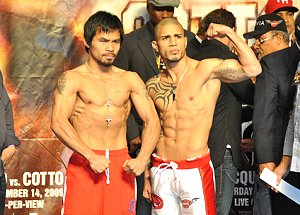 WBC Junior Welterweight Champion Manny Pacquiao and WBO Welterweight Champion Miguel Angel Cotto shows off their form to the crowd gathered at the MGM Grand Arena in Las Vegas, Nevada, USA, during their official weigh in where Pacquiao weighed 144 lbs and Cotto weighing 145 lbs. (CHRIS FERNANDEZ / PNS)
"He is now my boxing master," Pacquiao, 30, declared. "I used to call him coach Freddie, but now I am calling him my boxing master."
Pacquiao acknowledged the support of his training staff that included conditioning adviser Alex Ariza and friend Buboy Fernandez for his preparations to snatch Miguel Angel Cotto's WBO welterweight bauble and the chance to pocket seven world boxing titles in different divisions.
After arriving by land from a five-hour trip from Hollywood to Las Vegas on November 9, Pacquiao, who is expected to relinquish his International Boxing Organization (IBO) light welterweight crown for a chance to dethrone Cotto, continued to engage in light workouts at the IBA Gym in Tropicana where he was followed by a horde of fans carrying all sorts of souvenir items for his signature.
Pacquiao was the last to leave the Hollywood Theater en route to IBA Gym after the media forum where he was swarmed by mostly Hispanic-speaking journalists from Puerto Rico and Mexico.
When asked why Time magazine, which featured him in its most recent issue, considered him more than just a world champion, he quipped, "it is my great pleasure to help my countrymen who are in need."
He was referring to victims of super typhoons in the Philippines that killed hundreds of fellow Filipinos and rendered thousands of them homeless. Pacquiao, who was training in Baguio City when the typhoon slammed, donated goods to the victims and personally led a special team to distribute them.
His gesture generated a big publicity and was monitored by international media.
"I wish to remain humble and I only want to provide happiness and entertainment to my countrymen and my family," Pacquiao explained.
Before going to bed at 8 o'clock in the evening, Pacquiao gathers a selected group of family members and friends for a prayer inside his posh hotel room on the 60th floor of The Hotel, Mandalay Bay's adjacent building.
On Saturday, history will be made in boxing, Paquiao vowed.