Gibo to grace 108th Balangiga Encounter Commemoration Day
By MARIA KONICA CATAPANG
September 26, 2009
BALANGIGA, Eastern Samar – To give an air of military significance to one of the bravest acts of Filipinos during World War II, Secretary of National Defense Gilbert "Gibo" Teodoro will lead the 108th commemoration of the Balangiga Encounter Day on September 28, an annual event that seeks to honor the memory of the Eastern Samareños who fought against the Americans in what was dubbed US' "worst single defeat" in history.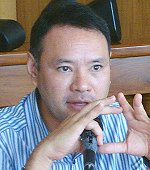 This year's guest of honor and speaker, the LAKAS-KAMPI-CMD presidentiable is also set to lead the wreath-laying ceremony before the statue of Capt. Valeriano Abanador, who led the town's people during a surprise attack against the soldiers of Company C, 9th US Infantry Regiment. To join Secretary Teodoro during the festivities are Eastern Samar Governor Ben P. Evardone and Mayor Viscuso de Lira of Balangiga.
"We are indeed very happy and honored to have Secretary Teodoro with us as we mark another year of Balangiga Encounter anniversary. Many Balangiganons idolize him, that's why I'm sure his presence would make a lasting impression in our town."
Aside from Sec. Teodoros's awaited message, another highlight of the commemorative celebration is a dance-drama presentation by the Balangiga Lingganay Performing Group, a famous performing arts group composed of talented young Estehanons. Their presentation will depict the historic and victorious fight for freedom of the Balangiganons.
It was the dawn of September 28, 1901 when hundreds of native fighters some dressed as women, wielding bolos staged a successful surprise attack that killed more than 40 American soldiers. However, a brutal counter-offensive was quickly launched by the American forces, killing thousands of Balangiga residents, and leaving this town in ruins.
Upon leaving, the American forces also took with them the town's historic church bells which the town fighters' used to signal the surprise attack against the American soldiers.
To this day the U.S. Army continues to refuse the Philippine government's numerous and continuous efforts to bring the three bells back to the country.
Presently, the two bigger bells are displayed at the Trophy Park at the F.E. Warren Air Force Base in Cheyenne, Wyoming; while the smallest bell is on permanent display at the Traveling Museum of the 9th US Infantry, now stationed in Korea.