803rd Brigade joins the funeral march for the brave Catarman 8, thousands of Catarmanons cries for justice
Press Release
By 803rd Infantry Brigade, 8ID PA
September 5, 2010
CATARMAN, Northern Samar Ė The remains of the seven Philippine National Police who were brutally killed by the New Peopleís Army in an ambush last August 21, 2010 were brought to their final resting place on Thursday (September 2, 2010) at Don Paco Cemetery, Catarman, Northern Samar.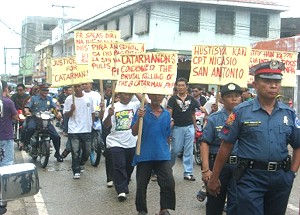 The 803rd Brigade joined the thousands of friends, relatives and families that gathered in the Immaculate Conception Cathedral in Catarman to show respect to the PNP officers who sacrificed their lives in the performance of their duties. The Funeral Mass was officiated by no less than the Bishop of the Diocese of Catarman, His Excellency Bishop Emmanuel D. Trance. In His homily, Bishop Trance manifested strong condemnation of the gruesome murders of the brave eight peacekeeping officers and exhorted the people to pray for peace.
During the procession, hundreds of supporters of the victims carried placards and streamers condemning the barbaric acts of the CPP/NPA. The funeral procession went around the town before proceeding to the Municipal Public Cemetery.
Meanwhile, the families and relatives of the victims cried for justice. The Armed Forces of the Philippines, the Philippine National Police and other local enforcement units assured the families of their efforts to bring the perpetrators to answer for this dastardly act.
Colonel Lopez, 803rd Brigade Commander, expressed that the brigade will continue its offensive against the local terrorist in order to hasten their defeat, thus paving way for peace and development in Northern Samar.