Samar I DPWH initiates media conference for transparency efforts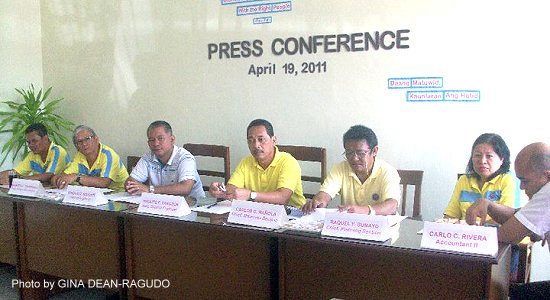 By EMY C. BONIFACIO, Samar News.com
April 25, 2011
CATBALOGAN CITY – The DPWH-Samar First Engineering District Office has joined the national government's call is pursuing its transparency and accountability efforts by calling on the local media to a half-day conference held on April 19, 2011 at its new office at Brgy. San Policarpo, Calbayog City.
The DPWH panel was led by District Engineer, Engr. Virgilio C. Eduarte; Engr. Dennis C. Cagomoc, Chief, Maintenance Section; Engr. Mansueto U. Ponferrada, Chief, Construction Section; Engr. Raulito F. Yangzon, Assistant District Engineer; Raquel Y. Sumayo, Chief, Planning Section and Carlo C. Rivera, Accountant II.
The media forum, which was learned to be the first that was conducted by the DPWH, was arranged by Marionette Y. Gomez, Administrative Officer of the same agency.
On the press kits which were distributed to the local media, a report on the status of CY 2010 Carry-Over Projects and Regular Infrastructure Projects as of April 19, 2011 was contained.
It was learned that DPWH-Samar First Engineering District Office has already implemented the 20 Million Infrastructure Development Projects under the congressional allocation which were identified by the district office with the concurrence of Hon. Mel Senen Sarmiento, First District Representative of Samar.
The identified projects for 2010 consist of rehabilitation of roads, construction of concrete pavement and Multi-Purpose buildings in various municipalities of Samar.
These include the ongoing construction of a hanging bridge at Brgy. Buenavista-Brgy. Matalud, San Jorge Samar; construction of a multi-purpose concrete pavement at Brgy. Malobago, Almagro, Samar; rehabilitation of Gandara-Matuguinao Road Section; rehabilitation of Brgy. San Agustin-Pagsanghan Road, Gandara Samar; contruction of five (5) multi-purpose buildings in Calbayog and Sta. Margarita and the construction of the Rueda Extension Road in Calbayog which is a priority project of Cong. Sarmiento.
DE Eduarte disclosed that these 2010 projects are bid out late due to the delayed receipt of SARO.
According to DE Eduarte, they have accepted the challenge of taking the lead in building and expanding the network of roads and bridges based on a program thrust of the department for one (1) city and nine (9) municipalities within their area of responsibility.
He appreciated Sarmiento's holistic approach in infrastructure development which coincides with the department's plan to interconnect Gandara and Matuguinao to other municipalities in Northern Samar.
This road network is also being seen as a solution to the insurgency problem in Samar. Hopefully, with the roads in place, mobility in these areas will lead to development and progress of the areas concerned.
Meanwhile, included in the funded projects for 2011 are eighteen (18) projects amounting to 292,020 million pesos. While other projects have not yet been started, the following has been reported to be complete: construction of Samar First District Engineering Office including quarters and motor pool at Brgy. San Policarpo, Calbayog City; opening/construction of 205.5 million pesos missing links of the Calbayog Diversion Road; continuation and completion of Barruz Bridge along Gandara-Matuguinao Road; Nijaga Bridge along the Diversion Road; completion of Gandara Bridge along Gandara Diversion Road; rehabilitation of a damaged pavement (old national road, Calbayog City); VILP projects; Lower House projects and DepEd SB Projects.
Eduarte informed that the program thrust of their office is to provide quality physical infrastructure facilities and services that will help achieve the vision of poverty reduction, improvement of peace and order, tourism development and decongestion of roads with high traffic volumes.
In line with this, DPWH welcomed the 'Bantay Lansangan Team", a public-private engagement that would help in the monitoring of the physical implementation of the above-mentioned projects. Eduarte expressed support over the presence of civil society organizations who will conduct an independent monitoring as to the quality and physical conditions of the roads.
Moreover, it was learned that Eduarte has also acted on the orders of DPWH Secretary Rogelio Singzon to organize the Maintenance Point Persons or "road patrols" that will regularly monitor the road conditions within its area of jurisdiction.
"With various sectors helping in the monitoring of infrastructure projects, we can be assured of improved roads. We would like to live up with our mandate of maintaining 'better roads for better lives' which is our agency slogan", adds the District Engineer.
DE Eduarte was appreciative of the media's presence and committed to pursue continuous information dissemination campaigns regarding their thrusts and activities. They commit to continually answer queries and welcome feedbacks from all sectors in line with the transparency efforts that they uphold.
A Bantay Lansangan volunteer commended the sincerity of the DPWH effort to engage the various sectors. She likewise took notice of the lines on its backdrop which says, "The right Project at the Right Price with the Right Quality for the Right People" and hopes that the DPWH will always be reminded of their vital role in improving the lives of every Samarnon.