Myrna Lardizabal de Vera: There's a new mayor in Hercules, California
By LORNA L. DIETZ
July 5, 2011
HERCULES, CA – Myrna Lardizabal de Vera was appointed as the new mayor of Hercules, California at 7:17pm on June 21, 2011 during a special Council meeting at the City of Hercules's Council Chambers. The 20-year resident of Hercules, California, according to a political observer, was accelerated into office as a result of many factors that stimulated a "fast track" within the city government. After serving in the Planning Commission for five years, De Vera had run for a seat in the city council during the November 2, 2010 elections, pledging "The Right Change, based on Competence, Commitment, and Character."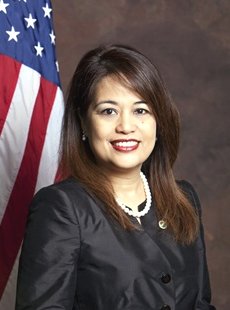 Mayor Myrna Lardizabal de Vera
Myrna de Vera and John Delgado were elected as Council members and assumed office in December 2010. After Mayor Ed Balico resigned in January 2011 and Vice-Mayor Joanne Ward took over the vacant position, de Vera was appointed as the city's new vice-mayor. The June 7, 2011 Special Elections resulted in a successful recall of Mayor Ward and Council member Donald Kuehne. Three members of the grassroots recall movement were sworn into office as the newest council members on June 21: Dan Romero, William Wilkins, and Gerard Boulanger. After the ceremony, Myrna de Vera was appointed as Mayor and John Delgado as Vice-Mayor.
It has been less than a month since a new council has been in place, all freshmen council members, with Mayor Myrna de Vera as the oldest "rookie." De Vera seems to take everything in stride. According to Mayor Myrna, good governance practices are critical to the city's success in its financial recovery.
Tom Lochner of Contra Costa Times best explained in his article, "Hercules Councilman-Elect, despite resume padding, plans to accept seat," dated June 11, 2011, how the recall drive started.
"The recall occurred at a time of public anger over the city's financial crisis and over its business relationship with a company that Nelson Oliva founded and that he said he transferred to two daughters shortly before he became city manager in April 2007; that company, NEO Consulting Inc./Affordable Housing Solutions Group, had $3 million in city contracts over a three-year period, approved by the City Council. But the pivotal event that triggered the recall drive was the council's firing in December of interim City Manager Charlie Long, who had publicly disclosed the gravity of the financial crisis, and its reinstatement of Oliva from medical leave, if only temporarily. Oliva resigned in January under an agreement that gave him a year's salary and benefits."
Mayor Myrna de Vera, during her first address at the City Council meeting, immediately assessed the developments of the first half of 2011 and articulated the direction of her administration for the remainder of the calendar year.
"The past six months have been filled with tough decisions and painful cuts. Projects shelved, contracts cancelled, and the most sobering of all, the laying off of 40 percent of our city staff. City morale is at its all time low.
But many recent changes have been positive. We started engaging the community through citizen ad hoc committees, achieved transparency through a more open city hall culture. We also laid the groundwork for the next stages of change.
We have a long way to go. The council's priorities are to restore the people's trust in our city government, build strong city leadership, put our finances in order, and develop new sources of revenue."
After de Vera stated the kind of workload that was expected of the city council and staff, she added:
"During my oath-taking speech last December, I talked about the journey we are embarking along a steep and rough terrain. Today, we are continuing on this road to recovery, driving our car balanced with the four wheels of community, family, finances, and faith.
What is our destination? We are driving toward achieving our vision of the City of Hercules, free of corruption and fiscally-sound, a city with a transparent council, responsive to the will of the people. Together, we are heading to our vision of a Hercules that – once again – shines, a city we can be once again proud of."
Myrna de Vera is originally from Cebu City, Philippines. She was selected as "Woman of the Year" by the Hercules City Council, and given a Special Recognition Award by the Hercules Chamber of Commerce in 2010. Myrna de Vera was awarded as one of 2009's 100 Most Influential Filipina Women in the U.S. under the "Policymakers and Visionaries" category by the Filipina Women's Network.
De Vera owns and manages an insurance agency in San Francisco. Her husband, Manuel, and she have been residing in Hercules with their three sons, Mark, Christian, and Emmanuel since 1991.
For the Asian American community in Hercules, Mayor Myrna de Vera symbolizes the relevance of diversity, reflecting the city's population, in political empowerment. She is the sixth American of Filipino ancestry to sit in office. Vice-Mayor John Delgado is also one-quarter Filipino. The former Filipino American mayors were Goni Solidum, Andy Paras, Ed Manuel, Frank Batara, and Ed Balico. Myrna de Vera is also the first Filipina woman mayor of Hercules, California. For more information about the City of Hercules, go to http://www.ci.hercules.ca.us/. You can reach Mayor de Vera by email at citizensformyrnadevera@gmail.com.