PRO 8 renders testimonial honors for PCSupt. Loot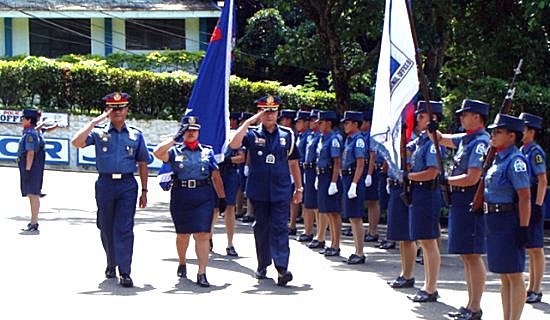 By RPCRD, Police Regional Office 8
June 21, 2011
CAMP RUPERTO K KANGLEON, Palo, Leyte – Police Chief Superintendent Vicente Areno Loot, Deputy Regional Director for Administration, gets his One Star Rank Promotion last week and a Testimonial Honors was rendered today June 21, 2011 at PRO8 Grandstand, Camp Ruperto Kangleon, Palo, Leyte.
Arrival honors start at 10:00 AM and the program proper will starts at 10:30 with an Invocation; Introduction of the newly promoted PCSupt; remarks by PCSupt Loot, message of PCSupt Arnold R. Revilla, RD.
Also included in the program was the pinning of ranks for the promotion of PSSupt Felix Alberto Diloy, Chief, RHSSG and PSSupt Roel Balintong Acidre, who got their promotion to next higher rank.
PCSupt Vicente Loot took oath last June 15, 2011 along with other 14 newly-promoted police one-star generals before Philippine National Police chief Director General Raul Bacalzo at Camp Crame.
In an interview with Freeman Cebu, PCSupt Loot said 14 of them hold the position of deputy regional director for administration, the second highest position in their respective regional offices. Loot, 51, a member of Philippine Military Academy Class 1982, is currently the Deputy Regional Director for Administration of Police Regional Office-8 (Eastern Visayas)
PCSupt Loot further said some politicians from Cebu allegedly tried to block his promotion and made him undergo a thorough investigation in every step of the promotion processes.
"Ang sala lang nako kay bana ko og politician," Loot said as he enumerated some qualification standards to get the rank such seniority, length of service, education, absence of charges, among others.
The promotion starts with the Senior Officers Placement and Promotion Board after which the PNP signs the endorsement to the National Police Commission. The secretary of the Department of Interior and Local Government endorses the papers to the Civil Service Commission, which will check the records before the same are submitted to the Office of the President for approval. It took about four to five months before President Benigno Aquino III approved PCSupt Loot's promotion on June 3.
He said the promotion is a challenge and added responsibility for them to live up to the expectations of the rank. Loot's family witnessed the oath taking.