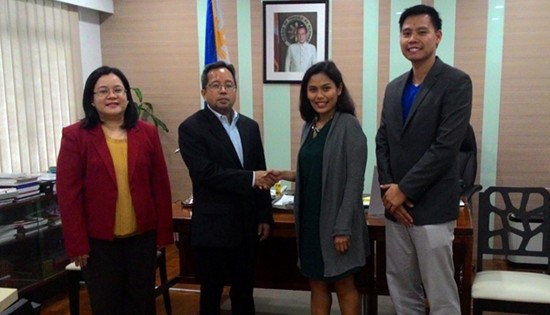 From left to right: First Secretary and Consul Edna May G. Lazaro, Amb. Antonio A. Morales, Ms. Lites M. Viloria, Cehief Executive Officer of Edukasyon.ph and Mr. Daniel J. Macusi, Jr., Client Engagement Manager of Edukasyon.ph
Filipino social enterprise www.Edukasyon.ph calls on Philippine Embassy in Singapore
Press Release
June 23, 2016
MAKATI CITY – Representatives of educational technology social enterprise www.Edukasyon.ph paid a courtesy call on Ambassador Antonio A. Morales on 20 June 2016 at the Philippine Embassy in Singapore.
"Our team is honored to have met with the Philippine Ambassador to Singapore H.E. Antonio A. Morales. We are happy to be one of the Top 100 Echelon Asia qualifiers. We are happy to represent the Philippines and share the work that we are doing to help OFWs, particularly parents, on finding the right education for their kids," said Ms. Lites Viloria, CEO of www.Edukasyon.ph.
Edukasyon.ph was in Singapore recently for the E27 Top 100 Echelon Asia. Edukasyon.ph is one of the ten Philippine start-ups who made it to TOP100 Echelon Asia. The Top 100 Echelon Asia brought together shortlisted start-ups from 14 countries across Asia. Key investors and start-up community leaders judged the start-ups, and one start-up from each TOP 100 Qualifier will be crowned the Judges' Choice.
"We are proud of our Filipino start-ups that are making waves in Asia with their work that helps improve the lives of fellow Filipinos overseas through the web technologies they are developing. Education is a concern of every Filipino, specially our OFW parents who are working hard to ensure their kids are able to get to school," said Amb. Morales.
Edukasyon.ph is a website (www.edukasyon.ph) that helps Filipino high school students and parents search, apply and pay for the right senior high schools, colleges, tech-voc courses that will help them get to the careers they aspire to. It has over 7000 schools and 4000 courses that can be found all over the Philippines.
"We want to help our OFW parents participate in their children's education regardless of how far they may be. As www.Edukasyon.ph reaches out to more parents across the world, www.Edukasyon.ph is bringing the Filipino youth closer to their dreams. We believe introducing www.Edukasyon.ph and the work it does to the different embassies and consulates across the world is one of the many steps we have to take in order to provide our parents quality information that can lead their kids to jobs," said Henry Motte-Munoz, Founder, www.Edukasyon.ph. "www.Edukasyon.ph intends to participate in the different information sessions and Filipino community meetings that are regularly organized by the Philippine Embassy in Singapore. And we will be tapping www.Edukasyon.ph volunteers based in Singapore to conduct these sessions," Munoz added.
On the value of these activities, Amb. Morales said "We welcome initiatives such as these that reach out to our OFW parents in improving the educational choices of their kids back home. We look forward to seeing more home-grown digital initiatives like this that bring families together and improve their lives."
www.Edukasyon.ph was established by French-Filipino Henry Motte-Muñoz in 2014. A graduate of the London School of Economics and Harvard Business School, Henry was inspired to launch an education website in the Philippines because of the poor sources of information on academic opportunities in the country and overseas. He is the only Filipino who made it to the Class of 2015 Asia 21 Young Leaders, a network of young leaders from across the Asia Pacific, representing the private, public, and non-profit sectors. Henry is one of 10 Filipinos included in the Forbes 30 under 30. The list features young entrepreneurs, innovators, and leaders in Asia across 10 fields.