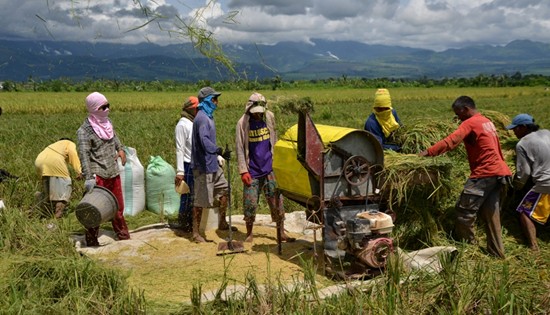 Members of the Bugho Farmers Association (BFA) savor their firs harvest after the Department of Agrarian Reform with the help of the RIGHTS and the Philippine National Police successfully installed the former to their awarded land under the Comprehensive Agrarian Reform Program in June this year. (Jose Alsmith L. Soria)
After 16-year struggle Ormoc farmers start harvesting
By JOSE ALSMITH L. SORIA
October 7, 2016
ORMOC CITY – Rosenda Apay could not hide her happiness as they started harvesting last week after having been deprived entry for 16 years to their awarded land under the Comprehensive Agrarian Reform Program's (CARP's) land acquisition and distribution component.
Apay, 56, was one of the 21 members of the Bugho Farmers Association (BFA) who were successfully installed by the Department of Agrarian Reform (DAR) in June to the 25-hectare lot within the Fran Farm in Barangay Matica-a in this city after several failed attempts.
"Masaya kami dahil nakabalik na kami pagtrabaho sa aming lupa. Tapos, sa ngayon nag-aani na. Mas lalo kaming masaya," (We are happy because we are back working in our farm. Now, we are already harvesting. The happier we are.) said Apay.
According to her, they will be harvesting rice in the 25-hectare lot until the last week of October. Their initial harvest produced 60 cavans.
She also disclosed that they decided not to sub-divide the 25 hectares covered under a collective certificate of land ownership award (CLOA) to keep it intact, preventing the sale of any portion of it by a member of their association. What they are going to divide is the produce, Apay added.
The members of the BFA were identified by the DAR in the late 90s to be the beneficiaries of lots 8667-47 and 8667-48 with a combined total area of 46 hectares.
But when CLOAs were registered in 1999 in the names of the BFA members, the Fran Farm Workers Association (FFWA) questioned in court as to who should be the rightful beneficiaries of the said lots which dragged on for 16 years resulting to animosity among them.
During this period, BFA was deprived entry into the contested landholding.
The case was resolved only when the BFA, in a rare gesture of magnanimity and grace, offered the 21-hectare lot to the rival group while retaining the 25-hectare lot to themselves leading to a compromise agreement in March this year.
Both groups were finally installed to their respective farmlots on June 13 and started cultivating.
Apay thanked DAR, the non-government organization RIGHTS and the Philippine National Police which continue to provide security in the area to maintain the peace and order situation.
Apay and FFWA member Medardo Cabahug, 59, admitted that their groups have already settled their differences. However, both also disclosed that another group entered into the scene bringing threats as the latter claims ownership of the once disputed area.
Meanwhile, DAR-8 Regional Director Sheila Enciso directed Assistant Regional Director Ismael Aya-ay to hasten the delivery of the necessary support services needed by these farmers.