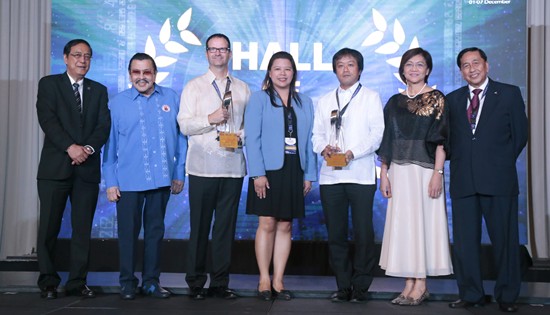 Hall of Famer awardees Texas Instruments (3rd from L) and Pilipinas Kao (3rd from R) with (from LR): DTI Export Marketing Bureau Director Senen M. Perlada, Former President Joseph Estrada, DTI Undersecretary Nora K. Terrado and PHILEXPORT President Sergio Ortiz-Luis Jr.
DTI honors outstanding exporters at 2017 NEC
By DTI-TIPG-EMB
December 7, 2017
MAKATI CITY – The Department of Trade and Industry through its Export Marketing Bureau (EMB) on 5 December awarded Philippine companies for their outstanding export performance during the National Export Congress (NEC) held at the Philippine International Convention Center in Pasay City.
Texas Instruments, Pilipinas Kao, and Metro Wear were conferred the Hall of Famer Award for posting the highest export revenues for the past three years in their respective sectors. Data from the Philippine Statistics Authority (PSA) in 2016 served as the basis for giving the awards to the companies.
Also recognized were top regional exporters from Luzon, Visayas and Mindanao, who stood out for their remarkable international success in penetrating global markets. Recipients were Peter Paul Philippines Corp. from Luzon, Profood International Corp. from Visayas, and Philbest Canning Corp. from Mindanao.
Honored for Top Sectoral Award were Texas Instruments Philippines Inc. (Electronics), Pilipinas Kao Inc. (Chemicals), Taganito HPAL Nickel Corp. (Other Mineral Products), Hanjin Heavy Industries and Construction Group (Machinery and Transport Equipment), Shin-Etsu Magnetics Philippines Inc. (Electronic Equipment and Other Parts), House Technology Industries PTE Ltd. (Woodcraft and Furniture), Nestle Philippines Inc. (Processed Food and Beverages), Dole Philippines (Fresh Bananas), Takata Philippines Corp. (Metal Components), Pilipinas Kyohritsu Inc. (Ignition Wiring Sets), Cargill Oil Mills Philippines Inc. (Coconut Oil), and Metro Wear Inc. (Articles of Apparel and Clothing Accessories).
Excellence Awards for Services Exports was also conferred on companies which have contributed significantly to their respective industries and exhibited excellence in their respective fields. Awardees were Advanced World Solution Inc. (IT-BPM), Affinity Express Philippines Inc. (Creative Services), Airworks Aviation Academy (Education Services), ExlService Philippines Inc. (Health Information Management), and Potato Corner (Franchising Services).
The awarding served as the highlight of the week-long celebration of National Exporters' Week (NEW) with the theme "Innovate. Collaborate. Export!." NEW is an annual event held during the first week of December organized jointly by the DTI's Export Marketing Bureau (EMB), the Export Development Council (EDC), and the Philippine Exporters Confederation Inc. (PhilExport).
"With this year's NEC, we hope to inspire more exporters to continue to innovate and collaborate with the government and private sector organizations in expanding their markets and contributing to the country's economy," DTI Undersecretary Nora K. Terrado said.
Also part of the celebration is the ongoing National Exporters' Week Bazaar, a retail selling event of Philippine products from the country's direct and indirect manufacturers, which started on December 4. About 20 exhibitors are participating by selling their products and services ranging from fashion accessories to food products in the DTI International Building along Gil J. Puyat Ave. in Makati City.