DPWH-BDEO tackles plans after wrath of typhoon Urduja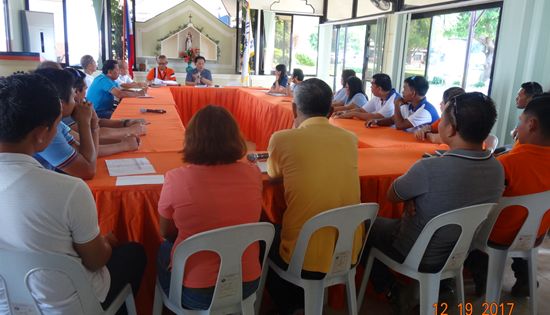 By CHELSEA QUIJANO-SALLOMAN
December 21, 2017
NAVAL, Biliran – The Department of Public Works and Highways Biliran District Engineering Office (DPWH-BDEO) lead by Engr. David P. Adongay, Jr., District Engineer conducted a coordination meeting with technical personnel on December 19, 2017.
According to Engr. Adongay, the meeting aims to solicit different ideas in order to look for the best solutions to make the roads passable to the public.
Through a report presentation of Engr. Neo Jay Cagabhion, DPWH-BDEO identified several damages on the national roads, bridges, flood controls, slope protections and other public infrastructure projects in the entire province.
Engr. Adongay suggested to prioritize first the repair of its national roads and bridges to make it passable to traffic. He also instructed the technical personnel to form a committee that will focus and report on the status of these projects from time to time.
Engr. Glenda G. Dagalea, Chief of Maintenance Section reported that some roads have already been opened to traffic after clearing operations. She also reported that there are still on-going clearing operations to make all roads passable as soon as possible.
Backfilling and embankment is also on-going on Caray-caray Bridge to serve as a temporary passage for the public. However, there was still no action taken for Catmon Bridge because Caray-caray Bridge is unpassable which the only route in going to Catmon Bridge.
In a report made by Engr. Rosario b. Rosete, Chief of the Planning and Design Section, both approaches of the Catmon Bridge were washed out after the continuous heavy rains on December 16-17. Biliran DEO proposed to construct a temporary bridge made of coco trunks for pedestrian only.
Caray-Caray Bridge is an essential bridge because it is the only access in going to the mainland of Leyte. The public is advised to use the alternate route, Naval-Almeria-Kawayan-Culaba-Caibiran-Cabucgayan-Biliran and vice versa.
Engr. Adongay also commented on the DPWH Secretary Mark Villar's statement during the secretary's visit on December 18 to rehabilitate the Caray-caray Bridge in 30 days.
"Mahirap yan pero with your cooperation and with your help, kaya natin yan," said Adongay.
DPWH-BDEO is now preparing for the request of the calamity fund to be used to rehabilitate the damaged infrastructure facilities in Biliran.