Cavite enterprise wins back-to-back Katha Awards at IFEX Philippines
Kapfer and Rivera United Inc. bags award for Processed Fruit and Vegetables with Puso ng Saging
By DTI-CITEM
May 23, 2017
PASAY CITY – Cavite-based Kapfer and Rivera United Inc., makers of the 'Island Gems' brand, won the 2017 Katha Award for Food for the Best New Product Award for Processed Fruit & Vegetables category for its ready-to-eat bottled Puso ng Saging at the recently concluded IFEX Philippines held at the World Trade Center Metro Manila (WTCMM) and Philippine Trade Training Center (PTTC).

Island Gem's Puso ng Saging – Processed Fruit and Vegetables 2017 Katha Award Winner.
The company's bottled Puso ng Saging, is an all-natural creation made of banana blossoms, coconut cream, salted shrimp fry, and spices that can be used as a spread, topping or the main dish. Consistent with the company's vision for the highest food standards, it contains premium ingredients, no preservatives, and no added flavoring.
The award is a back-to-back win for the Filipino-German company, having won the Katha Award in the same category in 2015 with their ready-to-eat bottled Laing or Taro Leaves in Coco Cream.
"Kapfer and Rivera deserves recognition for its consistency in delivering high-quality and inventive Filipino-inspired products, such as Laing and Puso ng Saging, which helps propel the Philippine in the international market as a source of premium healthy and organic food products," said Clayton Tugonon, Executive Director of Center for International Trade Expositions and Mission (CITEM), the organizer of IFEX Philippines.
A joint venture by Maria Rivera, who came home from Singapore in 2012 with German husband Chris Kapfer, the Kapfer and Rivera United Inc. started in 2012 with the creation of their fine mango jam using premium ingredients.
As a boutique company, it is committed to bringing new products to the market that are affordable and authentic, never cutting corners with the use of artificial additives like flavoring, coloring, and preservatives.
"I'm glad that our line of healthy products is recognize here in IFEX Philippines," said Kapfer. "For this year, we are hoping to get more high-quality buyers from Korea and Japan and this recognition in Katha is a big boost towards this endeavor."
Aside from tapping markets abroad, Kapfer and Rivera Inc. aims to focus growth on the local market, a segment that they believe has great potential and lacking in premium quality locally made food.
"The Philippine economy is doing well. More manufacturers are coming up with higher quality, because people are demanding it," said Managing Director Maria Rivera Kapfer. "The problem is we tend to serve cheap stuff, synthetic stuff for the Pinoys. Why give fruit-flavored jams? We give them real fruit."
Rivera added: "We deserve quality goods for our people and we want to make it mainstream and affordable. We could have chosen to go to go to gourmet shops but we said no, we must democratize good quality food and make it more affordable. You can't always say, pwede na yan, local naman yan eh. That's really bad. We deserve better than that."
Aside from Puso ng Saging and Laing, the Filipino-German company is selling single-serve fruit fillings, such as Strawberry, Calamansi, Guava, Mango and Pineapple, as well as Macapuno and Ube de Pastillas, under their Island Gems brand. The company is also offerings manufacturing and toll packaging services.
As of now, Kapfer and Rivera United Inc. have established retail stores in Urban Pantry (Green Hills Metro Manila), Connie's Kitchen Deli (New Manila, Quezon City), Real Food (Molito, Alabang), Landmark (Makati and Trinoma), Unimart (Green Hills, Metro Manila), Ritual (San Lorenzo Village, Makati), Shell Gas Mart (Slex to Batangas, after San Pedro Exit), Enchanted Kingdom (Agila - The Eksperience) Duty Free (Kalibo, Palawan), and selected stores of Robinsons Supermarket.
K&R United embraces the traditional values of integrity, reliability, quality and cost-effectiveness in dealing with its business partners and clients.
The company's facility is located in Cavite, an area in the southern region of Luzon in the Philippines. We are licensed to operate (LTO), with Good Manufacturing Practice (GMP) certifications, and registered in US Food and Drug Administration (USFDA).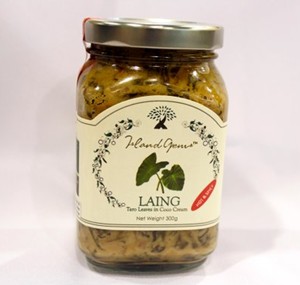 Island Gem's Laing – Processed Fruit and Vegetables 2015 Katha Award Winner.