Art Festival in Catbalogan held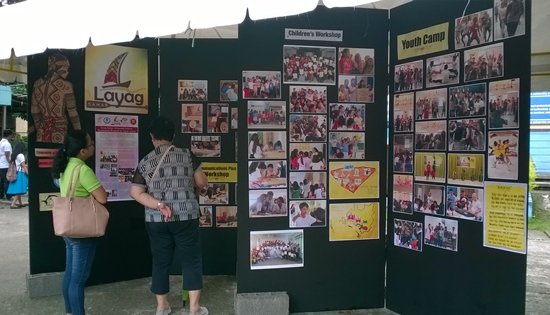 By VEN LABRO
November 5, 2017
CATBALOGAN CITY – Hundreds of students, teachers from the City Division of Catbalogan, Samar Division, and delegations from Catbalogan, Calbiga and Zumarraga attended the Layag Arts Festival held at the Samar State University (SSU) Gymnasium in this city on October 19-20."
It was the first time in Samar that such festival was held," said local historian Charo Nabong Cabardo. The Arts Festival was the culminating activity of the year-long Layag Project or Layag-Samar, which according to Cabardo, is a project of the National Commission for Culture and the Arts (NCCA) "for the cultural development in seven municipalities in Samar Island."
The project involved the training of children, youth, women, artists, community members and disaster risk reduction (DRR) implementors on our cultural heritage, other forms of cultural presentations and DRR, she added. "The project is being implemented by the NCCA in partnership with the Samar State University and Samar Island Heritage Center and with a memorandum of understanding with the mayors of the seven municipalities," Cabardo said.
Areas covered by Layag-Samar are Catbalogan City and the towns of Calbiga and Zumarraga in Samar province as well as Borongan City and the municipalities of Balangiga, Dolores and Guiuan, all in the province of Eastern Samar.
In the Catbalogan the Arts Festival there were cultural performances by the youth from Catbalogan, Zumarraga and Calbiga held at the provincial Covered Court.
An exhibit of the photographs of previous activities like the trainings for Children, the Youth, Women, artists and creative industries on different art forms such as visual arts, creative writing, music and dance. The paintings of the visual artists were also exhibited. The Arts Exhibit was opened by CHED commissioner Prospero Oliva who was on a Listening Tour to the Samar State University.
Another Arts Festival was also held last October 21 in the historic town of Balangiga with the participation of those who have been trained in Guiuan, Borongan, Balangiga and Dolores, Eastern Samar.
The trainings conducted by Layag-Samar focused not only the artistic disciplines but on the topics of history and heritage of each of the municipalities involved, Climate Change and Disaster Risk Reduction. A special training was also undertaken for the DRR trainers of the seven municipalities on an Arts-based disaster training.
A Forum on Samar History and Heritage was held on the morning of October 20. A panel of experts discussed different art forms in Samar. The panel incuded Ballet Philippines former premier danseur Nonoy Froilan on the Dance Traditions of Samar; Waraynon music stalwart Lucien Y. Letaba on Samar Music Trends and Directions; renowned painter Val Villanueva on Visual Arts; Charo N. Cabardo on Samar History and Heritage; and Pet S. Labro of SSU on Samar Theater.
The Festival followed a two-day workshop on creative industries held by Layag Samar last October 14-15 at a hotel in downtown Catbalogan. According to Lucien Letaba, Layag-Samar artistic director, the goal of the workshop was "to integrate creative industries to the heritage tourism program of each town." He added that they hope to include heritage preservation in the town's program and at the same time to promote creative industries that each town is developing. Among these industries, he said, are food processing, recycled gift souvenir items and handicrafts.