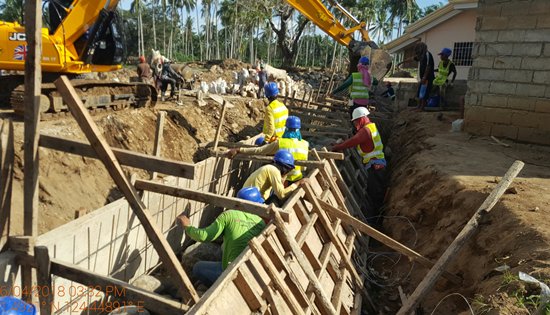 P18.510M Construction/ Extension of Flood Control Structure along Busali River, Phase 2, Biliran, Biliran is on-going with 38% accomplishment as of April 30, 2018 under contract with B.M Marketing. The completion of this project will provide a structure that will avert flooding thereby preventing damage to the existing Bridge located along the National Highway which is the only access in going to the only Provincial Hospital and Port under PPA from the eastern part of the island.
DPWH-Biliran DEO in full swing of 2018 project implementation
Press Release
May 8, 2018
NAVAL, Biliran – The Department of Public Works and Highways Biliran District Engineering Office (DPWH-BDEO) is now in full swing in the implementation of its year 2018 Infrastructure Projects.
Contractors mostly started at their own risks to attain the target schedule and to avail of the good weather condition.
As of April 30, 2018, the district has an overall actual accomplishment of 16.82% with a positive slippage of 3.30%.
Previously, the district has been allotted P1.8B for the implementation of 61 projects. However, Engr. Rosario B. Rosete, Planning and Design Section Chief said that the budget for one project which is the Rehabilitation/ Major Repair of CarayCaray Bridge project along Biliran Circumferential Road (BCR), Naval, Biliran will be reverted to DPWH Central Office due to damages on abutments caused by Tropical Storm "Urduja" on December, 2017 which is supposed to be the site for the major repair.
Out of its 60 projects, 38 are on-going, 18 are Not-Yet-Started (NYS) and four are already completed with now a budget amount of P1.6B.
The completed projects are the P3.6M road widening at Villa Enage, Biliran, Biliran; P1.4M rehabilitation/ major repair of Kaulangohan Bridge along Biliran Circumferential Road (BCR), Caibiran, Biliran; P943,000 rehabilitation/ major repair of Cabadiangan Bridge along Naval-Caibiran Cross Country Road (NCCR), Naval, Biliran; and P1.4M rehabilitation/ major repair of Calambis Bridge along BCR, Caibiran, Biliran.
Rosete said that the district had already bid-out 52 projects as of April 30, 2018 while eight projects are scheduled to be bid out on a later date.