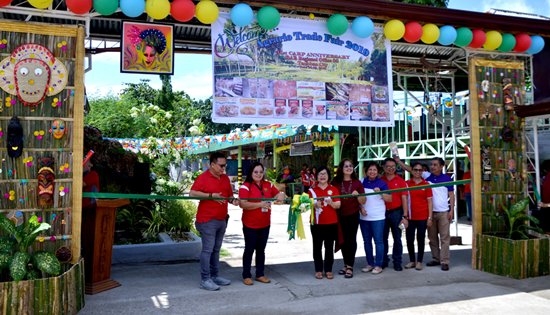 DAR-8 Regional Director Sheila Enciso (2nd from left) cuts the ribbon signifying the opening of the mini-trade fair at the DAR Regional Office compound on Wednesday. Assisting her are (from left) Assistant Regional Director (ARD) for Agrarian Reform Beneficiaries Development and Sustainability Program Ismael Aya-ay, Provincial Agrarian Reform Program Officer II (PARPO II) Paulina Canales of Leyte, ARD for Administration Ma. Fe Malinao, PARPO I Teresita Alde of Eastern Samar, PARPO I Danilo Lozada of Southern Leyte, PARPO I Alma Peñero of Leyte, and PARPO II Gilbert Apilado of Eastern Samar. (Jose Alsmith L. Soria)
DAR opens mini-trade fair
By JOSE ALMITH L. SORIA
June 27, 2019
TACLOBAN CITY – A mini-trade fair featuring farmers' products was opened yesterday morning at the Department of Agrarian Reform (DAR) Regional Office compound in this city.
Products ranging from agricultural to processed foods and handicrafts were produced by the different agrarian reform beneficiary organizations (ARBOs) throughout Eastern Visayas.
The said trade fair which is among the activities lined up in relation to the 31st anniversary celebration of the Comprehensive Agrarian Reform Program (CARP) will run until June 28.
At the Leyte booth, various types of rice (red, black, white, glutinous rice, etc.), organic eggs, fruits and vegetables including vermicasts are available.
At the Eastern Samar booth, several processed foods such as cassava chips, banana chips, noodles with seaweed, brewed coffee, tablea, coco vinegar, salabat, and calamansi concentrate are available. Handicrafts and vermicasts are also sold here.
At the Northern Samar booth, products available are piñato, tablea, pili products, coco sugar, vinegar, and tuna in oil. They also have vermicasts and handicrafts.
Meanwhile unique products at the Samar booth, are canton noodles with squash which has already been issued with license to operate (LTO) by the Food and Drug Administration (FDA), and white cheese; while unique products at the Southern Leyte booth are guyabano tea and orchid pots.
According to Assistant Regional Director Ismael Aya-ay, this trade fair is a venue to showcase the products of the ARBs. He added, that this is an evidence that the ARBs are gaining grounds in their respective levels.
Aya-ay likewise disclosed that these products will be showcased too during the Agrilink/ Foodlink/ Aqualink 2019, a national agribusiness exhibition organized by the Foundation for Resource Linkage and Development, Incorporated (FRLDI), to be held at the World Trade Center in Pasay City on October 3-5, 2019.
He further disclosed that the theme for that said event will be "Climate Resilient Agriculture: A must for Region 8".
Related to this, Regional Director Sheila Enciso instructed the DAR Provincial Offices to assist the ARBOs in coming up with the best products for that national event. This is an opportunity for them to attract institutional buyers, she added.