P9.83M three storey-six classroom school building inaugurated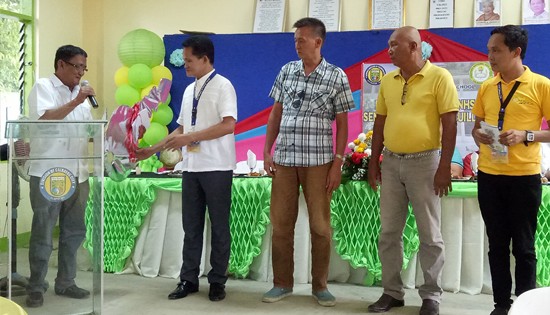 By LEVIRESA GETIGAN-BARNIZO
September 28, 2016
OQUENDO, Calbayog City – A three storey-six classroom school building at Oquendo National High School (ONHS), Oquendo Poblacion, Calbayog City, is inaugurated Monday, September 26, 2016.
Blessing and turn-over of this project is graced by various agencies involved in the implementation including the Department of Public Works and Highways (DPWH) - Samar First District Engineering Office (SFDEO), Department of Education (DepEd), Local Government Unit, ONHS faculty, and the senior high school students – beneficiaries of the project.
Construction of the project kicked-off October 21, 2015. It is under contract with B. Vicencio Construction in the amount of P9,830,814.95.
"I challenge the ONHS faculty and students to take good care of the building; to maintain and improve the structure, for the betterment of the facility and not to destroy it," said Dr. Raul D. Agban, Officer-in-Charge, Schools Division Superintendent, DepEd. "This building is for us, for the use of our senior high school students for a better learning. Let us maintain its beauty," Agban added.
Mr. Milaner R. Oyo-a, Principal I, ONHS, humbly accepted Agban's challenge."With the help of my teaching and non-teaching staff, I promise to deliver quality education to our students," he said.
Engr. Carlos G. Ranola, Chief of Construction Section, DPWH SFDEO, officiated the turn-over of the symbolic key.
Classrooms are utilized by some 166 senior high students. Prior to the completion of the project, classes are being held under the mango trees of ONHS.
Worker-employer groups clash seen as labor group rejects "win-win" formula proposed by gov't & employers in banning contractualization
By Associated Labor Unions
September 25, 2016
QUEZON CITY – The country's biggest labor group rejected the proposed regularization of contractual workers at the manpower service provider level in the light of Department of Labor and Employment's (DOLE) campaign to ban all forms of contractual work arrangement in the country by next year.
"We reject the proposed regularization of contractual workers at the level of manpower agencies or recruitment agencies as proposed by the DTI and the employers' group. This proposal do not address the problem of contractualization brought on the workers and it does not provide security of tenure to workers as envisioned by the Philippine Labor Code. We don't accept such proposition," said Gerard Seno, executive vice president of Associated Labor Unions-Trade Union Congress of the Philippines (ALU-TUCP).
Last week, Trade and Industry Secretary Ramon Lopez and Presidential Adviser for Entrepreneurship Joey Concepcion came up with a so-called "win-win" arrangement with the workers will be hired by the manpower service providers and agencies as regulars, receiving full benefits including social security, health and retirement benefits.
Under the proposition, companies would have the option to directly hire workers as regular employees or outsource them through manpower recruitment agencies to perform seasonal work.
The so-called solution was raised in view of fears by employers on the plan of the Department of Labor and Employment (DOLE) to regularized all contractual workers nationwide by 2017.
Under the Lopez and Concepcion proposition, Seno said workers are still vulnerable to exploitation and abuse because there is still no employee-employer relationship between the worker and the principal employer.
"Under the scheme, workers are denied to fair wages and social protection benefits. At any moment the contract between manpower recruitment agency contractor is rescinded, absconded, or terminated by the principal employer, workers will definitely suffer," Seno stressed.
Seno said the ALU-TUCP is rather proposing an amendment to the provisions of the Philippine Labor Code that totally ban all forms of contractualization and prohibit all forms of fixed-term employment. Under the proposition, all workers should become regular employees directly with the company after the six months probationary period.
For his part, ALU-TUCP spokesperson Alan Tanjusay said a strong debate between workers and employers interest groups are inevitable over the policy of DOLE to regularize all contractual workers upon the instruction of President Rodrigp Duterte.
"Progressive labor groups such as ALU are well-prepared to engage employers, businesses and government to argumentation and debate on the issue. We anticipate a clash in positioning in the coming days and we are prepared to slug it out with them," Tanjusay said.
Sueno: DILG's new Assistance to Disadvantaged Municipalities program is pro-poor, pro-people
Press Release
September 23, 2016
QUEZON CITY – Secretary Ismael "Mike" D. Sueno of the Department of the Interior and Local Government (DILG) today said that the new Assistance to Disadvantaged Municipalities (ADM) program of the Department is 'pro-poor and pro-people.'
Sueno said the ADM is an improved version of the previous administration's Bottom-Up Budgeting (BUB) program, which covered all cities and municipalities in the country regardless of their level of income.
"With the ADM program, we are focusing our resources on the local governments that need them most," he said.
The DILG Secretary said that while the concept of BuB is commendable, considering that the people were empowered to decide and implement the projects that would best benefit them, there is a need to pour the funds to the poorest local government units (LGUs).
Sueno assured that DBM and DILG do not have conflicting views on allocating the budget to the local communities, and that this would be based first and foremost on equitability.
He said that he is in agreement with DBM Secretary Diokno in that the budget program should stay equitable and impartial in its coverage, and be pro-poor and pro-people – as originally envisioned by the late Secretary Jesse M. Robredo, who first implemented BuB.
"What we will do with the Assistance to the Disadvantaged Municipalities program, is adapt what we saw as the positive takeaway from BuB – that is, the pro-poor, pro-people approach," he added.
The P2.8 billion appropriated to the Assistance to the Disadvantaged Municipalities program will be allocated to municipalities for the use of potable water and other projects. DBM and DILG will work together in the allocation of the funds to municipalities based on the number of poor families in residences, vulnerability to disaster, etc.
It was learned that Eastern Visayas municipalities will receive a total of about 1.7 Billion pesos in projects through the DILG ranging from water systems, evacuation facilities, access roads or small water impounding projects.
"Our first priority in the Duterte administration is development from the grassroots, from the poorest barangays and municipalities. We promised that we would make them our focus, so they will be the target of our budget reforms. We will stick also to the core of being pro-poor, pro-people – hindi magbabago ang thrust na yan," Sueno said.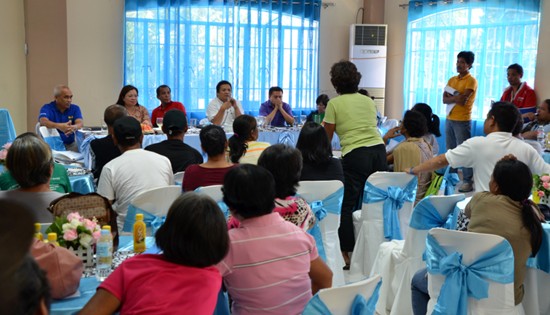 DAR Assistant Secretary Elmer Distor (3rd from left) and Atty. Jobert Pahilga (4th from left) left a ray of hope to protesting farmers that the issues raised by the latter in a dialogue held early this month at the Palo chancery in Leyte will be resolved under the administration of Secretary Rafael "Ka Paeng" Mariano. The occasion was also attended by (left-right) Provincial Agrarian Reform Program Officer Renato Badilla and Regional Director Sheila Enciso. (Jose Alsmith L. Soria)
Ormoc farmers excited on first harvest
By JOSE ALSMITH L. SORIA
September 22, 2016
TACLOBAN CITY – After 16 years of waiting, members of the Bugho Farmers Association (BFA) in Ormoc City are now excited for their first harvest come first week of October.
Rosenda Apay, chairperson of the BFA, happily announced this as she thanked officials of the Department of Agrarian Reform (DAR) during a dialogue held at the Palo chancery early this month.
Apay, 56, thanked DAR that they were finally installed in June this year to their awarded lots in Barangay Matca-a under the Comprehensive Agrarian Reform Program (CARP) after 16 years of struggle.
Immediately after their installation, the said farmers cultivated the ricefield and are now expecting their first harvest early next month.
The installation of the BFA was delayed by a legal battle as the Fran Farm Workers Association (FFWA) questioned in court the selection of the former as agrarian reform beneficiaries (ARBs).
It was only recently that the issue was settled amicably when BFA offered 21 of the 46 hectares to the rival group.
At present, whatever differences between the two rival groups are now just but things of the past.
Meanwhile, Regional Director Sheila Enciso directed Assistant Regional Director for Program Beneficiaries Development Ismael Aya-ay to coordinate with the National Irrigation Administration (NIA) to extend the supply of water to these areas.
Enciso also shared the credit on the BFA's successful installation with the Philippine National Police, Commission on human Rights and the non-government organization RIGHTS Network for the collective effort.
Others present during the said dialogue were Assistant Secretary Elmer Distor and Atty. Jobert Pahilga from central office who promised DAR's full support to the farmers.
Climate justice groups push DENR Sec. Gina Lopez to halt coal projects!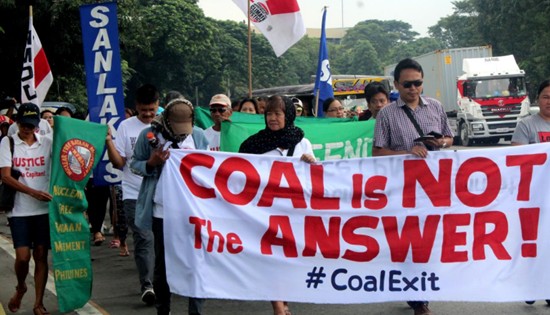 By Philippine Movement for Climate Justice
September 20, 2016
QUEZON CITY – An array of people's organizations, climate justice groups, and members of coal affected communities marched across Quezon City Circle to the Department of the Environment and Natural Resources (DENR) on Monday, mobilizing for the growing national campaign, "COAL IS NOT THE ANSWER!" They met with DENR Secretary Gina Lopez who listened to their demands to hall coal-fired power plants (CFPPs), coal mines, and coal stockpiles that gravely affects the environment, and health and livelihoods of people living near them.
Val de Guzman, Energy Campaign Officer of the Philippine Movement for Climate Justice (PMCJ), stated, "We have been asking the DENR for a moratorium on all coal projects. Had the agency listened to our demand, issuance of Environmental Compliance Certificate (ECC) to 4 big coal plants could have prevented last year." The DENR is also issuing ECCs to coal mining and coal stockpiles. "We are here again to demand our freedom from coal, which is a dirty source of energy that has been polluting local communities and worsening the climate crisis." added Derec Cabe from Nuclear Free Bataan Movement which also assists communities in Bataan in their fight against coal.
The Philippines is heavily dependent on the use of coal to produce energy when in fact the country is extremely rich in sources of clean, safe, and renewable energy like solar, wind and hydro power. The preference of the use of fossil fuels over renewable energy is the primary reason why coal projects continue to thrive in the county but at the cost of people's suffering.
Semirara, for example, has experienced the toxic contamination of its water resources and mangrove forests as well as deaths of mining workers in the Philippines' largest coal mine located there, while Tondo residents have suffered from severe air pollution and increasing skin and lung diseases ever since Rock Energy International Corporation began operating a coal stockpile in the area beginning in 2014. Meanwhile, Verde Island Passage – the strait between Luzon and Mindoro islands which has been dubbed the "center of the center of the world's marine biodiversity" – is facing alarming threats to its extraordinary diversity of sea life once the JG Summit's 600 MW coal power plants starts to operate in Batangas City.
The groups emphasize the role of coal in the current global climate crisis. It was agreed upon at the climate negotiations in Paris that the international community must limit the Earth's global average temperature increase to 1.5-degrees Celsius. Gerry Arances, Executive Diretor of the Center for Energy, Ecology, & Development (CEED) stated that "to achieve this target, all the remaining coal underground should be left untouched and no more coal power plants must be allowed to operate. We are already beyond 'safe' limits and this will severely compound and exacerbate impacts of vulnerable countries like the Philippines."
Meanwhile, the Energy Regulatory Commission (ERC) has suspended the processing of applications for power supply agreements (PSA) which do not environmental compliance certificates (ECC) from the Department of Environment and Natural Resources (DENR).
The groups have also sought a meeting with Department of Energy Secretary Alfonso Cusi, however the department has not replied despite the several requests asked.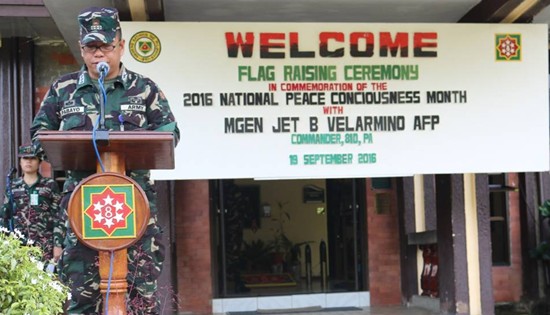 Col. Divino Rey Pabayo Jr., Chief of Staff, read the message of the Office of the Presidential Adviser for Peace Process during the 2016 National Peace Consciousness Month Celebration at 8ID Openiano Field on September 19, 2016.
8ID celebrates Peace Month 2016
By DPAO, 8ID PA
September 20, 2016
CAMP LUKBAN, Catbalogan City – The 8th Infantry (Stormtroopers) Division, Philippine Army, celebrates the National Peace Consciousness Month 2016, during the Monday Flag Raising Ceremony at 8ID, Openiano Field on September 19, 2016.
Proclamation No. 675 declares the month of September of each year as National Peace Consciousness Month. This year's theme, "Tayo ang Pagbabago, Tayo ang Kapayapaan!", centers on "us"- tayo realizing our roles in pushing for change and peace.
The activity was participated by the officers, Enlisted Personnel and Civilian Employees of the Command. The celebration started with a prayer for peace by Capt. John O Geronimo, Division Chaplain, followed by the reading of the message from the Office of the Presidential Adviser for Peace Process by Colonel Divino Rey C Pabayo Jr, Chief of Staff, 8ID.
During the ceremony, Colonel Pabayo quoted and emphasized the message from the OPAPP, "The administration of President Duterte has already walked the extra mile to achieve peace. His intention to permanently end the armed conflicts requires the support and participation of the stakeholders. Now is our time to own the process our ownership of the peace process begets durable peace agreements. Working for peace is always a joint effort between our government and our people. Our peace and development roadmap directs us to a shared peace and prosperity".
"As we celebrate the National Peace Consciousness Month, we call on every Filipino to support and participate in building a peaceful and progressive country. May we always allow unity to triumph over diversity; understanding and respect despite disagreements; and justice for all those who have been wronged. We invite you to walk the extra mile with us for peace. May we always be instruments of peace and agents for positive change wherever we are and in whatever we do, not only for this month, but also for the days and years ahead" unquote.
This year's celebration is a hopeful reminder that lasting peace is possible, especially if we all contribute towards its attainment, as it aims to provide an avenue for stakeholders to envision a peaceful society and assess what these stakeholders can contribute in ensuring the realization of a just and lasting peace," Col. Pabayo added.
DTI cites best innovative Filipino SME in the ASEAN Business Awards 2016
Press Release
September 20, 2016
MAKATI CITY – The Department of Trade and Industry (DTI-IPG) Undersecretary for Industry Promotion Group Nora K. Terrado cited Zeenoh, Inc., an entertainment software company that specializes on Internet of Things, video games, animation and other software applications as it received the Best Innovative SME Award in the ASEAN Business Awards 2016 held in Vientiane, Laos last September 5, 2016.
"We are happy to know that many of our local SMEs are being recognized by our neighbors as we urge them to continue to innovate and embark on available support services of the government," said DTI Industry Promotion Group Undersecretary Nora K. Terrado.
Jhondie Abenaza, CEO and founder of Zeenoh Inc., was a full time software engineer when he decided to start his own business. He took the Department of Trade and Industry's free business course in 2007 which prepared him with the basics of setting up his own enterprise as a sole proprietor. A year later, Zeenoh was founded on September 10, 2008 as a pioneering game development company in the country.
Zeenoh started as an outsourcing partner for top video game studios from Japan, Korea and USA. As an end-to-end service provider for developing video games, it evolved into developing its own original content (Intellectual Property). The company started with mobile, web, PC, console and is now developing virtual reality applications. Zeenoh's notable games developed are Patintero Playtime, released for mobile in 2010 and Nightfall: Escape, the first globally known full-3D game locally owned and made.
Abenaza encourages dreamers like him to take advantage of the entrepreneurship resources provided by the Department of Trade and Industry (DTI), and looks forward to the collaborative opportunities presented by the recently established QBO Innovation Hub.
Terrado emphasized its support to local entrepreneurs and innovators as it prepares programs and services for the Startup Ecosystem Development Plan (SEDP). "We want our MSMEs, particularly those in the startup sector, to continue to venture with their creative solutions and innovative products and services as we further our strategies in penetrating the global digital economy," added Terrado. SEDP is expected to help enhance the climate for startup businesses, increase the success rate of Filipino innovative enterprises in introducing their products and services in the local and international markets.
As part of the DTI's bold initiatives in supporting innovative enterprises in the country, QBO Innovation Hub was launched last August 8 in partnership with Ideaspace Foundation where support services are offered for innovators, explorers, investors, academic institutions, start-up mentors and enablers as well as a broad spectrum of partners and stakeholders from both public and private sectors. Located at the DTI International Building in Makati City, the hub aims to encourage more startups and innovation entrepreneurs in the country.
Recently, the Philippines improved 9 notches in the 2016's Global Innovation Index, ranking as the 74th most innovative country among 128 surveyed in a report released by the World Intellectual Property Organization (WIPO), Cornell University and INSEAD.