Onsite inspection of DPWH Secretary Mark A. Villar (wearing white polo shirt) together with Regional Director Edgar B. Tabacon (wearing blue polo shirt), District Engineer David P. Adongay Jr., Assistant District Engineer Alfredo L. Bollido and Congressman Rogelio J. Espina (wearing red polo shirt).
Construction of new Caraycaray bridge to start this year
By CHELSEA QUIJANO-SALLOMAN
March 21, 2018
NAVAL, Biliran – A higher, longer and stronger bridge that can withstand typhoons is planned for the construction of new Caraycaray Bridge according to Secretary Mark A. Villar of the Department of Public Works and Highways (DPWH).
Villar visited the province on Wednesday, March 14 as one of the keynote speaker during the 23rd Biliran Women's Congress in behalf of his mother Senator Cynthia A Villar.
The DPWH Secretary also inspected the Caraycaray Bridge together with DPWH-8 Regional Director Edgar B. Tabacon, District Engineer David P. Adongay Jr., Assistant District Engineer Alfredo L. Bollido and Congressman Rogelio J. Espina to personally assess the structural damages of the said bridge.
CarayCaray Bridge is one of the severely damaged infrastructures during the onslaught of Tropical Storm Urduja on December 15, 2017, thus total replacement of the bridge was recommended.
"Ginagawa na po yung plano, this year sisimulan na yung bagong bridge. On-going na yung planning stage, malapit nang matapos, 2 months nalang matatapos na yung final planning for replacement," said Villar.
The said bridge was opened to light vehicles on January 11, 2018, four days before the deadline set by the President. Heavy vehicles were advised to take the alternate long route Naval-Almeria-Kawayan-Culaba-Caibiran-Cabucgayan road and vice versa.
Villar said that DPWH is also going to construct a detour across the Caraycaray River for heavy vehicles. This means that it would reduce their travel time from two and a half hour to just 30 minutes from Biliran to Naval, the capital town of the province.
"Asahan niyo po gagawin naming ang lahat naming makakaya para mapabilis po ang construction ditto sa Biliran kaya nandito po ako ngayon para siguraduhin na tuloy-tuloy ang construction at kailangan mabilis po ang construction dito," he said.
The Caray-Caray Bridge is an essential bridge because it is the only shorter access in going in and out to mainland of Leyte.
P50M MPBs soon to rise in the 1st District of Samar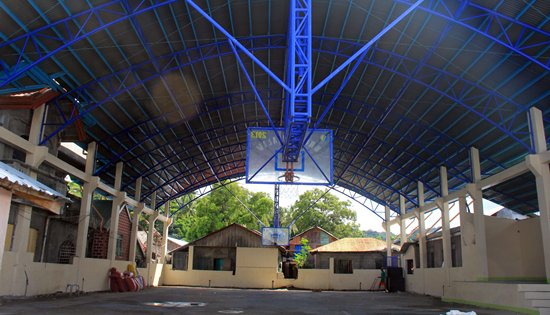 By JASON DELOS ANGELES
March 20, 2018
CALBAYOG CITY – DPWH Samar First Engineering District Office will soon implement seventeen (17) Multi-Purpose Buildings, with a total appropriation of P50 Million from the FY 2018 DPWH infrastructure program.
MPB projects aim to provide a decent venue for their community-based, socio-cultural and economic activities. On the other hand, it will serve as temporary shelter to the families affective during times of man-made and natural calamities.
MPBs are set to rise in 1 city and 4 municipalities with in the First District of Samar.
These projects are: Construction of Multi-Purpose Building (Legislative Building), Brgy. Poblacion C, Tarangnan; (Completion) of Multi-Purpose Building, Brgy. Binaliw; Multi-Purpose Building (Legislative Building), Brgy. Poblacion C, Tarangnan; Multi-Purpose Building (Phase I), Brgy. Basud; Multi-Purpose Building (Phase I), Brgy. Capoocan; Multi-Purpose Building (Phase I), Brgy. Carmen; Multi-Purpose Building, Brgy. Mabini II; Multi-Purpose Building, Brgy. Payahan; Multi-Purpose Building, Brgy. Villahermosa, Sto. Niño, Samar;
Multi-Purpose Building, Caglanipao Sur; Multi-Purpose Building, City Arts & Culture Office, Brgy. Central; Multi-Purpose Building, Jose Roño; Multi-Purpose Building, Libucan Daku, Tarangnan. Samar; Multi-Purpose Building, San Agustin, Gandara. Samar; Rehabilitation of Multi-Purpose Buidling, Manguino-o; Rehabilitation of Multi-Purpose Building, Brgy. East Awang; and Rehabilitation of Multi-Purpose Building, Napuro I, Sta. Margarita, Samar.
As of February 23, 2018 plans and program of works for these projects have been approved, contracts have been bid out and awarded, Notices to Proceeds have been issued to contractors. All projects are estimated to be accomplished within the year.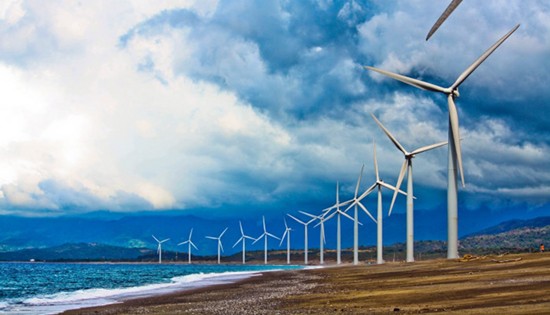 Bagui Wind Farm in Bangui, Ilocos Norte.
DTI leads PH energy sector drive for investments in Germany
By DTI-TIPG-CITEM
March 20, 2018
MAKATI CITY – The Department of Trade and Industry through its Center for International Trade Expositions and Missions (DTI-CITEM) is keen on attracting more investments for the country's booming energy sector through export promotion activities in the upcoming Hannover Messe to be held in Hannover, Germany, on April 23 to 27, 2018.
"We are elevating trade and investment promotion to a whole new level as we tap our partners for inclusive growth from the energy sector in a collective participation in this world's most important industrial tradeshow and the largest capital goods exhibition in Germany," said DTI Undersecretary for Trade and Investments Promotion Group (TIPG) Nora K. Terrado.
With the theme "Solutions for the New Era of Energy," the energy sector of Hannover Messe 2018 will focus on innovative technologies for electric power systems to become more flexible, to intelligently connect sectors, and to engage new market participants amid an increasingly decentralized global energy chain.
Hannover Messe covers the world's five industrial value-adding chain under one roof, namely (1) energy; (2) integrated automation, motion and drivers (IAMD); (3) industrial supply; (4) research and technology; and (5) digital factory.
"As a global gathering of key industry players, Hannover Messe is the prime platform to drumbeat and build up investor confidence on the Philippines as a global powerhouse of renewable energy and other relevant technologies," said Terrado.
In 2017, the Germany‐based event gathered 6,500 companies from over 70 nations and was attended by 225,000 visitors and trade buyers across the world, generating around 5.6 million partnerships, business models and other contacts.
Aside from renewable energy, the Philippines through DTI will also seek to secure investments for local stakeholders in energy efficiency, conservation, and transmission in the Philippines.
In preparation for Hannover Messe, Undersecretary Terrado said they are gathering a pool of 15 Philippine companies that represent the nation's best foot forward in terms of energy systems, technology, services and other industrial goods.
"Through this synergy among stakeholders, we will be able to seal partnerships with foreign investors and mobilize much‐needed funding and infrastructure to our energy players," explained Terrado.
"It will also give motivation to our local energy stakeholders to fast‐track efforts towards the mainstream use of renewable energy sources in the Philippines as more and more countries have started their industrial shift towards more sustainable power sources," she added.
Business‐matching meetings between Philippine renewable energy companies to potential investors, technology adapters, developers, suppliers and other local energy stakeholders are also expected to take place in the international tradeshow.
PH shifts to renewable energy
Renewable energy is defined as energy generated from natural processes that are continuously replenished which includes biomass, geothermal, hydro, wind, solar and ocean energy under the PEP 2012-2030.
It has been identified in the country's Investment Priority Plan 2017-2019 as an emerging sector that needs government intervention particularly in export promotion.
Based on a DOE's Philippine Power Situation Report, the country's total power capacity in 2016 is at 53.16 million tons of oil equivalent (MTOE) with renewable energy occupying the second largest share at 32.5%, only next to coal at 34.6%. The top renewable energy sources in the Philippines are hydropower (16.9%) and geothermal (8.9%), followed by biomass, wind, and solar (6.6%).
Interested companies/exhibitor may contact Ms. Alex Lucas at 831-2137, or send an inquiry at alucas@citem.com.ph.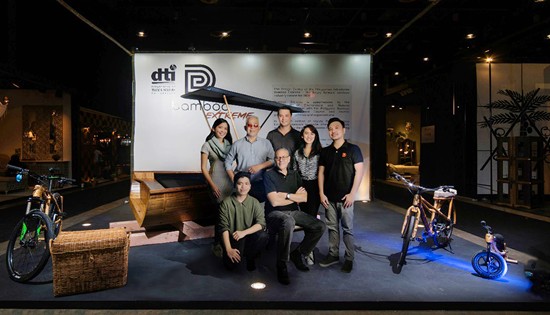 The Bamboo Extreme Design Team. Bamboo Extreme was handled by designers and product specialists from Design Center of the Philippines. (L-R, bottom row) Lemuel Abron, Chris Lacson, (L-R, top row) Kate Añoso, Milo Naval, Bryan McClelland, Lotti Galicia, and Ivan Limjoco.
PH eco-motorcycle recognized in WGSN's Design Futures Report under Engineering Nature
By DTI-TIPG-DCP
March 16, 2018
PASAY CITY – The Department of Trade and Industry's Design Center of the Philippines sees Philippine design steadily rising into the international design scene as locally-made eco-friendly motorcycle Green Falcon lands in WGSN's Design Futures Report.
"With Green Falcon and Bamboo Extreme getting featured in WGSN, it pushes the Philippines' status a notch when it comes to material and design innovation. It celebrates the Philippine design industry's capability to develop products that are forward thinking, and potential in influencing global design," said Rhea O. Matute, Executive Director of DTI-Design Center of the Philippines.
WGSN is an internationally-renowned online trends forecasting portal, where excellent research, data and insights are provided to help businesses stay relevant, keep abreast of future trends, and tap into their potential growth opportunities.
In WGSN's report entitled Engineering Nature, the Green Falcon was listed among other product and material innovations that combined technology and engineering with natural elements.
"Moreover, it recognizes Design Center's efforts, and in partnership with the Department of Trade and Industry, in growing its vision for the Philippine design industry," added Matute.
The Bamboo Extreme is a collaborative project between Design Center of the Philippines and DTI-Industry Cluster Enhancement aimed at modernizing bamboo to capture the millennials' way of life, filled with adventure, exploration, and experimentation.
Inspired by café racers in the 1960s, the Green Falcon is notable for using bamboo for the motorbike's upper body, a first in the production of motorcycles. It remarkably emphasized how bamboo as a material can be pushed beyond the usual, normal, and traditional product applications such as furniture, home accessories and lamps and lighting.
"What is highlighted in the Green Falcon is a natural or organic ergonomic component in the use of bamboo for the motorbike's body shell," designer Christopher Paris Lacson says about the bamboo body shell. "It allows the rider to feel comfortable sitting as he would on a wooden chair."
Lacson especially designed the Green Falcon for adventurous millennials, who highly regard design, performance, and sustainability while supporting the Philippine design industry as well. Mimicking the speed of a falcon, the eco-friendly motorbike can put its gear to a speed of 100-110 kph. It also uses electricity for power, its contribution to zero pollution on the road.
"What we are doing, with bamboo and other raw material composites with technology, we are breathing a new paradigm in materials. It is a paradigm breaker," Lacson explained about the combination of natural material and technology. "I would like to think that this is something that is hopefully at the edge of a new trend."
While he believes Filipinos are very creative people, he noticed how most Filipino consumers would still look to other countries' products, and not the locally-made ones.
"It's about time we shift their perspectives on products – from Ducati to Banatti [manufacturer of the Green Falcon], from foreign to local," Lacson remarked, wanting to inspire local industries and leaders to create and develop more tools that can transport the country and its people to inclusive growth. "I hope that other countries will begin looking at us, and would want to try something from the Philippines."
The Design Center of the Philippines, and attached agency of the DTI, is the only national agency for design, and the leading agency committed to cultivating a culture that thrives in creativity, value creation, and innovation.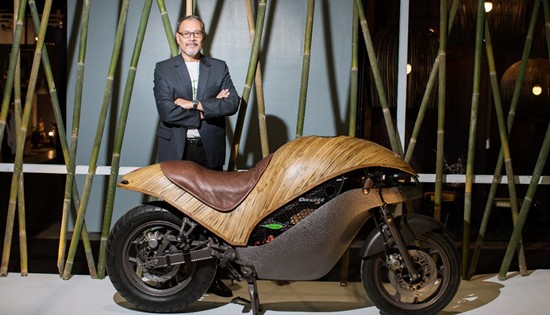 The Green Falcon with designer Christopher Lacson. The prototype was built by a small team composed of Prototype Engineer Jess "Sparky" Alimbo, Body Sculptor Eddie "Bondo" Canete, and Evolve/OMO Factory's bamboo craftsmen.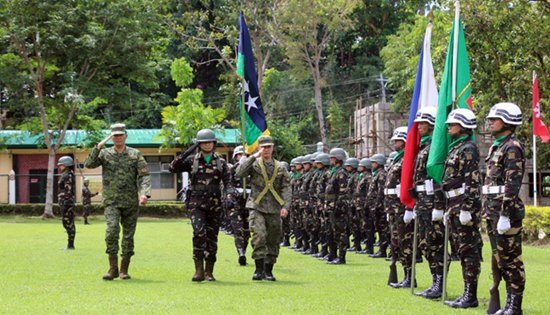 Lieutenant General Paul Talay Atal, Commander, Central Command, AFP warmly welcomed by Maj. Gen Raul M Farnacio, Commander, 8ID at the home of the Stormtroopers Camp Gen. Vicente Lukban, Catbalogan City, Samar on March 15, 2018.
Central Command commander visits 8ID
By DPAO, 8ID PA
March 16, 2018
CAMP LUKBAN, Catbalogan City – The Commander, Central Command of the Armed Forces of the Philippines, Lieutenant General Paul T. Atal and Party visited the men and women of the 8th Infantry (Stormtroopers) Division, Philippine Army on March 15, 2018 at 10 o' clock in the morning.
Lieut. Gen. Atal was warmly welcomed by the Stormtroopers through a traditional military honors hosted by Maj. Gen. Raul M. Farnacio, Commander, 8ID. He was later briefed on the current security situation in Region 8.
During his traditional talk-to-men, Lieut. Gen. Atal re-echoed to the troops that their Commander-in-Chief, President Rodrigo Roa Duterte is satisfied with the performance and accomplishments of the AFP. He encouraged the soldiers of 8ID to be proactive and to remain vigilant in terms of security to counter the act of violence of the enemies. He also lauded the troops for their sacrifices and hard work in the performance of their duty in serving the people and securing the land.
Likewise, the awarding of cash incentive to 78th Infantry (Warrior) Battalion and 20th Infantry (We Lead) Battalion by Lieut. Gen. Atal was done in recognition of the unit's admirable accomplishment against the Communist-NPA Terrorists in Samar and Leyte Island, respectively.
The visit of the highest AFP official in the Visayas provided a boost in the morale of the men and women of the 8th Infantry Division to continue their mission to protect the communities in the region from the atrocities of the Communist-NPA Terrorists.
In his statement, Lieut. Gen. Atal said, "Let us continue the momentum gentlemen, I know that Stormtroopers are always on your toes to accomplish your mission, major accomplishments is part of morale."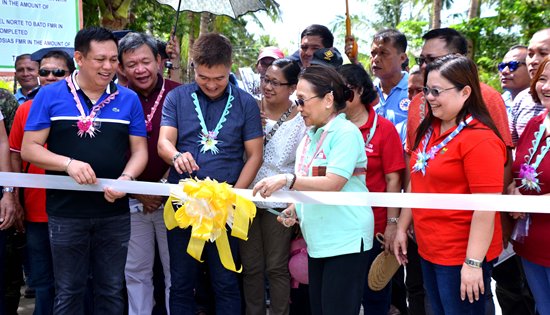 DAR Undersecretary Sylvia Mallari (2nd from R) and Northern Samar Vice Governor Gary Lavin (2nd from L) cut the ceremonial ribbon during the inauguration of the three road projects in Gamay implemented under the second phase of the Agrarian Reform Communities Project (ARCP-II). Assisting them are mayor Timoteo Capoquian (L) and Regional Director Sheila Enciso (R).
DAR turns over 3 roads, bridge in Gamay
By JOSE ALSMITH L. SORIA
March 14, 2018
GAMAY, Northern Samar – As highlight of the 71st founding anniversary celebration of this town Undersecretary for Foreign Assisted and Special Projects Sylvia Mallari of the Department of Agrarian Reform (DAR) turned over three farm-to-market road projects, one constructed with a 30-linear meter bridge, over the weekend.
All projects implemented under the second phase of the Agrarian Reform Communities Project (ARCP-II) are contiguous passing through the barangays of Cagamutan, Bato, Bangon and GM Osias with an aggregate length of 8.3 kilometers.
Mallari, who was the guest speaker during this year's celebration emphasized the need to establish rural growth centers to combat poverty in the countryside.
According to her, these are development projects such as rural infrastructures that would open opportunities particularly to the farmers and help solve insurgency in some areas as well.
This is what DAR is doing in partnership with the local government units (LGUs), Mallari said.
She added that this compliments the core mandate of DAR, the Land Tenure Improvement.
Mallari explained that the establishment of rural growth centers is in accordance with one of the objectives under the Philippine Development Plan that is to achieve a better life and a brighter future by year 2040.
Mayor Timoteo Capoquian acknowledged DAR's contribution to his town's development. According to him, DAR is the town's biggest donor in terms of rural infrastructures referring to these turned over projects with a combined amount reaching P66.4-M.
Though the total project cost was shared by the local government unit (LGU) and the national government thru a loan from the Asian Development Bank (ADB), Capoquian thanked DAR for assisting them build road networks.
Meanwhile, Regional Director Sheila Enciso reminded the LGU and the recipient barangays to maintain the projects in good condition within a period of 10 years, otherwise the grant portion will be converted into a loan.
Aside from the four barangays where the projects are situated, Provincial Agrarian Reform Program Officer (PARPO) Nida Abelido disclosed that residents from seven more remote villages are likewise benefited.
An estimate of nearly 9,000 residents from the 11 barangays pass this route on their way to the national highway, she added.
According to one resident, with the construction of the bridge, it is easy for them now to transport their products for they don't have to wade through the river anymore in crossing Barangay Bangon.
PSA conducts 2018 comprehensive Updating of the List of Establishments (ULE)
By PSA-8
March 14, 2018
TACLOBAN CITY – The Philippine Statistics Authority (PSA) will conduct the 2018 Comprehensive Updating of the List of Establishments (ULE) starting 16 April 2018. This will be the first ULE operation that will use tablets as substitute for the usual pen-and-paper.
Around 39,000 establishments in Region 8 will be visited for enumeration. They will be interviewed by hired field interviewers using the ULE App, an android tablet-based application developed by PSA. This is part of the agency's strategic thrust goal to use innovative procedures and technology to speed up data collection and data processing.
The ULE is the First Phase of the 2018 Census of Philippine Business and Industry. It is a nationwide survey conducted by the PSA to provide an updated and reliable sampling frame for various business surveys and censuses. The data that will be collected also serve as (1) guide to government planning, policy making and monitoring; (2) basis of marketing plans, opportunities and prospects; and (3) input to evaluation, market research and comparative studies.
The PSA appeals to the public, especially the business sector, to cooperate and support the conduct of this survey. The office also assures that all information gathered will be held strictly confidential and shall not be used as evidence in court for purposes of taxation, regulation or investigation as provided for in RA 10625.
The Regional Statistics Committee VIII, through Resolution No. 2 Series of 2018, enjoins all Local Government Units and the Business Sector to support the conduct of the 2018 Comprehensive Updating of the List of Establishments in Region VIII.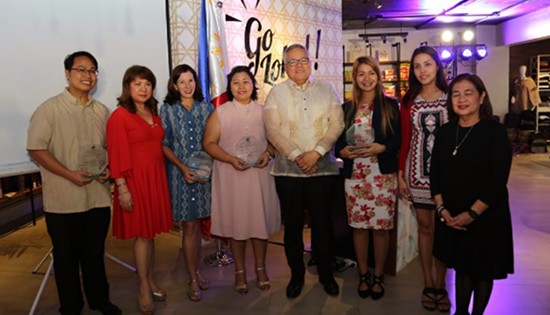 In photo L-R: DTI One Town, One Product (OTOP) Consultant Leon Flores receiving the award for Lipi Shoes, DTI Trade and Investments Promotion Group Assistant Secretary Rosvi C. Gaetos, Gifts and Graces Executive Director Victoria Jalandoni, Vicky's Pili and Food Products Managing Owner Myra Zandra Gestiada, DTI Secretary Ramon M. Lopez, Greenlife Coconut Products Sales and Marketing Director Ma. Frances Rubio and Pamela Rubio, and DTI's Bureau of Domestic Trade Promotion Director Rhodora Leano.
DTI awards top Go Lokal! brand discoveries for 2017
By DTI-TIPG
March 12, 2018
MAKATI CITY – The Department of Trade and Industry through its Go Lokal! program recognized four (4) top MSME suppliers as Top Brand Discoveries for 2017 during its Go Lokal! Buyers' Day celebration on 8 March 2018 at the DTI Go Lokal! Showroom in Makati City.
Lipi Enterprises, Vicky's Pili and Food Products, Green Life Coconut Philippines Inc., and Gifts and Graces Fairtrade Foundation Inc., were awarded Top Brand Discoveries for 2017 after careful screening of all established Go Lokal! MSME suppliers with the following criteria: sales performance, number of retail partners carrying the brand, social impact and professionalism.
"As you know, this initiative of the Department is really meant to elevate and upgrade the kind of Micro SMEs that we have here in the country. We want them to be discovered. We want them to be empowered. We want to give them the mainstream place that they deserve – retail malls and outlets which are our partners. It's different when they are given the chance to succeed," said DTI Secretary Ramon M. Lopez during the awarding.
The awarded brands were among the micro, small, and medium-sized enterprises (MSMEs) registered in Go Lokal! that availed the product development provided by DTI and the free marketing platform through DTI's retail partners.
Mr. Joseph Lucero of Lipi Enterprises, admitted that access to selling areas was their primary obstacle before being a Go Lokal! supplier. "With Go Lokal! initiative, the DTI helped in bringing us into the malls. They were the conduit between the malls and us, small businesses," added Lucero. In 2017, Lipi sales increased to 100% after joining Go Lokal!.
Meanwhile, Gifts and Graces, a foundation that was created to connect Filipino artisans and underprivileged communities with consumers, was able to showcase their products at the Go Lokal! retail store in Robinson's Place Manila.
For Green Life Coconut Products, their presence in various Go Lokal! store locations such as Rustan's, Robinson's Ermita, and in 25 City Malls nationwide contributed to their big sales in 2017 amounting to over seven hundred thousand pesos. Vicky's Pili and Food Products was also recognized for their high-quality pili nut products which recorded a 13% increase in their total sales in 2017 through Go Lokal!
Go Lokal! is a retail concept store and an innovative marketing tool developed by the DTI to showcase quality, cool, modern and 100% Filipino products and help MSMEs in accessing mainstream market.
At present, DTI Go Lokal! has established partnerships with Enchanted Kingdom, SM, Robinsons, Ayala Malls, Rustan's, Duty Free Philippines, Shopwise, Marketa and City Mall. These partnerships paved the way for over 30 Go Lokal! retail stores in the country.