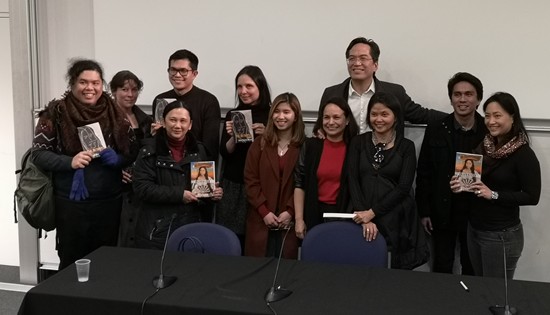 SULAT's pioneering batch of creative writing fellows participated in the two-day creative writing workshop facilitated by Filipino novelist Gina Apostol. (Photo by Stacy Garcia)
Waray novelist facilitates first Southeast Asian creative writing workshop in the UK
Press Release
January 9, 2019
LONDON – Award-winning Waray novelist Gina Apostol facilitated the first Creative Writing Workshop under SULAT, a platform launched by the School of Oriental and African Studies University of London (SOAS) aimed at fostering an active and engaged creative writing community for Southeast Asian literature.
The workshop focused on discussions about the place of history and the 'silent voices' in writing post-colonial fiction. It was followed by a round of critiques on the works of SULAT's first batch of creative writing fellows and concluded with readings from the award-winning masterpieces of Apostol and Reine Arcache Melvin.
"SULAT is committed to discovering and supporting emerging writers of Southeast Asian descent in the UK," said Dr. Cristina Martinez-Juan, who currently heads SOAS' Philippine Studies Programme. "It's meant to be a space where writers can come together, learn from each other, and support each other, particularly in terms of Southeast Asian literature."
According to Juan, Southeast Asia is replete with brilliant writers but in order to increase the works' readership, it needs wider distribution, more media coverage, and more people talking about the stories being written by Southeast Asian writers.
"Writers are some of the most important purveyors of culture," said Ambassador Antonio M. Lagdameo. "Works of literature, whether prose or poetry, have the power to provide people a glimpse into the soul of a nation and the essence of a country's culture. Specific to Philippine literature, the Filipinos' strong command of the English language make us some of the most compelling storytellers in the English speaking world."
SULAT aims to follow-up on the workshop by continuously engaging the pioneering batch of creative writing fellows and by initiating other activities that aimed at igniting interest in Southeast Asian literature in the United Kingdom (UK).

Reine Arcache Melvin explains the historical backdrop of her latest book, The Betrayed. (Photo by Stacy Garcia)
DepEd neglect necessitates teachers to organize - TDC
Press Release
January 9, 2019
QUEZON CITY – "An attack on one of us is an attack against all of us". This was the statement made by Teachers Dignity Coalition (TDC) national chairperson and Benjo Basas upon hearing of the profiling of members of the Alliance of Concerned Teachers (ACT) by the national police with the consent and endorsement of certain Education department officials.
The group condemned the malicious profiling of teachers by the PNP as well as the connivance of certain DepEd officials who endorsed the surveillance of teachers.
PNP Director General Oscar Albayalde admitted in press conference Monday that their intelligence gathering was not limited to members of ACT.
Basas strongly demanded the DepEd to stand firm against all intrusions and transgressions of their rights and well being as state employees and hold accountable officials who conspired with the national police without providing sufficient reason.
The group says that the revocation of the endorsement letter is insufficient to guarantee the full protection of their rights.
"The DepEd cannot expect teachers to be as effective stewards of the next generation if we are being subjected to harassment and intimidation for merely joining an organization to seek what we rightfully deserve," Basas said.
He adds, "it is distressing for us to find out that an institution with such noble goals be a willing tool to the fascist machinations of this administration".
He pointed out that public school teachers are overworked, undercompensated and continuously deprived of our economic and political rights, and are now being maliciously red-tagged for merely asserting what is granted to them by law.
Basas, first nominee of partylist group Partido Lakas ng Masa cited that among the issues they have long lobbied for is the full implementation of the provisions of Republic Act 4670 or the Magna Carta of Public School Teachers which includes the freedom to organize.
In last year's National Teachers Month, the more than 30,000-strong TDC held protests demanding the implementation of the six hour work day under DepEd Memorandum 291 of 2008 and DepEd Order 16 of 2009, following three suicide cases last year attributed to heavy workloads.
This culminated in a campout outside the DepEd Central office in Pasig City from September 24 to October 5.
Meanwhile, TDC chairman for the National Capital Region Nono Esguerra of Roxas High School called on the DepEd to uphold the confidentiality & privacy of records of its employees and protect them from possible harm and danger.
He reminds the DepEd that it is within its mandate to implement the right and freedom to organize and non-discrimination enshrined in Magna Carta for Public School Teachers.
Basas indicated that they are willing to march side-by-side with ACT members. "Unity is required to derail whatever sinister plans the PNP have up their sleeve. We will do whatever is required for teachers to be treated as dignified professionals and not what the police are painting us to be".
TDC, a rival organization of ACT, was founded in 2006 with the purpose of advancing the interests and general welfare of all public school teachers.
He warned that the continued neglect and persecution of teachers under the present administration will give rise to a unified teachers' movement that may launch bolder actions to advance their interests, similar to the wave of teachers' strikes that hit the United States last year.
"Hindi ba kapag napuno na ang salop, dapat na itong kalusin," Basas averred.
Save the Children Philippines pushes vaccination vs. measles to prevent rising deaths of children
Press Release
January 8, 2019
MAKATI CITY – Save the Children Philippines called on parents and health workers to intensify measles vaccination due to the steady rise of deaths among children caused by complications from the preventable disease.
Lawyer Albert Muyot, chief executive officer of Save the Children Philippines said there is a need to dispel the public scare against vaccination in general as it has prevented mothers from having their children immunized.
A scare against vaccination spread in the Philippines because of the Dengvaxia vaccine against dengue.
"Parents and community health workers must be at the forefront of the campaign to dispel the public scare against measles vaccination to make sure children do not die from the preventable disease," said Muyot.
The number of deaths from measles, mostly children climbed five times to 17,289 between January to November 2018, compared to 3,706 cases recorded during the same period in 2017, according to the Department of Health.
The recently passed First 1,000 Days law highlights the need for complete immunization of babies including measles vaccines before they reach one year old. It also ensures children's health and nutrition and better performance in schools.
Dr. Amado Parawan, health and nutrition advisor of Save the Children Philippines said immunization is important to ensure herd immunity of children from the airborne virus of measles.
He said measles vaccine has been used in the country for four decades and has prevented deaths and diseases among children since then.
"We cannot compare measles vaccines which have been proven to be effective in saving the lives of children from the life threatening disease to the newly developed Dengvaxia, which is the subject of the public scare," said Parawan.
He said measles virus is airborne and easily transferred among infants and children who have not been vaccinated.
"Complications from measles are pneumonia and diarrhea, which are also the top two leading causes of deaths among children," said Parawan.
Save the Children Philippines has been implementing maternal and child health and nutrition programs among poor families in Navotas, Malabon, Caloocan through access to immunization, prenatal check-ups for pregnant mothers and training of community health workers.
Under Project NURTURE, the group is implementing nutrition-sensitive measures in eight poor barangays in Navotas with focus on the first 1,000 days of the child to prevent stunting and improve the health of pregnant and lactating mothers. The program includes prenatal check-up, food vouchers for pregnant and lactating mothers as well as health and nutrition services for undernourished children.
Save the Children Philippines pushed for the enactment of the First 1,000 Days law that scales up the nutrition support for mothers and children in the first 1,000 days of a child's life, which is the crucial window of opportunity to ensure that mothers and children in Philippines achieve optimum development.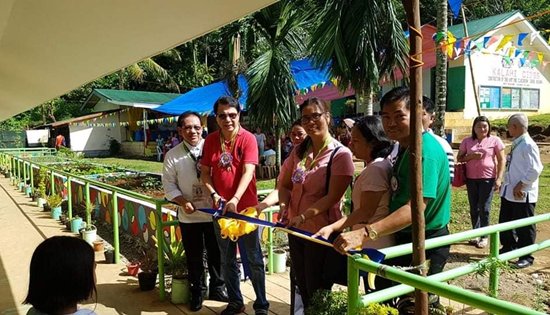 Congressman Rogelio J. Espina (in red polo shirt) and Ms. Leah Lim, School Principal lead the ribbon cutting rites of the newly completed school buildings in Maurang Elementary School in Caibiran, Biliran. The ribbon cutting was assisted by District Engineer David P. Adongay Jr., (in white longsleeve) and Engr. Warlito Alagao Sr. (in green shirt) of WB Alagao Construction on December 10, 2018.
P32.7M newly completed school buildings turn over to recipient schools
Press Release
December 28, 2018
NAVAL, Biliran – The Department of Public Works and Highways (DPWH) Biliran District Engineering Office (DEO) turns-over the newly completed school buildings to two recipient schools in the town of Culaba and Caibiran.
The Pinamihagan Elementary School in Culaba town and Maurang Elementary School in Caibiran town are among the beneficiary schools of the newly completed P32.7M school buildings.
In Pinamihagan Elementary School, P13M three school buildings with a total of nine classrooms is now operational after being turned-over on December 14, 2018 This school building can accommodate at least 360 students of the said school.
Meanwhile, P19.7M four new school buildings now also rise in Maurang Elementary School with a total of 14 classrooms. The school building that can accommodate at least 560 students was turned-over on December 10, 2018.
David P. Adongay Jr., District Engineer said that the newly completed school buildings were equipped with better toilets and ceiling fans to provide the students a conducive place for learning.
"With good school environment, our students will be motivated to learn as well as our teachers to teach," said Adongay.
"This school buildings can also be used by the residents as an evacuation just in times of calamities," added Adongay.
According to Adongay, the design of the school buildings were based on DPWH design standards which emanates from DPWH Central Office.
"As far as the design is concerned, the school buildings are sturdy," said Adongay.
DPWH-Biliran DEO is currently implementing a total of 71 school building projects under FY 2017 Department of Education (DepEd) - Basic Educational Facilities Fund (BEFF) amounting to P329.2M.
Out of 71, 61 were already completed, nine are on-going and one is Not-Yet-Started (NYS) with an accomplishment of 97.45%.
Manila Water bags Calbayog deal
Press Release
December 27, 2018
QUEZON CITY – Ayala-led Manila Water Co., Inc. has been awarded the contract to provide water and wastewater services in Calbayog City.
In a regulatory filing early today, Manila Water disclosed that it had received the Notice of Award from the Calbayog City Water District (CCWD) for the implementation of an integrated water supply and sanitation project, to be carried out under a joint venture framework.
The contract covers the design, construction, rehabilitation, operation, maintenance, financing, expansion, and management of water and wastewater systems in the city of Calbayog, as well as other areas which may eventually form part of the service coverage of CCWD in the Province of Samar.
Manila Water intends to form a Special Purpose Vehicle (SPV) with its local partner, TubigPilipinas Group, Inc., to implement the project with an estimated CAPEX of P1.2B under a contractual joint venture with CCWD.
The joint venture agreement will grant the SPV the exclusive right to manage, operate, maintain, repair, refurbish and improve, expand and as appropriate, decommission, the facilities of CCWD. The SPV shall also be given the right to bill and collect tariff for the provision of water supply and sanitation services in the service area.
Calbayog City serves as the commercial and industrial center of the province of Western Samar. It has a total estimated population of 194,000. As of 2017, CCWD has 13,097 water service connections, with a service coverage of only 32% and an effective water tariff of P39.4/cum. The project has a potential billed volume of about 30 million liters per day.
Soldier pays the ultimate sacrifice to protect the community
By DPAO, 8ID PA
December 23, 2018
CAMP LUKBAN, Catbalogan City – Community Support Program (CSP) Team of 20th Infantry (We Lead) Battalion, 8ID, PA while conducting security patrol was fired upon by more or less 30 Communist NPA Terrorist (CNTs) at vicinity Brgy Caputo-an, Las Navas, Northern Samar on December 22, 2018 at about 6: 20 A.M.
Firefight between the soldiers and the terrorists lasted for an hour and twenty minutes that resulted to the loss of Private First Class Alvin B. Avila (Inf) PA and wounding of Private Ivan Anthony P. Ignao (Inf) PA and Private Michael S. Ocasla (Inf) PA.
Recovered after the encounter were the following: 60 meters drop wire; one bag of assorted empty shells of (M60 machine gun, M14 and M16 rifles, Cal. 45 and 9mm pistol); two cooking pots; detonating cords and one empty box with Armscor trademark.
The fatality, PFC Avila is 24 years old and is a resident of Aguadas St. District 4, Burauen, Leyte who had a great passion to serve his fellow Visayans in Northern Samar.
The CSP Team was deployed at Brgy Caputo-an to assist the community to facilitate the needed basic services to be addressed by the local government unit.
Major General Raul M. Farnacio, Commander of the 8th Infantry Division, instructed the troops to be more aggressive to put an end to the terroristic activities of the CNTs against our people within our area of operations.
"We extend our deepest sympathies to the family and friends of Private First Class Avila. He died protecting the people of Northern Samar in pursuit of peace and development," Farnacio added.
EV registers 96.1% employment rate in October 2018
By PSA-8
December 19, 2018
TACLOBAN CITY – Eastern Visayas registered 96.1% Employment Rate (ER) in October 2018, ranking sixth among the regions with high employment rates in the country, and at par with Zamboanga Peninsula. This figure is slightly lower than the 96.3% ER recorded in October 2017. Employment rate is the proportion of employed persons to total labor force.
Out of the estimated 3.2 million population 15 years old and over in October 2018, about 1.8 million were economically active or in the labor force. This number translates to a Labor Force Participation Rate (LFPR) of 58.4%. This figure is 1.8 percentage points lower compared with the 60.2% LFPR in the same period a year ago. Among the regions, Eastern Visayas recorded the fourth lowest LFPR.
The underemployed persons or those employed persons who express the desire to have additional hours of work in their present job or to have additional job, or to have a new job with longer working hours was estimated at 265 thousand. This is equal to an underemployment rate of 14.9%, 5.7 percentage points lower than the 20.6% recorded in the same period last year.
Meanwhile, about 72 thousand persons in the labor force were unemployed. This translates to an unemployment rate of 3.9%, slightly higher than the 3.7% unemployment rate recorded in the same period in 2017. Considered unemployed persons are persons in the labor force who are reported as without work; and currently available for work; and seeking work or not seeking work due to the following reasons: a) belief that no work is available, or b) awaiting results of previous job application, or c) because of temporary illness or disability, or d) weather, or e) waiting for rehire or job call.
Data were based on the preliminary estimates released by the Philippine Statistics Authority from the Labor Force Survey (LFS) conducted in October2018.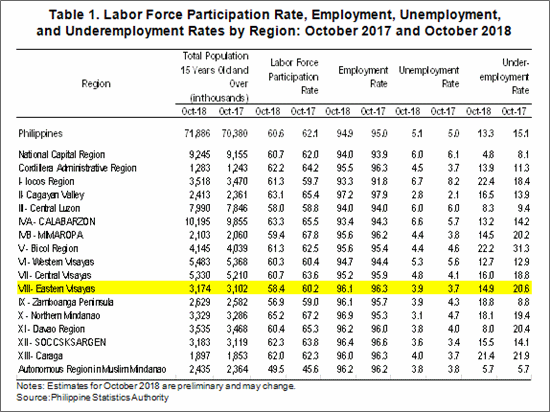 Innocent mother and son, and four soldiers blast with anti-personnel mine by CNTs in Catarman, Northern Samar
By 43rd Infantry Battalion, 8ID PA
December 18, 2018
LOPE DE VEGA, Northern Samar – Troops of 43IB, 8ID, PA who delivered food intended for the soldiers of Charlie Company 43IB at Brgy. Mckinley, Northern Samar who are conducting Community Support Program (CSP) operations in the said barangay, while riding on one light ace civilian vehicle of the said unit traversing the road towards Catarman proper were hit by an anti-personnel mine and fired upon by more or less 15 Communist New People's Army Terrorists (CNTs) at vicinity in-between Brgy Hinatad and Brgy Mckinley of same municipality at around 11:35 in the morning yesterday.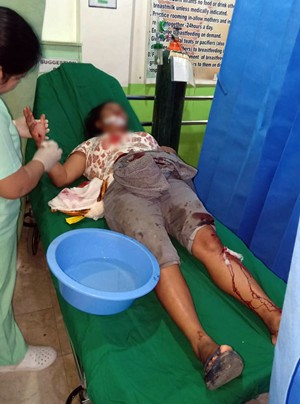 Anti-personnel mine were detonated first followed by volumes of fire of different caliber, forcing them to retaliate, the firefight lasted for about five minutes, which resulted to the wounding of four soldiers and two innocent civilians passing on that area, after which the CNTs withdrew towards different direction.
The victims were identified as Pvt Rolly B Dizon (Inf) PA, Pfc Rorey O Montopar (Inf) PA, Pvt Joel Lacabe (Inf) PA, and Cpl Jose Jerome L Ballano (Inf) PA, all endured minor wounds. Furthermore, the identified mother and son, Sherly Robenacio, 35 years old and Christian Robenacio, 17 years old, of Brgy. Hinatad, Catarman, Northern Samar were reportedly wounded in the incident.
The injured soldiers were brought to the nearest hospital for immediate medical treatment and already recovering. Moreover, the wounded civilians were already in the Northern Samar Provincial Hospital and were assisted by 43IB troops.
From the point of Cornillo Robenacio, husband and father of the wounded civilians, there were no good things that CNTs may bring to the people; they are just giving problems and headaches to the innocent.
According to LTC Apollo B Herrera INF (GSC) PA Commanding Officer of 43rd IB, the incident that transpired in the area was brought not only misery but also caused panic to the innocent civilians particularly the use of violence and enemy atrocities distorting the lives of the local folks. Moreover, the unit will not observe Christmas break to ensure the safety of its area of operation and to prepare for other possible violent move of the CNTs. The unit will plan different and massive tactical operations, and will file both human rights violation and criminal cases against the CNTs.
The 43rd IB call the attention of Nortehanons to condemn the barbaric act done by the Communist NPA Terrorists (CNTs) particularly in using anti-personnel mines and other terroristic atrocities actions in Northern Samar.
These illegal activities of the CNTs that affect innocent civilians are a clear violation of the International Humanitarian Law and Comprehensive Agreement for Respect on Human Rights and International Law (CARHIL), affecting the peace effort of the government particularly in attaining the long-lasting peace and development in Northern Samar respectively and despite of commemorating National Human Rights Consciousness week last December 04-10, 2018 this case happened. Moreover, this incident shows that Communist New People's Army Terrorists (CNTs) are not sincere from their offered unilateral truce this Christmas season because their plan is contrast with what is happening.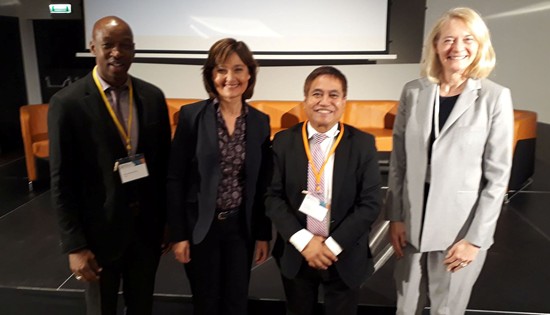 In the photo are (L-R) African Risk Capacity (ARC) Chief of Operational Planning Mr. Papa Zoumana Diarra, Deutsche Welle TV Global Broadcaster Monica Jones, Dr. Alip who also a member of the board of International Co-operative and Mutual Insurance Federation (ICMIF), and InsuResilience Head Dr. Astrid Zwick.
Paving the way to effective risk financing solutions
Press Release
December 18, 2018
SAN PABLO CITY – CARD Mutual Benefit Association's (CARD MBA) experiences and strategies in delivering affordable and efficient microinsurance products for the socioeconomically challenged communities in the Philippines is one of the featured talks at the Global Partnership Forum of InsuResilience Global Partnership on December 10, 2018 in Katowice, Poland (COP24).
Dr. Jaime Aristotle B. Alip, the founder and chair emeritus of CARD Mutually Reinforcing Institutions (CARD MRI) where CARD MBA is a member institution, highlighted in his talk the business model and strategic direction of CARD MBA, the 1-3-5 claims settlement.
The said scheme ensures that the claim of every policy holder must be given within one day to a maximum of five days.
Moreover, CARD MBA offers life insurance at P15 (USD 0.3) per week to more than six million clients of CARD financial institutions insuring more than 23 million individuals nationwide.
CARD MRI is a group of 21 development-oriented institutions that aims to eradicate poverty through microfinance, social protection, and community development.
The 2nd Partnership Forum serves as a platform to exchange experience and knowledge in exploring successful ways to promote climate and disaster risk finance and insurance solutions.
At least 200 participants from governments to representatives of international organizations, civil society, private sector, and academia attended the forum.
Local steel company to construct P500M plant in Batangas - DTI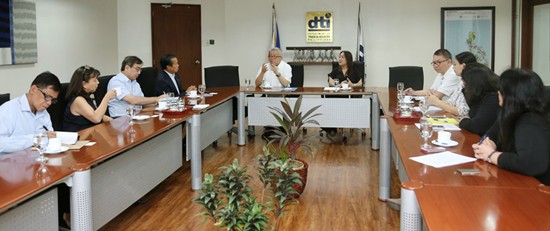 By DTI-OSEC-PRU
December 14, 2018
MAKATI – The Department of Trade and Industry (DTI) Secretary Ramon Lopez and Puyat Steel Corporation Chairman Edgardo Reyes discussed the plan of expand the steel manufacturing base in the Philippines as a way to answer the country's growing demand for steel products and reduce the trade deficit through import substitution.
During their meeting on 11 December with the DTI, Chairman Reyes reported that Puyat Steel is constructing a Php 500-million pipe manufacturing plant in Batangas that will produce steel pipes of up to 3 meters in diameter and to create 350 new jobs. It will be located beside the company's existing plant in Batangas, and will begin operation in the first quarter of 2019.
Lopez is pushing for local manufacturing companies to expand operations amidst a fast-growing economy under the Duterte administration. Boosting the manufacturing sector creates jobs, increases the production capacity to support the rapidly expanding domestic demand and export requirements, and helps reduce the trade deficit, said Sec. Lopez.
DTI pushing for fair trade practices and a level playing field for domestic industries and is therefore studying the inclusion of steel pipes and roofing materials in the list of products requiring mandatory certification to ensure that only quality standard materials are sold in the local market, for the protection of consumers and users.
Strengthening enforcement of industry standards, he further noted, will prevent substandard imports and smuggled goods from entering the country. Undersecretary Ruth Castelo, who heads the Consumer Protection Group, said that the DTI advocates for the use of international standards for all local and imported steel products.
Mr. Reyes said that while they are facing challenges in maintaining its market share against imported products, they are willing to invest to expand more as they have the technology and know-how.
Puyat Steel Corporation is a 62-year old company that established the first galvanizing plant in the Philippines. They produce galvanized iron sheets for construction, building, and roofing materials.