ACT denounces terrorist-tagging of people's orgs to EU, calls for international solidarity
Press Release
April 1, 2019
QUEZON CITY – The Alliance of Concerned Teachers (ACT) called the Duterte government 'anti-democracy' after it again wrongly accused several organizations as fronts of the Communist Party of the Philippines and the New People's Army (NPA) before the European Union (EU). The teachers' federation called for support from the international community amid state attacks against people's democratic rights.
"This is part of the militaristic Duterte regime's bogus counterinsurgency program, which in reality is a crackdown and vilification campaign against groups critical of its anti-people and fascist policies. But the Filipino people know best our record of genuine public service and unwavering dedication to democracy, peace, and justice," says ACT National Chairperson Joselyn Martinez.
The teachers' federation says that this desperate and failed attempt by the administration to discredit ACT and other organizations among its members, partners, and the public at large. They further asserted that the state will be held accountable for its irresponsible slandering and baseless accusations of legal and legitimate organizations.
Martinez also pointed out the irony in the government's claim that there is no human rights crisis in the Philippines but carries out a crusade to impede the international community from assisting local peoples' organizations efforts to better the lives of the people. These efforts, added Martinez, should be encouraged by a government known to fall short on its duty to the people, such as the provision of free, quality, and accessible social services, among others.
"The very move to brand us as CPP-NPA fronts in their recent visit and correspondence with EU is testament to the persecution suffered by people's organizations who forward just demands to the government, which adds to their growing and intensifying attacks in the form of imprisonment and downright killing of farmers, unionists, and 'drug suspects'," added Martinez.
ACT, however, asserts that the Filipino people continues to fight amid worsening political and economic crisis in the country. The group urged the global community to side with genuine representatives of the sovereign Philippines and not with the repressive Duterte government.
"The Filipino people is steadfast in its commitment to resist the increasingly fascist and tyrannical Duterte regime, and we call on all democracy-loving citizens of the world to join our struggle for the upholding of human rights, peace, and democracy in the Philippines," called Martinez.
Karapatan challenges gov't anew: Do not block UN and ICC efforts to investigate PH
Press Release
March 30, 2019
QUEZON CITY – "Amid the false and malicious accusations hurled against organizations like Karapatan, we have been openly addressing these issues as we ask for dialogues with the European Union and other governments to directly talk to us.
We are confident that these red-tagging schemes, taken to the international arena by a government who wishes to discredit us, will be sufficiently refuted by years of our human rights advocacy for marginalized communities. We echo the same challenge to the Duterte government and its rabid gang of militarists: If indeed human rights organizations are merely spouting lies to defame the government, then do not block efforts by the International Criminal Court (ICC) and United Nations Independent Experts to investigate these human rights violations that we have reported and exposed," said Karapatan Secretary General Cristina Palabay.
Karapatan made the challenge to the Duterte government after a delegation called the National Task Force to End Local Communist Armed Conflict (NTF) made rounds in diplomatic missions in Europe, maliciously red-tagging several organizations. On March 29, the government has made moves to formally ask the European Union and the Belgian government to stop funding organizations which they allege are fronts of the Communist Party of the Philippines and the New People's Army (CPP-NPA).
"It is clear to us why there are very persistent efforts to undermine our work and discredit our organization. We are being singled-out, harassed, and our work criminalized because of our advocacy to continuously expose human rights violations and initiate efforts and campaigns to hold the Philippine government accountable as the primary duty-bearer of human rights promotion and defense.
Instead of directly addressing the issue, the Duterte government and the NTF plan to resolve the matter by simply maligning organizations who refuse to be mouthpieces of this government. Their plan is to harass every critic, call them terrorists, communists and enemies of the State, incite violence against them, move to defund their organizations, and ultimately silence those who challenge their narrative," added Palabay.
Palabay further assailed the government for flagrant hypocrisy, telling critics that they have nothing to fear if they have done nothing wrong, while also withdrawing from the Rome Statute and blasting any attempts at investigating allegations against the administration. "We echo the bold statement of this government, and hurl it right back at them. If you have done nothing wrong, you have nothing to fear. We repeat our call for the Duterte government to welcome national and international investigations on alleged human rights violations in line with the war on drugs and the government's counterinsurgency program," she emphasized.
The Karapatan official said that "despite the threats and continuous red-tagging, human rights defenders are here to stay and confront these desperate lies against us, unlike this cowardly government." She dared the Duterte government to issue official invitations to UN independent experts who have long-standing requests to visit the country, including UN Special Rapporteurs Agnes Callamard, Michel Forst and Victoria Tauli-Corpuz.
"The NTF and the Duterte government are now seeking to defund us by promoting smear campaigns and parading lies. We reiterate that the human rights violations we have raised are based on actual reports from communities, leaders, sectors, and human rights workers on the ground. We likewise call on the EU and other governments to also review the funding that they give to the PH government and its arms deals with the Armed Forces of the Philippines and the Philippine National Police, as these maybe used to fund State terrorism and kill more Filipinos in line with Duterte's war on drugs and counter-insurgency program. We enjoin the Filipino people to demand accountability with regard to our taxes amid the corruption, ballooning debt, and human rights atrocities being committed by this regime," Palabay concluded.
DPWH adds new classrooms in Burauen, Leyte school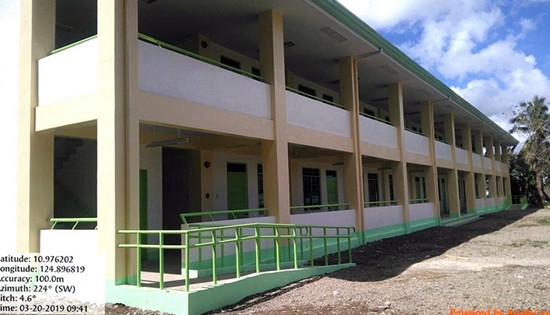 By DPWH 2nd LED
March 29, 2019
CARIGARA, Leyte – Eight new classrooms were recently completed in Burauen Comprehensive National High School, Burauen, Leyte, the Department of Public Works and Highways (DPWH) Leyte Second district engineering office reported.
The district and the Department of Education (DepEd) allocated P17.59 million for the construction of this one unit eight-classroom two-storey school building.
According to Gerald A. Pacanan, DPWH Leyte district engineer, school building projects are one of the top priorities of the department as it aims to catch-up the demand of more learning facilities with the implementation of K-12 program.
"This is part of the government efforts to improve the quality of education in the country by providing conducive learning environment for students," Pacanan said.
He highlighted the increasing number of population in schools particularly in the secondary level, prompting the government to allocate more funds for school facilities.
Overall, the district is tasked to implement a total of 25 school building projects amounting to P368 million funded under the DepEd Basic Educational Facilities Fund for 2018.
DPWH and COA tie up to oversee infra projects
By DPWH 2nd LED
March 29, 2019
CARIGARA, Leyte – Directing to a transparent implementation of infrastructure projects, the Department of Public Works and Highways (DPWH) Leyte Second District Engineering Office fortified relationship with the Commission on Audit (COA).
According to District Engineer Gerald Pacanan, auditors would now join the inspectorate team in the regular inspection of the district's infrastructure projects.
"With the help of COA, we would be able to expedite and enrich the quality of our projects through their recommendations for more efficient and effective operations," Pacanan said.
It is the primary function of COA to examine, audit and settle all accounts and expenditures of the funds and properties of the Philippine government.
Pacanan added that the department is closely monitoring the infrastructure programs of the government as per mandate of President Rodrigo Duterte to expedite the implementation of DPWH projects.
To quote Duterte's statement, "As an important part of the Build, Build, Build Program, I expect you to fast track the implementation of all infrastructure projects already in the pipeline".
Since Pacanan's post, key officials of the district engineering office are conducting weekly regular inspection in order to ensure that plans and specifications are adhered in the implementation of projects.
The two agencies are working closely together to come up with accurate and competent standards of projects for a more efficient government service.
CNTs celebrate their 50th anniversary in Samar with a big loss
By DPAO, 8ID PA
March 28, 2019
CAMP LUKBAN, Catbalogan City – The Municipal Police Station (MPS) of Victoria in Northern Samar successfully repelled an attack staged by more or less 50 CPP-NPA Terrorists (CNTs) on board two trucks at around 3: 50 a.m. today, March 28, 2019.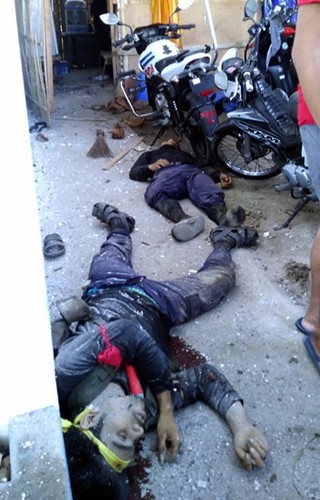 This resulted in three (3) CNTs killed (body count), three (3) CNTs captured, and the recovery of one (1) M60 machine gun, two (2) M16 rifles, and one (1) M14 rifle. Two (2) PNP personnel were reported slightly wounded during the said incident.
Further, a passing motorist on board a black Toyota Vios was also fired upon on the road blockade set-up by the CNTs wounding a certain Mariquel Sanchez, 52, Shai Sanchez, 17, Welta Tejero, 74, and Samuel Elustre, 52. They were immediately brought to the nearest hospital for treatment.
In his statement, Maj. Gen. Raul M. Farnacio, Commander, Joint Task Force "STORM" said that "due to the close coordination between the Police Regional Office 8 and 8ID and with the help of civilian informants, the Victoria MPS has prepared during the time of attack and on a heightened alert."
"The 8ID strongly condemns the attack on the innocent civilians perpetrated by the CNTs in Victoria, Northern Samar. This only manifests that the CNTs are not pro-people since they are not concerned about the people's welfare and safety," Farnacio added.
He was thankful to the local populace for giving timely and accurate information in helping the government forces fight against the CNTs. Likewise, the Commander, 8ID lauded the personnel of Victoria MPS for successfully defending their station with reinforcements from the 43rd Infantry (We Search) Battalion.
DPWH builds slope protection along landslide prone highway in Leyte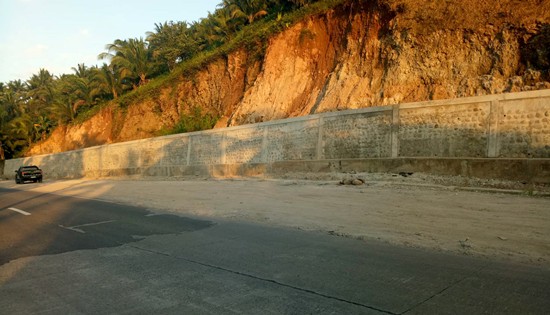 By DPWH Leyte 2nd LED
March 28, 2019
CARIGARA, Leyte – The Department of Public Works and Highway (DPWH) has completed the P49 million slope protection project along a landslide prone road section in Lemon village, Capoocan, Leyte.
The concrete wall protecting the national highway from landslide covers a total length of 350 meters and a height of 8 meters. The department also rehabilitated the canal along this structure.
According to Gerald Pacanan, DPWH Leyte 2 district engineer, this section along Palo-Carigara-Ormoc road accommodates a huge number of motorists and travelling public everyday as it connects to major cities in the province.
"This will prevent major soil erosions that could endanger the properties and lives of the people utilizing the highway," he added.
The permanent concrete structure will provide slope stability, thus avoiding abrupt collapse of weakened slope brought upon by heavy downpour and natural ground movement.
In December 2017, one lane of this particular road section was left impassable to traffic due to a landslide and after a portion of the road collapsed during the onslaught of Tropical Storm Urduja.
"In the recent years, the country has experienced series of strong typhoons and earthquakes that have caused major damages and casualties. That is why the department continuously implements quality infrastructure projects that could safeguard the life of every Filipino," said Pacanan.
In Leyte 2, Capoocan is among the high-risk towns susceptible to landslides, along with some inland villages in Burauen, La Paz, and Mac Arthur based on the geohazard assessment conducted by the Mines and Geosciences Bureau.
DPWH intensifies maintenance works in Leyte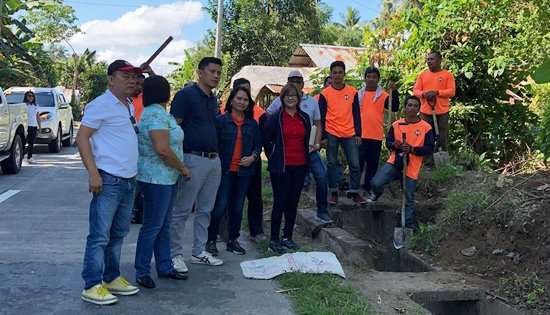 By DPWH Leyte 2nd LED
March 28, 2019
CARIGARA, Leyte – The Department of Public Works and Highways (DPWH) Leyte Second district engineering office intensifies maintenance works as it aims to improve overall road performance rating.
In a recent visit, DPWH Region VIII director Nerie Bueno commended the district for the clean road sides and carriageway along the national highway and noticed a major improvement compared to her previous inspection.
According to district engineer Gerald Pacanan, this is a manifestation of the much-improved maintenance force, as seen in their works and performance.
It can be noted that upon his assignment as the new district engineer of Leyte 2, he initiated a dialogue with the maintenance point persons and field workers, seeking their full cooperation and commitment to improve the district's performance.
Maintenance section chief Francisco Robin, Jr. expressed his commitment to efficiently supervise the maintenance works of the district and keep up with the targets through strict and outright compliance to the standards and requirements of DPWH.
During the coordination meeting with public utility companies on March 6 this year, Robin appealed to the utility providers to do their part in maintaining their distribution lines as the district is the one being sanctioned.
He suggested to the electric cooperatives to provide permanent support structure to their sagging transmission lines in some road sections.
Furthermore, Pacanan instructed all the employees of the district traversing the national highway under its area of jurisdiction, to note observations on road defects such as potholes, alligator cracks, major scaling, shoving and corrugation, pumping and depression, faded road markings, inverted shoulder, lush vegetation, clogged drains, and open manholes.
He added that this is important for the maintenance workers so that they could immediately take appropriate actions on restoring these defects.
"The works of our maintenance people mark the impression of our office. Let us sustain our momentum and work hand in hand to attain our goals," he concluded.
Leyte second district engineering office is tasked to maintain 206 kilometers of national road and 55 bridges.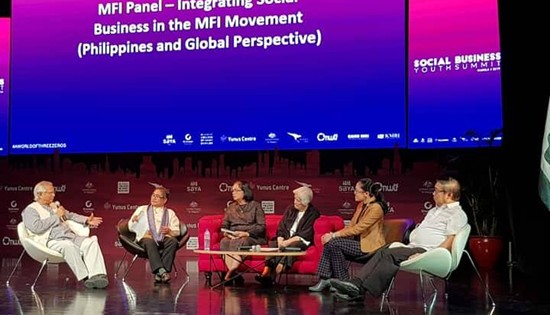 From L-R: Prof. Muhammad Yunus, Dr. Jaime Aristotle B. Alip, CARD MRI Managing Director Flordeliza L. Sarmiento, Dungganon Bank, Inc. President Corazon Henares, ASA Philippines Senior Director Maria Regina Pacifico, and Taytay sa Kauswagan (TSKI) Chairman Angel de Leon, Jr.
CARD MRI joins the 2019 Social Business Youth Summit
Press Release
March 26, 2019
SAN PABLO CITY – CARD Mutually Reinforcing Institutions (CARD MRI), led by its founder Dr. Jaime Aristotle B. Alip joined by its key leaders and CARD-MRI Development Institute Students, participated in the 2019 Social Business Youth Summit on March 23, 2019 at the De La Salle-College of St. Benilde, Manila.
Dr. Alip opened the breakout session entitled Microfinance Forum. He shared the contribution of MFIs in the fight against poverty in the Philippines.
"As microfinance institutions, we are tasked to ensure that more Filipinos have access to financial services. One Filipino family with access to finance is one family moved out of the poverty line. This is our duty to fulfill. This is our mandate as catalysts for social change and our contribution to the eradication of poverty," he said.
Nobel Peace Prize Awardee – Professor Muhammad Yunus is the keynote speaker of the Microfinance Forum. He said that in microfinance nobody should have personal gain. As what he espouses in all his years of working in micro credit and microfinance, the ultimate goal is zero poverty. "Poverty should be in the museums," he reiterated.
Speaking before Professor Yunus are Bangko Sentral ng Pilipinas Managing Director Pia Bernadette Roman Tayag and Microfinance Council of the Philippines Chairperson Fr. Jose Victor Lobrigo both sharing the contribution of MFIs in the country as it evolves.
Tayag said that BSP will not stand in the way of MFIs to reach more poor Filipinos but through proper governance and strict implementation of policies adding that BSP will also enable technologies that will ensure its success.
Meanwhile, Fr. Lobrigo not only highlighted the evolution of MFIs in the country but also identified challenges it faces now and in the future especially the smaller MFIs in the country.
One critical part of the forum, with Dr. Alip as the discussion catalyst, is the panel discussion on the integration of social business with MFI movement.
Panelists Professor Yunus, CARD MRI Managing Director Flordeliza Sarmiento, Taytay sa Kauswagan (TSKI) Chairman Angel de Leon, Jr., Dungganon Bank, Inc. President Corazon Henares, and ASA Philippines Senior Director Maria Regina Pacifico all shared that integration is possible since MFIs are already doing social businesses within its institutions and through the institutions it created.
Professor Yunus said that the seven principles of social business must be implemented in the way of doing business. He shared that in order to prevent one from being greedy, a social business audit must be done regularly and secure a social business certificate every year.
The 2019 SBYS, which is a two-day event, is the leading youth forum where youth across borders get the exclusive opportunity to learn from and interact with experts in the field of social business.
About 400 delegates from the Asia Pacific Region gathered for the said event. The said summit also opened more doors for MFIs to be known as a tool for the eradication of poverty in the country and how it integrates with social business.
This is the 6th edition of SBYS, which showed the continuous global commitment of the youth in connecting with social business and in achieving the "Three Zeroes" - Zero Poverty, Zero Unemployment, and Zero Net Carbon Emissions.
Perception of NMP female trainees towards seafaring career evaluated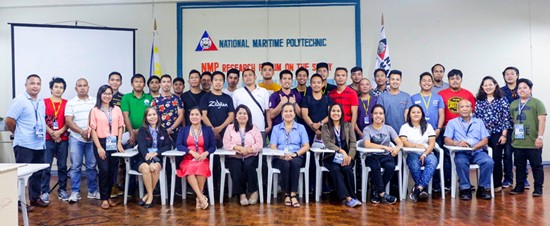 By National Maritime Polytechnic
March 24, 2019
TACLOBAN CITY – In answer to the resounding call of the International Maritime Organization (IMO) for empowering women in the maritime industry, the National Maritime Polytechnic (NMP) being a gender and development (GAD) advocate and a maritime training and research institution, conducted in CY 2018 through its Maritime Research Section (MRS) a research study entitled "Perception of NMP Female Trainees towards the Seafaring Profession".
The study aimed to determine the attitudes and views of women, specifically NMP female trainees who had already shipboard experience and those who are planning to go on board, towards the seafaring career. Respondents of the study were all NMP female trainees enrolled during the data-gathering period, 16 July 2018 to 11 October 2018.
The research was conducted to evaluate how NMP female trainees perceive the seafaring profession. Specifically, it aims to: (a) determine the motivating factors why women choose a seafaring career; (b) determine problems/challenges encountered or most likely to be encountered onboard; (c) determine the length of time women are willing to stay on shipboard jobs; (d) determine the reasons why women tend to quit their shipboard jobs; (e) determine other maritime-related occupations which women are interested in; and (f) recommend priority actions.
Findings of the said research advocacy found venue through the conduct of Research Forum on 14 March 2019 at Room 109, NMP Training Building, Cabalawan, Tacloban City which was attended by forty-six (46) trainee-participants.
"The international and national maritime organizations had now recognized the potential and balance that women can make in the maritime industry. In fact, the International Maritime Organization (IMO) launched the World Maritime Day Theme for the year 2019, putting great value to women saying, "Empowering Women in the Maritime Community." Binibigyan natin ng puwang sa maritime ang mga kababaihan dahilang pagsisilbi ay talaga namang wala sa kasarian kundi nasa pusong handang maglingkod para sa propesyong kanyang pinasukan", said NMP Executive Director, Joel B. Maglunsod in his Welcome Remarks.
Research proponent, Ms. Karen C. Pailago presented the major findings of the study which revealed that most of the respondents learned about seafaring from their families (35.21%), school (25.35%) and friends (25.35%). Their main motivation for pursuing a seafaring career were because of their love for travel and/or adventure (39.44%) followed by the prospect of a high salary/income (38.03%).
The major problems/challenges that they encountered or expect to encounter on board would be accidents/accident risks (67.61%), sexual harassment (63.38%) and discrimination (61.97%). Yet despite these problems/challenges, more than half of them (53.52%) were willing to stay in shipboard jobs for five (5) to ten (10) years. The top reason why they would quit would be because of family (57.14%).
In addition, they were aware of other maritime-related occupations and were mostly interested in specifically two (2) of them, namely eco-tourism guide and maritime professor/instructor.
In conclusion, NMP female trainees view seafaring as a positively possible career where women may be able to thrive in the future despite several challenges and where certain gaps need to be addressed.
During the open forum some participants shared their thoughts about the research.
"What male seafarers can do, we can also do onboard. We have earned the acceptance of our male co-workers that we are part of the crew. We wish that all male seafarers will do the same for their co-workers who are women – to embrace and accept us as part of your world", OICNW Jascha Mae Roman remarked.
OICNW Serge Joseph Navarroza also gave words of encouragement to all seafarers, especially women.
"Being a ratings is a difficult job onboard the vessel. But we should not lose our guts whenever we go onboard. We should aspire to become officers and not be satisfied with just being ratings. If we become officers, the work gets easier as it is mostly paperwork and the salary is higher. We should not think negatively because negative minds will never give us a positive life. So just work hard and let your success make your noise" he disclosed.
NMP Deputy Executive Director, Mayla N. Macadawan during her closing remarks emphasized that men and women should complement one another.
"Women were created from the rib of man to be beside him, not from his head to top him, nor from his feet to be trampled by him, but from under his arm to be protected by him, near to his heart to be loved by him", she quoted.
Based on the evaluation instrument gathered, 96% (44 out of 46) and 98% (45 out 46) rated the research report and conduct of forum very satisfactory or excellent, respectively.
Seafaring profession was well known as a male-dominated profession for centuries. The acceptance of women onboard always being an issue, as they are constantly being questioned whether the seafaring career fits women very well.
However, there are still women facing the wave of resistance. Women became more courageous, determined and challenged to equal men in the seafaring profession instead of being disappointed and discouraged to pursue the career. In fact, from CY 2016-2018, NMP records showed that there were three thousand four hundred fifty-two (3,452) female trainees who availed of the different courses offered by NMP.
In its efforts to uphold its mandate, NMP continues to upgrade its facilities and provide maritime trainings required pursuant to the STCW Convention as amended in 2010 including value-adding courses towards improving the qualifications of Filipino seafarers for their employment acceptability and enhanced competitiveness. It also regularly conducts maritime studies to come up with policies for the improvement of the manpower sector of the industry.
Those interested in NMP research undertakings may visit the NMP website (www.nmp.gov.ph) and access the e-Research Information System Portal which is designed to gather inputs for NMP's research, dissemination of NMP completed researches and other articles pertaining to maritime research.
For more information about NMP trainings viewers may visit the agency's facebook page (www.facebook.com/nmptrainingcenter) where all related information on NMP trainings are available.
Further, NMP encourages seafarers to avail of the NMP-OWWA (Overseas Workers Welfare Administration) Seafarers' Upgrading Program (SUP) which entitles the beneficiary to receive financial assistance for training costs from the OWWA.
Elementary student with eye problem gets help from army dentists
By DPAO, 8ID PA
March 23, 2019
CAMP LUKBAN, Catbalogan City – A total of 166 pupils coming from Palanog Resettlement Elementary School, Brgy Palanog, Tacloban City availed free dental services provided by the Pacific Partnership 2019 contingents last March 13, 2019 at 09:00 A.M.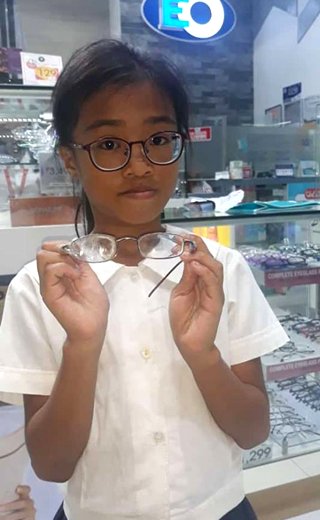 The 8ID Dental Team led by Lt. Col. Ranulfo O. Espera, Commanding Officer of 1368th Dental Detachment, Camp Lukban Station Hospital noticed that one of their patients was wearing a broke pair of eyeglass. Without hesitation, Lt. Col. Espera extended help to Micaella Silmar, 8 years old, a grade 3 pupil from Palanog Resettlement Elementary School by accompanying her to an ophthalmologist for check-up and after which buy her new pair of eyeglasses.
Micaella had been using her broken eyeglasses for more than a year, because her parents can't afford to buy her a new set of eyewear due to their meager income. In spite of that predicament she has preserved in her studies and is a consistent honor student at her school.
On her part, Micaella was thankful to those who extend help to her "Daku an akon pasasalamat nga nabalyu-an an akon daan nga salamin, ine in daku nga bulig ha akon pag eskwela; An ira ginpakita nga pagbulig ha akon in magin usa nga inspirasyon para ha amon nga mga kabataan." (These new eyeglasses will inspire me to study more in setting my sights in life; their generous act in helping children like me will serve as an inspiration to younger generation).
Maj. Gen. Raul M. Farnacio, Commander, Joint Task Force "STORM" lauded the compassionate act of the said Officer. "The 8ID is pleased that we provided a little help for Micaella for we know that this is a big comport on her part as she continues her studies."
"Truly, such generosity of our soldier exemplifies our sacred oath to serve the people of Eastern Visayas," Farnacio added.