P92-M revetment protects coastal community in San Joaquin, Calbayog City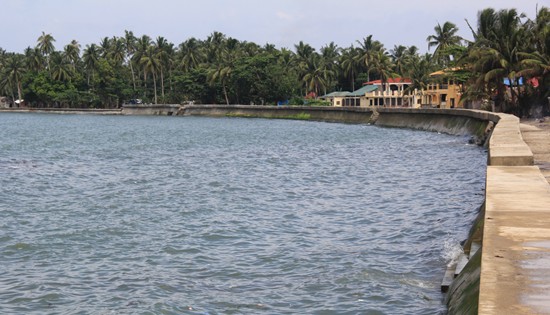 By CHENZI MAY D. UY
August 23, 2019
CALBAYOG CITY – The coastal community of Barangay San Joaquin in Calbayog City, Samar are now better protected against strong waves and floods with the completion of an 872-linear-meter revetment. The structure was erected at a height of about three (3) meters to arrest the strong waves that hit the shore.
The newly constructed revetment, which amounts to P92 million, provides coastal erosion defense and protection of lives and properties along the coast, according to the Department of Public Works and Highways Samar First District Engineering Office.
San Joaquin is home to over 6,100 people or around 1,200 households, many of whom are situated near the sea.
One of the coastal residents, Willie Alvarez Francisco, 67, says the high tide brings seawater inside their home and their situation becomes more precarious whenever there's a weather disturbance.

District Engineer Gerald Pacanan, Construction Chief Norberto Boco and Quality Assurance Section OIC-Chief Cielo Barcelo discuss with the representative of the contractor about the project implementation.
P39.2 million road networks to link Leyte villages
By DPWH 2nd LED
August 23, 2019
BARUGO, Leyte – A total of P39.2 million has been allocated for the construction of Minuhang (Baluarte)-Balud and Balud-Duka road in Barugo, Leyte, the Department of Public Works and Highways (DPWH) Leyte Second district engineering office reported.
With the 154.8 meters bridge with a width of 7.32 meters, residents of Minuhang, Balud, and Duka could easily transport their agricultural and marine products.
According to District Engineer Gerald Pacanan, the construction of this project aims to support the Barugo Eco Zone and improve trade, investment, employment, education and overall progress in the said town.
"Once completed, this road network would provide access to all kinds of vehicles, thus, transportation of commodities will be easier and cheaper. Moreover, this would also grant safer and shorter travels for students in going to and from their schools," he added.
This road network is located along the Bagahupi-Babatngon-Sta. Cruz-Barugo-Carigara national highway.
Moreover, the project will also serve as an alternate route in the event that Palo-Carigara-Ormoc road is not passable.
The access road is targeted to be completed before the year ends.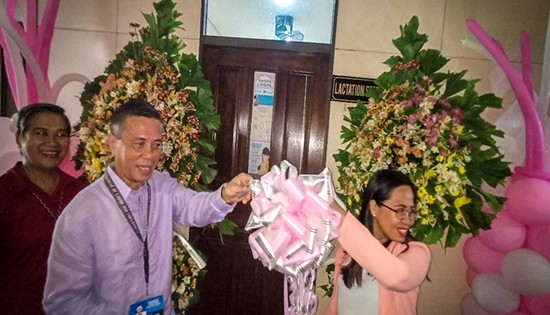 NMP Key Officials lead the launching of the NMP Lactation Station.
NMP launches new lactation station
By National Maritime Polytechnic
August 22, 2019
TACLOBAN CITY – Pursuant to Republic Act No. 10028, also known as the Expanded Breastfeeding Promotion Act of 2009, mandating the establishment of breast feeding facility in public places and facilities, as well as in government and private workplaces, the National Maritime Polytechnic (NMP) launched its lactation station located at the 2nd Floor of the NMP Administration Building, Cabalawan, Tacloban City on 19 August 2019.
A perfect gift for NMP's working mothers and female clients, just in time for the observance of the National Breastfeeding Awareness Month this August, the launching of the NMP's lactation station intends to highlight the importance of breastfeeding which has proven to have a lot of beneficial effects not only to babies but also to mothers.
The institution of the lactation station is in support of the State's policy to protect working women by providing safe and healthful working conditions, taking into account their maternal functions, and such facilities and opportunities that will enhance their welfare and enable them to realize their full potential in the service of the nation.
It is also part of the localization of the Magna Carta of Women (MCW) which aims to address the practical gender needs of working mothers. NMP lactation station is adequately provided with the necessary equipment and facilities, such as comfortable seat; refrigerator for storing expressed breastmilk; lavatory for hand-washing; purified water for drinking; and electric fan for ventilation and is open during weekdays from 8AM to 5PM.
Moreover, in order to raise public awareness on the importance of and to further promote breastfeeding, a Seminar-Lecture on Breastfeeding was facilitated by the NMP Gender and Development (GAD) Committee. Resource Speakers were Ms. Felecita R. Borata and Ms. Kristel Agote from the Department of Health (DOH) Eastern Visayas.
Ms. Borata expressed her appreciation on NMP's effort of establishing a mother-baby friendly workplace and for promoting, protecting, and supporting breastfeeding.
The lecture highlighted the many benefits of breastfeeding to women and children and the proper positioning and attachment for effective breastfeeding. It was also emphasized that one of the factors that contribute to the success of breastfeeding is the existence of mother's support group (husbands, relatives, and friends).
The activity was attended by NMP personnel and some residents and barangay officials of Brgy. Cabalawan, Tacloban City.


Equipment and facilities inside the NMP Lactation Station.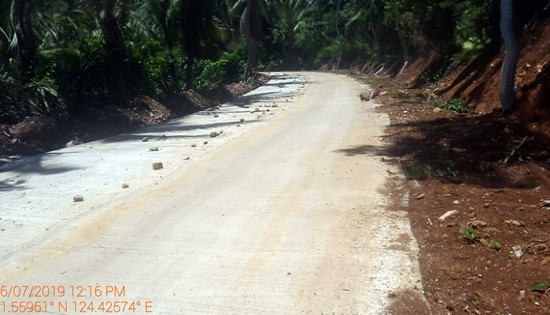 P18.29M improvement of access road leading to trades, industries and economic zones CarayCaray-Cabungaan-Libtong Road in Support of the Agribusiness: Food and Resource-Based Processing in Brgy. Libtong, Naval, Biliran is on-going with 60% accomplishment as of June 30, 2019. The project was started on July 31, 2019 [sic] under contract with MB Ang Construction and Supply. Its completion date is on January 05, 2020.
Road connectivity for industry and trade in Biliran underway
By DPWH-Biliran
August 21, 2019
NAVAL, Biliran – "More road projects leading to trades, industries, and economic zones in Biliran are underway", David P. Adongay Jr., District Engineer of Biliran District Engineering Office (DEO) reported.
The Department of Public Works and Highways (DPWH) in convergence with the Department of Trade and Industry (DTI) has identified and prioritized six road connectivity for industry and trade in the province.
According to Adongay, three projects under 2019 Regular Infrastructure Program are now on-going.
The head of Biliran DEO said that among the prioritized projects for road improvements are the access roads in Villa Caneja connecting to Sitio Kahukaw in support of its cassava, kamote, and ginger food and resource-based processing (P19.29M), the road from the National Road Junction (NRJ) in Villa Consuelo connecting to Libtong Road in support of its coco sugar, turmeric, banana chips, cacao, and ginger-based processing products (P17.35M) and the improvement of access road from Caraycaray-Cabungaan-Libtong Road in support of its cassava, kamote and curioso-based processing (P18.29M), all in Naval town.
"These projects will be implemented under multi-year funding from 2018-2022, except for the improvement of access road in Villa Caneja connecting to Sitio Kahukaw which will be implemented from year 2018-2019," Adongay revealed.
Moreover, three projects in lined under 2019 Local Infrastructure Projects (LIP) are soon to be implemented. These projects are the P9.6M Road Concreting from Brgy. Masagaosao Core Road connecting to Masagaosao Community Based Forest Management (CBFM) Farmers Association in Kawayan town in support of its food and resource-based processing (coconut, cacao and coffee), the P9.6M Rehabilitation/ Improvement from Sitio Buri to Brgy. Ungali Core in Kawayan town in support to its banana and coconut food and resource-based and the P30M Road Concreting of P.S. Eamiguel to Brgy. Imelda Road in Naval town in support of their native delicacies such as puto cheese, sampilo, moron, and empanada.
Adongay said that these projects will be monitored for fast completion in accordance with DPWH quality and standards.
"With better roads leading to trades and industries, more locals will be encouraged to do business that in return will create an additional livelihood and income," said Adongay.

Ongoing construction of Multi-Purpose Building in Brgy. Saljag, Calbayog City.
P31-M multi-purpose buildings to rise in Calbayog
By JASON DELOS T. ANGELES
August 21, 2019
CALBAYOG CITY – Thirteen multi-purpose buildings are set to rise in Calbayog City, with a combined allocation of P31 million under the 2019 DPWH infrastructure program of DPWH Samar First District Engineering Office.
These MPBs are located in the following barangays: Rawis, Bagacay, Hamorawon, Cagboborac, San Joaquin, San Rufino, San Policarpo National High School, Saljag (Phase I), Matobato (Phase I), Caglanipao Sur (Phase II), Basud (Phase II), Capoocan (Phase II), Jose Rońo (Phase II).
MPB projects in Calbayog will provide a decent venue for all community-based, socio-cultural and economic activities within the aforementioned barangays. On the other hand, it will serve as temporary shelter to the families affective during times of man-made and natural calamities.
As of August 2019, the Multi-Purpose building projects in Calbayog are near completion based on data gathered. All projects are estimated to be accomplished within the year.
Karapatan: Intensified police presence in campuses, an attack on academic freedom & prelude to military take-over of schools
By KARAPATAN
August 21, 2019
QUEZON CITY – Rights alliance Karapatan rejects former Philippine National Police (PNP) chief and Senator Roland "Bato" dela Rosa's proposal to enact a law that will allow intensified police visibility in campuses, as well as the PNP's calls to review the Soto-Enrile Accord which, if invalidated, pose grave threats to academic freedom and democratic rights.
"Bato does not want critical students. He wants robots like leaders of the Duterte Youth who follow orders without questions, and he proposes to do this by terrorizing schools," said Karapatan secretary general Cristina Palabay, in response to Bato's proposal to allow police elements inside schools.
"After miserably failing to turn public opinion in relentlessly attacking and demonizing activists for encouraging the youth to join the struggle for human rights and social justice, the state forces now want to infiltrate schools in order to suppress dissent. We at Karapatan strongly oppose Bato's proposal to allow intensified presence and visibility of the state forces in schools. A law of such kind will provide the groundwork for the wholesale violation of academic freedom and the constitutionally-granted rights to organize and free expression, and the placement of campuses in the country under a de facto martial law. It seems that the only thing that this government knows is to perpetrate fear mongering and relentless militarization, rather than addressing the legitimate grievances of the people which lie at the root of dissent," added Palabay.
Dela Rosa expressed his intentions to push for the heightening of police presence in campuses to supposedly protect minors and the youth from the "communist indoctrination" and recruitment of "left-leaning" organizations in schools. Furthermore, according to PNP spokesperson Brigadier General Bernard Banac, the PNP's call for heightened presence in campuses is part of the counterinsurgency operations of the National Task Force to End Local Communist Armed Conflict.
According to Palabay, by using the very pretext of counterinsurgency, the PNP is explicitly stating its intentions to violate international humanitarian law which prohibits armed elements from operating in schools and using them as bases for armed conflict while they are being used for educational purposes – thereby exposing the state's willingness to endanger the lives of the youth and commit human rights violations to just achieve its fascist ends.
"It doesn't come as a surprise, however, that Bato proposes a measure which violates human rights and international humanitarian law. Let us remind him that his hands are bloodied with countless human rights violations, with the blood of students and young Filipinos such as Kian Loyd Delos Santos, Myka Ulpina, Skyler Abatayo, and thousands more who have been killed under this regime's drug war. Bato cannot pretend to care for the lives of the youth when he has perpetrated the arbitrary killing of our Filipinos. He and this government have caused irreparable damage to the lives of Filipino families," reminded Palabay.
The Karapatan official expressed that "the fascist state doesn't even distinguish unarmed activists and armed combatants in its communist witch-hunt. By red-tagging activists and legal mass organizations, the state is maliciously designating unarmed activists and human rights defenders as terrorists and parties to armed conflict, therefore legitimizing state violence against activists. This is dangerous as we all have seen this regime's bloodlust and readiness to kill, violate rights, and arbitrarily dismiss the dignity of Filipinos," Palabay stated further.
Along with calls to revive the Anti-Subversion Law, the Karapatan official also warned that the proposal to allow the police to freely enter campuses sends a chilling effect to schools, students, faculty, and administrators who are critical of the regime's anti-people policies.
"Allowing the police to freely enter and infiltrate campuses places the lives of student activists and organizations, faculty members, and administrations at risk of being placed under massive surveillance, intimidation, and harassment from state forces – even if state forces have been known to conduct such even without the approval of school administrations. Coupled with an Anti-Subversion Law, it is the perfect recipe for a de facto martial law situation in schools. It really is meant to silence dissent. A student criticizing the fascist regime or a professor teaching Marx and critical texts in a class can be tagged as a subversive and be expelled, or worse, abducted, arbitrarily arrested, even killed, by state forces," Palabay said.
Karapatan instead urged the government to uphold academic freedom and democratic rights rather than resorting to campus repression by addressing the concerns of activists, as well as the root causes of armed conflict.
"Activism and social unrest thrive because the government refuses to listen to the demands of the people; activism thrives because the government answers the people's legitimate demands with guns and bullets. Duterte, Bato, and their lapdogs in the AFP and PNP should not wonder, then, why more and more youth are joining the ranks of activist groups. Repression begets resistance, and Duterte's fascist policies are only giving the people more reasons to fight back," the Karapatan official ended.
New wage hike for Eastern Visayas workers takes effect
By DOLE-8
August 20, 2019
TACLOBAN CITY – As Wage Order No. RB VIII-21, "Prescribing New Minimum Wage Rates for Eastern Visayas", takes effect on August 18, 2019, the Department of Labor and Employment Regional Office VIII urges employers to immediately comply.
Director Yahya A. Centi, DOLE RO VIII Director and Chairman of the Regional Tripartite Wages and Productivity Board (RTWPB), happily announced in an interview with media practitioner the effectivity of the new wage order.
"After all the region-wide consultations with different sectors, I am happy to announce that the wait is finally over. Our new wage order is now effective", said Centi.
Director Centi informed that the regional wage board has done its best effort for the welfare of the workers while still considering the employers' side.
"As chairman of the board, I can say that we have done what's best for both our labor and management sector in so far as wage-fixing is concerned. Having considered the current socio-economic indicators in our region, we are able to derive the new minimum wage", Centi added.
With the effectivity of Wage Order No. RB VIII-21, workers in the private sector in Region VIII shall receive a basic wage increase of P20.00 per day to be given in two tranches as follows: P10.00 per day for the first six months from effectivity and additional P10.00 per day starting on the seventh month from effectivity.
Effective August 18, new minimum wage rates for Region VIII for the first six (6) months will be as follows: P315.00 for workers under Non-Agriculture and Retail/Service establishments employing 11 workers and above; P285.00 for workers in Cottage/Handicraft, Agriculture and Retail/Service establishments employing 10 workers and below.
After successfully issuing the new wage order, Director Centi urged all private employers to comply.
"We in the labor department are now calling all our employers in the private sector to adhere to the new order. This is our gift for our minimum wage earners who significantly contribute to your respective businesses here in Eastern Visayas, so please comply immediately", Centi said.
The wage order was approved on July 22, 2019 by the RTWPB VIII, composed of Director Centi (Chairman), NEDA VIII OIC-Regional Director Meylene C. Rosales (Vice-Chairperson), DTI VIII OIC-Regional Director Celerina T. Bato (Vice-Chairperson), Mr. Orlando C. Uy (Employers' Representative), Atty. Miguel T. Tezon and Mr. Efren M. Gabriola (Workers' Representative). It was published at Leyte Samar Daily Express last August 3, 2019.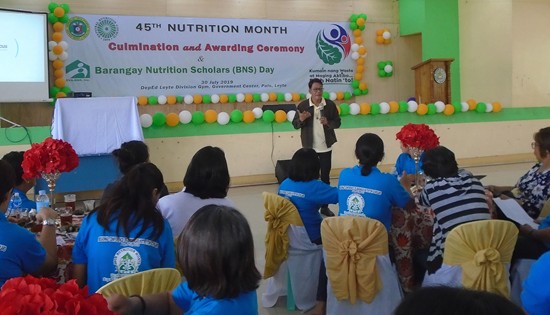 RNPC Dr. Catalino P. Dotollo Jr. delivers an inspirational message to the frontline workers of nutrition during a Barangay Nutrition Scholar (BNS) Day on July 30, 2019.
BNS Day caps 2019 Nutrition Month celebration
By JACK C. GADAINGAN
August 19, 2019
GOVERNMENT CENTER, Palo, Leyte – About 200 Barangay Nutrition Scholars (BNSs) from around Eastern Visayas' six provinces gathered here at the Department of Education (DepEd) Leyte Division Gymnasium to mark their being front-liners in the battle against malnutrition in Region 8 on July 30, 2019.
The half-day activity capped the Nutrition Month celebration of July carrying the theme: "Kumain ng Wasto at Maging Aktibo…Push Nation 'to!" And as the theme directed the serious discussions of the gathering was mixed with more fun activities – all involving physical activity.
Ullasini J. Pangan, Nutrition Officer II of National Nutrition Council Region VIII (NNC-8), tackled a brief discussion on the Nutrition Month Key Messages, wherein she emphasized for everyone to have ONE hour or more of physical activity every day, to reduce screen time (use of gadgets, TV and computers) to TWO hours or less each day, and to eat the THREE food groups every day for variety;
Nińo Archie S. Labordo, NNC-8 Nutrition Officer III, the Outstanding Barangay Nutrition Scholar Journey where he revealed that this year Region 8 has a contender to the national level for the Outstanding BNS, as he urged the congregation to strive to become as well; and
Dr. Catalino P. Dotollo Jr., NNC-8 Regional Nutrition Program coordinator, the inspirational message – during which he congratulated each one for a successful event and for their efforts in uplifting the regional nutrition situation.
Lydia O. Nuńez, Eastern Visayas Association of Barangay Nutrition Scholars (EVA-BNS) president, welcomed the BNSs and thanked them for their attendance and continued support of the BNSs Body as well in the fight against malnutrition in the region; Patrocenia De Cadiz, EVA-BNS treasurer provided the closing message.
The fun games of the BNS Day – highly entailing physical activities were divided into Solo Game, Group Game, and 3N1 Dance Contest: the Solo Game were Sipa, Limbo Rock, Hula-Hoop Defying Gravity, Piko, Tsato and Sangkayaw; the Group Game were Patintero, Sack Race, Dodgeball and Tug of War; and the 3N1 Dance Contest were Cha-cha, Boogie and Tango.
First quarter fishery production in Eastern Visayas grows by 15.7%
By PSA-8
August 19, 2019
TACLOBAN CITY – The fishing industry in Eastern Visayas' expanded as the region's total fish production went up to 30,907 metric tons (MT) during the first quarter in 2019 from 26,704 MT in the same quarter in 2018, posting an increase of 15.7 percent.
In the first quarter of 2019, Eastern Visayas ranked sixth among the regions with low fishery production in the country with 3.0 percent contribution to the country's total fishery production.
Among provinces, Samar recorded the highest volume of fish production at 13,675 MT, comprising 44.2 percent of the total fishery production in the region. Leyte ranked second at 7,520 MT, accounting for 24.3 percent of the region's total fish production. Southern Leyte, meanwhile, had the lowest volume of production at 1,219 MT which shared only 3.9 percent.
Volume of production in commercial fishing went up by 44.8 percent, from 3,684 MT in the first quarter of 2018 to 5,336 MT in the same quarter of 2019. Samar and Biliran contributed to the increase in the production in commercial fishing with growths posted at 102.1 percent and 24.8 percent, respectively.
The rest of the provinces registered decreases with Southern Leyte posting the biggest decline of 52.8 percent. Northern Samar, meanwhile, retained its volume of production in the first quarter of 2018 at 477 MT.
Similarly, the region's total volume of production in municipal fishing (marine and inland) registered an increase of 31.4 percent, from 14,776 MT in the first quarter of 2018 to 19,416 MT in the same quarter of 2019. All provinces registered increases in municipal fishing, except Northern Samar, which recorded a slight decline of 0.5 percent. Leyte recorded the highest increase of 156.5 percent, from 2,272 MT in the first quarter of 2018 to 5,829 MT during the first quarter of 2019.
Among provinces, Leyte posted the highest contribution to the total municipal fishery (marine and inland) production in the region with 30.0 percent share or 5,829 MT. Samar ranked second with 5,463 MT accounting for 28.1 percent. Southern Leyte, meanwhile, registered the lowest contribution with 5.8 percent share or 1,127 MT during the first quarter of 2019.
Meanwhile, volume of production in aquaculture recorded a decline of 25.3 percent, from 8,244 MT in the first quarter of 2018 to 6,155 MT in the same period of 2019. Eastern Samar and Northern Samar exhibited growths in production with Eastern Samar registering the highest increase of 28.6 percent. The rest of the provinces registered decreases with Leyte recording the highest decline of 49.2 percent.
More than three fifths or 62.8 percent (19,416 MT) of the total fishery production in the region were from municipal fishing. Aquaculture contributed 19.9 percent (6,155 MT), while commercial fishing accounted for 17.3 percent (5,336 MT).