Calbayog beauty is Mutya Han Samar 2005
By RICKY J. BAUTISTA
August 11, 2005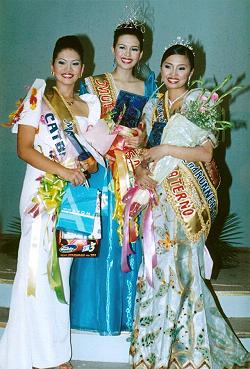 CATBALOGAN, Samar – The alluring beauty and articulate 19-year-old Miss Calbayog lass coveted this year's Mutya han Samar beauty title besting 20 other Samareñas who took their chances to win the 'Gem of Samar' beauty pageant on August 9, 2005 as major highlight of the 9th Samar Day Celebration held at the Samar Provincial Gymnasium, this municipality.
Calbayog City residents, headed by Mayor Mel Senen Sarmiento shouted for joy when their pride Miss Calbayog Julie Ann Ortega, who stands five-feet and six-inches and having a vital statistics of 33-25-36, was named by the pageant hosts as the winner.
Ortega was crowned by no less than Samar Governor Milagrosa T. Tan in tandem with San Jorge Mayor Joseph V. Grey as she received the P50,000 cash award, bronze crown, sash, bouquet and a towering trophy.
Her confident smile and unrivaled personality also brought her to hall of fame when she was also adjudged as Miss Photogenic, Miss Pepsi Ice, Miss Derma Blend and Best in Swimsuit awards that prompted the judges to include her in the top five finalists. As proven by the audience' loud cheers, Ortega was obviously the crowd's favorite, from beginning to end of the 'beauty and brains' annual competition.
For capturing these four minor awards, she received an additional amount of P5, 000 plus a sash, a blow-up picture of her with frame, trophies, and bouquets, ala swerte.
According to the organizers, Ortega who impressed the panel of judges with her clear-cut answers during the interview portion that eventually gave her the edge over the other candidates is a student of Tiburcio Tancinco Memorial Institute of Science and Technology in Calbayog City taking up the Bachelor of Science in Hotel and Restaurant Management.
Other proclaimed winners of the pageant include Miss Catbalogan Camille Ann Y. Davantes, 15, as first runner-up; Miss Sta. Rita Ma. Leslie B. Montaño, 20, as second runner-up; Miss San Jose de Buan Ella Mae P. Navarro, 21, as third runner-up; and Miss Sto. Niño Joemelina A. Delantar, 15, as fourth runner-up.
The runner-up placers received the amount of P25,000; P15,000; P10,000; and P5,000 plus a sash, bouquets and a towering trophy respectively. Some of them were also lucky for having adjudged 'best' in special minors awards.
Aside from being crowned as first runner-up, Davantes coveted the Smart Texters' Award, Miss Pepsi Fire, which gave her additional amount of P2,000 plus gift pack from Pepsi and Smart, a cellular phone unit, a sash and bouquet. Sta. Rita's pride Montaño, on the other hand, won the Best in Filipina Terno, Miss Bayantel Tourism and the second runner-up place in Miss Talent. She received an additional of P2,500 plus sash, gift packs and trophy.
The ladies who luckily coveted special awards but did not make it to the top five were: Krista Paula Lastrilla, 18, of San Jorge as Miss Talent who kept her audience in awe of her astounding classical-ethnic interpretative dancing; Regine C. Taylor, 17, of Pinabacdao as Best in Casual Wear; Ashley Dominique Pascual, 16, of Matuiguinao as Miss Congeniality; Miss Avon and first runner-up in Miss Talent search, Jernie M. Lugana, 19, of Sta. Margarita as Miss Motortrade. They all received P2,000 each plus bouquet and trophy.
Non-winning beauties but received some consolation prizes for joining this year's pageant were: a 19-year-old Miss Almagro Razel Rose O. Henares; Miss Calbiga Janet Sabarre Young, 16; Miss Gandara Helen Grace D. Ponferrada, 19; Miss Jiabong Maridel Hernandez Gabane, 18; Miss Marabut Joanna F. Majait, 16; Miss Motiong Sheravie Ivory Quebec, 16; Miss Paranas Rose-an Cabadsan, 18; Miss San Jose de Buan Ella Mae P. Navarro, 21; Miss San Sebastian Leonora B. Dacut, 21; Miss Tagapul-an Janine T. Roncesvalles, 21; Miss Talalora Maria Virlie Perante Tan, 20; Miss Tarangnan Maria Romdith L. Berongoy, 15; and Mary Jane B. Rueda, 21 years old, of Zumarraga, Samar.
The seven-member boards of judges were Jun Reyes, Capt. Cromwell Danganan, Dr. Leo Lofranco, Judge Roberto Navidad, Felix Hilvano, Ms. Sarah Españo and Engr. Opiñano.
The evening show was jointly hosted by former Samar Beauty Queens Jocelyn Lim-Casiano (Mutya han Samar 1994), Pearly Dawn Sabarre (Mutya han Samar 1997) and Apple Joyce Cruto (Miss Basey 2004). Showbiz idol Joross Gamboa made the evening more exciting as a segment host of the show.