Cebu lass gets Miss Catbalogan 2006 crown
By ROMMEL L. RUTOR
August 5, 2006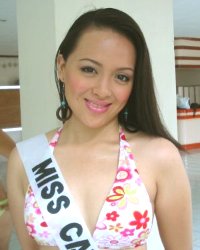 Candidate no. 2 Miss Juvie Pearl Cueva
CATBALOGAN, Samar – A 21 year old Cebu City-base Catbaloganon lass emerged to be the most beautiful maiden among 11 other candidates who vied for the prestigious search for Ms. Catbalogan 2006 held at this town's open municipal auditorium last August 3, 2006, in line with the town's month-long fiesta extravaganza.
The lucky lady is candidate no. 2 Ms. Juvie Pearl Cueva representing Brgy. 4 of this town, and her winning the municipal competition earned for her the chance to represent Catbalogan town in the upcoming provincial search of Mutya han Samar 2006 on August 9.
Ms. Cueva was crowned by no less than the Regional Director of the Department of Tourism Ms. Karina Rosa Tiopes, and was assisted by the Regional Manager of the Philippine Information Agency Ms. Olive Tiu, together with Mayor Coefredo Tekwa Uy of this town.
She went home with P30,000.00 cash prize and a P15,000.00 worth of "pang-kabuhayan showcase" courtesy of the Super Value Pizza franchise; but aside from her title as Ms. Catbalogan 2006, the winning lass from Cebu likewise romped away with 6 minor and special awards as Ms. Congeniality, Best in Swim Wear, Best in Casual Wear, Ms Cali Lite, Ms. Avon and Ms. Smart Amazing.
In a live interview on television by Decobeam CATV right after the competition, Ms. Cueva stressed that her experience as a beauty titlist in various beauty pageants that she participated in could be one of her edge with the rest of the candidates.
It was gathered that the reigning Ms. Catbalogan 2006 is also a runner-up as Ms. Mandaue City, and the title holder of Ms. Argao and Ms. Carmen, all are Cebu-based beauty competition, at which she admitted to continuously represent her hometown Catbalogan.
She likewise disclosed that she might opt to stay in Catbalogan with her relatives "or even for good, just in case a good opportunity awaits me her in terms of jobs, besides I'm done with my schooling", Ms. Cueva informed.
"But for now, I have to loose weight and have to get my best figure so to give my hometown the best representation in the Mutya han Samar search", she stressed.
Meanwhile, candidate no. 4 Ms. Marvi Rose Macalalad landed as the first runner-up in the beauty search and almost in the same situation with Ms. Cueva, Marvi Rose Macalalad also hails from Catbalogan but is now residing in Borongan, Eastern Samar. She received a cash prize of P15,000.00 plus a sash and a bouquet.
Ms. Macalalad is studying at the Lyceum of the Philippines University in Manila and a veteran in the said school's Ms. Tourism Lyceum beauty search. She was also awarded the Ms. Bayantel Award last August 3, 2006.
Settling for the 2nd Runner-up is crowd favorite candidate no. 7 Ms. Reina Juliane S. Jumagdao, with a cash prize of P10,000.00 plus a sash and bouquet. She was also adjudged Best in Gown and Ms. Photogenic.
Ms. Jumagdao is the only candidate who made it to the finals of the competition who presently resides in Catbalogan. She is currently studying at the Samar State University here, wherein she is the reigning Ms. College of Arts and Science – SSU 2006.
Other winners of special awards and minor awards were candidate no. 3 Ms. Jacquelyn Caruyan as Ms. Bits and Bytes, candidate no. 10 Ms. Chrey Lyn Cabrillas as Ms. Coke Like and Miss Picture Perfect who at the same time landed as one of the 7 semi-finalist, candidate no. 12 Ms. Claudene Mae Nuñez as the Darling of the Press and likewise earned a slot as a semi-finalist along with neophyte candidate no. 8 Ms. Ruchel M. Mendoza of Brgy. Maulong of this town.
Members of the board of judges were Director Karina Tiopes of DOT as chairman, Director Olive Tiu of PIA, daughter of the governor Ms. Sherie Ann Tan, artistic director Mr. Francis Zeta, Bayantel area manager Mr. Melvin Labro, daughter of the mayor Ms. Stephany Uy-Tan and Engr. Lorenzo Yu.
Hosted by Kennith Colline Lim and co-hosted by Melvin Mabulac, the pageant night was carried live on television by Decobeam Cable TV Services and D' Leopards CATV.
Prior to the coronation night, a pre-pageant and Talents Night was held on August 1. Emerged as winners were candidate no. 11 Ms. Aiza Adal for Best in Talent, Ms. Marvi Rose Macalalad for Best in Manaragat Festival Costume and Ms. Claudene Mae Nuñez for Miss Eloquence award.