Lovely won Mutya Han Dulag 2003 title
By DARLENE A. GASPAY
September 8, 2003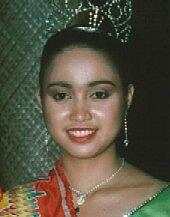 DULAG, Leyte, Philippines - Cherry Love Altarejos definitely proves her majesty in an evening by winning the crown as the Mutya han Dulag 2003 in a grand formal venue of the balik-bayan affair in the Dulag Cultural Center, September 6,2003.
Lovely, as what she is fondly called, is candidate no.12 of the 16 candidates vying for the title as the Mutya han Dulag 2003. She also won awards of Best in Production Number, Best in Swimsuit, and Ms. Smart. Lovely is only 19 from P4 Ext. V&G Subdivision, Tacloban City studying at the Leyte Normal University with parents Lt.Col. & Mrs.Erlando Altarejos.
Candidate no.1, Janice Lobrigo Ibanez of Brgy, Luan,Dulag,Leyte got the title as 1st Princess and also won the awards for Best in Evening gown, Ms.Colt 45, and Ms.Sara Lee.
Christine Kate Pobre Camino, also from Tacloban City was candidate no.9, made it to be the 2nd Princess and also got the awards of Best in Ethnic Attire and Best in Talent.
Other awards were Ms. Photogenic for candidate no. 2 Friday Baylon, Ms. Congeniality for candidate no. 3 Marmel Badidles and Ms. Cali was candidate no.10 Wella Mae Cordero.
The event was not just a coronation, but as well a formal gathering for the balik-bayans of Dulag along with other high officials of the municipality.
Hon. Mayor Manuel Boy Sia Que colored the event by welcoming his colleagues and for the official acknowledgment of the opening of the grand coronation of the Mutya han Dulag 2003. Also Hon. Governor Remedios Petilla was able to make it to attend before the coronation ended.
The success of the Mutya han Dulag was very well made through the expertise of the pageant's coordinator Mr. Jerry Martija, known to be an expert hairdresser in the country and a member of the Ricky Reyes salon team. Martija was also behind the design and craftsmanship of the stage for the coronation as well as for its grand venue.
After the coronatoin rights, the formal party for the balik-bayans continued celebrating the affair with other officials of the municipality, Mayors of other towns, and other highly respected personalities in the community.