Message of MGen. Glenn J. Rabonza, CG, 8ID, PA during the Change of Command Ceremony
(January 4, 2005)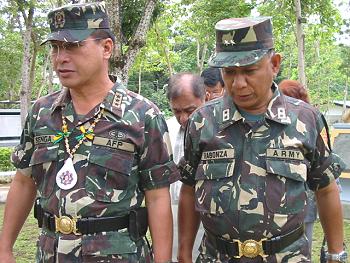 "Securing lasting peace takes more than introducing more troops. Force of arms, as we all know, cannot win lasting peace nor a permanent victory…"
Greetings . . .
Before I deliver my message, allow me to formally present to the Commanding General, Philippine Army my tour of duty report. With it is a special issue of the 8ID Troopers Newsmagazine which contains selected readings and images during my 23 months duty as Commanding General, 8th Infantry Division. (see related news)
When I assumed command on 10 February 2003, I accepted the challenging task of leading the 8ID in bringing peace and stability in Region 8. Today, I relinquish command content that I have done my best to accomplish the mission. The citation of the Distinguished Service Star just awarded to me summarizes what the men and women of the 8th Infantry Division have accomplished together during my watch. I take pride of these accomplishments for they represent the collective work, sacrifices and heroism of the 8ID Team.
Talking about sacrifices and heroism let me tell you what American author Brian McAllister Linn wrote in his book the Philippine War 1899-1902. The book describes the war led by Gen Vicente Lukban against the U.S. Forces in Samar over 100 years ago. He wrote, "Samar has also become symbolic within the United States Marine Corps for sacrifice and heroism: for many years after the campaign, veterans would be saluted in mess halls with the toast
Stand, Gentlemen, he served in Samar!"
Today, as I leave the 8th Infantry Division I would like to share with my 8ID Team that same toast and accolade. May I call on my three Brigade Commanders led by BGEN JUANITO CABAYAO to stand up; the nine Battalion Commanders led by LTC MANUELITO USI, the longest serving Battalion Commander; newly relieved CO, 34IB and incoming U3, CENTCOM COL ROMEO GAPUZ; members of the General and Special staff led by my Chief of Staff COL HERBERT YAMBING; Post Unit Commanders and Staff lead by my Camp Commander, LTC FELIX ESPERA; other 8ID officers, men, women and civilian employees; my Assistant Division Commander for the past one year, BGEN BONIFACIO RAMOS.
Ladies, and gentlemen; our guests; please stand-up, these are the members of the 8ID TEAM serving in Samar and Leyte. Please give them a big round of applause.
Securing the peace and maintaining stability is essentially work in progress and is never done. The resurgence of the Eastern Visayas Regional Party Committee (EVRPC) of the Communist Party of the Philippines remains unabated despite over three decades of relentless campaign against the local communist terrorists. During the period 2000–2004, their strength and firearms inventory have increased at a rate higher than the national average. The number of barangays where they exercise varying degrees of influence have increased by an annual average of 80% compared with the annual average increase nation–wide at 23% during the same period.
In 2003, the local CTs (Communist Terrorists) conducted a series of high impact tactical offensives which attracted the attention of the public and our national leadership. Maj Danilo Billon was killed in Catarman by NPA assassins in January. On March 8, Calbiga MPO in Western Samar was raided, followed by the attack on Quinapondan MPO in Eastern Samar on June 22. Four days later, on June 26, the Cagpili Detachment of 52IB in Oras, Eastern Samar was over-run by the NPA resulting to the death of five soldiers, 10 CAFGUs and the wife of one of the soldiers. We lost 24 HPFAs, communication equipment and assorted ammunition. The detachment was lost – burned by the NPA. Within 24 hours, of the Cagpili incident, HHqs decided to return 14IB from Jolo to its former AOR in Eastern Samar. Later 20IB and 62IB were returned to 8ID from Mindanao. With the re-filling of 46IB, 8ID became a full-sized infantry division of 3 brigades and 9 battalions.
While violent terrorists actions have significantly declined after the introduction of more troops in mid–2003, non-violent actions continue to hamper efforts of establishing a physically and psychologically secured environment conducive to development. These include NPA extortion and harassments, imposition of permit-to-campaign fees, recruitment of NPA fighters including children and an ever-widening united front campaign.
Securing lasting peace takes more than introducing more troops. Force of arms, as we all know, cannot win lasting peace nor a permanent victory. 8ID responded to these realities through the conduct of integrated civil-military efforts in partnership with the local officials and local government agencies. Working closely with Presidential Assistant Victor Domingo, we have actively participated in poverty reduction programs of the Regional KALAHI Convergence Group. Convergence of efforts as prescribed under the NISP's Strategy of Holistic Approach is becoming a reality in Region 8. Some of these significant convergence efforts are the following:
| | |
| --- | --- |
| KALAHI - Conflict Areas | - NAPC/RKCG |
| ALPS/Literacy cum Livelihood | - BNFE/DepEd |
| Environmental Protection | - DENR |
| Adopt-A-Mountain | - DENR/LGU |
| ARC Road Projects | - DAR |
| Security of PNOC, TRANSCO, and other vital facilities | - PNOC, PASAR, etc. |
Today, there is relative peace in our AOR. Our conduct of ISO, no doubt has contributed to the peace. However, the EVRPC remains capable of launching major tactical offensives and may reach their mid-80's peak if their resurgence is not arrested. Since counter-insurgency is a political campaign requiring a multi-dimensional response rather than a purely military response, may I submit to you the following observations:
1. The implementation of the Strategy of Holistic Approach (SHA) needs to be strengthened. Tactical commanders must be challenged and made more accountable for its implementation. In like manner, our civilian counterparts must be given clear mandates to address the root causes of insurgency so that convergence among civilian, police and military efforts are better achieved in priority areas.
2. The resurgence of the EVRPC was partly caused by the vacuum when army forces were transferred from Region 8 to Mindanao. Never again should we take too much risk until the government has mobilized our communities to resist NPA incursions and developed LGU's (local officials, mayors, etc) capability to hold the ground.
3. Commanders must be provided greater wherewithal in the fight against the insurgency. The passage of an anti-terrorism and / or an internal security act will strengthen our campaign against the Communist Terrorist Movement.
4. A review of the command relationship between the Armed Forces of the Philippines and Philippine National Police is highly recommended. We need greater unity of efforts against the Communist Terrorist Movement. The deployment of Provincial Mobile Groups and police personnel in the municipalities must be optimized for ISO in priority areas. The Malaysian and Thai experiences in their fight against their own insurgents in the 60's and 70's may be worth adopting for this purpose.
Today, I am also closing my more than 38 years and 9 months of military service. I now join the countless military professionals who retired from the AFP wishing and praying that we could finally put an end to the communist menace and achieve economic prosperity. I thank the men and women who have worked with me, supported and helped me accomplish modest contributions to our armed forces. I wish to thank our local officials, members of the media and NGO's, our PNP partners in peacekeeping; your invaluable support and cooperation made our work less difficult. Thank you for responding to our challenge of working together so that we can persuade many of our mis-guided brothers to return to their communities, live peaceful lives and become productive members of the society.
I wish to re-echo that same challenge today as I turn-over the leadership to a capable and dedicated military professional, BGEN BONIFACIO RAMOS. He brings with him the wealth of experience gained during his one-year duty as my reliable assistant division commander. Moreover, as a native Leyteño from Maasin, I'm confident he will bring the 8ID to higher levels of achievement.
Finally let me thank the Almighty who guides the destinies of men and nations, for giving me the strength and wisdom in my pursuit of a successful military career.
Maraming Salamat!
Mabuhay ang 8th Infantry Division!
Mabuhay ang Philippine Army!
It's the Birth of Jesus Christ not Christmas
By RUFINO 'Pinoy' GONZALES II
December 24, 2004
There was a period in the scriptures that separate during the time of Nehemiah to the time of the birth of Jesus Christ. This was called the silent years. This was the time when God cut off all communications with his chosen people. They were rebellious, they ignored the laws, so he allowed them to suffer under the heavy hand of the Roman Empire. 400 years had passed by since God had spoken to the children of Israel and they where always expecting the Messiah.
God has set the stage in heaven where Jesus Christ the Creator of the universe, the King of Glory, God the Son, the second person in the Trinity is about to leave for earth. Our planet becomes the center of attention in all the universe.
In the sixth month, God sent the angel Gabriel to Nazareth, a town in Galilee, (Luke 1:26). A virgin pledge to be married to Joseph a descendant of King David is completely unaware that she is the angel's mission.
"Greetings, you who are highly favored! The Lord is with you" said Gabriel (Luke 1:28). When she saw him she was greatly troubled at his words and wondered what kind of greeting this might be, (Luke 1:29). "You will be with child and give birth to a son, and you are to give the name of Jesus," (Luke 1:31). "... The Holy Spirit will come upon you, and the power of the Most High will over shadow you. So the holy one to be born will be called the Son of God", Gabriel added (Luke 1:35).
As the scripture goes, Mary became pregnant and her wedding was still in the future, but she had to break the news to Joseph and at the same time keep it from her nosey neighbors. Because once it became obvious she would be accused of being a prostitute. The Jews during that time lived under the Law of Moses which states, "she shall be brought to the door of her father's house and there the men of her town shall stone her to death...", (Deuteronomy 22:21). When Joseph knew about her situation, being a righteous man, he did not want to expose her to public disgrace, he had in mind to divorce her quietly, (Matthew 1:19). Then an angel of the Lord appeared to Joseph in a dream and said, "...Do not be afraid to take Mary home as your wife, because what is conceived in her is from the Holy Spirit. She will give birth to a son, and you are to give him the name Jesus, because he will save his people from sin", (Matthew 1:20-21). When Joseph woke up, he did what the angel of the Lord had commanded him and took Mary home as his wife, (Matthew 1;24).
During this time the devil through Caesar Augustus issued a decree that a census should be taken of the entire Roman world ... and everyone should register in his ancestor's hometown, (Luke 2:1-3). This means Mary who was heavy with child must travel with Joseph to Bethlehem, the city of his birth which is a grueling 90 mile journey over rugged terrain. But God protected them along the way.
When they arrived in Bethlehem the town was crowded with people and the time came for the baby to be born (Luke 2:6), but the only place Joseph could find was a manger cause there was no room for them in the inn (Luke 2:7). Think of this, the Creator of the universe... Jehovah ... in the form of a little boy, born in a smelly stable in Bethlehem. He was in the world and though the world was made through him, the world did not recognize him (John 1:1).
The shepherds
The only ones who got word that Jesus was born were the poor ragged shepherds who were tending their sheep when an angel of the Lord appeared to them saying, "Do not be afraid. I bring you good news of great joy that will be for all people. Today in the town of David a Savior has been born to you; he is Christ the Lord (Luke 2:10-11). The angel told them they would find the baby lying in the manger, so off they went hurriedly and found Mary, Joseph and the baby lying in the manger (Luke 2:12-16). They became the first visitors to meet the King of Kings.
During that time 33 days after baby Jesus was circumcised, his mother Mary, went to the great Jewish temple in Jerusalem to fulfill one more law set by Moses ... the sacrifice of two turtledoves as a sin offering (Exodus 13;2,12-13), (Leviticus 12:8), because the Bible say's "There is no one righteous, not even one," (Romans 3:10), "For all have sinned and fall short of the glory of God" (Romans 3:23). The only person the Bible refers to without sin is the Lord Jesus, "He committed no sin, and no deceit was found in his mouth" (1 Peter 2:22). And so being a faithful servant of the Lord, Mary fulfilled her obligation, (Luke 2:39).
The wise men
After Jesus was born in Bethlehem in Judea, ... Magi (wise men, note that there is no mention of 3 kings whatsoever here) from the East came to Jerusalem and asked, "Where is the one who has been born king of the Jews? We saw his star in the East and have come to worship him" (Matthew 2:1-2). When King Herod heard this he was disturbed and all Jerusalem with him, (Matthew 2:3). It might have been a very big caravan so it could pass safely through those crime infested deserts, and remember it said all Jerusalem was disturbed when they enter the city.
King Herod asked his chief priest and teachers of the law where the Christ was to be born. In Bethlehem in Judea," they replied, "for this is what the prophet has written' (Matthew 2:4-6), (Micah 2:5). So Herod sent the Magi on their way and told them to report to him so that he can go and worship him also.
Once outside the Palace, the wisemen again saw the star and it guided them to the house (not manger,) where the child (not a baby anymore because biblical experts say that Jesus may have been more that a year old, and that simply say's why he was not in a manger anymore when the magis arrived but in a house) and his mother Mary was living, (Matthew 2:9-11). They bowed down and worship Lord Jesus only, (Matthew 2;11). And having been warned in a dream not to go back to Herod, the wisemen returned to their country by another route.
This is the scriptural account about the Birth of Jesus Christ not Christmas.
What was Samar doing when MacArthur waded ashore 60 years ago?

By CHITO DELA TORRE
October 27, 2004
"It's a characteristic of Samareños not to celebrate impact moments of their own history..."
Samareños may not be as aware as the Leyteños in appreciating the significance of the yearly commemoration of the Leyte Landings of October 20, 1944 that led to the liberation of the entire Philippines and ultimately the end of World War II. That is why, not a single town except perhaps Guiuan in Eastern Samar - yet this one remains to be actually seen, puts up flags and floats at least on display, if not on a parade, every October 20th. If at all, then every town could have been in the thick of preparations since about the month of August - September being too close to celebration day.
There's no one to blame for this. It's a characteristic of Samareños not to celebrate impact moments of their own history. For instance, little concern is there for a continued research on exactly what date should be fixed for the observance of a Samar Day, other than a day in November or August. Even if Samar province began with some pompous celebrations for its own day, those efforts never enticed searching minds to go deeper into Samar Island's most remote past. Contented, plainly, we can say of ourselves? Contented, as in accepting hook-like-and-sinker whatever is already in place or an inveteracy - like, a community not collectively pointing an accusing finger at those whom it very well knows are druglords and at law enforcers who are in the service of these lords of social evils.
In fact, nobody cares why fiestas are continually being celebrated or why a so-so saint is being venerated as a patron. Just because tradition already kept them, everyone looks forward to attending a fiesta year after year.
Liberation anniversary this year is on its 60th. What care could Samareños manifest for it, and very particularly for the day for which its commemoration has to be grand yearly? Schools and colleges should lead in finding a reason. Yes, except for profit, no government agency, not even a true-bloodied Samarnon non-government organization, is interested to take up the cudgel.
Sadly, 60 years later from 1944, even those who survived from the Leyte Landings - of course it was not all Japs killed!, by goodness! - some local veterans could only be talking about their benefits or forgotten American citizenship. Never are they coming out to tell what they did at least in the hours before General Douglas MacArthur walked ashore - so, how could today's generation or those who had not witnessed their deeds be expected to sympathize with their present cause?
The absence of such interest, and alas, awareness!, however, should not frustrate Samarnons from finding out at least what role did the people of Samar play in making the October 20, 1944 Liberation the way it did.
++++++++
MacArthur's Promise Was Not Meant For Samarnons!
Never mind if you were in Dulag or Palo town of Leyte or in Guiuan of Eastern Samar on October 18, 19 and 20 of year 1944. Never mind if you were in the service of the United States Armed Forces at the time, as a soldier, a member of an auxiliary corps, or a laundrywoman, or maybe even an entertainer (like today's guest relation officer, or escort), or a carrier of bags of ammunitions for running Leyteño soldiers and armed members of the Liberation Forces then under the command of world famed World War II (which erupted on December 8, 1941) hero General Douglas MacArthur.
Never mind at all, if you were that Samareña or Samareño.
After all, Gen. MacArthur's promise of "I SHALL RETURN" was not meant for you. It was intended only for the Leyteños. After all, he did not care for the Samareños and the Samareñas -just like how those stupid American soldiers vituperated upon the rights of the Samarnons in Balangiga town. MacArthur loved only the people of Leyte, although on Oct. 20, 1944, he eventually wanted the "people of the Philippines" that he also cared for them, after all. Thus he declared: "People of the Philippines: I have returned. By the grace of Almighty God, our forces stand again on Philippine soil - soil consecrated in the blood of our two peoples. We have come, dedicated and committed to the task of destroying every vestige of enemy control over your daily lives, and of restoring upon a foundation of indestructible strength, the liberties of your people."
These premises decidedly spring forth explanations why since even on October 20, 1944, and every year thereafter, not a single Samareño or Samareña soul cares about celebrating the day when MacArthur fulfilled his promise or returning.
Promiser's Account
In the book General MacArthur's REMINISCENCES, the article "THE RETURN TO LEYTE, PHILIPPINES" is found. It is written by MacArthur himself. The title of the personal account strongly tells readers of the whole world that MacArthur was narrating his promised "Return" and that it was his "Return to Leyte" and not to anywhere else. This also hints at the fact that MacArthur had been to Leyte, and not to Samar. Verily. For he spent lovely and wonderful hours in Leyte, and more than that, he found Leyte to be ideal for the launch of his "proposed invasion" because the success of that landing on Leyte "would presage the eventual reoccupation of the entire Philippine area.
Verily. No one could go back to where he had not been to. You first have to be in a place, and leave it, before deciding to return to it.
To the people of Leyte, he promised: "I SHALL RETURN".
He did not say that to the people of Samar.
Moreover, he did not choose Samar for his invasion. This meant that Samar was not ideal. Not even was Mindanao. Wrote he: "The operation to take Leyte without a preliminary landing in Mindanao was a most ambitious and difficult undertaking. The objective area was located over 500 miles from Allied fighter cover. It was at the same time in the center of a Japanese network of airfields covering the Philippines."
In the same article, he said: "Leyte was to be the anvil against which I hope to hammer the Japanese into submission in the central Philippines - the springboard from which I could proceed to the conquest of Luzon, for the final assault against Japan itself."
++++++++
Too, bad to be true. If that's what your position is, think again. Perhaps, if you rethink, you would care, even if MacArthur returned for the Leyteños only.
Effect of economy on population growth

By BART SAUCELO, M.D.
October 25, 2004
"…the low economic level of the Philippines is the major cause of an accelerated growth of population rather than the population explosion as a major cause of poverty of the country."
I enjoyed reading the article - "Poverty of Filipinos" by Plutarco Benedictos of May 29, 2004 in the Insight page of samarnews.com. He is calling our attention to this major problem in our homeland. The subject makes us ask some questions about ourselves and analyze our attitudes, culture, idiosyncrasies, creativity and our competitiveness.
Sometimes when we look at a problem we confuse the effect from the cause or vice versa. This is exemplified by the recent "Wallace Report" under the title of "ECONOMIES GROW FASTER IF POPULATION GROWS SLOWER" when the fact is - POPULATION GROWS SLOWER IF ECONOMIES GROW FASTER.
I believe poverty is just a symptom of a disease with multiple causes although poverty in turn causes other problems as crime, breakdown of families and physical illness like malnutrition, depression, etc. We cannot cure a disease by just getting rid of the symptoms because the symptoms will just keep coming back and the disease will just keep getting worse. So, to alleviate poverty we have first to find its causes.
I believe that the major cause of poverty in the Philippines is corruption. Foreign business do not want to establish factories and other business enterprises in a country plagued with corruption like the Philippines because the cost of doing business becomes exceedingly high and unpredictable. It also causes an unstable political and social environment not conducive to business. Despite the fact that the Philippines has highly educated labor force that are hard working and English-speaking and willing to work with comparatively much lower wages foreign businessmen do not want to locate in the Philippines and those that are already in the Philippines are moving out to other countries. Even Americans who have some historical, cultural and ideological ties with us now prefer to go to other countries as South Korea, Malaysia, Thailand, China and India.
In South Bend, Indiana where I have been living for the past 36 years, representatives are sent to Japan to encourage Japanese businessmen to locate their factories to this city by offering them a number of incentives. They have been successful most of the time adding more employment to local residents and progress to the city. Yet, America is already rich with so many industries.
In his speech at the last Republican Convention, President Bush said - "To create jobs we will make America the best place to do business". Yet, America is already highly industrialized and the richest country in the world. It is clear that the Philippines must do the same and make it a priority project of the government in order to attract foreign and local business and create jobs.
But the Philippines does just the opposite. We build barriers and disincentives with corrupt practices, red tape and arbitrary requirements to foreign business. So, we have massive unemployment making the government so poor that it cannot give decent salaries to its employees or improve the infrastructure and social services while the people are wallowing in the mud of poverty. Thus, we remain the "sick man" of Asia.
It is true that population explosion in the Philippines aggravates the problem of poverty. However, contrary to what some people believe, I do not think that the Catholic Church is to blame for this. It is a well known fact that population growth is highest in the third world countries and much lower in industrialized countries. In fact, in the Wallace Report I mentioned above, countries with high percentage of Catholics like France (90%), Ireland (92%), and Poland (95%) have growth rate of only 0.5% while the Philippines with 83% Catholics has 2.5 % growth rate. Italy with 100% Catholic has a growth rate of only 0.2%.
The Executive Intelligence Review of Sept. 11, l998 found that 30 of 150 countries have falling or decreasing population and 16 countries had zero growth and all of them are industrialized progressive countries. In the U.S.A. the growth rate is 0.6%. Perhaps this could even be much lower if not for the high rate of immigration. The Philippines growth rate was reported as 2.04% in this study.
In underdeveloped countries the average growth rate is 2% while in developed countries it is only 0.4% to 0.7%. This seems to collaborate with the common observation that the poor people we know have the tendency to have so many children while the rich oftentimes have only two or three children.
What conclusion could we draw from these statistics and observation? My nephew who was a rural doctor in Samar participated in a government project promoting the use of contraceptives in an attempt to help cut down population growth. It was a failure and he jokingly told me that instead of giving them contraceptives, we would be more effective if we give each family a television set. He said that when people are poor they have no other pleasure except in the bedroom. Most are unemployed so they stay home most of the time. They have no sports, news, movies and programs to watch since they have no TV to occupy their minds and they cannot afford to do much socializing. Perhaps this is a better explanation why underdeveloped countries have higher growth rate and the richer countries have decreasing or zero population growth regardless of religious orientation.
Therefore, population growth is inversely affected by the economy of the nation or of a family. The low economic level of the Philippines is the major cause of an accelerated growth of population rather than the population explosion as a major cause of poverty of the country.
Therefore, contrary to the conclusion of the Wallace Report that ECONOMIES GROW FASTER IF POPULATION GROWS SLOWER which blames population growth as cause of sluggish economy I maintain that POPULATION GROWS SLOWER WHEN ECONOMIES GROWS FASTER. I blame the poor economy as the major cause of population explosion rather than the population explosion as the cause of the poor economy. But I have to admit that our accelerated population growth is not helping our economy.
Improving the economic level of the people is therefore a much more effective way of birth control than any other method. Statistics also show that the Catholic Church is not the cause of accelerated population growth in the Philippines.
Since we already have this vast manpower the logical thing to do is to utilize it by providing innovative projects and ways of producing wealth. This way we would then be solving both problems of poverty and population explosion.
With this in mind, GLOBAL FILIPINOS FOR PROGRESS is developing programs utilizing our most valuable asset: people. Click on PROGRAMS in our website - http://www.globalfilipinosforprogress.org and read about our GFP UNITED LENDING PROGRAM (GFPULP). I also invite you to read Part I and II of "BULLDOZERS AND PEOPLE" under ARTICLES which serve as background of GFPULP.