Talking about hell

By Fr. ROY CIMAGALA, roycimagala@gmail.com
February 4, 2018
HELL, of course, is one of the eternal last things, together with death, judgment and heaven, which we are encouraged to consider every so often, if only to derive some appropriate resolutions as to how we ought to live our life here in this world.
The considerations of the so-called last things would give us a global picture of things that should guide us better in our choices and decisions. Let's hope that we understand this point well and take it to heart and to practice.
With respect to hell, however, we have to understand that it truly exists in spite of all the goodness and mercy of God. It is the place, or better said, the eternal state of those who are all-out against God, their opposition to God not only incidental but formal.
But we need to talk about hell with great delicacy. It is not meant to scare us, to bully us to behave properly, although some fear would be good for us. But it should be a fear that is out of love of God, not simply because of the punishment. We should be driven by filial fear, not servile fear.
God must have thought of hell when he decided to create. And that's simply because there is nothing that exists that was not thought of by God from all eternity. Otherwise, God would not be God. Just the same, God decided to create in spite of that possibility because he also knows that good will in the end triumph. God, in his own wisdom and ways, will always have the last word.
Hell came to be because of some angels who chose to be by themselves instead of being with God. Being pure spirits, their choice is instantaneous and has eternal effects. When they are good by choosing God, they would really be good always. And when they are bad by rejecting God, they would really be very bad always. There's no state of in-between in them. They are either very good or very bad.
With us, since we are body and soul, our choices are always conditioned by many factors. In fact, as long as we live, our final choice, either to be with God or to be by ourselves simply, is always a work in progress.
The choices that we make in life should always be viewed in this context of being conditioned. That's why even if we make a bad or sinful choice, there is still hope because we can still correct it. And we should not forget the all-powerful and abiding mercy of God. Remember St. Paul saying, "Where sin has abounded, God's mercy has abounded even more." (Rom 5,20)
Besides, we really cannot deny the fact that our proneness to sin is such that it will need only God's grace to combat it. We do our part, but we know our efforts would not be enough. St. Paul dramatized this when he said:
"I delight in the law of God, in my inmost self, but I see in my members another law at war with the law of my mind and making me captive to the law of sin which dwells in my members. Wretched man that I am! Who will deliver me from this body of death? Thanks be to God through Jesus Christ our Lord!" (Rom 7,22-25)
Before God, we are like little children who try to behave well but who cannot avoid bumbling down. The consideration of hell is not meant simply to scare us, but to encourage us to go always to God.
PMPI statement on the appointment of charter change consultative committee
January 26, 2018
On January 25, President Rodrigo Duterte finally named 19 out of the 25 members of the Charter Change Consultative Committee on amending the 1987 constitution, after several months of the committee's establishment.
We, the Philippine Misereor Partnership, Inc. (PMPI), a network of NGOs, religious/church-based organizations, and people's organization, welcomes this new development. Finally, and soon we will stop groping in the dark; there will be concrete and real proposals for charter change that we can discuss and reflect on. This is also positive as it gives us a glimpse of the character of the group that was given the huge responsibility to re-write our current constitution, fashioned to strengthen democracy and social justice, and prevent a dictatorship to ever happen again.
The changing of the new constitution is touted and being framed by the current government as a way to usher the development that the 1987 constitution allegedly failed to effect.
While we believe that there are sections in the current constitution that needed updating, we do not agree in fast-tracking the process of changing the constitution within 6 months as per instruction from the President. We are deeply concerned of its effects as failures and instability in governance from the past continue to plague our nation.
The constitution is the heart of any government and of any institution for that matter. It is the fundamental law that governs and prescribes the life of a people. Thus, there should be a recognition that changing the constitution would require that every citizens' concerns, every epoch's milestone, and every historical experiences are considered and studied thoroughly.
Every Filipino needs to know the following:
- What is the current national situation that warrants a change in the constitution?
- Is the current political condition a good environment to carry out this process?
- Is constitutional change the ONLY way to address the identified current national situation? Have we exhausted all options that will bring the same change we want?
- Is 6 months enough to disseminate information, carryout conversations, and install mechanisms that will ensure that transparency and accountability in the process of constitutional change?
- Is the Constitutional Assembly the best form to change the current constitution? Is the composition of the current congress carry the aspirations of the majority of people?
- How is the common Filipino being engaged and informed on the change issues that will affect his/her future?
Discernment and conversation should be encouraged for every Filipino to understand the context of the proposed processes, thereby owning it.
We call on the government not to take the charter change process in haste. We urge the government to involve various stakeholders from different sectors of society in crafting the needed change in the constitution and take part in policy making.
The participation of various sectors will ensure that these changes in the constitution meet expectations for equal rights, effective delivery of resources, protection of lands and indigenous territories, provision of social services, stop political dynasty and corruption with respect to the rule of law.
We reject the Constitutional Assembly as a way to change the constitution. We do not trust that the current lower house will represent the genuine voice of the people by the way they have repeatedly conducted themselves in addressing social issues since the assumption to power of President Duterte.
We say NO TO CHARTER CHANGE IN HASTE. We say NO TO CON-ASS.
Our great treasure in the Sto. Niño

By Fr. ROY CIMAGALA, roycimagala@gmail.com
January 13, 2018
WE really have to be most thankful that even up to now we as a people still have a great devotion to the Sto. Niño. Instead of waning through the years, this popular piety we have toward the Child Jesus has grown.
Yes, there are still things that should be made right and purified, (I suppose we will never run out of them), but we cannot deny that this devotion has helped us greatly in a world and in times that are increasingly secularized and paganised. Think of the many so-called liberal people in the world who have considered faith, religion and piety as obsolete.
Thanks to God the image of Christ as both a child and king has truly so captured the Filipino heart (especially the Cebuano heart) that whatever situation we may find ourselves in, whether good or bad humanly speaking, we still keep our Christian faith and try our best to live by it.
Let's hope that this devotion continues to develop and to spread more widely, especially among the young ones who are most vulnerable to the faith-killing and piety-numbing ways of the world today. In this, we have to use both the human and supernatural means of prayer and sacrifice, and to involve as many people and institutions as possible.
That the Sto. Niño is both child and king somehow reminds us that we need to be like a child to attain our ultimate kingly goal of human maturity and Christian perfection. As we grow older, more exposed to the world and gaining a lot of experience, we need to be more like a child, deepening and enriching our spiritual childhood in Christ.
Let's always remember what Christ himself said: "Unless you change and become like little children, you will never enter the kingdom of heaven." (Mt 18,3)
Yes, children and heaven are almost synonymous to each other. No wonder we feel like we are in heaven every time we see children around. Every time a baby is born, we are very happy because we somehow know that he just did not come out of his mother's womb, but rather from the very hands of God who created him before the parents procreated him.
In spite of the many limitations of children, what makes them always desirable is their pure, innocent heart, incapable of malice, ambition, pride and haughtiness. They are a source of many other good things.
Their heart is always trusting in the Lord always, just like a little kid is always confident with his father. Faith and hope easily grow and acquire strength when nurtured in a child's heart. It's this attitude that leads them to go on and move on no matter what, for life to them could only be an adventure of discoveries.
It's this kind of heart that makes them transparent, sincere and simple, not afraid to be known as they truly are. They may still lack the subtlety of prudence and discretion, and be prone to spontaneity, but they hardly mind these deficiencies.
They are only interested in doing what they think is good and enjoyable. Suggestions and corrections do not humiliate them. Rather, they welcome these suggestions and corrections.
Children are humble, teachable, flexible and docile. You can tell them anything, and they always tend to believe and obey. Attainments, achievements and successes do not spoil them. Neither do difficulties, temptations and failures crush them and plunge them to sadness or bitterness.
They are easy to motivate, to be consoled, to be optimistic. Falls and mistakes are easily forgotten. They only leave a mark that becomes a source of precious lessons for them to learn. They are quick to heal when wounded.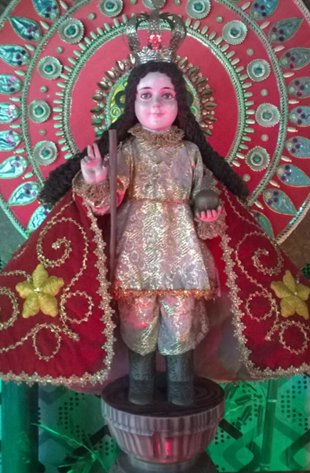 Christmas message for 2017
A Christmas Message by the Asian Human Rights Commission

By BASIL FERNANDO
December 23, 2017
Thinking purely in symbolic terms, Christmas celebrates a fascinating event. Jesus was born in a cattle shed. This was where sheep slept. From a power point of view, it was so completely different from the way other religious or political leaders are presented to the world. Links to royalty or nobility, or at least some affluence, and education, were considered qualities of leaders. But here, none of those symbols of power was present.
From the point of view of value systems, this symbolic birth presents very different appreciation of values than what we see in many other models. A human being is born the midst of cattle. Human beings are part of nature, and that is more important than any symbols of status and wealth.
This is a message that has been largely lost. Perhaps, at the heart of the moral crisis in the world is this problem of being unable to consider that human beings are a part of nature. As St Francis wanted, genuine relationships should be established with 'Brother Sheep and Sister Bees'.
This symbolism is even more important for the new world, which began with the first testing of the atom bomb in New Mexico in 1941, a test which was nicknamed, quite inappropriately, Trinity. The success of the explosion that happened on that day posed a moral crisis which baffled the most talented scientists, and changed their own views on their achievements. Robert Oppenheimer and, later, his counterparts in other countries, like the Russian Andrei Sakharov and others like them, all lived to regret what they initially thought was the highest achievement of their lives. The plea to end this experiment was their final message.
The dilemmas posed on that day by Trinity remain not only unresolved, but appear to be unresolvable. The creative capacity of human beings resulted in a situation where they became their own annihilators.
In terms of political civilization, this "achievement" of Trinity also posed the greatest threat to liberal democracy itself. The value of the political was diminished, creating a higher place for those who manage security apparatuses. This is now reflected everywhere, including those places that were considered the most developed democracies in the Western world.
Now, on the one hand, security agencies, including intelligence agencies, have truly become the final arbiters of human destinies. On the other hand, this has become an unacceptable situation for everyone, including the persons in these agencies. Yet there is no way out to be seen. Human intelligence is trapped within this great contradiction.
In creating the atom bomb, the argument in the United States was that this was essential in order to save western civilization. However, the achievement of the dream has posed not only a threat to western civilization, but to human civilization as a whole. Yet, to those who are most powerful in the world, the crisis of human civilization as a whole has not been taken as seriously as it should be.
The Christmas symbolism must be treated a powerful reminder of humanity's link to the totality of the world. That realization should transcend all considerations of wealth and power. This is no longer a sentimental aspiration. The practical survival of the world depends on the capacity to bring back the natural link between human beings and the rest of creation. This has become the challenge of 'to be or not to be' for everyone.
Give without expecting any return

By Fr. ROY CIMAGALA, roycimagala@gmail.com
December 16, 2017
THIS is how we should give if we want to follow the example of Christ. We have to give to others not only things but also our own selves without expecting any recognition nor any reward.
This was clearly taught by Christ when he said that when we hold a banquet, we should not invite those who can invite us in return, but rather those – "the poor, the crippled, the lame, the blind" – who are unable to invite us in return. (cfr Lk 14,12-14)
"Blessed indeed will you be because of their inability to repay you," he said, "for you will be repaid at the resurrection of the righteous." (cfr Lk 14,12-14) Let's always keep these words of Christ that assure us of what we are going to receive in heaven if we are generous with others here on earth.
We have to make an effort, always asking, of course, for the grace of God first of all, so that we can learn to assume this attitude with respect to our self-giving. In the end, this will make us to be like Christ who gave himself totally to us, including giving his life for our sins.
Let's remember what he told his disciples: "Freely you have received, freely you have to give." (Mt 10,8) Gratuitousness should characterize our self-giving to God and to others, just as gratuitousness characterizes God's love for us. Such gratuitousness will gain us much more than what we give away.
In this regard, we have to do some continuing battle against our unavoidable tendency to be calculating in our self-giving. Not only do we have to contend with our personal weaknesses in this regard. We also have to contend with a tremendous cultural environment, so prevalent these days, that not only is not conducive to this attitude of Christian generosity but is also hostile to it.
We constantly have to rectify our intentions when we have to give to others – be it things, a service, or matter of attention and affection. This is especially so when our giving is for God. Let's never forget that God cannot be outdone in generosity.
Remember that episode of the couple Ananias and Sapphira as recorded in the Acts of the Apostles. (cfr 5,1-11) They sold a piece of property, but instead of giving the whole proceeds to the apostles, they gave only a part and kept the rest, lying to the Holy Spirit in the process. For this, they met sudden death.
We should see to it that our gestures of self-giving is whole-hearted and is inspired by true love that can only come from the love of God for us. We have to avoid playing games in this regard, for God knows everything and would deal with us the way we deserve.
We have to learn to be truly generous, neither counting the cost nor expecting any return. This obviously is not easy to do, given our wounded human condition. But if we always go to Christ to get inspired by his example and to ask for his grace, we can do it. The impossible becomes possible!
Everyday, we have to find opportunities to practice and grow in this virtue of generosity, always aware that Christ is always with us and is showing us the way and how to behave and react to any situation we find ourselves in.
So when we find ourselves in some difficulties or are hounded by temptations, let's never delay in going immediately to him to ask for help and guidance.
Mary of the Immaculate Conception

By Fr. ROY CIMAGALA, roycimagala@gmail.com
December 4, 2017
WE once again celebrate this Solemnity of the Immaculate Conception of the Blessed Virgin Mary on December 8, a holy day of obligation in our country. With it we are reminded of the great privilege given to one of us, Mary of Nazareth, who was chosen many centuries ago to be the mother of the Son of God who had to become man to save us and to bring us back to God, our Father.
With this celebration, we are told that Mary was conceived without original sin. This is how the Eucharistic preface of the solemnity explains the reason why.
"For you (referring to God the Father) preserved the Most Blessed Virgin Mary from all stain of original sin, so that in her, endowed with the rich fullness of your grace, you might prepare a worthy Mother for your Son and signify the beginning of the Church, his beautiful Bride without spot or wrinkle."
The Eucharistic preface continues: "She, the most pure Virgin, was to bring forth a Son, the innocent Lamb who would wipe away our offenses; you placed her above all others to be for your people an advocate of grace and a model of holiness."
It's good that we go through these words, this prayer, slowly if only to savor the tremendous, awesome truth of faith that should richly nourish our souls and inspire us to pursue holiness wholeheartedly no matter what.
This truth about Mary in relation to us should fill us with joy and a great sense of confidence that what seems to us to be impossible to reach and attain can indeed be achieved.
We may not have the privilege that Mary had of being conceived sinless and remaining sinless all throughout our life, but it's good to look at Mary, now our Mother as given to us by Christ himself, so we can be inspired and consoled to pursue holiness in our vale of tears here on earth.
To be sure, Mary, though conceived without sin and sinless all throughout her life, was exposed to all the temptations and the sins of men, because she was and continues to be most close and most identified with her Son who bore all the sins of men.
Her sinlessness was not one of a blissful ignorance of the reality of sin. Her closeness and complete identification with her Son made her know the very core of evil and sin in the world. But like her Son too, she knew how to handle all those. And that is by suffering the way Christ suffered for our sins. That's why she's referred to also the Mother of Sorrows.
It's true that she was not crucified the way Christ was crucified. But her suffering perfectly mirrored the extreme suffering of her Son. In fact, we can consider her suffering a very heroic since it was experienced in a quiet and hidden way.
While all of us who try to follow Christ can be regarded as co-redeemers with Christ in the sense that we also have to suffer, die and resurrect with Christ, Mary can be described as the co-redemptrix par excellence.
Deepening our devotion to Mary of the Immaculate Conception can only help us to effectively handle the reality of evil and sin in this world as we pursue the real and ultimate purpose of our life. And that is to be holy as our heavenly Father is holy.
Deepening our Marian devotion should be a task that we carry out daily. We lose nothing. Rather we have everything to gain!
We always need God's grace

By Fr. ROY CIMAGALA, roycimagala@gmail.com
December 2, 2017
MAKE no mistake about it. We always need God's grace. On our own, we can only do evil. Whatever good we think we can do without God's grace is only apparent. Sooner or later, that good will have no other fate but to degenerate into something evil.
Actually, God's grace – at least what is known as the actual grace – is always available. But we need to be aware of it by constantly asking for it so that our actuations will always be according to God's will and ways even as they are also according to ours.
Let's always remember that our life is always a life with God. Considering that we have been created in God's image and likeness and are children of his, everything in our life is infused with God's spirit which we have to learn to be aware of and to correspond to as best as we can.
Christ affirmed this truth when he said he is the vine and we are the branches. "If you remain in me and I in you, you will bear much fruit. Apart from me, you can do nothing." (Jn 15,5)
We have to overcome our strong tendency to think that we can be just on our own, wrongly thinking that this is how we exercise our freedom. Our freedom can only be true freedom when it is exercised with God who is its source, its power and its end.
The autonomy that we enjoy in this life, especially in our temporal affairs where we are legitimately allowed to have different views and opinions, should never be understood as being totally independent of God such that we can even go against God's will.
Without corresponding to God's grace, we are bound to misuse our human powers. If our first parents, still in their state of original justice, managed to sin because in a moment they lapsed into forgetting God and following the suggestion of the devil, how much more us who have been born already with the handicap of the original sin.
Without corresponding to God's grace, the use of our human powers will be distorted and will just convert into all kinds of isms. Our intellectual activity, for example, will fall into intellectualism, the exercise of our will into voluntarism, the joy of our sentiments into sentimentalism. These human powers become easy prey to the wiles of our wounded flesh, the deceptive charms of the world, and the tricks of the devil.
Our will, for example, which is what enables us to be the image and likeness of God and is therefore our most powerful human faculty, can be misused such that instead of becoming like God, we can choose to become like the demon.
For us to correspond properly to God's grace, we need to be always humble, always feeling the need to be in his presence and to know his will in an abiding manner. May it be that no moment passes without being with God and interacting with him.
We have to regularly examine ourselves to see how we can plug the hole that takes us away from God's presence. This hole usually takes the form of the pride that we can derive from enjoying our God-given endowments. Instead of thanking God for them and using them for God's purposes, we simply enjoy them on our own, using them entirely according to our will and designs.
May we always be desirous of God's grace!