Filipino WW II Vets on the return of Balangiga Bells to Eastern Samar
An Open Letter to the Philippine Government, and the Filipino Community
August 7, 2015
Greetings my name is Rose San Diego and I am a Filipina nurse assisting the Chicago Fil-Am WWII veterans with their advocacy in obtaining the Congressional Gold Medal along with the returning of the Balangiga Bells.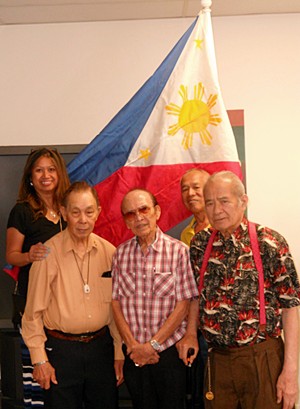 Seventy-five days ago, an exploratory study was completed on entering a major awareness campaign here in the Midwest region for Returning the Bells of Balangiga of 1901 back to Eastern Samar or to aggressively promote awarding to our Filipino WWII veterans the Congressional Gold Medal, America's highest civilian award. It was decided to merge these dual tasks.
As a people, for centuries we have risen above many obstacles, from being conquered by foreign occupation and colonial rule of other countries, to severe disciplines and atrocities brought on by WWII's aggressions. As a nation of determined Filipinos, we have acclaimed our independence to finally be self sovereign. Generations of past have planted the seeds for us to grow and make a humanitarian difference worldwide.
We are looking for commitment from the heart and not just a promise to volunteer, for a continued direct action approach from each Fil-Am WWII veteran and/or their families wishing to be considered for this honor or in the memory of those family relatives who had perished without receiving any accolades for their service to country. Collaboration with the Philippine Government and its agencies would be welcomed.
For further inquiries, please feel free to contact us via email: rsunrise2@aol.com

Sincerely,
Rose San Diego
Good from evil, evil from good

By Fr. ROY CIMAGALA, roycimagala@gmail.com
July 25, 2015
The twists and turns of life today have been such that we can derive good from evil, and vice-versa, evil from good. We have to learn how to properly deal with this peculiar phenomenon so that we can manage to reach our ultimate goal without getting lost along the way.
We can derive good from evil because God will always be around, providing us with all the grace that we need, as well as his eternal mercy and compassion when we happen to be downed by our weaknesses, the temptations and trials around, and sin itself. There is nothing impossible with God. He can take on any evil and nullify it.
And we can also fall into an evil state in spite of the many good things around precisely because we can dare to separate ourselves from God and just make use of the many good things today, like the new technologies, without him. Sooner or later, these good things will just spoil us and lead us into evil.
A more serious case is when we can be endowed with good if not superior intellectual and spiritual powers but fail to refer them to God. Our goodness, superiority and righteousness could occasion pride, vanity and self-righteousness. This is the classic example of how evil can be derived from good.
The crucial point in this issue is that we should try our best to be with God always, something that we have to work out day in and day out. Our petition to God should be something to the effect that we feel a sharp pain right in our flesh, like a wound freshly inflicted, once we distance ourselves from God.
God's patience is infinite. And so, we should never despair whenever we fall into some immoral predicament that may seem persistent. These days, for example, when we cannot but be affected by all sorts of sweet poisons like consumerism, materialism, hedonism, technologism, etc., we should see to it that we get hold of at least a shred of hope in God's mercy and compassion.
We all know that our best intentions and best efforts would not be enough to confront the daily onslaught of these sweet poisons and blinding false lights. To dominate these things which usually have a possible double effect, we need to pass by a learning curve, and so we cannot avoid committing some mistakes, big and small.
Especially in the beginning of the process of mastering the many new things that can have dual effects on us, we cannot avoid dirtying ourselves from time to time. And even if we may already achieve a certain level of dominion over them, the danger of falling can still take place. And in fact, the falls in this stage is graver and more painful than those in the beginning stage.
And yet we should never lose hope. Somehow, even if we hate sin and do our best to avoid falling, God allows these falls to take place to give us a more intimate knowledge of our weakness and of God's ever powerful mercy.
The temptations and falls can still be useful since they can serve to enrich and deepen our knowledge of things in general, something that we may miss if we have not been tempted and have not tasted the bitterness of our falls and the precious lessons they can give.
That's why saints have also been sinners. We can cite the example of St. Mary Magdalene whose deep contrition and love for Christ sprang from her grievous sins. And big sinners have also become big lovers of God, as in the case of St. Augustine.
It would seem that while it's true that the corruption of the best is the worst, the reverse can also be said – the redemption of the worst is the best. This is a thought that should come to our mind whenever we happen to fall into some grave sin. There's always hope. God is willing to forgive and to give us more than we deserve.
Let's be a Mary Magdalene or an Augustine, or a Peter or the prodigal son, the lost coin, the lost sheep. Let's make our sinfulness a powerful motive to go back to God. Let us live out those words of St. Paul that it is when he is weak that he is strong. Let's fill ourselves with the conviction, based again on St. Paul's words, that where sin has abounded, God's grace has abounded even more.
Let's learn to derive good from evil, and to avoid turning good into evil.
Lasting peace can be President Aquino's legacy to the Filipino people
A Statement of the Ecumenical Bishops Forum on the Peace Process
July 22, 2015
It is not too late for the government of the Republic of the Philippines under the incumbency of President Benigno S. Aquino III to forge an agreement with the National Democratic Front of the Philippines. Lasting peace can be his legacy to the Filipino people. He still has more than ten (10) months to do that.
No less than the Speaker of the House of Representatives, Hon. Feliciano Belmonte, Jr., believes that "peace talks with the Communist Party of the Philippines - National Democratic Front can still be done within the remaining term of office of President Benigno Aquino III." (Philippine News Agency, July 20, 2015).
Belmonte went to the Netherlands as part of the Philippine delegation to the hearing of the United Nations International Tribunal on the Law of the Sea (Itlos) when it heard the case filed by the Philippine Government against China on the West Philippine Sea dispute. He took the opportunity to meet with the communist delegation of ten (10) people to discuss the issue of peace talks. With Belmonte were House Majority Leader and Mandaluyong City Representative Neptali Gonzales II, Appropriations Committee Chair and Davao City Rep. Isidro Ungab, and Accounts Committee Chair and Romblon Rep. Eleandro Jesus Madriona.
The House Speaker was quoted as saying that "the atmosphere is such that it (peace negotiations) can still be done during the term of the president… He has other assistants. I do hope the festering problem will be solved and it can be solved during the last year in office."
The favorable atmosphere includes the openness of the new Armed Forces Chief of Staff Lt. Gen. Hernando Iriberi to the resumption of the peace talks. "The AFP welcomes the government 's openness for the revival of the peace talks with the CPP-NPA," he said (The Phil Star, p. 9, July 20, 2015).
We hope and pray that this declaration is not simply a motherhood statement from one who is newly appointed to a key office because he is expected to say something positive for the people to court their confidence and support. The good general knows too well the need "for the peaceful resolution of conflicts and long term peace in our country" as he has stated.
Another positive note for peace was the position of the CPP founder Jose Maria Sison declaring full support to the Philippine government's move to bring its problem with China over the West Philippine Sea to the UN ITLoS. He signed the statement of Filipinos in the Netherlands which said: "We, Filipinos and friends of the Filipino people in the Netherlands, stand together in upholding the national sovereignty and territorial integrity of our Motherland, and in defending the Filipino people's sovereign rights over their exclusive economic zone and extended continental shelf in the West Philippine Sea, now being illegally claimed and encroached upon by China."
On China's position for a bilateral talk between the two nations, Sison asked: "How can the Philippines negotiate with China, which always declares 'ab initio' (from the beginning) that it has indisputable sovereignty over 90% of the entire South China Sea and that in effect the Philippines has no rights over EEZ and ECS (extended continental shelf)?" Sison is one with the Philippine government in this stand, and Malacañang spokespersons appreciate this.
We see one problem, however. In spite of the feelers sent by top NDFP leaders on their willingness to resume the stalled peace talks soon, there is no feedback until now from the Office of the Presidential Adviser on the Peace Process (OPAPP). It appears that Sec. Teresita "Ging" Deles is not keen on reopening the talks. Is she heading the Office of the Presidential Adviser Against the Peace Process?
Speaker Belmonte himself expressed surprise at the absence of reaction from OPAPP to the NDFP's overtures. Gen. Hernando Iriberri may also get disappointed because his plan is to work "hand in hand with agencies of government tasked to lead the talks." If the primary agency which is OPAPP does not lead, what can the Filipino people expect?
President Aquino, we suggest, should seriously consider placing into OPAPP people who will give him the proper advice (as Speaker Belmonte emphasized, the President "has other assistants.") to be able to leave a legacy of genuine and lasting peace to our beloved country and people. When this happens, God's dream for the people may come to pass: "My people will abide in a peaceful habitation, in secure dwellings, and in quiet resting place" (Isaiah 32:18).
Issued and signed this 22 day of July, 2015.
Our continuing hope and cry for peace
A press statement by the Philippine Ecumenical Peace Platform on the GPH-NDFP Peace Talks resumption
July 1, 2015
"But those who hope for the LORD will renew their strength, they will soar on wings like eagles; they will run and not grow weary, they will walk and not be faint." (Isaiah 40:31 NIV)
We are the Philippine Ecumenical Peace Platform (PEPP), the largest ecumenical formation of church leaders in the country today. As peace advocates, compelled by the gospel mandate, we see it within the ambit of our mission to accompany the peace process between the Government of the Philippines (GPH) and the National Democratic Front of the Philippines (NDFP).
We held our 4th Church Leaders' Summit in Cebu City this June 29 to July 1, 2015 with sixty-three (63) participants representing the Association of Major Religious Superiors of the Philippines (AMRSP-men and women), Catholic Bishops' Conference of the Philippines (CBCP), Ecumenical Bishops' Forum (EBF), National Council of Churches in the Philippines (NCCP) and the Philippine Council of Evangelical Churches (PCEC) coming from all over the country to express our support for the resumption of the peace talks between the parties. As we journey with the GPH-NDFP peace process, we resolved to amplify the call to both parties to resume the formal peace talks on the Comprehensive Agreement on Socio-Economic Reforms (CASER) that has been in an impasse since February 2011.
The former Commission on Elections (COMELEC) Chair, Atty. Christian Monsod and former National Economic Development Authority (NEDA) Chief, Dr. Cielito Habito briefed us on the challenges of social justice and the need for fundamental socio-economic reforms that will address the issues of poverty and inequity – the roots of the armed conflict. We heard the explanations of former GPH Peace Panel member, Atty. Rene Sarmiento on how the Comprehensive Agreement on Respect for Human Rights and International Humanitarian Law (CARHRIHL) was crafted through an arduous process of negotiations including the contentious issue of the Joint Agreement on Safety and Immunity Guarantees (JASIG), which underwent a total of 17 drafts.
We were likewise moved by the testimonies of a health worker, a farmer and a LUMAD about their experiences of injustice and the violation of their fundamental rights in their communities. We also engaged in profound conversations on how we as church leaders and our flock, can contribute to the peace negotiations in order to attain the peace our people cry for. This sharing of insights and experiences by our resource persons and our own conversations has inspired us to remain committed and steadfast in our accompaniment work with the GPH-NDFP Peace Process.
Recent developments have also strengthened our resolve. We are enthused by the recent pronouncements of the GPH and NDFP that they are open to the possibility of going back to the negotiating table. We are similarly encouraged by the perseverance and ready involvement of the Royal Norwegian Government (RNG) in its role as third party facilitator with the appointment of a new special envoy in the person of Ms. Elisabeth Slattum, as we also call for a more proactive facilitation.
We call on the GPH and NDFP to immediately resume the formal peace talks in order to address the roots of the armed conflict. Along with this call is our appeal to both parties to make themselves more visible and accessible to the public, especially to the organizations accompanying this process.
As an expression of our commitment, we will help spread the good news of peace through the creative education of our people on the GPH-NDFP process. We will do innovative approaches to peace in our churches like popularizing peace sports, songs, dances and other art forms in support of the peace process. We will encourage our young people to be involved in different fora. We will likewise make our church leaders more visible in the public media expressing their full support to the talks. We will use the time and space during the election months to consolidate our ranks, strengthen our collective strategies, dialogue with different stakeholders to sustain the peace process and be more pro-active when an opportunity opens up for the resumption of the talks.
We affirm that all signed agreements that were painstakingly negotiated by both parties in the past are signs of hope and should be honored to serve as building blocks for future agreements.
We will journey with the parties and our people until the day we see the dawning of peace.
We enjoin all peace-loving Filipinos to continually pray and tirelessly work for peace.
When old age and illness come

By Fr. ROY CIMAGALA, roycimagala@gmail.com
May 23, 2015
WE have to be ready for these eventualities. We grow old, have limitations and weaknesses. We commit mistakes. All these have effects on our body, and since our body is always linked to our soul, they too affect our soul, the way we think, judge, reason, understand, love, etc. They can affect our spiritual life, our faith, etc.
We all suffer these things one way or another, sooner or later. But in the meantime, let's learn how to take care of ourselves and of one another as we unavoidably approach these situations or go through them ourselves.
The need to learn the art of caring, at once physical, emotional, mental and spiritual, cannot be overemphasized. May we progress in this department, at least to pace with the rapid development we see around in the other dimensions and aspects of our life – technological, social, professional, political, etc.
It should not be said that while we are making great strides in the area of work and professional prestige, financial and social status, etc., we still could be considered as primitive in this most basic aspect of human life – the care we need when we suffer the unavoidable limitations of our nature.
This should be the concern of everyone, but especially those who are more educated, more endowed and more blessed with certain charisms. Let's see to it that we have the appropriate attitude and skills in place.
Some studies say that up to 15% of people over 65 and up to 40% of those over 80 suffer from some form of dementia (Alzheimer, multiple cerebral infarctions, Parkinson's, etc.)
The symptoms are usually some degree of memory loss, impoverishment of language, difficulty in remembering the name of objects or in recalling words, inability to concentrate, temporal or spatial disorientation, agitation, or loss of capacity for judgment.
There's also some character, mood or behavioral changes and loss of interest in things that previously mattered a lot to a person, reduction in physical strength and general activity, increased fatigue, slowness and unsteadiness in walking, fear and risk of falling, lack of appetite, weight loss, depression, etc.
It's important that we instill hope and empathize with these people who are undergoing these conditions and help them to understand that suffering has a meaning even if it is not fully understood. For this, the example of Christ, and before him, Job, should be highlighted.
We need to listen to them even when they seem to be talking nonsense. We have to encourage them to look at God and other people, since this is the path to discovering the meaning of suffering.
Only in that way can suffering be understood as a sacrifice, a tremendous gift, a redeeming trial or a clear proof of love. Let's remind ourselves that suffering can only be understood and appreciated when seen more under the light of faith than of reason and the sciences. And we should know how to convey this truth to those who suffer.
In the end, it's Christian love, the love that comes from God, which cures, or more properly said, ultimately resolves even our most difficult, if not humanly insoluble, predicaments. What St. Paul said about it is no exaggeration. "Charity bears all things, believes all things, hopes all things, endures all things." (1 Cor 13,7)
I was happy to learn recently that Einstein, one of our greatest scientists, wrote a letter to his daughter many years ago, which said that the greatest force on earth certainly does not come from matter nor from some natural source, but from love that comes from God.
This is a challenge to all of us when we have to deal with people, usually those close to us like our relatives and friends, who suffer some extreme forms of problems. It's said that we can only give what we have. So, if our faith in the love of God is not that strong or is practically non-existent, then we cannot expect to convey the truth of God's love for us to others, nor to our own selves.
In short, we will surely fail in dealing with problems related to old age or to difficult, if not incurable, illnesses. But since there is always hope even in our most trying situations, we know that we can do something about this.
Let's hope that we can find time to build up our love of God and of others by making an effort to pray, offer sacrifices, deepen our faith, develop virtues, and acquire those skills of compassion and empathy even as we avail of all medical help appropriate to the situation.
Isang negosyante, malupit at mapagkunwaring warden sa Samar Provincial Jail (SPJ)
A Press Statement by the Samar Provincial Jail detainees
May 9, 2015
Pitong taong paghihirap sa rasyon ng pagkain ang nararanasan ng mga bilanggo sa Samar Provincial Jail sa kamay ni provincial jail warden Victor Templonuevo kung saan itinali niya ang budget sa tatlumpong piso (P30) lamang sa isang araw sa bawat bilanggo. Hilaw na bigas at ulam na gagawing pagkain ng isang bilanggo tatlong beses isang araw. Ang napakasakit at makahayop na pagtrato'y ginawa pang negosyo ng warden sapagkat ito ang nagsusuplay ng rasyon lalung-lalo na ang isda na madalas ay mabaho at di sariwa.
Batay sa kompyutasyon, imbes P30 ang budget sa isang araw, lumalabas na dalawampu't isang piso (P21) lamang ang aktwal na napapakinabangan ng isang bilanggo sa isang araw at ang natitirang siyam na piso (P9) ang ninanakaw ng warden sa isang bilanggo araw-araw.
Pitong taong pagtitiis ng kalupitan ang dinaranas ng mga bilanggo sa kamay ng warden bunga sa kawalan ng malinaw at sadyang walang nakasulat na mga patakaran (written policies) bilang gabay ng mga bilanggo, na siyang nagiging behikulo ng malawakang pang-aabuso. Nagbunga rin ito ng pitong taong paglapastangan sa karapatang pantao ng mga bilanggo at sa maraming pagkakataon ay sa kanilang mga dalaw.
Naging karaniwan na lang ngayon sa SPJ ang pagpapahirap sa mga bilanggo tulad ng pagkait sa kanilang mga karapatan, iba't-ibang anyo ng pananakot, walang due process na pagpaparusa tulad ng pag-padlock, paggiba ng mga kubol, corporal punishment at pagbartolina.
Pitong taong pasimuno rin ang warden sa korapsyon at sangkot sa maraming anomalya sa loob ng SPJ.
Ginagawang private property ang SPJ, talamak ang imoralidad, pagpasok ng ilegal na droga, alak, sugal, special treatment sa pinapaborang bilanggo, negosyo, pagpapasahod sa mga walang trabahong empleyado at marami pang iba.
Habang pinagmamalupitan ang mga bilanggo, patuloy namang nagkakamal ng malaking kita ang warden para sa kanyang sarili. Liban sa ninanakaw niya sa rasyon ng pagkain, nagmamantine pa siya ng babuyan sa loob ng jail, may mobile store at nagpapautang. Ang babuyan ay malaking problema sa kalusugan ng mga bilanggo at sanitasyon ng buong SPJ. Anong klaseng warden si Victor Templonuevo na minamabuti pa ang baboy kesa tao dahil sa babuyan ay may itinalagang bilanggong alipin na araw-araw na nagaalaga, naglilinis at nagpapakain sa standard na pagkain ng baboy. Samantalang ang ipinabartolinang bilanggo nang walang due process ay sadyang pinagkaitan ng tubig, pagkain, kalusugan, sanitasyon at dalaw. Malayong mababa pa sa baboy ang turing niya sa mga bilanggo.
Si Provincial warden Victor Templonuevo ay isang tusong negosyante na ang nasa utak lamang ay kung paano kumita nang kumita. Upang walang maging hadlang sa kanyang mapang-api at mapagsamantalang layunin, tinatakot niya ang mga bilanggo, gumagamit ng bilanggo upang patahimikin ang kapwa, o di kaya naman ay pinangangakuan ang mga bilanggo ng wala. Kaba, takot, pag-aalinlangan at desperasyon ang nararanasan ng mga bilanggo sa SPJ sa loob ng ilang taon hanggang kasalukuyan.
Ngunit dahil sa lumalalang pang-aapi at pagsasamantala, ang kaba at takot na nararamdaman ng mga bilanggo ang naging tungtungan ng pagkakaisa at pagkakapit-bisig upang igiit ang karapatan at ito'y napatunayan nang matagumpay na isagawa ang mga serye ng protesta laban sa masamang rasyon ng pagkain, mga maling patakaran at katiwalian noong nakaraang mga buwan.
Ang nangyayari sa SPJ ay bahagi lamang ng malawakang katiwalian, pagsasamantala at pang-aapi sa mga bilanggo na nagaganap sa iba't-ibang piitan sa buong bansa, at ng lipunan.
Ang SPJ ay nasa ilalim ng pamamahala ng probinsyal na pamahalaan. Ang isang mahalagang sukatan kung anong klaseng liderato ng pamahalaan mayroon ang isang partikular na lipunan ay kung paano tinatrato ang mga bilanggo. Ang ginagawa ni Victor Templonuevo ay malaking kahihiyan sa probinsyal na pamahalaan.
Nananawagan kami sa gobernador ng Samar na gamutin ang malalang sakit sa Samar Provincial Jail sa pamamagitan ng agarang pagpapatalsik kay Victor Templonuevo upang isalba ang malaking kahihiyan ng probinsyal na pamahalaan.
Nananawagan din kami sa lahat ng kamag-anak ng mga bilanggo sa SPJ, mga kaibigan at mamamayang sumisimpatya na suportahan ang aming panawagan.
TAPUSIN NA ANG PITONG TAONG PANG-AALIPIN SA MGA BILANGGO NG SAMAR PROVINCIAL JAIL NI WARDEN VICTOR TEMPLONUEVO!
Maraming salamat!

RENATO BALEROS
Bilanggong Pulitikal
Chairperson, Anti-Repression and Corruption Committee
Samar Provincial Jail
Marriage redefined?

By Fr. ROY CIMAGALA, roycimagala@gmail.com
May 4, 2015
US President Barack Obama came out of the closet sometime ago and announced that he is for same-sex marriage. He said that was the conclusion of his long period of "evolving."
Many political observers, however, say that he originally was for it, then against it, then was reconsidering, and then finally is for it again. They say this flip-flopping is a reaction of a political animal to changing political conditions.
Well, we know how this stance is called in our country. "Weather-weather lang ni, bai." To a certain extent, this attitude is valid given the temporal nature and autonomous character of politics.
But when used indiscriminately, it can enter into forbidden territory as when it is applied on matters of faith and morals, and on the fixed nature of things. And I am afraid this is what is happening in this present issue.
Marriage is not a political issue that has to be defined, and its problems resolved, solely or mainly in a political way. Marriage has a universal, immutable nature, applicable to all of us regardless of race, gender and whatever condition we may be in. When nature of things is involved, we just accept it, we don't redefine it.
Marriage simply has to be a stable relationship between a man and a woman, because it involves a love that entails the use of sex whose primary purpose is procreation before it provides pleasure and other benefits to the couples concerned.
That's simply the nature of sex and marriage. It is not a religious imposition, but rather a result of careful, comprehensive metaphysical study of the matter. If we pursue this study thoroughly, then we will arrive at the conclusion that marriage in itself has properties of exclusivity, unity and indissolubility.
Of course, people can have varying understanding of the nature of sex and marriage, and so we just have to undertake a continuing discussion, clarification and formation. The government should also feel the duty to do this. This is everyone's responsibility.
But we just cannot stop at the level of "that-is-your-stand-and-this-is-mine," since the issue at hand is not a matter of opinion or personal preferences. It binds everyone to conform to this nature of sex and marriage, in a way that should be more forceful than the binding quality of our tax and traffic laws.
Ironically, the latter laws on taxes and traffic are more strictly pursued than our marriage laws. It seems we are now having the wrong priorities, the wrong emphasis on our varied concerns.
I was shocked when I heard President Obama's reasons for supporting same-sex marriage. They had the usual rationalizing taste of the tolerance bit. It's a reasoning that has overreached its purpose, trying to go to a bridge too far.
This alibi about tolerance, while it has its merits, should not be the only, much less, the primary consideration to make especially in issues like marriage. There are many other more fundamental and indispensable considerations that precede it.
Obama was quoted as saying: "No matter who you love or what God you worship, you can still pursue happiness – I will support you every step of the way."
So, if one happens to love an animal in a sexual way, he is free to marry it, and bestiality can now be elevated to the level of marriage? Or if one happens to fall in love with his own sister, or his own brother, he can also marry her or him, and incest can be marriage?
Anything is always possible with man. That's why we need laws based on some absolute truths to guide and educate us.
Or if one happens to believe in violence and terrorism as his own God, it would just be ok? The words of Obama did not include any qualifier as to who can be the object and God of one's love and devotion.
I may be exaggerating and blowing out of proportion Obama's words, but these words certainly give us a direction that, in their most lenient interpretation, can be considered as potentially dangerous.
There are things that we can not and should not tamper. Marriage is one of them. Everything has to be done to strengthen it. Those who violate them, while we always have to be charitable and fair, should be dealt with clearly, and even strongly.
I have no problem with gays. I know many of them and they are excellent persons, workers and friends. But let's not call what is wrong, right, and bad, good, just because we are friends.
Preaching today

By Fr. ROY CIMAGALA, roycimagala@gmail.com
April 19, 2015
Priests have just been told recently by no less than the president of the bishops' conference to avoid homily abuse. "Long, winding, repetitious, irrelevant, unprepared homilies are signs of a sick spiritual life of the priest," said he, and this kind of homilies, he added, certainly harm souls.
I, of course, immediately examined myself if I could be accused of such charge. I must say that I have to plead guilty, of course. No matter how much one prepares for it, there will always be some imperfections.
But I also know that the Holy Spirit has a way of resolving all the snags, big and small, that can take place, both on the part of the preacher and on the part of the listener. I believe everyone can be rightly accused of some aspects of homily abuse, including the Pope and the bishop who said that mouthful.
I remember the first time Pope-now-Saint John Paul II came to our country. I was very disappointed to hear him, since I was expecting a good speaker. What I heard was a droning speaker, contrary to what I thought was a good stage actor that he was touted to be.
But, of course, I made up for it by reading what he said later on, and I got the message quite well. I understood that St. John Paul was not speaking in his mother tongue, and so I just had to make the necessary adjustments. What I am trying to say is that preaching is always a humbling experience, at least for me. There will always be something that would not go well.
It's not a walk in the park to preach at the instance of the Holy Spirit, which is what a homily is supposed to be. The best that we can do is to try and try to be faithful to God's word, delivering it in the manner Christ himself would have delivered it, given the kind of listeners and the context of time and place.
It will always an act of approximation, an expression of faith that can require nothing less than heroic efforts in humility, docility and self-abasement, because the temptation for one to shine out instead of showing Christ to the people would always be there and would be quite strong.
It would be hypocritical of any cleric to say that he has not fallen into some kind of abuse in his preaching. I always get frightened when an ecclesiastic presents himself as if he has the Holy Spirit right in his lips.
Just because one speaks well, or is adept in the art of rhetoric, or is very theological or pastoral in his training and exposure, or occupies a high position in the Church hierarchy, etc., is no guarantee that no abuse of some form can take place in his preaching.
I get bothered when after hearing a homily of a brother priest, the main impression I get is that he sings well, or he knows how to make a good show, or he is a good or bad lecturer or manager, or he has a logical mind, or he is popular and much admired by the people, or he is just terrible, etc.
When these things happen instead of getting the feel that I was listening to Christ or is touched by Christ's teaching, I need to make extra effort to draw what the Holy Spirit was trying to tell me in those instances. Yes, the Holy Spirit can always convey something regardless of the inadequacies of the instruments.
Preaching is not so much a matter of techniques as it is a result of a healthy interior life, marked by fidelity and humility, and nourished by prayer, sacrifice, a solicitous pastoral charity that is keenly attentive to the needs of the people.
Of course, it would involve continuing study and formation, constant contact with the people and the developments of the world. The preacher has to be like Christ in that he has to realize that he has to be the link between God and men.
Of course, the sacrament of Holy Orders conforms one to Christ as head of the Church and therefore has the power to preach in the name of Christ, but that sacramental identity requires all-out effort to be up to par to that standard.
It may look tremendous, if not impossible, but when one has faith, when one has humility, he will always be convinced that in spite of his limitations and possible personal mistakes, Christ acts through him, the Holy Spirit speaks through him. Christ has given him everything that he needs to be a good priest and preacher.