GMA signs law establishing the 1st University in Samar
By ROMMEL L. RUTOR
August 18, 2004
CATBALOGAN, Samar – Anchored on her prior visions to put up at least one university in every province, President Gloria M. Arroyo last August 7, 2004 signed into law RA 9313, fulfilling her promise to the Samareños of a university standard education right on the heart of this province capital town.
The Samar State Polytechnic College (SSPC) had achieved the tough job in pulling off the university status after almost 15 years of attempts in congress, thru the efforts of Samar's past and present congressmen.
The Samar State Polytechnic College (SSPC), which started as the Samar Trade School (STS), then Samar School of Arts and Trade (SSAT), and then elevated to college status in the early 80's known as the SSPC, now with finality has been converted into a full-fledged university. SSPC is now the Samar State University (SSU).
SSU President Dr. Simon P. Babalcon disclosed to media that the challenge for the SSPC to be recognized as a university unfolded during the tenure of ex-Congressman Venancio Garduce, but it was only during the time of ex-Congressman Eddie Nachura, during the 12th Congress that the bill converting the SSPC into now Samar State University (SSU) was realized.
Campus integration
Accompanying this development is the integration of various schools into the university system of the SSU. Dr. Babalcon informed that Wright Vocational School (WVS) of Paranas and the Vinancio C. Yancia Memorial Agricultural School (VCYMAS) of Basey will become part of the SSU, but told that the existing high school of VCYMAS will not be included by the SSU operation.
As this developed, Dr. Babalcon is confident that the expanded presence of the SSU thru its integrated satellite campuses will increase the reach of the SSU to extend quality education to all parts of the province.
"So even if you're living in Paranas or Basey or from its neighboring towns, a university standard education will no longer remain a dream to every Samareño", Dr. Babalcon stressed.
He however noted, that on the first years of the SSU, priorities will be placed on the development of the main campus to be able to establish a much qualified and well-developed university grounds, but later the SSU off-campuses will also undergo a proper build up according to the SSU satellite campus programs.
Budgetary constraints
"The approval of the law does not include the budgetary requirements for the SSU, and this is the sad part of the matter", Dr. Babalcon apprehensively informed, pointing-out that the financial capacity of the SSU for now is still to be backed by the re-enacted budget of the then SSPC. "And this might be until 2006, since the budget proposals governing state controlled educational institutions are being done in advance, and we already submitted the SSPC budgetary requirements for the succeeding school years", he explained.
"Thus is it is going to be a tough transition period for all of us, thus, we can't expect big changes to occur in the campus by this time", Dr. Babalcon further said. "However, we will still do what we can, to come-up with high-level developments in our university campus, in fact we will likewise submit the SSU budgetary requirements within the next 120 days", he added.
Accordingly, the financial needs of the SSU will depend on the new courses that will be opened by the institution. It was also gathered that the government has a burn out budget for new infrastructures to all state universities nationwide, thus the SSU infra programs will totally depend on the initiatives of its administration.
Tuition fee hike
SSU students here are apprehensive that along with the conversion of the college into a university is an impending tuition fee increase.
"Sigurado gad nga mahitaas iton tuition fee yana nga maabot nga semester, kay deri man maa-akomplisar hiton admin iton mga angay buhaton dinhi ha campus basi makadungan han dungog nga university iton iya mga facilities", says one student from the College of Art & Sciences department.
"Pero kun reasonable man liwat ngan deri gud dako, waray man iton kaso, kay para man iton ha kaupayan han ngatanan", he added.
Dr. Babalcon on the other hand clarified that they did not raise their tuition fee during the first semester, more particularly during his terms as SSPC President, but he hinted that with this university development, they might consider increasing the tuition fee this coming second semester, but there is no finality to this yet.
"That is still being studied for now, kun magka-ada man ngani hin increase, deri ini dako", he said.
By this time the SSU is charging P100.00/unit to most of its courses, except BS Nursing.
By Alex P. Vidal/ PNS
August 12, 2004
MANILA, Philippines - In a sudden twist of fate, jailed former world boxing kingpin William "The Black Mamba" Magahin may no longer avail the temporary freedom while his case for robber-holdup is pending at the Quezon city trial court branch 217.
Boxing promoter Gabriel "Bebot" Elorde refused to bail him out.
Elorde did not facilitate the Magahin's release papers as requested earlier by World Boxing Foundation (WBF) president Mick Croucher "because of mounting protests from taxi operators."
"Angry taxi operators might get back at us here (Metro Manila)," said the eldest son of the legendary former junior lightweight champion, Gabriel Sr.
Elorde said he received negative feedbacks from taxi operators and "concerned" citizens when they learned that Magahin would be released temporarily on a bail provided by Croucher, who personally visited the inmate at the Quezon city jail last Aug. 2.
"My neighbor who owns a tax is angry at holdup men because he has been victimized several times in the past)," Elorde explained. "I pity the passengers, after divesting their victims with cash and cell phones they also raped some of the female passengers in front of their husbands inside the cab."
Elorde said although his neighbor did not identify Magahin as among those who victimized his cab, "there were witnesses who claimed that one of the suspects was a former boxer."
Keep the Money
Elorde said he would just keep the P14,000 cash entrusted him by Croucher for Magahin's bail and inform the WBF boss about the development.
Magahin and his cohort Alex Ageno were arrested last July 13 after robbing the passenger of an FX taxi at West Avenue, Quezon City.
The story of his arrest reached the attention of the Melbourne-based Croucher who immediately informed this writer in an email that he would pay for Magahin's bail set initially at P100,000 but was reduced through a surety bond.
Magahin had admitted he is now a "Sigue-sigue Sputnik" gang member. He showed his tattoo in the left side of his body. "I can not do anything, I can not join the "Batang city jail" gang (a rival gang)".
During Croucher's visit, Magahin had jubilantly shouted to his fellow inmates that he would be released last August 3.
WBF appoints Alex Vidal as Philippine supervisor
By Philippine News Service
August 8, 2004
MANILA, Philippines - The World Boxing Foundation (WBF) has appointed Alex P. Vidal of Iloilo City as its new supervisor for the Philippines.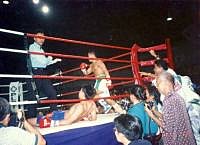 WBF president Mick Croucher announced the appointment during a recent visit here (August 1-3) where he presided a meeting at the Manila Pavilion Hotel attended by Chinese promoter Cao Kun, Australia/China advisor Yuickor Yick, Filipino promoter Gabriel (Bebot) Elorde, Jr.
Croucher said Vidal, who has been officiating in boxing as referee and judge since 1990 (national) and 1995 (international), was chosen "because he has no conflict of interest."
Vidal, a journalist and the youngest in the team, vowed "to cooperate and give my best shot" to Croucher. He will have his "baptism of fire" in Beijing, China before the year ends.
Croucher, 56, is now the "100 percent" owner of WBF after buying out the rights from Tennessee-based Ron Scalf, the former "federation" president.
WBF is duly registered at the Consumer Affairs in Victoria, Australia with business number B1722046D pursuant to Business Name Act 1962 on November 7, 2003.
"I am currently traveling around the world to see to it that we pick only the most competent, honest, committed people to manage the WBF affairs," said the globe-trotting Croucher. "Whatever the past is past. Let's move forward and bring greatness to world boxing," he added.
WBF boasts of lightheavyweight Antonio Tarver who beat Roy Jones Jr. for the crown and heavyweight Audley Harrison (2000 Sydney Olympics gold medalist) as among its world champions.
Other field representatives and advisors earlier appointed by the revitalized WBF were Angelo Dundee, John Durkin, and Tony Martin (USA), Joerg Herzog and Andreas Meyer (Germany), Nick Savvides, Peter Speck, Roy Alexander, and Craig Waller (Australia), Justin Footit and Panya Prachakorn(Thailand), Raymund Rutter (Canada), Paul McCausland (Ireland), Cao Kun (China), and Elorde (Philippines).
German Olaf Schroder Australians Jack Rennie and Chris Anderson remain as executive vice president and vice presidents, respectively. Don Marks is the ratings committee chairman while David Hutson is the legal counsel.
Croucher said Vidal's appointment was effective July 26, 2004.
As supervisor, he must ensure that the terms and conditions for WBF international championship bouts are observed before the fight such as: boxers must be approved by the WBF executive or president; title bout must be fought over 12x3 minute rounds; promoter must provide all insurances for boxers, venue and officials; promoter must provide WBF Certificate of Sanction at the weigh in; promoter must pay a sanction fee of US$2,000 and US$500 to be made payable to "WBF Boxing" bank account on acceptance of terms and conditions, promoter must complete the boxers' clearances and medical records.
Sanction fee includes belt fee and WBF documentation.
Samar PNP cuts down drug-infected towns into 2, cited best PPO in Eastern Visayas
By ROMMEL L. RUTOR
August 5, 2004
CATBALOGAN, Samar – "From a total number of 7 drug-infected municipalities in the whole province of Samar, we were able to trim the number down to 2", this was the revelation of Senior Superintendent Conrado Verzo Calvario, Provincial Director of the Samar Provincial Police Office (SPPO) here during a media consultation held at Camp Lukban this town.
According to SSupt. Calvario, the intensive anti-illegal drug drive initiated by the PNP since his assumption as Samar's PNP Chief in 2002, had considerably brought down the number of illegal drug activities occurring in the entire province of Samar.
Based on the records furnished by SPPO, illegal-drug peddling activities in the towns of Calbiga, San Sebastian, Paranas, Sta. Margarita, and San Jorge were already contained, making the said localities virtually drug free.
SSupt. Calvario stressed that to date, only Catbalogan and Calbayog City remains to be inundated by the these illegal drug trade, and "we're trying every means to attain a totally drug-free community", he told, adding that with the successive operations being conducted by the PNP against the proliferation of illegal drugs in these communities, the PNP had succeeded in trimming down the number of drug users in said prime localities.
"Based on our records, it is noteworthy to comment that Samar has more number of drug pushers than drug users", SSupt. Calvario pointed out, explaining that the irony is but a manifestation that illegal drugs is gradually waning from the minds of the Samareños, thus the eventual death of drug problem in this province is likely to be achieve soon.
Meanwhile, the overall exemplary performance of the Samar PNP here, relative to its anti-crime operations, have netted for the institution the best Provincial Police Office (PPO) award for year 2003.
The Samar PPO here, outranked other PPO's in terms of their respective achievements in their relevant area of jurisdictions in the entire region of Eastern Visayas.
According to Supt. Calvario, this is the first time that the Samar PPO garnered the award, attributing the feat to the relentless effort of the officers and men of Samar PNP in pursuing a committed and dedicated police service toward the populace it was catered to serve.
Aside from the Best PPO award copped by the Samar PNP, SSupt. Calvario himself was awarded the Best Senior Police Commissioned Officer for the Year 2003 for Administration.
SSupt. Calvario vested other Police Officers in the whole of Region 8, and was among the Top 6 in the national level selection.
Former mediaman now Police Officer 1 Romuel Nacar told that this is already the second time that SSupt. Calvario run off with the same award. "During his stint as Provincial Director for the PNP Eastern Samar, he was as well awarded for his exemplary administrative performance in handling the provincial command", Nacar added.
By Alex P. Vidal/ PNS
August 4, 2004
QUEZON CITY -- In near tears, disgraced former world boxing boss William Magahin of Iloilo City has admitted to World Boxing Foundation (WBF) president Mick Croucher that he used drugs.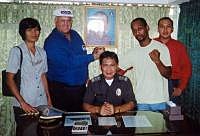 "Yes, sir, I used drugs," the 34-year old Magahin told Croucher, who visited him at the Quezon City jail last August 2. "But I promise I won't use drugs again if given the chance," he added, raising his right hand.
The Melbourne-based Croucher then hugged Magahin like a long lost son in front of jail warden, Supt. James Labordo and Senior Jail Officer Elizabeth Regacho. "I want you to become great again. I come to help you," said the 6 foot and 1 inch 200-pounder Aussie.
Fe Sumandal, a social worker sent by Quezon city administrator Paquito Ochoa, Jr. to witness the meeting, shed tears. "Parang pelikula. Nakakaawa sia (It was like a film; I pity Magahin)."
Croucher asked Labordo if Magahin could be admitted for drugs rehabiliation. Labordo said his office could not recommend for rehabiliation because the inmate was charged with robbery-holdup, not drugs.
"We have no record that he used drugs," Labordo told Croucher, showing him court and blotter documents.
Bail
Croucher, who went to Quezon city hall and Labordo's office on a cab accompanied by this writer, added that he was willing to shoulder the rehabilitation of the
ring icon-turn-police character for six months for P30,000 per month which he claimed "is better than paying P100,000 in cash for his bail."
Ochoa had advised Croucher earlier to consider a private rehab center for Magahin "because our public rehab centers are in sorry state."
The city administrator, who is a lawyer, also informed Croucher that the bail could be lowered to P50,000 and could be further reduced if only a premium of the P50,000 is paid through surety bond.
Labordo said the premium for P50,000 is P14,000. "Okay, I will produce the amount immediately," Croucher announced, followed by handshakes and souvenir shots.
Money Ready
Croucher, a multi-millionaire and director of Croucher Property Development, a firm that builds units, towhhouses and develops lands in Victoria, said he was prepared to pay P50,000 in cash "because I can not bring my money to heaven."
Both Magahin, a former 147-pound phenom, and Croucher smiled as they emerged from the warden's office. "Mga kakusa, bukas laya na ako (fellow inmates, tomorrow I will be free)," shouted the jubilant Magahin who was sporting a piso-coin scar in his left stomach inflicted by the butt of an armalite he said when he was first hauled to jail last July 13 minutes after robbing an FX taxi in Baler.
Croucher then withdrew P15,000 from his Equitable Bank visa card at U.N. Avenue in Ermita and sealed the P14,000 to an envelop. He handed the envelope to promoter Gabriel "Bebot" Elorde in the presence of Chinese promoter Cao Kun and his English interpreter Y.C. Yick and this writer.
Foster Father
Meanwhile, Magahin's foster father Roland arrived in Manila 7 in the morning last Aug. 3 via Negros Navigation and proceeded to the Quezon city jail.
Towed by Bombo Radyo patrol, Magahin said he wanted ensure that after his adopted son's release, he would go to rehabilitation center.
This writer had advised him in a text message to see or call Croucher at room 2123 of the Manila Pavilion "for courtesy" and to thank him for his gesture on William.
He, however, did not call or see Croucher who is scheduled to go back to Melbourne Aug. 4. As of 4 p.m. yesterday, Magahin was still in jail.
Stakeholders identify 16 new eco-tourism sites in Ulot Model Forest
By RICKY J. BAUTISTA
August 3, 2004
TACLOBAN CITY, Leyte – Stakeholders of the Ulot Model Forest Special Project of the Department of Environment and Natural Resources (DENR) has come up with a list of potential eco-tourism sites within the Ulot Watershed Model Forest as priorities for eco-tourism development.
Purification Daloos of the DENR Regional Public Affairs Office told media that these identified sites was selected using the following information as guide: site or location, natural resource base, culture, livelihood, people, plans and problems or opportunities.
Daloos said the 16 sites were identified following a meeting on Community Based Eco-tourism conducted among stakeholders of the Ulot Watershed Model Forest Federation last July 9, 2004 at the Ulot MF Information Center in San Rafael, Hinabangan, Samar.
The purpose of the meeting was to create awareness and understanding of the development of community-based tourism project within the model forest, which is to be handled by the PO's and other stakeholders.
Accordingly, Daloos said the output of the meeting, which was the short list of eco-tourism sites, will be subjected to assessment based on criteria set by the participants. Then, a management plan will then be prepared for the top five sites before they are developed as part of the eco-tourism component of the Ulot Model Forest projects located in four municipalities in Samar and another two town in Eastern Samar.
During that meeting, Daloos hinted to the participants a simplified and illustrated definition of community based tourism (CBT). According to her, "It is a visitor host interaction that has meaningful participation by both the tourist and the host (in the case of the model forest – the PO's and other concerned stakeholders), and generates economic and conservation benefits for local communities and environments."
Daloos shared some success stories of successful CBT projects like the St. Paul Subterranean River in Palawan, the Butterfly Garden in Palawan and the Butterfly Production Farm in Catbalogan, Samar. She also shared the experience in Huay Hee Village in Thailand. The sharing of experiences was centered on how the PO's can make a living out of providing services to the tourists once their eco-tourism destinations are already developed.
Daloos emphasized that the Ulot MF is so rich both in natural and human resources which is just waiting to be tapped and managed for successful Community-based tourism. "That is why the PO's in particular with the assistance of the DENR, the LGU's and other stakeholders should work together to harness these richness for the development and alleviation of their economic life while doing environmental protection," she said.
The identified sites were Pangpang Falls and Pugtak Falls in Casandig, Paranas; Balire Lake in Binaloan and Philippine Eagle Sanctuary in Taft, Eastern, Samar; 10-hectare natural Bermuda Grass, and other unnamed waterfalls and Ulot River rapids in Tenane, Paranas; Nasarang Falls, Mono species natural forest stand and Li-aw Cave in San Isidro Paranas; Mount Huraw (the second highest peak in Samar) and Mount Kapangpangan in San Jose de Buan; San Rafael Peak in San Rafael, Yabon Falls and Caves in Hinabangan; and Pamiyawan Cave in Brgy. Malihao, Hinabangan, Samar.
The participants were asked to prioritize the list to just five sites by using the following set of criteria so that the assessment team can focus on the assessment and maximize available resources. The criteria were natural and cultural features (35%), Eco-tourism Product (30%), and Social and Political Support (30%).
PNP alert carline towns for NPA raids
By ROMMEL L. RUTOR
August 3, 2004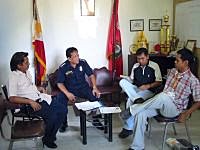 CATBALOGAN, Samar – Major sightings of communist New People's Army (NPA) roaming within the jurisdiction of municipalities along the Maharlika highway have resulted for the local police here to tighten its security measures for possible terrorist raids.
PNP Provincial Commanding Officer Supt. Conrado Calvario here told the media that NPA movements along the carline towns is becoming visible lately, "and these sightings are but signs of an impending terroristic action against the concerned village, more particularly, our police stations, which they usually converted into shopping malls for firearms", Supt. Calvario informed.
As this developed, Supt. Calvario ordered all town police chief particularly in District 2 to maintain a heightened alert status in their respective area of control, to at least thwart any plans of the NPA terrorist to raid their stations.
Meanwhile, unconfirmed reports reaching the media disclosed that at least 100 young men are currently being recruited by the CPP-NPA to beef up its force. The local PNP here confirmed the said reports but had to turn over the info to the AFP for validation.
Supt. Calvario stressed that though counter-insurgency is not their primordial concern, the local PNP here is apt in gathering intelligence inputs regarding the operations of the CPP-NPA.
On the other hand, last July 16 was the anniversary of Supt. Calvario's early morning ambush at Purok 4 Brgy. Socorro of this town last year (see news article). He informed that though it was already a year since the incident, he is at all times watchful for possible attack.
Supt. Calvario attended mass in Tacloban City that day to thank his Creator for saving him and all his men during that unexpected attacked.
PNP, DENR seizes 'hot logs' in houses near watershed in Catbalogan
By RICKY J. BAUTISTA
August 2, 2004
CATBALOGAN, Samar – Government authorities here raided Monday morning several houses believed to be used as stockpile of illegally sawn 'hot logs' coming from the watershed here.
Operatives of the government confiscated the 'hot logs' inside the two houses. Ironically, these houses are located just few meters away from the town's Caramayon watershed in Barangay San Andres, this town, which is now feared having inadequate supply of water due to kaingin and illegal logging problem that existed in the area.
Owners of the said houses were identified by the police as certain Florencio Sablan alias "Flory", Douglas Salvadico Jr alias "Dodie", all residence of the said place.
Accordingly, in the morning of July 26, the Community Environment and Natural Resources (CENR) in cooperation with the Philippine National Police here raided these houses which resulted to the confiscation of 706 pieces of assorted undocumented illegally sawn lumber with a total volume 4206.89 board feet with estimated market value amounting to P105, 172.25.
The suspect Sablan's house yielded some 327 pieces of assorted sizes of undocumented illegally sawn lumbers with a total volume of 2,230.62 board feet with estimated market value amounting to P55, 765.50 and one unit of circular saw with complete accessories and dynamo assembly with 60HZ in his house.
In the house of suspect Salvadico Jr, on the other hand, another 379 pieces of assorted sizes of illegally sawn lumber equivalent to 1,976.27 board feet with estimated market value amounting to P49, 406.75 were recovered by the authorities.
Police Senior Inspector Carlos Vencio, Catbalogan police chief said the two suspects, however, eluded arrest upon sensing the arrival of the raiding team composed of the PNP and DENR personnel.
The raid/search was served by virtue of the Search Warrant No. 04-001 issued by Executive Judge Carmelita T. Cuares of Calbiga RTC Branch 33. The confiscated lumber is now turned over by the PNP to the DENR disposition and placed at the compound of the Samar Island Biodiversity Project (SIBP) in Barangay Mercedes here. A violation on Section 77 of the PD 705 as amended by RA 7161 is now being filed in court against the suspects.