Paskong Pilipino Showcase in Intramuros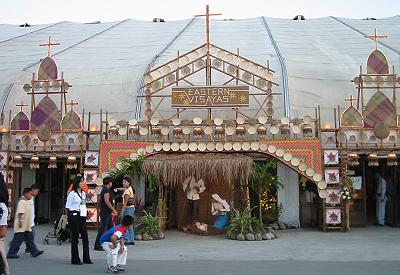 By Philippine News Service
December 17, 2004
MANILA, Philippines -- The Paskong Pilipino Showcase will feature Christmas traditions in the Philippines including regional festivals, provincial cuisine and native handicrafts on December 18, 2004 until January 2, 2005 at WOW Philippines! Clamshell 1, Intramuros, Manila.
The opening program on Saturday, December 18, 2004 at 3 p.m. will present the Kagharong and the Pastores Bikol of Malilipot and Oas, Albay, who are the grand prize winners of the Pastores Festival 2004. Young performers, colorfully dressed in interpretative costumes, skip and gallop to an upbeat tune of the traditional "Vamos a Belen."
The Pastores Bikol and Kagharong will perform until December 20, 2004 with the Centro Baile de Laoag of the School of Peforming Arts in Ilocos Norte, Manila City Band and the Koro Bulakenyo of Bulacan, this year's "Gintong Kabataan" awardee.
Beginning December 20, other cultural performers during the two-week showcase will include the Niños Infantes of Cagayan Valley (Dec. 20-22 & 27-29), Panunuluyan of Central Luzon with firework exhibition (Dec. 23 & 26), Quezon City Performing Arts & Band (Dec.24), Higantes of Angono-Rizal (Dec. 25), Ramon Obusan Folkloric Dance Troupe (Dec. 30), Pinoy Rock Band through the Intramuros Administration (Dec.31 & Jan. 1) and the Three Kings of Mabitac, Laguna (Jan. 2). These festivals will be presented at the WOW Philippines! Clamshell 1, Intramuros, Manila at 3-4 p.m.
According to DOT's Over-all Artistic Director, Ting de los Reyes, Paskong Pilipino Showcase was designed to complement the entertainment events of Paskong Pinoy, Pusong Pinoy at the Central Lagoon, Rizal Park and the Ayala Center in Cebu City. It will offer visitors a wide array of Christmas-related activities as well as an assortment of quality toys, indigenous decors, native arts and crafts suitable as souvenirs and gifts for Christmas and other seasons.
There will also be instructional crafts demonstrations by artists from Bicol, Metro Manila, Central Luzon among other regions. The toys, gifts and food fair of Paskong Pilipino Showcase with the instructional crafts demonstrations are open everyday at 10 a.m., except on Mondays which starts 2 p.m. at the Clamshell 1.
DOT call on partners to help typhoon victims
By Philippine News Service
December 10, 2004
MANILA, Philippines - The Department of Tourism is reinforcing the government and private sectors' collaborative efforts this time in a humanitarian endeavor dubbed as Paskong Pinoy, Pusong Pinoy project relief operations for the victims of typhoon Winnie and Yoyong.
Tourism Secretary Joseph Ace Durano has called on all the tourism, travel and transport associations and other industry partners for their full support and participation in this project. "The DOT will facilitate the solicitation and collection of relief goods from our industry partners and these will be forwarded to the Philippine National Red Cross for actual distribution to the greatly affected areas," he said.
A committee headed by Tourism Undersecretary Armand Arreza has been mobilized to undertake the solicitation and collection of relief goods.
According to Tourism Undersecretary Oscar Palabyab, used linens and blankets are the initial commitments from the hotel group. Likewise, tourism transport operators have committed to provide services in the collection and delivery of the relief goods.
Moreover, the DOT regional offices have been tasked to replicate the same operations and distribute the relief goods in the nearest area of their responsibility affected by the recent typhoons.
Top Communist Terrorist Leader captured
By Maj. FELIX M. MANGYAO, (INF) PA
November 29, 2004
CAMP LUKBAN, Catbalogan, Samar – On November 27, 2004, at around 9:00 a.m., a top ranking Communist Terrorist Leader (CTL) was captured in Calbayog City by elements of the 14th Infantry (Avenger) Battalion by virtue of standing warrants of arrest. Arrested was Gregorio Tadeos, a.k.a. Karis/Amir/Oyong, Secretary of Eastern Samar Provincial Party Committee (ESPPC) of the Eastern Visayas Regional Party Committee (EVRPC). Recovered from his possession are one (1) Cal .45 pistol, one (1) magazine for Cal .45 pistol and four (4) ammunition.
Warrants of Arrest
The basis for the arrest of Gregorio Tadeos was by virtue of the Warrant of Arrest issued in Criminal Case Nr 04-13 (Robbery in Band with Multiple Homicide) by Presiding Judge Hon. Juliana Adalim-White of Regional Trial Court (RTC) 8, Branch 5, Oras, Eastern Samar; and Criminal Case Nr 17-04-09 (Murder) issued by Presiding Judge Hon. Gorgonio Alvarez of RTC8, Branch 4, Dolores, Eastern Samar. Both offenses are heinous crimes and are non-bailable.
Search Warrant
At around 10:30 a.m. of the same day, Joint elements of 14IB led by LtC Claudio Neri and PNP Dolores, Eastern Samar Police Station conducted a Search and Seizure Operations in the residence of Gregorio Tadeos situated at Brgy Lalawigan, Borongan, Eastern Samar by virtue of Arrest and Seizure Order Number 04-11-25 for violation of P.D. Number 1866 (Illegal Possession of Firearms) as amended by Republic Act 8294 issued by Hon Elvie P Lim, Executive Judge of RTC8, Branch 1, Borongan, Eastern Samar. Recovered from his residence were: one (1) Colt 1911A1 Cal .45 pistol with 25 rounds of ammunition, one (1) Cal .357 magnum with five rounds of ammunition, one (1) unit ICOM VHF Radio Transceiver, a computer set, diskettes and CDs/VCDs containing subversive files and documentary films, and voluminous subversive documents with high intelligence value. The Brgy Chairwoman as well as the Brgy Kagawads witnessed the Search and Seizure. In this connection, the arrested person will be charged in court for the crimes of Illegal Possession of Firearms and Ammunition.
Captured CTL in Good Physical Condition
The captured CT Leader is under the temporary custody in the military after the PNP of Oras and Dolores refused to custody for security reasons. He underwent a medical examination conducted by a military doctor to ensure his health. At present, he is undergoing debriefing and cooperating well with the police and military authorities.
A product of civilian information
In the report made to MGen Glenn J. Rabonza, Col Roberto Ver, Commanding Officer of the 801st Infantry Brigade, stated that the capture of the said CTL was a result of the information volunteered by the local populace who are disappointed of the greed, harassment and terroristic acts of the CPP/NPA who are inflicting harm to the peace and economic condition in the region. This is a strong indication that the Communist Terrorist Movement (CTM) had lost the support of the people since they are fighting a futile cause.
Magsaysay calls for a 30-day period government transaction to avoid corruption
By Alliance of Volunteer Educators
November 27, 2004
MANILA, Philippines - Government agencies should act on all transactions within 30 days to stop corruption and red tape.
Alliance of Volunteer Educators (AVE) partylist Rep. Eulogio "Amang" R. Magsaysay, sought for a 30 day completion deadline in order to prevent corruption and bureaucratic red tape in the government as among the major constraints in doing business in the country according to a World Bank report.
Based on the World Development Report 2005, 50.6 percent of Philippine respondents in a global survey cited that establishment could sometimes be required to give gifts or informal payments to public officials to "get things done" such as pass inspections, get licenses or permits, win a government contract or get public utility connection.
The report also underscored the persistent red tape problem as the same survey showed it would take an average of 50 days to start a business in the country, with an application having to undergo 11 procedures.
Having a Doctorate in Economics, Magsaysay warned if the problems of corruption and bureaucratic formalities or red tape continue, the country will find it hard to lure investors. "Our development will suffer because of a defective and corrupt system in the bureaucracy. Ergo all measures to plug in all revenue loopholes and endeavors to augment revenue collection and additional taxes might be an exercise in futility."
The AVE leader said there should be a 30-day deadline for government officials and personnel to act on all transactions with dispatch and those who fail to act expeditiously within the deadline should be charged administratively before the Civil Service Commission.
The solon who is also a member of House Committee on Ways and Means also asks the public to cooperate and report officials demanding bribes in exchange for completion of their tasks. "Public Service is Public Trust." "Public officials and personnel have no business asking for gifts or informal payments because it is their job to render service to the people. Taxpayers pay them for their services," he said.
Magsaysay averred those in sensitive positions should also be subjected to lifestyle checks and for hidden wealth to discourage bribery in public offices. "The heightened anti-corruption campaign of President Arroyo, which bore fruits with the dismissal and prosecution of a number of public officials, shows government is serious in reforming the bureaucracy.
SIBP Project Manager Resigns from Post
By RICKY J. BAUTISTA
November 21, 2004
CATBALOGAN, Samar – The Project Manager of the Samar Island Biodiversity Project (SIBP) and concurrent Superintendent of the newly proclaimed Samar Island Natural Park (SINP) Herminigildo Jocson, in a very surprising move, resigned from his post, it was learned Friday evening.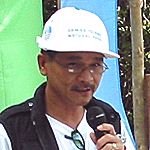 PM Jocson
In an interview, Jocson informed the media justifying that his move (to resign form his office) was in favor of the (SIBP) Project. "For me, my move is just fair and proper as I don't want the Project to be affected for this series of demolition job hurdled against me today," Jocson said.
Jocson stressed that the allegations accusing him of so much corruption, harassment to employees, lavishly expending of money in his travel in Manila, among others, is "baseless and fabricated" aimed to destroy his credibility.
During last Thursday's Media Night cum press conference at the SIBP Conference Hall, Jocson further explained to Catbalogan-based newsmen that all his travels was for the benefit of the Project and for the Samareños itself.
"Hindi ako naglalakwatsa lang sa mga travel ko. Kung tutuusin lugi pa nga ako dun sa binibigay na per diems because of my huge travel expenses, like gasolina ng service ko sa Manila, plane tickets, pagkain at iba pa. If there is a short excess, yan ay konting benefit na ng PM (Project Manager)," he said.
"Actually, I have an idea of who is behind this Oust Jocson campaign. This person has close contacts and comrades inside the SIBP as they have easy access to all my transactions, including my per diems when I go travel," He said. This reporter tried, for several times, to convince Jocson to identify his probable suspect but he declined.
United in one Cause?
Minutes before the newsmen arrived in SIBP for the press conference, the SIBP staffs including Jocson were having "dramatic" dialogue with each other's sentiments. From the next room, where the newsmen were instructed to wait, several "emotional" changing of words was being heard.
In the press conference proper, his colleagues SIBP Chief Technical Adviser Marcelino V. Dalmacio, Co-Project Manager Jose "Joe" Lim and Advocacy Officer Nick Arjon dismissed the fact that some employees of SIBP were not in good terms with Jocson. In fact, they are convinced him not to get bothered by the controversy as it will only affect the current activities being initiated by the Project. Jocson and the employees agreed to settle whatever issue that may arise in a formal and proper manner, and not through text brigades or to the media as it will only discredit each one of them and the Project.
Poison Letter
Few days ago, Samareños were shocked again when another corruption issue exploded in the text messages. Unsigned poison letter, a copy of which was obtained by this writer, against Jocson were sent to several media personalities in Catbalogan and in Tacloban City mentioning same allegations.
Some of these allegations include exploitation and abuse to employees by shouting in high pitch voice, delaying of his signature to employees' salary, sexual harassment, and lavishly spending the Project's fund in his travel. The person or persons behind the poison letter is seeking to oust PM Jocson "before the Project closed like the Wesamar Project" in the previous year.
However, these allegations were vehemently denied by the Project Manager saying it's just "fabricated and with malicious intent." In his teary-eyed, he reiterated someone has just interested to his position. He hinted that a big wig politician maybe behind all these mess in the Project. As of Thursday evening, around 9 p.m., he is having second thoughts if he will resign or not from the post.
But on Friday evening, this writer received an information saying, "PM Jocson just resigned, an interim from DENR Region will take charge." When asked to confirm the news, Jocson admitted he resigned as per advised from his higher boss in the region.
He said an interim from the DENR-8, in the person of Regional Technical Director Manolito Ragub, will replace him while waiting further instruction from SIBP national headquarters. RTD Ragub will handle the SIBP until the United Nation Development Programme (UNDP) and Protected Area Wildlife Bureau (PAWB) find a successor for Jocson.
PPP condemn killing of MindaNews photo editor
By Philippine News Service
November 17, 2004
MANILA, Philippines - In a statement release to media outlets, the Press Photographers of the Philippines (PPP) condemns in the strongest possible terms the killing of one of their members while in line of duty.
Gene Boyd R. Lumawag, 26, photo editor of MindaNews, was shot dead on his forehead while on his way to shoot the sunset from the pier of Jolo.
"No one in the crime scene could tell me how it happened. Not even the police or the Marines. They said they arrived at the crime scene with Gene Boyd already dead," his editor Carolyn Arguellas reported in the MindaNews website.
"At 9 pm Army investigators told me that Gene Boyd was gunned down by suspected members of the 'urban terrorist group' allegedly of the Abu Sayyaf", Arguellas added.
Jerry Carual PPP vice president, in a letter to Gen Alberto Braganza, newly appointed Solcom chief, requesting him to help the photographers group in identifying and capturing the real culprits in the crime.
Gene Boyd was looking forward to his first coverage of Eid'l Fitr, the celebration marking the end of the Holy month of Ramadhan.
Samareños of California, Inc. funds P200,000 worth of projects for Samar Island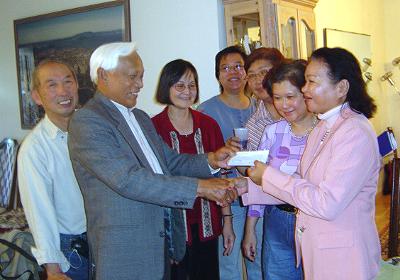 One of several checks for Samar Island Projects being handed by Senior Vice President Greta Quitorio (extreme right) to Samarenos President, Peter Padul (second from left). Others in photo are Benny Cojuangco, extreme left, Lydia Varela Torres, Secretary (third from left) and Lily Anne Perez (with glasses), Yolanda Picardo (third from right) and Rosenda "Baby" Lim-Paus, Treasurer (second from right). Photo taken by Cesar Torres
By CESAR TORRES
November 8, 2004
SAN FRANCISCO, California, USA – San Francisco-based Samareños of California, Inc. has released close to P200,000 to fund projects in the entire Island of Samar.
The fund releases was effected in a meeting of the Association's Board of Directors on November 6, 2004 which was held in the residence of Mr. Lito Paus and Mrs. Rosenda "Baby" Lim-Paus, in Alameda, California.
The meeting, which was presided by Samareños of California President, Peter Padul of Guiuan, Samar, released the following to the officers of the Association who are the lead persons and responsible for the immediate implementation of the projects for which the funds have been allocated:
- Vicente Muncada, Jr., of Lao-ang for projects which would include livelihood projects in Lao-ang and Northern Samar, $1,000;
- Yolanda Picardo for Christmas offerings to the poorest of the poor in Dolores, Eastern Samar, $1,000;
- Rosenda Lim-Paus for the acquisition and purchase of some hospital equipment such as beds and other paraphernalia for the Samar Provincial Hospital in Catbalogan, Samar, $1,000;
- Lily Anne Perez for an exhibition at the San Francisco Public Library in October 2005 of Samarnon artifacts, cultural symbols, and other historical mementos to include that period in Samar history when it was known as the "Howling Wilderness" because of the massive violence perpetrated by the American Soldiers on the Samarnons in retaliation for the Balangiga Incident in 1902, $300;
- Samareños President Peter Padul for educational and other projects in his hometown of Guiuan, Eastern Samar and Homonhon Island, $350; and
- Cesar Torres support for the children and the San Jose de Buan Elementary School, in the municipality which is the most interior town of Samar Island, $200.
Aside from the foregoing funded projects, there is a move to allocate some funds for the homeless children in Catbalogan, Samar or a Home for the Aged. Towards this end, inquiries are being directed at Helen Hernandez, Charo Nabong-Cabardo, Ray Gaspay, and the anchor staff of Catbalogan's radio station, DYMS.
The funds of the Association have been accumulating since the Presidency of Ms. Yolanda Picardo. It reached this sizeable amount during the incumbency of Mr. Peter Padul who was almost always conducting fund raising activities so that projects to help Samar could be funded. The Association's Treasurers, Ms. Patrocinio "Senieng" Figueroa-Masi -- who has moved to the Philippines with the election of her brother as Congressman of Samar's 2nd District -- and Ms. Rosenda Lim-Paus took care of the Association's funds, loathed to release any amount if the need was not urgent and necessary, at the risk of alienating the more senior officers of the Association.
The Samareños of California, Inc. was organized in 1970 by San Francisco Bay Samarnons who were homesick for their life back in the Philippines. It "hibernated" for 10 years until 1989 when a group of new immigrants composed of the late Mrs. Natividad Villarin Padul and this writer, with the assistance of the pioneers of the Association such as Mrs. Precing Agaton, Counselor Raul Picardo, Chito Moreno, Julie Soriano, Calbayognons Cora Anolin and Baby Acuña, Mildred Margate-Revelo, Teddy James "Doloy" Coquilla, Adventure and Emmy Naranjo, Tita Tabungar Germaine, Lilia Amasa and brother Jimboy Amasa, Dr. Inday Alido de Guzman, and others, revived the Association.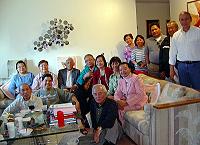 The mainstays and constant supporters of the Association in recent years include Gilda Cabrales-del Pilar, Douglas and Marichu Oca-de los Santos, Jun and Fe Oben, Dante and Flor Mendoza, Rosabeth Antioquia-Craig, Larry Orejola, Greta Quitorio, Jesse and Yoly Ty, Benny and Farida Cojuangco, Ben and Lily Corrales, Dr. Issie Corrales, and Rolly Mungues who is the incoming President of the Association beginning February 2005 through February 2007.
The Association publishes an intermittent newsletter, "An Tingog Han Samar Ha California" ("The Voice of Samar in California") under the editorial responsibility of this writer.
With the help of former Region 8 DOST Regional Director, Beatrice Rosales-Duran, The Samareños of California is the only regional and provincial association of Filipinos in Northern California that has participated in major national activities such as the Centennial Celebration of Philippine Independence in 1998, the Mindanao Symposium in July 2000, the sponsorship of the UP Staff Chorale Society during its concert tour of the US and Canada in November-December 2001 dubbed "A Celebration of Life: Songs of Love and Healing", the symposium on the Absentee Voting and Dual Citizenship Laws in San Francisco, California, and a mini concert conducted by the UP Staff Chorale Society for the Children of Payatas on February 14, 2004.
Two prominent Samarnon leaders who have addressed the Association in San Francisco include Congressman Harlin Abayon of Northern Samar, and Congressman Eddie Nachura of Samar's Second District.
2005 National PRISAA Games in Zamboanga
By Philippine News Service
November 8, 2004
MANILA, Philippines -- The 2005 National Prisaa Games on April 11 to 16, 2005 will be held in Zamboanga City, said Ateneo De Zamboanga University President Fr. William Kreutz, SJ and 2005 PRISAA National Games Coordinator.
Kreutz, who is a member of the PRISAA national board, was in Manila with sports coordinator Elbert Atilano during the national board of trustees meeting at the Quezon City Sports Club last November 5, when he informed Zamboanga Today.
The national games were originally scheduled on January 23 to 30, but upon request of the local member-schools, the week-long sports event was moved to the week following the observance of Holy Week.
The Private Schools Athletic Association (PRISAA) holds its national games every year in different cities and the first and last time that Zamboanga hosted such games was in 1993.
PRISAA national president Dr. Emmanuel Angeles of Angeles University has remarked that the best and most organized PRISAA national games was that in 1993 when PRISAA-Zamboanga hosted the event.
PRISAA-Zamboanga's member-schools include the Ateneo De Zamboanga University, Zamboanga A.E. Colleges, Mein College, Inc., Southern City Colleges, STI College, Brent Hospital and Colleges, Zamboanga Chong Hua High School, St. Joseph's School, Claret High School, Zion Evangelical School, Good Shepherd Mission School, among others. (FLC)