Calbiga town wins 'Bursary Award' in Netherlands
By Ricky J. Bautista
October 24, 2003
CATBALOGAN, Samar, Philippines - The municipality of Calbiga, Samar, Philippines had won the Bursary Award in the finals of the world's only international competition addressing the management of the environment, enhancement of quality of life and community well-being, Nations in Bloom.
Calbiga Samar, Philippines, which achieved the Bronze Award, beat off heated competition at the finals of the annual International Awards for Liveable Communities Nations in Bloom 2003 in Apeldoorn, Netherlands on October 2 to 6, this year.
Calbiga Mayor Melchor Nacario who immediately phoned his constituents Monday night said the town of Calbiga, Samar is the only finalist from Southeast Asia.
"Yes, we got the Bronze Prize for our Category A and we got the Bursary Award, we are the only one who got it," Mayor Nacario said in his excited undertone.
According to him, Calbiga's presentation was strong on two points: the environmental aspect and the community involvement with regards to the anti-mining campaign of Samar province.
"(During the announcement of winners) one remarkable thing happened, when Calbiga town was mentioned as awardee of the Bursary Award, Filipinos present including the participants plus the audience stood up out of respect, recognition and support!" the mayor said.
The town of Calbiga is known as one of the key sites in the management of the Samar Island Natural Park while Nacario is a major partner in the Project's advocacy campaign. Two days before the pronouncement of winners, the Filipino Catholic Community of Rotterdam offered a cultural program to honor and support the Calbiga, Samar delegation.
His Excellency Ambassador Romeo Arguelles gave an inspirational message reiterating that competitions like this foster fraternity and enhance people-to-people friendship. Miss Amy Garado, a Samarnon living in Netherlands, sang two Gospel Songs accompanied on the piano by Peter Van Esse, a Dutch Gospel musician. A spontaneous singing of medley of Samarnon folk songs followed led by the Osmund Orlanes, also a member of the Samar delegation. Then lastly, Tinikling (local dance) was demonstrated by Susan Baas, Mherzy van der Steen-Gemarino, Auring van Rosmalen and Yanie Houkes-Sinajon. The mayor of Apeldoorn was the first one to try his feet in between the bamboo sticks.
Then later that night, the group of Filipinos went to a separate room to watch the Powerpoint Presentation of Calbiga, Samar where one could only hear the ohs and the ahs after seeing the beautiful sights, the waterfalls, the mountains, the seas, the caves, the people, community activities and festivities, social involvement of several organizations in Samar Island.
Some of the Filipinos there said they were impressed, awed and proud to be Filipinos. "(And) we are all determined to visit Samar the next time we go home to the Philippines," they said.
Meanwhile, the City of Port Phillip has won Category C and the Gold Award. Waterloo, Canada came second and Plzen, Czech Republic came third. Category C included municipalities with a daytime population of 75,001 - 200,000.
Nations in Bloom is the largest awards for liveable communities, endorsed by the United Nations Environment Programme. All communities entering Nations in Bloom are eligible to apply for a Bursary Award of up to £10,000 without any additional fee being payable. An application for a Bursary Award cannot be accepted from a community not taking part in Nations in Bloom. The international panel of 6 world-renowned judges at the finals in Apeldoorn, Netherlands, listened to presentations from 25 finalists from 15 countries across the globe.
The finalists were divided into five categories according to their average daytime population. The Nations in Bloom Award Winners 2003 were: Category A (average daytime population up to 20,000) 1st - Soldiers Point, Australia (Gold Award); 2nd - Killarney, Ireland (Silver Award); 3rd - Maze, Japan (Silver Award), Chelsea, Canada (Silver Award), Largs, Scotland (Silver Award), Calbiga, Philippines (Bronze Award), Lochristie, Belgium (Bronze Award).
Category B (average daytime population 20,001 - 75,000): 1st - Enkoping, Sweden (Gold Award); 2nd - The Woodlands, USA (Gold Award); 3rd - Playford, Australia (Silver Award), Kladno, Czech Rep. (Silver Award), Barnstaple, UK (Bronze Award), Salekhard, Russia (Bronze Award).
Category C (average daytime population 75,001 - 200,000): 1st - Port Phillip, Australia (Gold Award); 2nd - Waterloo, Canada (Gold Award); 3rd - Plzen, Czech Rep. (Silver Award), Norwich, UK (Bronze Award).
Category D (average daytime population 200,001 - 1,000,000): 1st - Quanzhou, PR China (Gold Award); 2nd - Seattle, USA (Gold Award); 3rd - Puyang, PR China (Silver Award), Aberdeen, UK (Silver Award), Den Haag, Netherlands (Bronze Award).
Category E (average daytime population Over 1,000,000): 1st - Chicago, USA (Gold Award); 2nd - Tshwane, South Africa (Gold Award); 3rd - Suzhou, PR China (Silver Award).
The AWARDS Enhancement of the Landscape- Plzen, Czech Rep.; Heritage Management- Quanzhou, PR China; Environmentally Sensitive Practices- Chelsea, Canada; Community Involvement- Tshwane, South Africa; Planning for the Future- Playford, Australia; Bursary Award- Calbiga, Philippines; Special Award- Salekhard, Russia.
Catbalogan residents slam poor provincial governance
By ALVIN T. DEVARAS
September 25, 2003
CATBALOGAN, Samar, Philippines - A group of local residents of Catbalogan, Samar protested on poor provincial governance of the present provincial administration.
In an open letter dated August 12, 2003 addressed to Samar Governor Milagrosa "Mila" Tan but widely circulated in the Samar province, concerned Catbaloganons stated that they have written said letter as they can no longer bear the embarrassing situation of the province. The snail-pace development of the province and the sufferings of the people of Samar are very much obvious. In fact, these are felt and observed by local residents. They lamented that this is experienced in Catbalogan, which is the capital town of the province and center of communication, trade and commerce.
As residents of the Catbalogan, they are directly affected of the slow economic activity indicated by scarce supply of agricultural/farm products, the prime factor of the province's economy considering that it basically depends on agriculture and fisheries. The farmers had long been complaining and hoping for certified seeds, agricultural program, technical assistance and services from the provincial government but to no avail.
Likewise, same is true with the local fishermen who had been clamoring for the assistance and proper program for the effective implementation of sound policy for the prosperity of the Maqueda Bay. Contrary to their expectations, the lady governor herself instead is seen busy in business transactions in doling out materials out from the provincial coffers, such as cement, electric fans, t-shirts, rice, food and many others.
More so, Samareños are experiencing the weakening and ailing foundation of once strong provincial government of Samar and being concerned, are now annoyed and irritated citing the alleged irregular practices of allowing the beneficiaries sign a blank document or RIS; giving thousands of money to aspiring barangay captains; consenting dummies sign job order forms and daily time records (DTR); reportedly misuse of funds of devolved agencies; giving out and throwing away money to the public during medical missions; using her residence as alternate office during official transactions; sponsoring derbies and grand cockfights; and her chronic absenteeism during speaking engagements and important occasions that earnestly needs her presence.
They also denounced the lady governor for taking advantage of her position and abusing her political and administrative prerogative. They added, that the governor doesn't even bother to worry of the present situation nor she showed sympathy to the people of Samar. Accordingly, Samareños suppose that this could be due to her being not a native of Samar. Tan is reportedly from Palompon, Leyte who got married to a Samarnon.
The group also urged the Samareños to take note and get involve to save Samar from the inefficient administration of Governor Mila Tan.
Vice-Gov. Arcales cites Philippine Civil Service Theme as a call for help
By CHRISTINE AC. CAIDIC
September 5, 2003
CATBALOGAN, Samar, Philippines - The Provincial Government of Samar in coordination with the Civil Service Commission based in the Province commemorated the 103rd Anniversary of Philippine Civil Service in a very simple ceremony held on the 1st of September 2003 at the Capitol Grounds, Catbalogan, Samar.
As the highest-ranking local government official present during the said celebration, and also as the guest speaker, Hon. Ernesto C. Arcales delivered a very timely speech before a hundred of government employees from the national and provincial government agencies.
With this year's theme of the Philippine Civil Service Anniversary, "Sama-sama, tulong-tulong, Republika patatagin", the Vice-Governor said that the theme speaks very clearly as an urgent call for help. He emphasized that the Philippine government needs timely help, from every citizen and government worker, in the fight against all forms of destabilization attempts against the authorities and in its overall efforts to strengthen and stabilize the democratic ramparts of our republican system of government. He added that the call is significant and timely and this deserves a positive response from everyone in the Philippine Civil Service. Before he ended his speech, he reiterated his call for vigilance in the fight against assaults on our Constitution lest we fall prey to authoritarianism and dictatorship.
The simple celebration of the 103rd Anniversary of the Philippine Civil Service was started with a mass and flag raising ceremony at the capitol grounds which was followed by a short program and the viewing of showcases of the different agencies' activities and a motorcade around the town as a kick-off for a month-long celebration.
In her closing remarks, the Provincial Director of the Civil Service Commission based in Catbalogan, Samar, Victoria E. Valeriano underscored that the Panunumpa ng Lingkod Bayan should be kept in the hearts of every civil servant, not only during this celebration, but also in every day of their lives as they serve the government and its people.
By MARVIN G. AÑONUEVO
August 27, 2003
CALBIGA, Samar, Philippines – This is just like a classic case of 'Ripley's Believe it or Not' story. Her attending physicians pronounced a woman dead on arrival shortly after she was brought to the town's health center Friday afternoon. This after she accidentally fell to the cemented ground while on-board a moving motorized cab in the vicinity of Barangays Canticum and Polangi, Calbiga Samar on August 15, 2003.
Records at the Calbiga police station identified the woman as one Lydia Degasa y Estudillo, 34, and a resident of Barangay Polangi. The driver of the motorized cab was also identified as certain Tirso Tamugan y Dacoco, 26, single and resident of Barangay Canticum, both of Calbiga town. In a brief interview, Tamugan said that at around 12:40 in the afternoon while he was driving the said motorized cab from Barangay Canticum, some two kilometers west of Calbiga, he stopped upon seeing his cousin standing at the side of the road also waiting for a passenger vehicles bound for Calbiga, and let her ride. When the victim saw that the motorized cab stopped, she and her little boy ran to the motorized cab and rode too. "Dire man adto hira an akon ginparahan kundi an akon patod nga usa, dumalagan la adto nga biktima pati an iya anak tapos sumakay" Tamugan said.
The driver claimed that the woman positioned herself on his back while the woman's son sat inside the sidecar. But upon reaching a rough road between Canticum and Polangi, and sensing that her baggage placed on her lap (actually, just a small cartoon) was about to fall, she tried to catch it but unfortunately failed. Instead, she fell down to the cemented road. "Dire man malaksi an akon pagpadalagna, basta pag-agui han may lubak lumakso an iya dara nga karton gin-ikalalanat niya amo adto nga nahuloag hiya. Disgrasya gud," Tamugan added.
Immediately, the driver stopped his driven passenger cab and run to the victim whose in a pool of her own blood. The driver and witnesses' accounts disclosed no fatal wounds suffered by the victim but only bruises. "The blood scattered in the scene came out from the victim's nose," the driver claimed. The victim was rushed to the town's health station for an immediate medical attention but was later pronounced dead upon arrival. As of this writing, the autopsy report of the medical experts is not yet available.
Meanwhile, the police disclosed that the driver, after the incident, surrendered voluntarily to the municipal police station at about 1:10 in the afternoon for violation of Article 365 (Reckless Imprudence Resulting to Homicide). The driver, for fear of retaliation from the victim's relatives, prefers to be in the custody of the police while investigation has been going on.
Bantay-Bayan reactivated in Catbalogan
By MARVIN G. AÑONUEVO
August 16, 2003
CATBALOGAN, Samar, Philippines – Reactivation and re-orientation meeting of Bantay-Bayan Foundation Inc. (BBFI) Catbalogan Chapter, was successfully held at the Provincial Social Welfare and Development Office (PSWDO), last July 26, this town.
During the meeting, Major Felix Mangyao, Commander Civil Affair's Unit, 8ID, PA, Camp Lukban, in his message encouraged the members of the said organization to help the government in its effort in eliminating the alarming criminalities in our society through "holistic approach". He firmly believed that military is not the sole solution to the society's problems, but by the active participation of the people especially civic organizations through holistic approach. "Bantay-Bayan is my Civic organizations when I was in Davao, that's why I believe BBFI can help the government to combat those bad elements in the society like criminals and drug users, "he said.
He also hailed the president's unceasing effort to address all the people's problems especially in Samar because of its poverty. He cited that the president's visit in Eastern Visayas last month was a clear presentation of her great desire to help the people of this province. "Look, the president went to Eastern Samar so that she could personally see the needs of the people in that area," Mangyao added.
On the other hand, members of Bantay-Bayan promised their support to the government in lifting up the lives of the people through conducting seminars on anti-drug addiction, morality and even livelihood programs. Rev. Santos A.Cayat Jr., Chairman BBFI Catbalogan, said that they will continue their "Oplan Ilapit Program" in every school.
"Actually Oplan Ilapit is ilapit ang gobyerno sa tao. That's why whenever we conducted symposiums in schools, we have speakers from DTI, DSWD, Anti-Narcotics, Police Community Relations and from the Movement for the Restoration of National Discipline," Rev. Cayat said.
The said meeting was supposed to be attended by Villareal Chapter but because of financial constraint, Mr. Artemio Romano, BBFI Provincial Chairman, decided to have a meeting in Villarreal last July 27.
Also present during the meeting were Mr. Reynaldo Cuaderno, BBFI Regional Chairman, and some members of Bantay-Bayan Tacloban Chapter.
NSO opens Serbilis Center in Catbalogan
By MARVIN G. AÑONUEVO
August 16, 2003
CATBALOGAN, Samar, Philippines – With the desire of the National Statistics Office to bring its services closer to its clientele, the Census Serbilis Outlet was launched last August 1, 2003, at the National Statistics Office Samar Branch located at 2/F Noble Building, Rizal Avenue this town, through the National Statistics Office Registry System (NSO-CRS) Project which will service the whole island of Samar.
The center is a multi-phase computerization project thru the build-operate-transfer scheme (BOT) of the National Statistics Office (NSO) in partnership with the Unisys Philippines Inc. to ensure precision and efficiency in the issuance of the different civil registry documents (birth, marriage, death) for local and foreign use through computer technology.
Engr. Rolando C. Dimaunahan, NSO Regional Director said that some of the objective of this project is to enhance and improve the service of delivery through online 'while-you-wait' service. "Before, before you can get your Birth Certificate for example, you will be waiting for at least two to three months. But through this new technology, probably even in 10 minutes your document is already there," Dimaunahan said.
Dir. Dimaunahan also added that registry documents issued by the NSO are preferred and more official than that coming from any local civil registry office.
Mrs. Letecia C. Chu, Samar Provincial Statistics Officer said that the new system simplifies the NSO service and could minimize multiple registration of a person. "One person only one registration; Multiple registrations can be detected because this is computerized." She said.
"This is a request anywhere capability. That means if you're registered in Mindanao and you need a copy of your Birth Certificate, you don't need to go there just to get your Birth Certificate but visit our center here and get your copy," she added.
On the other hand, Dir. Dimaunahan also said that the new system doesn't mean to be perfectly sufficient especially if the telephone line has a problem instead he said that the new system is much better than the old system. "All is through electronics system, the only manual here is to fill up the form, once your application form is accepted by the personnel here, and everything is electronics already. The only problem is that if the telephone has no connection," Dimaunahan noted.
He also assured the public that no under the table transactions will transpire and it should be on a first come first serve basis transaction.
It was also learned that all of the equipment and machinery shouldered by the investor Unisys will be turned over to the NSO after 12 years to be fully handled and controlled by the latter.
There are 6 Serbilis Centers in Metro Manila, ( East Avenue, Pasig, Makati, Muntinlupa, Kalookan, Pasay), 14 Regional Serbilis Centers and 20 Provincial Serbilis Centers all over the country in which Catbalogan is fortunately included. Those who don't have the time to visit any Serbilis Centers may opt to apply thru online service in the internet at www.e-census.com.ph.
Save SAMAR Caravan - NO to Mining! held
By ALVIN T. DEVARAS
(August 12, 2003)
CATBALOGAN, Samar, Philippines – Stakeholders of the Samar Island Biodiversity Project (SIBP), a special project on biodiversity conservation and sustainable development that aims to establish the Samar Island Natural Park (SINP), among others, Samar-based Civil Society Organizations (CSOs); Local Government Units (LGUs); Non-Government Organizations and Peoples Organizations (NGOs/POs); Religious Sector; Academe; Youth and Students held an island-wide environmental caravan on August 8, 2003. The caravan was purposely organized to amplify mass awareness and action on the importance and benefits of SINP; drumbeat people's opposition to the impending threats to biodiversity conservation and sustainable use of Samar Island's forest and coastal resources; and, to catch the attention of national leaders through media mileage.
Delegations from the different municipalities of the three Samar provinces rendezvoused at the designated rally flash points (Calbayog City, Gandara, San Jorge, Buray, Calbiga and Basey). Contingents coming from Northern Samar and Eastern Samar on their way to Catbalogan (convergence point) passed through participating towns/city. Same also with the delegation from the southern municipalities of Western Samar. Equipped with streamers containing signatures, flaglets/balloons bearing "Yes to SINP No to mining!" and a public address system, the participants clamored for the establishment of SINP and expressed strong opposition against mining. Placards containing the following slogans were also displayed along the way:
· Sa mina galit kami!
· Samar Island Buenas Logging Mina malas!
· Kapitalista numero uno nga terrorista!
· Reservation for the next generation
· Lets save and protect mother earth
· Keep our dream alive. No to mining!
· We support SINP!
· Karikuhan han dagat matatagamtaman, mina deri kinahanglan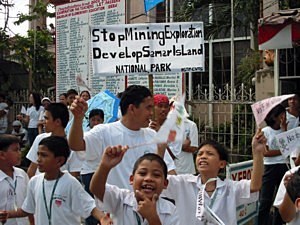 An estimated 4,000 participants from different delegations simultaneously arrived Catbalogan town and motored around the town proper passing through the major thoroughfares that culminated at the pieta park, where a program was held. Cultural presentations were presented during the program while various speakers aired their sentiments and took turns in urging Samareños to support SINP and denounce mining operations in Samar Island. Prominent among those present were Calbayog Diocese Bishop Jose S. Palma, Eastern Samar Bishop Leonardo Y. Medroso, Samar Governor Milagros Tan, 1st Congressional District Rep. Reynaldo Uy, 2nd Congressional District Rep. Antonio Eduardo Nachura, Eastern Samar Gov. Clotilde Salazar, Eastern Samar Vice-Gov. Federico Suyot Sr and Eastern Samar Lone District Rep. Marcelino C. Libanan. Identified among the speakers are as follows:
1.) Calbiga Mayor Melchor Nacario talked on mining issues and shared his experience in his visit to Palawan. According to him, environmental preservation is now a culture in Palawan and is a concerned of every resident. Politicians stand as one when it comes to environmental issues and does not further go to the extent of deliberating the issues. Mayor Nacario expressed hope that the same thing would happen in Samar, for local politicians to unite themselves for the betterment of all Samareños;
2.) Fr. Alex Galo talked on mining experiences in Manicani Island, Eastern Samar particularly the mining operation of Hinatuan Mining Corp and the negative effects to the environment, resulting, among others, to massive fishkill and the deaths of seacucumbers. Fr. Galo opined that he was disgusted over the result of DENR inspection team's report that yielded negative environmental destruction despite the manifestations of some indicators. He also talked on how the Save Manicani Movement (SMM), struggled to stop mining operations and save Manicani Island;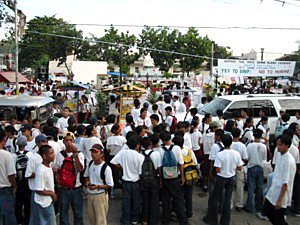 3.) Fr. Elino Delison likewise shared his experience on fear of local residents in Batag Island, Northern Samar threatened by the near operation of Panapino Mining Corp. According to him, the 5-hectare vegetable and coconut plantation in the island considered the vegetable basket of Northern Samar will be affected if Panapino Mining will start its operations;
4.) Vice-Gov. Suyot opined that the only way to pre-empt and stop mining in Samar Island is to have a mining moratorium. He urged local officials of the different provinces in Samar Island to come-up with a joint resolution for a mining moratorium;
5.) Hon. Joseph Escober disclosed that Sanguniang Panlalawigan (SP) Samar proposed a resolution for a mining moratorium; and,
6.) Fr. Sison and Ian Mosquisa, NGO representatives talked on Samar Island Forests as protected areas, both urged Samareños to support the establishment of SINP and denounced mining and logging as it will not bring any good to the people of Samar and reiterated on the negative effects. Both stressed that declaring Samar Island forests, as protected areas will also preempt mining and logging operations in Samar.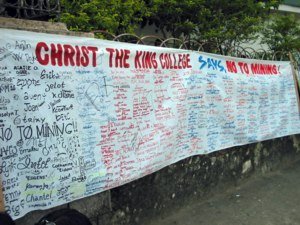 A "Pact of Samareños" was then made between Calbayog City mayor Mel Senen Sarmiento, Bishop Palma, Gov. Tan, Gov. Salazar and Bishop Medroso. It was followed by the messages of support by Bishop Hobayan for the religious sector; mayors Antonio Rivera and Elito Dapulag for LGUs; Dr Efleda Bautista for the academe; and, representatives from KSFI/KAPAWA/SAGUPA for the NGOs. The activity ended with the candlelight ceremony and community singing of "Iroy nga Tuna."
The activity was considered as first in the history of Samar Island where an overwhelming number of participants joined a rally to show their support on a particular issue, which they consider as very significant to Samarnons. The number of participants representing three provinces suggested that Samarnons are united in their clamor to establish the SINP and to strongly denounce environmental threats particularly mining and logging. Congressman Nachura called the event as a unification of the three provinces of Samar island.