Iloilo boys choose sex over shabu
By Alex P. Vidal/ PNS
August 20, 2004
ILOILO CITY -- They would rather take the risk of impregnating their girlfriends and end up as teenage fathers than ruin their future in shabu (metamphetamine hydrochloride).
"At least with our girlfriends, we can spend our leisure time, experience ecstasy and get high without destroying our brains," said Ryan Roy, 16, and Gregory, 17 (not their real names), both third year high school students in a Calumpang, Molo public school.
Gregory said he and his 16-year old girlfriend, Grace (not her real name), also a student of the same school, would meet at the food court of Robinsons Mall in the City Proper twice a week at around 2 in the afternoon, take a cab and proceed to a drive-in motel in Baluarte, Molo.
"We would make love and have sex for three hours. No drugs. No shabu. Only sex because we love each other," said the pony-tailed Gregory in vernacular.
Gregory said his parents, both government employees, "never interrogated" him every time he went home at past 6 in the evening.
He said he was never afraid that Grace would get pregnant "because I always used a condom". Gregory got the condoms from his father, a utility in a public health office, who "stockpiled" them in the master's bedroom.
"My father would always give us condoms and jokingly tell us to use them in case of emergency. Our mother would just give him a dagger look but does nothing to discourage us from accepting the condoms," added Gregory, the second in the brood of four (all male). "I suspect tatay is also using condom".
Computer game
Ryan Roy's girlfriend, Jannah (not her real names), 18, would fetch him every 4 in the afternoon at an internet café in another downtown mall where he regularly plays computer games with his fellow male internet habitués.
Jannah is also a high school student in another public school in Molo. Ryan Roy describes her as "a tall girl with tattoo on the left side of her breast."
"Kuhiton ya lang ko sa likod, lakat kami dayon kag mag sakay sa taxi pakadto sa (name of the drive-in motel) (She would just touch my back and we will immediately leave and board a cab going to the drive-in motel)," Ryan Roy said.
"We do it twice a week; sometimes three if we have enough savings. I choose to go with her rather than risk being influenced by my friends who use drugs regularly," he said.
Ryan Roy did not explain whether they use contraceptives but said he fell in love with Jannah "because she taught me how to become a man".
If Jannah gets pregnant, Ryan Roy said "I will elope with her". "Having sex (with Jannah) is better than getting hooked in drugs," he said.
Both Ryan Roy and Gregory admit they smoke cigarettes and drink alcohol occasionally, but never drugs, they swore.
Ryan Roy said shabu trafficking is "very rampant" in their campus. Unidentified persons believed to be drug couriers have been regularly seen in their school premises and school authorities were reportedly helpless and could not neutralize them.
Researchers said that in 2002, almost half (47%) of young people smoked; 70 percent drank alcohol and a "small percent" engaged in drugs (shabu and marijuana).
Drugs, drink, premarital sex
A rising trend of drug use was seen in 11 percent of boys and girls, and it is rampant in high school and college. Two out of 10 young persons (23%) had premarital sex.
The researchers noted that risk-taking behavior is not usually done in isolation of each other, but rather, they are interlinked—those who smoke, drink and use drugs are more likely to have sex. On the other hand, having sex is most strongly linked to drug use, than with smoking and drinking, and later, to thoughts of suicide and violence. Researchers call this multiple risk-taking behavior.
In risk-taking, it was reported that boys exhibit a stronger tendency of involvement than girls. It would always be the boys who start first, or that more boys are into an activity than girls. This is reportedly explained by the socialization practices of parents and adults, who still give more freedom to boys than girls in their traditional way of raising children.
The Dangerous Drugs Board and the Philippine Drug Enforcement Agency reported that 3.4 million Filipinos are on illegal drugs. An estimated half of this or 1.8 million are young people. The Young Adult Fertility and Sexuality Survey also found an apparent rise in the proportion of young people exposed to drugs. For both sexes, the six percent level in 1994 doubled to 11 percent in 2002, reports said.
It added that there were more male users (11% in 1994 to 20% in 2002) than females, although they exhibited a faster rate of increase compared to males (1% in 1994 to 3% in 2002). The working youth (18%) were more into the practice than the in-school ones (7%). Only three percent of youth aged 15 to 24 in 2002 continued to use drugs, showing a double prevalence from 1.4% in 2002.
Hope
But the report said there is some hope. "Young people's engagement in risk behaviors appears to be temporary," and somewhere in time, they find a way out.
Almost all (94%) of those who have sex said they are not prepared to become parents, in case their activities result in pregnancy.
Although more young individuals have stayed away from risk behaviors, a significantly growing number have reportedly engaged in premarital sex, have been victims of sexual assault, have experienced early pregnancy or abortion, have smoked, drank alcohol and have used illegal drugs.
Meanwhile, according to the State of the Philippine Population Report, pornography has captured the interest of a sizeable number of youth, particularly boys. "Whatever tenets between what is allowed and acceptable and what is not permissible in media are already thinning fast because of the emergence of glossy magazines and videos that feature pornography in its many forms," the report said.
"This is reinforced by the liberal system of information and of publishing and broadcasting in the country. This situation leaves judgment entirely on the audience."
Young Filipinos live in an environment that continuously stimulates their eager minds and souls. Everyday of their young lives, they thrive on social impulses while at the threshold of discovering their bodies, their sexuality and their place in society.
Perennial floods impede progress of 4 towns in the First District of Samar
By RICKY J. BAUTISTA
August 18, 2004
CATBALOGAN, Samar – The perennial occurrence of floods caused by rampant illegal logging activities in almost all remote municipalities of this country's third largest island, the province of Samar, is considered the biggest stumbling block to rural development
Pascual O. Cosmod, development facilitator of La Paz-Buenabista Agrarian Reform Community in San Jorge, Samar presented this problem during the first monthly regular meeting attended by the non-government organizations, people's organizations, members of the media sponsored by the Department of Agrarian Reform provincial field office last August 12, this year.
According to Cosmod, these occurrences of at least two floods a year adversely affected some 66 barangays within the towns of Tarangnan, San Jorge, Gandara and Pagsanghan, all in the first district of Samar, and an estimated total area of 4,145 hectares.
He said when the basin areas of these four towns some 2,370 hectares of land planted with rice and vegetable, which are inundated and submerged for 10 to 20 days, resulting to total damages, both to the crops and the production cost and labor put in by the farmers.
"An estimated total of 189,600 cavans of palay costing P75.84 million is lost whenever a flood occurred and submerged the 2,235 hectares for this duration of time - not to mention those remaining areas slightly affected," Cosmod said showing the audience a sketch of the barangays being flooded.
At least 4 major floods, which occurred in 1961, 1979, 1983 and 1998, affected the flow of road traffic specifically in the Sapinit, San Jorge area, in as much as the Maharlika national highway went underwater for 3 days, Cosmod reported.
It was learned that the perennial occurrence of floods in the Tarangnan-San Jorge-Gandara-Pagsanghan Basin area greatly contributes to the retrogression of these four municipalities.
"Yet, no local government unit has ever made an attempt to arrest the problem through an alternative drainage system. Probably so, because the attempt would entail millions of pesos for which these four towns may not be able to raise before the next big flood occurrence," he said saying that as of this moment, they were soliciting the intervention of the national government to alleviate the harsh effects of this problem that has for more than four decades now been depriving these towns of their chances of approaching the neighborhood of an increased agricultural productivity.
Threats to "rice bowl" of Samar
Prior to 1961, the Tarangnan-San Jorge-Gandara-Pagsanghan Basin area was tagged as the "Rice Bowl of Samar" for the localities being famous for its abundant supply of Macarato, native fancy variety rice with an aromatic odor.
The early settlements, tracing back to the Spanish period (1368-1644), established alongside the Gandara River and its tributaries the main thoroughfares at that time.
Civilization there flourished probably through barter trade, as evidenced by Chinese antiques from the Ming period, as recently uncovered by fortune hunters. The area experienced in-migration, including the first wave of Chinese settlers (during the Spanish times) and the second wave in the early 1930s, which preferred to invest and reside permanently in the place.
Despite this progress in time, the prosperity of the area dwindled in 1961 and thereafter, due to floods, which registered an average occurrence of twice per year.
Root cause of the problem
Initial investigation made by the presenter disclosed that the first major flood occurred in the area was on October 4, 1961. It is said that the incident was long known all throughout the province (which was then the whole island of Samar), because the Gandara Bridge was flooded and washed out by the strong flood currents. Since then, floods have been perennially present - they kept coming, annually, but the local populace does not give up the hope that one day soon these will come to a halt.
Oftentimes, government and private sector organizations wholly blamed this phenomenon of recurring floods to unchecked illegal logging operations in the watershed areas.
This problem blamed to the local government units of these four towns for issuing a series of Fishpond Lease Agreements (FLAs), subsequent construction of fishponds, which cover more than a thousand hectares of timberland, illegal logging operations.
With dikes averaging a height of 3 meters, these fishponds serve as a retaining wall that highly constricts the flow of floodwater. Further, the seawater displaced due to controls made at the fishpond naturally finds its way to the Gandara River, thereby contributing to the height of floodwaters, and the tendency is to back-flow to the upstream areas, which comprise the Basin.
The Gandara River and its tributaries
The Gandara River, aside from being the main water thoroughfare of the Basin residents, serves as the only drainage system to the Samar Sea. Upstream of Gandara poblacion, it branches into two main arteries - the Gandara Right River, toward the direction of the San Jorge-Tarangnan area, and the Gandara Left River, which leads to most of the barangays of Gandara and the adjoining town of Matuguinao.
Approximately, the total length of the Gandara River is 80 kilometers, excluding its major tributaries. During heavy rains, as in typhoons, the Gandara Left River has greater water volume than the Gandara Right River, and causes the latter to lessen its discharge.
The main tributaries of Gandara Left River are the Rawis-Carmona Creek with an estimated length of 25 kilometers and the Gandara-San Jose de Buan creek with a length of 30 kilometers.
On the other hand, three main tributaries supply the Gandara Right River, namely, the Blanca Aurora-Calundan tributary, the Subol River, and the Sapinit-Pajo River. The Blanca Aurora-Calundan tributary comprises three rapids and underground water specifically coming from the Jiabong area and has an estimated length of 28 kilometers. The Subol River has an estimated length of 36 kilometers, while the Sapinit-Pajo River has an estimated length of 22 kilometers.
Effects of floods
Since October 4, 1961, farmers in the Basin area have been at the mercy of floods. With an annual average occurrence of two floods at an unexpected month of the years, farming is a gamble - a la suerte!
"It is not surprising why the landowners in this area, without any opposition as compared to other areas in Samar, readily offered their lands for sale under the Comprehensive Agrarian Reform Program (CARP)," Cosmod said.
Cosmod said the direct effects of these perennial floods are the following: Damages to lives, crops, and other properties; heavy out-migration to seek jobs; high poverty incidence; retrogression of the areas affected; pollution of the rivers due to the length of time of submersion of the flooded areas; prospective investors hesitant to do business in these four towns; heavy siltation of the Samar Sea; farmers hesitant to cultivate the lands; the area is not self-sufficient in rice and other crops; absentee landowners; spread of the dreaded schistosomiasis disease; and, low land tax collection performance.
Recommended solution and action
The logical solution presented by Cosmod during the meeting is the construction of a diversion drainage canal in the Pajo-Bangon Gote area in Tarangnan, as well as the dredging of the accumulated silts at the mouth of the Gandara River leading to the Samar Sea.
He explained the proposed construction of the drainage canal, with an estimated length of 1.5 kilometers will compensate for the constriction made at the fishponds in Bangon, Goyam and Sondara Islands, as well as the silt accumulation there. "The proposed drainage canal will connect the Sapinit-Pajo River to that of Bangon Gote River leading to the Samar Sea area. Although costly, since it will cut across a hill, it will compensate, however, with a guaranteed annual production of 379,200 sacks of lowland rice for two croppings per year and with a guaranteed minimum gross income of P151.68 million valued at P400 per sack," he said.
Filipino-Canadians condemn killing of Filipino youth in Toronto
June 24, 2004
TORONTO, Canada - Filipino community groups in Canada condemn the shooting of 17-year old Jeffrey Reodica by a Toronto police officer on May 21, 2004 that resulted in his death a couple of days later. Jeffrey was shot three times in the back after he and his friends were stopped by two plainclothes police officers.
While the Filipino community in Canada mourns and tries to grapple with the senseless death of Jeffrey, we are outraged at the brutality that he suffered in the hands of a Toronto police officer. As Filipino-Canadian youth become prime targets of the stereotyping, prejudice and discrimination embedded in Canadian institutions, the future of our already-marginalized community is, once again, under attack. The fatal shooting of Jeffrey exemplifies the escalating violence against Filipino youth in Canada.
The continuing struggle of youth of colour against racist attacks by the Toronto police is a growing concern amongst visible minority groups in the city. Youth of colour have been targets of police harassment and brutality, a glaring testimony to the police department's long history of racial profiling that blames and criminalizes people of colour.
The killing of Jeffrey Reodica comes after the death of another Filipino youth in Vancouver in November 2003. Mao Jomar Lanot was mauled and killed by a larger group of youth at Sir Charles Tupper Secondary School. The banning of Filipino youth at Scarborough Town Centre in 1993, hate graffiti and physical violence against 25 Filipino youth at Vancouver Technical Secondary School in 1999, and the continuing harassment and labeling of Filipino youth as gangs by police in Montreal, clearly demonstrate a history of racist attacks on our community and the racial profiling of Filipino youth. And the youth suffer more from these intensifying attacks as these go unchecked, and are even condoned by the enforcers of "law and order."
Everyday, thousands of Filipinos leave the Philippines to come to countries like Canada due to the worsening economic and political situation in the Philippines. We seek a better life and opportunities for our families and ourselves in Canada. However, reality bites when we come face to face with the violence of daily exploitation and oppression as immigrants and as people of colour. As our community struggles against the alarming violence now increasingly upon us, we can no longer turn a blind eye to the racism and violence so ingrained and so endemic in the prevailing system.
The criminalization and harassment of Filipino-Canadian youth constitute a violation of their human rights. The destructive impact of systemic and personal racism directed against Filipino-Canadians jeopardizes our community's future, strongly disregards our cries for justice, and dismisses our valuable contributions to Canadian society. It contributes to the further segregation of our growing community, being the fourth largest immigrant group in Canada. We must therefore continue to educate and organize our community, unite with other peoples and communities of colour and win over the other marginalized and affected sectors of the Canadian populace to challenge and dare to transform those very institutions that oppress us.
Toronto: Filipino Workers' Support Committee, Philippine Network for Justice and Peace, Philippine Solidarity Group of Toronto, Philippine Women Centre of Ontario, The Organizing Committee for a Filipino-Canadian Youth Network.
Vancouver: B.C. Committee for Human Rights in the Philippines, Filipino Nurses Support Group, Philippine Women Centre of B.C., SIKLAB Ugnayan ng Kabataang Pilipino sa Canada / Filipino-Canadian Youth Alliance.
Montreal: Centre for Philippine Concerns Filipino Workers Support Group, Kabataang Montreal PINAY.
Ottawa: Ontario Committee for Human Rights in the Philippines, Pilipinong Migrante sa Canada.
Winnipeg: Manitoba Centre for Philippine Concerns
The "Barefoot" soldiers called ALPS!
By RICKY J. BAUTISTA
January 12, 2004
CATBALOGAN, Samar, Philippines - It is said that education is one of the fundamentals in man's life and it plays a significant role in our present society. It is one of the important tools for the development and progress of our country. This general contention is supported by the Constitutional mandate which states "the State shall protect and promote the right of all citizens to quality education at all levels and shall take appropriate steps to make such education accessible to all."
What should the government do? Of course, it necessary that the Philippine government through its agencies become strong partners in delivering to the group – the out-of-school youth and adults in the hinterland barrios, in which, education is most wanting and a necessity.
Director Mama S. Macoming, Chief, Non-Formal Education of the Department of Education Region XII claimed that one of the main reasons of trouble in Muslim in Mindanao areas is lack of education.
Some of the Muslim residents could hardly adjust and cope-up with the latest skills and techniques in farming, business and other income generating projects because they lack the basic foundation of literacy and education.
The above scenario is not just true to the Muslim communities in Mindanao. It is also experienced on other remote areas in the country, like in Samar.
Its hinterland barangays are so isolated that local government unit and concerned national agencies and NGO's could not deliver some basic services. A big number of the populace is neglected. Most of them do not possess or intend to acquire the basic skills in reading, writing, arithmetic and scientific thinking skills.
In 1995, one of the pressing issues in the province of Samar is the prevailing high illiteracy rate. Speaking of the illiteracy rate of Samar during that time was 84.80% only. Meaning, the literacy rate in the province is "lowest" compared with other provinces in the region during that period.
To improve the plight of these people, the government launched the ALPS with a mission to teach the local folks how to read, write and count.
The Army Troopers, through the Army Literacy Patrol System (ALPS), climb mountain of forests and cross rivers to reach the latest and most disadvantaged citizenry in the hinterland barangays hoping to deliberate them from the bondage of poverty and ignorance. That's reason why they were sometimes called as "barefoot soldiers"
This Army Literacy Patrol System that was coined by the Philippine Army Civil Relations Information Service (PACRIS) in 1979. A younger version of the program that was called the "Barefoot Soldiers" Program.
The program, the Army Literacy Patrol System (ALPS), provides basic literacy skills, livelihood skills training, and continuing education to people in the said areas. Through this program, the learners were taught the following: a) reading, b) writing, c) numerical, d) personality development, e) health and nutrition, f) values education, and g) livelihood skills.
According to a document furnished to this author, the program traced its beginning in Central Luzon during the mid 1970's, when insurgency was at its peak. Considering therefore that insurgency can never be eradicated with guns and bullets, the Philippine Army focused its attention not only for the safety of the people but also on the socio-economic development of the area.
By this, they may be acquire skills that they can use in their livelihood and to eventually empower them and live a "descent" and happy life.
The Philippine Army through the "barefoot soldiers", introduced the new techniques to fight a war by giving education and livelihood training to the common farmers, cultural minorities, out-of-school youth and adults who failed to attend and enroll in the formal school system by reason of poverty and distance.
In the year 2002, the "barefoot soldiers" made it to decrease the illiteracy rate of the province from 15.10% in 1995 to only 2.54% this year. By this, the Philippine Army's 8th Infantry Division in close coordination with the Department of Education in Samar won the second place award in the national level category for most outstanding literacy programme category, a joint project of UNESCO, National Commission of the Philippines, Literacy Coordinating Council, Department of Education, Metrobank Foundation Inc., Southeast Asian Ministers Education Organization, Regional Center for Educational Innovation and Technology and Asian Institute of Journalism and Communication.
The award is due to the best program that has been offered by the organizers to the constituents of Western Samar particularly in the towns of Matuguinao, San Jose de Buan, Sta. Rita, Pinabacdao, Sta. Margarita, San Jorge, Paranas, Motiong, Jiabong and all other towns in Samar that are identified as having a considerable number of illiterates and lowly educated population.
THE FIRST IN CALIFORNIA Sari-Sari Store Opens at Glendale Galleria
By Johnny M. Pecayo/ PNS
January 9, 2004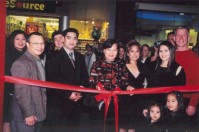 GLENDALE, Ca., USA - Sari-Sari Store, a Filipino-owned retail business establishment on the second floor of the famous Glendale Galleria, a major landmark in the City of Glendale, officially opened at 10 A.M., December 27, to the general public amidst a throng of customers, friends and spectators witnessing the ceremonial ribbon-cutting ceremony done by Deputy Consul General Hellen Barber of the Philippine Consulate General.
The ribbon-cutting ceremony was preceded by the releases of colorful balloons onto the air, just outside the covered area of the Glendale Galleria, as part of good luck wishes following their beliefs in the magic of feng shui.
When the group came back, Ms. Barber was requested to deliver a short message. She said: "On behalf of Consul General Marciano A. Paynor, Jr., I would like to congratulate the officers and board members of Intercoastal Distributors, Inc. dba: Sari-Sari Store, for their pioneering effort in bringing to the mainstream market world-class Philippine made products through the Sari-Sari Store. This business endeavor will not only help contribute to the growth of the economy of the City of Glendale and the State of California, but will likewise propagate the Philippine industry by showcasing to the world our ingenuity. Congratulations, and I wish you all the best and successful business undertakings."
A brand new pair of scissors, covered with red ribbon, was handed over to the Deputy Consul General while the officers of the company, led by its president, Allan Samonte, RN; vice president Cristina S. Samonte, RN; and Board Members Oscar Parel, president of Eminence Home Health and Ridgecrest skilled nursing facility; Shaula Ferrer, an accountant; Mark Lansang, assistant physical therapist; and Josie Villanueva, RN, also a successful businesswoman in the healthcare industry, positioned themselves to witness the ceremony. Visibly absent was another Board Member, Violeta Martinez, RN, who was vacationing in the Philippines with members of her family.
Marni F. Ocampo, President of Sari-Sari Group of Companies, Inc., based in New York, couldn't make it to the inauguration due to difficulty of airplane flight booking.
Rev. Fr. Mike Wakefield of Granada Hills' St. Euphresia, also delivered a meaningful message, wishing and praying for the success of the business operation of what he coined "variety-variety" (sari-sari).
Following the feng shui tradition, Ed, the designated emcee, announced that before everybody is allowed entry to the newly-opened store, the Board members have to roll out 188 oranges onto the floor. "One represents success, and 8 means wealth, so double 8 means double wealth."
The rolling out of the oranges was led by Josie Villanueva and Shaula Ferrer, followed by Mark Lansang, two young entrepreneurs who are venturing into the business, while retaining their respective gainful employment.
Fr. Wakefield then grabbed a bottle filled with Holy water to begin the blessing at about 11 A.M., assisted by Allan Samonte and Oscar Parel.
After the blessing, Fr. Wakefield invited everyone to come close to the food-laden table to say a brief prayer. A sumptuous lunch, consisting of bread, ham, fried chicken, meatballs, rice cake, and soda, good enough for 200 people, was served for the taking of guests, customers and friends.
Deputy Consul General Barber, who came despite not being feeling well, left with Bert Lavares, immediately after the blessing.
Originally scheduled to open on December 20, the Grand Opening was moved back to a week later in order to complete the construction and renovation of the place. The store actually opened last December 23 and has been generating brisk sales since its door was opened to the consumers of varied ethnic backgrounds.
A Filipino American TV personality, simply known as Lalaine, an icon in the daily national TV show of Lizzie McGuire on the Disney channel, came along with her mother, Lilia, and friends; posed for picture-taking with the owners, then proceeded immediately to select colorful dresses that best fit her. "I have never been to a place like this where I was able to select five different items that I really like, in less than five minutes," relates Lalaine to the MANILA-U.S. TIMES when interviewed. She added: "I could foresee the success of this business judging from the friendly and professional approach of the owners to their customers, and the quality of products they sell."
In no time, Ranella Ferrer, the designated cashier for the day, was busy ringing the cash register machine as almost everyone who came to the store, checked out with a minimum of two purchased items. Nicole Villalobos, a teenager, was seen busy assisting the customers at the cashier's area. Ranella, younger sister of Board Member Shaula Ferrer, is a recording artist and has been performing on Hollywood and Santa Monica. It was an event to remember. It is the store that the Philippines must be proud of. It is the place to shop for the best.
Johnny Pecayo, Publisher and Editor-in-Chief of the MANILA-U.S. TIMES, was Sari-Sari Store's director of Events Planning and Publicity.