Miss Calbiga romps away Mutya han Samar 2006 title
By ROMMEL L. RUTOR
August 13, 2006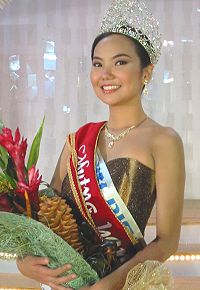 Miss Christina Sabarre Chan
CATBALOGAN, Samar – Besting 20 other beautiful ladies from different municipalities in Samar province obtaining 96.07 over-all points, Miss Calbiga represented by Christina Sabarre Chan emerged to be the most beautiful candidate and was adjudged the Mutya han Samar 2006 in last Wednesday's pageant held at the fully packed provincial gymnasium here.
The beauty search is one of the highlights of Samar's celebration of its founding anniversary on August 11, 2006.
Miss Calbiga carted away a cash prize of P50,000.00, a "pangkabuhayan showcase", and likewise took at her helm the Best in Swim Wear, Miss Eloquence and Best in Gown awards.
In an interview over Decobeam Cable Television right after she was capped the beauty title; Miss Calbiga revealed that her confidence as a woman which has been innate in her since she was a kid was her edge among the rest of the candidates, who are mostly veteran participants in various beauty pageants.
She revealed that her participation to the Mutya han Samar search was her first time, "although our local government unit has continuously convinced me to represent our town in this search during the previous years, but I would always turn the offer down", she stressed.
Miss Calbiga reasoned out that she has to wait for the right moment before indulging into beauty tilts, "and since I already graduated from my course, I am already at the legal age, and most of all I am very much confident in my person now, I believe this is the right time that I am waiting for, hence my joining", the Mutya han Samar 2006 winner explained.
It was learned that Miss Calbiga is a graduate of Communication Arts at the Assumption College in Manila, but always return to Calbiga every year particularly during the town's fiesta celebration every May of the year.
She is the daughter of Cyhthia Sabarre who hails from Calbiga but her father, Robert Chan is from Quezon City, where they are residing at present.
This year's Mutya ha Samar winner was crowned by no less than Gov. Milagrosa T. Tan and Vice-Gov. Jesus B. Redaja, while the "pangkabuhayan showcase" was awarded by Mayor Tekwa Uy of Catbalogan town.
Meanwhile, the pride of Tarangnan, Myth Anisca Tuñacao came up the 1st runner-up of the Mutya han Samar title garnering 92.85 points from the panel of judges.
Miss Tarangan almost lost her title when the host erroneously pronounced "Tarangnan" to "Gandara" which subsequently resulted for the Gandara beauty to come forward to be crowned as the first runner-up in the said competition. The glitch however was immediately corrected by the host.
The 2nd runner-up was Miss Sta. Rita, Aiza B. Molina with 92.56 points who likewise took for her the "Panurundon" festival costume award; while San Jorge town represented by Janet Pedrano landed on the 3rd runner-up place garnering 92.07 points but was also awarded the Most refreshing Smile; and the last place for the top 5 beauties of the Mutya han Samar 2006 beauty tilt was captured by Miss Catbalogan Juvie Pearl Cueva with 92.04 points and also awarded as the Miss Congeniality and Miss Smart Amazing.
Among the 21 candidates, the other five candidates who landed into the 10 semi-finalist were: Miss Gandara Reina Julienne Jumagdao who got 91.85 points, Miss Paranas Claudene Mae Nuñez with 91.70 points, Miss Hinabangan Irene Kaye Cabilao with 91.56 points, Miss Sta. Margarita Eva Dimaano garnering 90.56 points and Miss Talalora Jackelyn Wilby who got 90.52 points but adjudged to be the Most Photogenic.
On the other hand, Calbiga town Mayor Luzviminda Nacario likewise got P50,000.00 cash prize handed by Governor Tan as a token for the support extended by the LGU to the town's candidate which eventually emerge as the province' most beautiful maiden.
Members on the panel of judges were Col. Asdali Abah, Col. Ricardo Papina, Dr. Leo Lofranco, Dr. Rosario Abriolsantos, Mr. Renato Mendiola, Mr. Hugo Turla and Ms. Liberty Lopez.
Hosted by showbiz personality Archie Alemania and anchorwoman Myra Letaba, the pageant night was carried live on television by Decobeam Cable TV Services and D' Leopards CATV.