DTI chief joins groundbreaking of Pambansang Pabahay Para sa Pilipino Housing (4PH) Project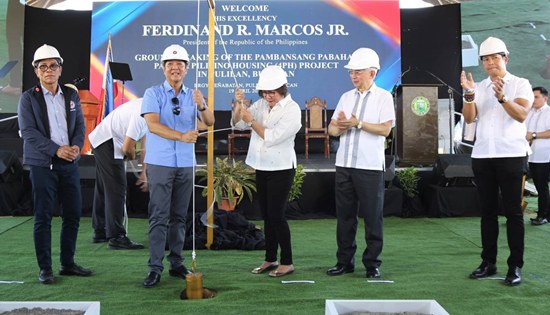 By DTI-OSEC-Public Relations Unit
April 21, 2023
PULILAN, Bulacan – On 19 April 2023, President Ferdinand R. Marcos Jr., alongside Department of Trade and Industry (DTI) Secretary Fred Pascual, Department of Human Settlements and Urban Development (DHSUD) Secretary Jerry Acuzar, Bulacan Governor Daniel Fernando, and Pulilan Mayor Maria Rosario Ochoa-Monetejo led the groundbreaking ceremony of the Pambansang Pabahay Para sa Pilipino Housing (4PH) Project, a flagship housing program of the Marcos Administration, which aims to provide Filipino people with decent and affordable housing, and further narrow the housing gap in the country.
The project in Pulilan aims to build thirteen (13) low-rise buildings, each with three (3) floors. This is also expected to have at least 1,044 housing units. The project revenue value is estimated at P678,600,000, with each unit amounting to P650,000.
Secretary Pascual shared that "This housing project is a realization of the President's efforts to secure more investments as this forms part of the investment leads secured from the President's recent trip to Indonesia. We are now reaping the benefits of our several months of hard work, especially for us in DTI and our Foreign Trade Service Corps. Through this project, we can help ensure affordable and decent housing for all Filipinos."
"Like what President Marcos has conveyed, we have observed that there is a strong market demand for housing projects because in the coming years, more and more Filipinos will look into investing their hard-earned money in real estates, Secretary Pascual added.
The 4PH Pulilan project is a partnership between iWire Technologies, a company that provides products and solutions to power the massive revolution of Internet of Things (IoT) and Emerald Consulting & Realty Corporation (ECRC) Philippines, as well as other local contractors and the Pulilan Local Government Unit (LGU).
Secretary Pascual also said that "The 4PH project is part of the Administration's priority to Build Better and More infrastructure. The DTI will remain steadfast in supporting the Philippine government not only in enabling a healthy business environment for foreign businesses like iWire but also in providing and meeting the needs of every Filipino."