Gov. Petilla speeds through typhoon-hit coastal barangays to distribute relief goods, calamity financial aid
By Provincial Media Relations Center (PMRC Leyte)
July 3, 2008
TACLOBAN CITY, Leyte – Using his own water transports such as jetskis and speed boats, Leyte Governor Carlos Jericho Petilla recently visited coastal barangays in Capoocan, Leyte-Leyte, Calubian and San Isidro to personally distribute the relief goods and financial aid.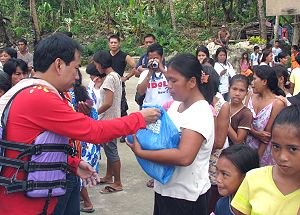 Leyte Governor Carlos Jericho Petilla distributed relief goods to barangays along Leyte's northwestern coast recently hit by typhoon "Frank".
In his visit the governor also gave calamity aid to different municipalities from the provincial government that amounted to P.6 million.
This as P150,000 in financial assistance were given to Capoocan Mayor Federico Carolino, Leyte Mayor Armando Ysidoro, Calubian Mayor Hazel Po and San Isidro Mayor Allan Ang.
Meanwhile, Gov. Petilla personally saw to the plight of residents in barangays of Talairan in Capoocan, Culasi in Leyte town, Jubay in Calubian and Taglawigan in San Isidro, who were relief goods of rice, noodles and canned goods and some financial assistance to repair damaged infrastructures.
Barangay Taglawigan in San Isidro is considered one of Leyte's most remote barangays which can only accessed through sea travel via Biliran. Land access to this barangay cost around P250 in one single motorcycle ride.
During the governor's visit, it was learned, that electricity to the area has yet to be restored.
Families from these four coastal barangays consist the more or less 26,447 families affected by typhoon Frank as reported by the Regional Disaster and Coordinating Council, it was learned.
Already, the governor has ordered relief and help teams to these areas to immediately rehabilitate damaged infrastructures.
The Provincial Disaster Coordinating Council (PDCC) earlier reported many damages caused by the storm last June 20-21, 2008 especially in the towns of Babatngon, Palo, Tanauan, San Miguel, Merida, Tacloban City, Tolosa, Matag-ob, Villaba, Barugo, Dulag, Carigara, Mac-Arthur, Mayorga, Tunga, Jaro, Albuera, Bato and Ormoc City.
Cebu province to help Southern Leyte in setting new tourism directions, says Gov. Garcia
By BONG PEDALINO (PIA Southern Leyte)
July 3, 2008
MAASIN CITY, Southern Leyte – The tourism program in the province of Southern Leyte has found an ally in Cebu Governor Gwendolyn Garcia, the first lady chief executive from the renowned queen city and province of the south.
"Count us in setting new tourism directions for the province," the lady Governor intoned in her keynote address here Tuesday at the anniversary program highlighting the 48th founding day celebration of the province.
Noting that the anniversary theme revolves around "destination Southern Leyte: Setting new directions," Gov. Garcia drew parallel circumstances when she first assumed the post in 2004.
She said the first thing she did was to transform the Cebu tourism program from the familiar and usual sights to involving the various municipalities, and so the "Suroy-Suroy sa Sugbu" program was born.
From then on, she had made it a point that every town should have their own festival, said Garcia.
She added that this coming August 9 there will be a showdown of 47 various festivals of Cebu which they called "Pasigarbo sa Sugbu".
Gov. Garcia was already here last Monday night as one of the guests who crowned the new Miss Southern Leyte 2008, Marie Ann G. Maraon, 18, from Macrohon town.
Her extended presence was widely understood as a last-minute replacement for the supposed guest, Bayani Fernando of the Metro Manila Development Authority (MMDA), who came early on Saturday to beg to be absent for a Cabinet meeting with President Arroyo at Ilo-ilo on Tuesday.
But presidential assistant for Region 8 Vic Domingo, who was publicly acknowledged as the person to take the place of Fernando, also came, albeit a bit late, and so he was also given time to speak.
The anniversary rites was preceded by a long parade from the public plaza to the capitol grounds here, and was actively participated by students, public officials from the various municipalities, NGOs, the private sector, and some visiting Directors from the regional offices.
Place the DPWH road maintenance fund under the management of LGEs, Eastern Samar LGEs clamor
By Philippine Information Agency (PIA 8)
July 3, 2008
TACLOBAN CITY, Leyte – The sorry state of the National Road going to Borongan prompted Governor Evardone and the municipal mayors who were present in the recently held Food and Energy Security Forum, to clamor that the road maintenance fund of the DPWH be instead placed under the management of the local government units.
Claimed to be one of the worst roads in the country, the Eastern Samar national road used to be one of the first with asphalt overlay. However, neglect over the years caused the road to be jokingly known as "the thousand lakes tourist spot" in Eastern Samar.
The local chief executives complained about the slow and delayed road repair program of the DPWH which has caused commuters too much inconvenience.
Governor Evardone said that he learned that so much has been allocated for the road maintenance in Eastern Samar but he does not know where it has gone.
The local government executives said they support devolving or transferring the road maintenance fund to the local government units to fast track the repair of the roads in their respective areas of responsibility.
We (local chief executives) are blamed for the sorry state of roads and yet the funds go to the DPWH, one mayor quipped.
The Department of Public Works and Highways is responsible for the 28,000 kilometers or 14% of the nearly 200,000 kilometers of roads in the Philippines. The 14% represent the national roads and main trunkline system connecting the major population centers.
The remaining 172,000 kilometers are designated as local roads categorized under the Local Government Code as provincial roads, city roads, municipal roads and barangay roads which are under the local government executives.
Of the P10.5 billion spent annually on construction and maintenance of local roads (excluding city roads), 50 percent is administered by DPWH (including an average of P3.8 billion through congressional initiatives), 25 percent by four other NGAs, and 25 percent directly by LGUs.
Pinabacdao receives P2.5M ANESVAD grant
By EMY C. BONIFACIO
July 2, 2008
PINABACDAO, Samar – A P2.5 million newly constructed rural health center at Barangay Dolores, this municipality, was formally inaugurated last June 26, 2008. The construction of the health edifice, which is a legacy of the Culion Foundation, Inc. (CFI) to the people of the Pinabacdao, was granted by the Fundacion ANESVAD of Spain. It is the only infrastructure component of the CFI's project on "Control of prevalent Communicable and Infectious Diseases" in selected provinces in Eastern Visayas. This is in partnership with the Department of Health Region 8, Samar Provincial Government and the Municipal Government of Pinabacdao, this province.
ANESVAD, a non-government organization under its new management, is based in Spain. It has CFI as its Philippine counterpart. ANESVAD projects are already under its final assessment stage since it is expected to end by July, according to CFI Executive Director, Mr. Antonio Imperial. With her gracing the said inauguration, is Ms. Indira Villegas, the project manager of ANESVAD.
Fortunately, Ms. Villegas was also here in the Philippines to conduct an evaluation of all the ANESVAD projects implemented in Southeast Asia. Their evaluation outputs will also serve as the basis for new strategic plans and programs to be implemented. "Now is your turn to guarantee the sustainability of the project. If the project is not here, there is no reason for us to be here", was Ms. Villegas' final challenge to everyone when she delivered her message.
On the other hand, Dir. Imperial of Culion Foundation Inc., congratulated all Pinabacdaoanons for having a very supportive and health conscious chief executive. He encouraged everyone to make use of the facility. He was happy to know that the center was provided with a Blood Chemistry Machine sourced from the local government funds.
In return, he announced various programs like the provision of free drugs and travel allowances to RHU personnel who will be conducting outreach regular medical check-ups to strategic barangays for possible identification of leprosy, tuberculosis and other cases. CFI will also be sponsoring capability building seminars to Barangay Health Workers (BHWs) and doctors in eight (8) municipalities in Samar including the cities of Calbayog and Catbalogan.
Meanwhile, the municipality was also assured by the DOH8 Director, Dr. Teogenes F. Baluma, with one physician who will be required to report effective July 01, 2008. This development came after hearing that it has long been a dream of the populace to have a doctor who will be permanently assigned in the center. He also expressed his desire that the RHU services will not be mainly on the curative aspects, but should focus on the preventive and rehabilitation measures. Furthermore, he appreciated the local government's efforts to add more enrollees to the PhilHealth program and encouraged the extension of out patient and maternity packages which will guarantee the sustainability of the unit.
On that same occasion, Hon. Sharee Ann Tan, 2nd District Representative of Samar, thanked ANESVAD and CFI for the assistance, Mayor Mario Quijano for the untiring support and the constituents for the cooperation. Likewise, being a pharmacist in profession, she envisions a comprehensive local health plan. She encouraged everyone by saying, "Magburublig kita kay deri puwede nga it aton la mga officials an magkiwa. Ha akon nga bahin, akon tatalinguhaon nga mapadangat an kaangayan nga serbisyo para han panahon nga nakanhi ak, mahinumdum kamo nga mayda ako ginhimo. This was made after a lengthy narration of the many educational, health and agricultural programs that her office is presently implementing.
Buyogan wows crowd, wins crown in Leyte Pintados-Kasadyaan Festival '08
By Provincial Media Relations Center (PMRC Leyte)
June 30, 2008
TACLOBAN CITY, Leyte – The Buyogan Festival of Abuyog, Leyte wowed the crowd in the recently held Leyte Pintados-Kasadyaan Festival of Festivals and successfully defended its crown this year as they again managed to grab the top spot as the grand festival champion.
Already a crowd favorite even during the parade, Abuyog's mystical bees, fairies, colorful dancers and lively tune bested 18 other contingents who participated this year's top-rated festival.
Buyogon took home P.5 million as cash prize and trophy and another P50,000 for winning the Best in Festival Music award.
Where Abuyog was the crowd-favorite, the surprise winner was the Karatong Festival of Dulag, Leyte, which has not been joining the yearly festival in the previous years but grabbed the second spot this year.
"We really wanted to win as this is a good opportunity for our town of Dulag to be known and promoted in other parts of the country," said Dulag Mayor Manuel Sia Que.
Sia Que did not join the festival as a supportive spectator of his festival, but was himself a part of the performing contingent.
Karatong earned P300,000 for gaining the second spot and another P100,000 for being adjudged as the Best in Street Dance Performance.
Meanwhile, coming in third place was the Alikaraw Festival of Hilongos, Leyte, a spot which was a notch lower that their previous year finish after dominating the Kasadyaan Festival in the previous years.
They received P250,000 in cash prize and trophy.
The Alikaraw, to recall, finished fourth in the prestigious Aliwan Festival last May, where Buyogan placed sixth in the same event.
DYVL Aksiyon Radyo, the Manila Broadcasting Company's (MBC) Tacloban-based station, announced after the competition, that the top two in this year's Kasadyaan Festival would join the Aliwan Festival again in Manila next year representing Leyte province.
Both Buyogan and Karatong earned the said spot.
Other winning contingents were the Bato-Balani Festival of Bato, Leyte for fourth place, the Pamilig Festival of Sta. Fe, Leyte for the fifth place and Pasaka Festival of Tanauan, Leyte for the sixth place.
They received P200,000, P100,000 and P50,000 in cash prizes respectively.
The other delegations came from the Sinuog Festival of Isabel, Indang Festival of Hindang, Tabon Festival of Tabon Tabon, Lantawan Festival of Capoocan, Buling-Buling Festival of Tabango, Kaplag Festival of Mahaplag, Viajedores of Lapaz, Binaybayon Festival of Baybay City, Sanggutan Festival of Barugo, Karukatik Festival of Burauen, Lingganay Festival of Alangalang, Haru Festival of Jaro and Tambula Festival of Babatngon.
Meanwhile, PAGCOR Vice-chairman Remedios "Matin" Petilla, who is the executive chairperson of the festival, said that she herself was awed with the presentations made by all the 19 participating and competing contingents.
"It was really a grandiose presentation by all the participating delegates," Petilla said.
She said that as part of improving more the contingents to organize all the choreographers in the province so they could improve more their performances in next year's festival.
GenSan fishermen rescued off Suluan island in Guiuan, Eastern Samar
By Philippine Information Agency (PIA 8)
June 30, 2008
TACLOBAN CITY, Leyte – Seven fishermen from General Santos City were rescued by fishermen in the vicinity of Suluan Island in Guiuan, Eastern Samar on June 24, 2008.
This was learned from the Regional Disaster Coordinating Council of Region 8 in its update on Typhoon Frank in the afternoon of June 28.
The seven fishermen are now currently confined at the Leyte Provincial Hospital at Pawing, Palo, Leyte, Police Regional Office 8 Director Abner Cabalquinto informed.
It was learned that the fishing boat departed from General Santos heading for Tacloban City on June 9, 2008 with ten fishermen onboard. On June 20, the fishing boat capsized and seven of its crew were rescued by the good hearted fishermen in the vicinity of Suluan Island.
The survivors were brought to the Leyte Provincial Hospital where they were treated and taken cared of.
Three of the ten crew did not survive the accident and are still unaccounted for. Mr. Rommel Sumbilon, one of the survivors said that the three are already dead.
The survivors who are now confined at the Leyte Provincial Hospital are Rommel Sumbilon, Joseph Tambugoy, Daniel Sumbilon, Noel Moreno, Emi Sabalaon, Dondon Serail, and Efren Dehilio. Their companions who are missing are a certain Rene, a certain Junvie and another male crew whom they described to be about 50-55 years old.
There is no idea whether the families of the survivors have been informed about their whereabouts.
Meanwhile, a passenger vessel from Bato, Leyte bound for Cebu City and vice versa capsized at Bato seaport at the height of typhoon Frank. No person was reported injured.
Another fishing boat FB Simeon, owned by a Taclobanon, capsized off Dio Island in Tacloban City at the height of the typhoon. One of the crew died in the accident.
"Frank" leaves 14 dead, 21 missing, 25 injured, 707,375 persons affected, latest RDCC update reveals
By Philippine Information Agency (PIA 8)
June 30, 2008
TACLOBAN CITY, Leyte – The latest update released by the Regional Disaster Coordinating Council at 5:00 o'clock in the afternoon of June 28 disclosed that 14 persons have been confirmed dead, 21 remains missing, 25 injured and about 707,375 persons in Region 8 were affected, due to the onslaught of typhoon Frank on June 20, 2008.
Police Regional Office 8 Director, General Abner Cabalquinto who is the chairman of RDCC in Region 8 said that typhoon Frank affected about 164,611 families in the Region, left 33,556 houses totally destroyed and 131,033 houses partially damaged.
All those who died due to typhoon Frank were from the province of Leyte which appeared to be the most hardly hit in the Region. Among those confirmed dead were three persons from Barangay Kambungan, Baybay City; three from Barangay Imelda, Matag-ob town; two from Leyte town; one from Barangay Libertad, Kananga town; one from Olot, Tolosa; one from Barangay Guindapunan, Palo; one from Tacloban City; and one from Baybay City.
Most of the casualties died because of drowning due to flooding. One of the victims died of electrocution at the height of the typhoon while another one died while crossing a swollen river.
The 21 persons who remain missing eight days after Typhoon Frank hit the Region are 10 from Tacloban City; 2 from Hernani, Eastern Samar; 2 from Abuyog, Leyte; 2 from Liloan, Southern Leyte; 2 from Malitbog, Southern Leyte; 1 from Kananga and 1 from Tomas Oppos, Southern Leyte.
Most of those injured are from Eastern Samar with 15; Biliran province with 6; Catbalogan with 3 and Abuyog had one injured person.
In terms of the number of persons affected, Tacloban City had the biggest with 69,335; Carigara, Leyte got the second biggest number of persons affected with 42,840; Guiuan, Eastern Samar with 32,935; and Merida, Leyte and Basey, Samar, each of which have about 30,000 persons affected.
The respective local government units and the concerned government agencies continue to take care of the immediate needs of the affected families in their respective areas of jurisdiction.
790 upland folks flee villages, town's dad rescues
By ALICE NICART (PIA Eastern Samar)
June 29, 2008
BORONGAN CITY, Eastern Samar – More or less 790 persons ran for their lives to the General MacArthur poblacion this province last Monday, June 23 due to alleged military abuses within their upland neighborhood which are reachable thru foot trails.
The affected persons were all coming from the seven barangays: Roxas, Alang-alang, San Isidro, Osmeña, Tandang Sora and Pinggan, all of this town and all sought for Mayor Jaime Ty's refuge.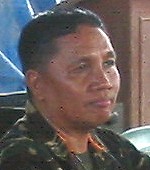 Col. Ponce
"Each had a sad story to tell", Mayor Ty said in an interview. "Here is this man who was picked up in the morning and was returned toward dusk after he was subjected to several interrogations," he added. "A mother of two young boys, claimed his children who were just peddling bananas in the neighborhood were accosted by a man in uniformed believed to be a soldier, only to be punched in the belly… this is not supposed to be happening to my people," the mayor appeared emotional. "Not only because I am their Mayor will I fight back if I need to, but also because just like any citizen, they are persons who deserve protection of their lives and properties," he concluded.
However, asked about the veracity of the story, Col. Jonathan Ponce, Commander of 62nd Infantry Battalion has this to say.
"I don't tolerate any abusive act of any of my men. May I tell you that in my previous Basey assignment, I recommended four soldiers for dismissal for violation of the Code of Ethics, and because they had been proven guilty of the act, the four were dismissed." Ponce said.
He also said that he might do the same thing if he will find out any wrong doing in any of his men. He also clarified that the barangay being referred to where some abuses had been committed were not yet visited by the Army soldiers.
To resolve the issue, Mayor Ty held a dialogue between the Army and the aggrieved civilians. It was gathered that the more than 300 evacuees were fed by the Mayor until the dialogue was conducted and some of them were escorted by the government soldiers to their respective barangays.
Pintados-Kasadyaan Festival attracts national officials, 25 competing tribes, thousands of spectators
By Philippine Information Agency (PIA 8)
June 29, 2008
TACLOBAN CITY, Leyte – The annual Pintados Kasadyaan held on June 27, despite being moved to another date, attracted not only thousands of spectators and more participants, but also representatives from the US Embassy and national government officials like Senator Mar Roxas, Senator Kiko Pangilinan, Senator Miguel Zubiri and MMDA Bayani Fernando.
The Pintados Kasadyaan Festival started at 10:00 o'clock in the morning led by no less that Leyte Governor Carlos Jericho L. Petilla and the provincial government officials, Pintados-Kasadyaan Festival Committee Chairperson Hon. Remedios L. Petilla and the municipal mayors and other local government officials.
Starting at the Leyte Sports Complex, the streetdancing participants was so long that it took hours before all the last participating team reached the Leyte Sports Complex where the dance drama presentation portion was held.
As a participant said, the Festival participants were too many that while the head of the parade has already reached the Leyte Sports Complex and yet the other participating groups have not yet even started.
Governor Petilla expressed appreciation that more local government units have participated this year. This, he said is a manifestation of people united as a people working together in giving tribute to the Sto. Niño.
He said that the Pintados-Kasadyaan Festival is a showcase of what the Leyteños can do as artistic and innovative people not only in the culture and the arts but in other endeavors. The greatest asset a province or a country can have is its talented and productive human resource, Governor Petilla said.
The success of this year's Pintados-Kasadyaan Festival despite all odds, only inspires the organizers some more to make the Festival bigger and better in the years to come.
Everyone agrees that this year's Pintados-Kasadyaan is more spectacular than that of the previous years.