PA Domingo, Rep. Uy, VG Redaja pledge support to save billions of pesos lost in floods in Samar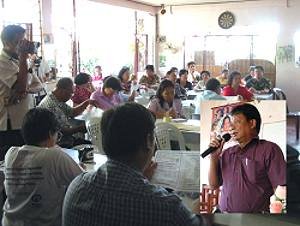 By CHITO D. DELA TORRE
(March 10, 2005) Catbalogan, Samar ‑ Presidential Assistant for Eastern Visayas Secretary Victor Domingo, First District Representative Reynaldo S. Uy and Samar Vice‑Governor Jesus B. Redaja vowed to support efforts to put an end to the yearly inundation that devastates an estimated 7,000 hectares of croplands in the TAGASAPA zone (Tarangnan, Gandara, San Jorge and Pagsanghan towns in Samar) and cause the melting away of approximately P392 million in farmers' capital and crops.
The yearly loss could have meant during the past 43 years, since a major typhoon cum flashfloods occurred in 1961, damages valued roughly at P16.8 billion.
With short‑term and long‑term solutions introduced eventually, this tremendous amount could be saved in the next 43 years, and used for further interventions aimed at scoring a very high agricultural productivity level.
More than thirty other government executives in Region VIII and representatives of the private media, non‑government organizations and people's organizations in Samar, including the 34th infantry battalion of the Philippine Army took turns in expressing their commitments during the daylong "final meeting" on the perennial flooding problem which was hosted by the local government unit of Gandara through mayor Antonieto T. Cabuenos last February 28, 2005.
The dramatic outpouring of support was witnessed by three sangguniang bayan members of San Jorge, Gandara SB member Lucila Oakley (whose function hall, known as "Rendezvous", served as venue for the first‑ever big gathering of multi‑sectoral leaders who composed the Multi‑Sectoral Action Group or MAG which was informally formed last January 20 in a meeting at the Samar Island Biodiversity Project conference hall), officials from the Department of Land Reform led by regional director Tiburcio A. Morales Jr., and Gandara LGU employees and some constituents.
To them, the occasion was important, relevant, and timely even as it painted brightest hopes that, finally, serious government attention could eventually be focused towards restoring the lost "rice bowl of Samar (Gandara), empowering rice farmers along President Gloria Macapagal‑Arroyo's "food basket program", and eradicating schistosomiasis which afflicted an undetermined big number of the population in those towns.
Estimation of Cost of Damages
Based on the formula used by San Jorge municipal agricultural officer Bienvenido S. Diongon, coupled with the assumed estimates repeatedly made in the past and on that meeting by Vice‑Gov. Redaja, a whopping P392 million is lost yearly from flashflood occurrences in the TAGASAPA zone.
Diongon's computations alone of the cost of damages to rice crops included the following assumptions: a yield of 3.5 tons (3.5 multiplied by 1,000 kilograms which is the equivalent of 1 ton) per hectare will mean a production of 3,500 kgs per hectare per cropping season, which, when multiplied by P8.00 which is the given the price of rice per kilo, will result in the estimated value of production in the amount of P28,000 per hectare.
Given two cropping seasons every year, this, in turn, translates to a total yearly rice production value of P56,000 for every hectare.
Thus, 7,000 has. of land devoted to rice alone will mean a loss of P392 million yearly. In 43 years, the loss chalks up to P16.856 billion.
Computation for other damaged crops is based on the following given values: corn ‑ a production output of 3 tons (times 1,000 kilos per ton) per hectare valued at P6 per kilo, to give a value of P 18,000 per hectare; and vegetable ‑ a production output of 6 tons (times 1,000 kilos per ton) per hectare at P 10 per kilo, for a total value of P60,000 per hectare.
Secretary Domingo's commitments
Sec. Domingo made his commitments in a keynote message delivered for him by his assistant, Jaime Dechos, but urged the provincial government of Samar to expedite action at its own level so that the same could be acted upon accordingly and swiftly by the Regional Development Council.
Through Dechos, Sec. Domingo also shared his vision for the TAGASAPA area ‑ one that is "schistosomiasis‑free, a food basket, and a model for environmental perfection."
He said he will ensure that outputs and resolutions on the flooding problem will reach the "preferential attention of the President' and that the project (referring to the final output of the provincial government and the MAG) will be endorsed to the Regional Disaster Coordinating Council as a "national priority program for funding"
Also, he said, he will assist source funds for the project, from various helpful institutions including those from international funding agencies, as well as assist the LGUs in accessing financial sources.
Sec. Domingo further committed to "monitor compliance of the commitments of the different line agencies for their specific contributions in the realization of this project."
The Presidential Assistant who is also Presidential Adviser on Poverty Alleviation (PAPA) then required the preparation of a master development plan or the project feasibility study and requested the LGUs to jointly finance the preparation of the project feasibility study.
In the same keynote message, Sec. Domingo congratulated the LGUs and the Catbalogan Cable Television Media Advocates Nucleus (CCATMAN) for initiating the series of fora, that have led to the identification of solutions to the flooding problem that had been haunting the TAGASAPA zone at least twice a year since 1961 and destroying at least 7,000 hectares of lands devoted to rice and other crops. (The CCATMAN called for the series of meetings on January 20, February 3, and Feb. 28.)
Congressman's pledge
Rep. Uy said that on his part as representative of the First District of Samar, "I assure you of my wholehearted support and extend the needed assistance in my capacity and in any way I can to the action plan that will be initially taken by this Multi-sectoral Action Group."
In a message read for him by his staff, SPAO I Elena P. Montealto, the Calbayognon medical-practitioner-turned-mayor-then-congressman said: "We will be counting on each other as allies and partners in pursuing this mission. I know that our constructive action and community spirit will concretize these commitments to combat poverty and help heal our ailing environment."
He also expected he political leadership of the TAGASAPA LGUs "to set your strategic direction with great consideration to this enduring flooding problem in your areas of responsibility."
"Finally today, the result of your responsive action will be made into an Integrated Master Plan which will then be submitted and hopefully approved by the provincial government and the Regional Development Council," he said.
Rep. Uy pointed out that "the perennial flooding had wasted our vast riceland areas along the headwaters of our rivers while destroying the spawning grounds for fish and other wildlife." He added: "Financial losses as well are commonly millions of pesos each year. While flooding is a natural event, human activities greatly increase its severity and frequency."
He also called for a "coordinated flood control programs and other measures," adding that while private and non‑government organizations are initiating related efforts, "the government should play an increasingly important role on this mission."
Redaja's inputs
Vice‑governor Redaja outlined to the 72 participants of that confabulation the steps which should be followed in order to get the desired solutions and have them finally endorsed by the Sangguniang Panlalawigan of Samar to the RDC.
While the MAG already submitted (in the morning of February 26, 2005) to Samar Governor Milagrosa T. Tan the basic documents, consisting of sangguniang bayan and barangay resolutions, including resolutions and petitions from people's organizations and farmers who claim to be victims of the yearly floods, he and the members of the Sangguniang Panlalawigan should be furnished copies of the same, he said, in order to get the problem at its right perspective.
(According to the CCATMAN, the voluminous documents, including a briefer on the flooding problem, were received at the governor's residence in Burak, Catbalogan, Samar, by her secretary, Ruby Monterola.)
Vice‑governor Redaja reiterated what he had been saying in the past consultative meetings on the problem which, according to CCATMAN president Engr. Ray P. Gaspay, who presided the first part of that final meeting, began on August 12, when agrarian director Morales took cognizance of the problem as presented by representatives of barangay Pajo, Tarangnan
Redaja said with authority that no single government entity or unit will assume responsibility over the problem which is so gargantuan to deal with, and that the problem falls within the proper jurisdiction of the Provincial Government of Samar since the four towns of Tarangnan, Gandara, San Jorge and Pagsanghan are component towns of the province of Samar.
He assured at the same time that once the documents reach the Sangguniang Panlalawigan, that legislative body will immediately buckle down to work.
Other commitments
Among those who expressed during that meeting their own commitments were the following: Regional executive director Leonardo Sibbaluca of the Department of Environment and Natural Resources through Samar provincial environment and natural resources officer George F. Guillermo, Department of Land Reform RD Tiburcio A. Morales Jr. through provincial agrarian reform officer Marlu M. Merin, Department of Public Works and Highways RD Jaime Pacanan and DPWH‑Second Samar Engineering District district engineer Pablito Aragon through Augusto Abuda Aguilar, DPWH‑First SED DE Ma. Margarita Laguipo, Department of Agriculture RED Leo Cañeda through Western Samar infra coordinator Maria Luisa A. Capili, and Samar State College of Agriculture and Forestry president Dr. Socorro Bohol through board secretary Manuel V. Baylon and extension services director Eliodoro D. Original.
Other commitments came from Samar provincial environment and natural resources management office PENRO Mansueto Macasaet Delovino, Quedancor provincial chief Eriberto M. Suyom, the National Irrigation Administration regional manager through Samar provincial irrigation officer Oscar A. Salamida, Samar Island Biodiversity Project through co‑project manager Jose C. Lim and PAPS Rosario Cabardo, 34IB commanding officer Lt. Col. Wilson M. Leyva, SPECFI vice‑chairman Albina Valles; and Philippine Information Agency RD Karena Tiopes through Samar PIA Infocenter manager Sylvia Serfino.
Zero mining in Samar Island – Usec De Castro
By BRYAN M. AZURA
(March 6, 2005) Catbalogan, Samar – While President Gloria Macapagal Arroyo's administration is seemingly interested in more mining operations in the country, top officials of Department of Environment and Natural Resources are assuring the public that there will be no such activities in the entire Samar island.
This was the message that Undersecretary Armando De Castro tried to convey in an interview with media in a recent visit to Samar Island Biodiversity Project office at Samar State University, Mercedes Compound, this town.
"My initial impression is Samar will not be included in the areas where the government will allow operations," De Castro says citing that Secretary Michael Defensor is committed to protect the Samar Island Natural Park.
De Castro however admitted that there is a growing interest in mining by both local and foreign investors with the decision of the Supreme Court allowing them to do as such. Very recently, the Chamber of Mines and the DENR with Sec. Defensor, held an international conference on mining to attract foreign investors.
Presently there are over 500 companies that were given permits nationwide. The undersecretary nevertheless added, "this number will greatly decrease in time because only companies that have best practices (on mining operations) will be allowed to function. With the number of permits granted, De Castro emphasized that "since we are promoting responsible mining, there will only be specific areas that will be prioritized."
The DENR has been getting irks from the residents of Manicani Island in Guiuan, Eastern Samar as it is unable to resolve the worsening problem between the islanders and Hinatuan Mining Corporation. The department gave already a nod for the transportation of the estimated 150-ton stockpile of nickel ore in the said island but the residents are strongly against it. While the Mines and Geosciences Bureau affirm that the minerals should already be loaded but the villagers assert that the firm already extracted more that what it was permitted.
Beñarando Badilla, president of Save Manicani Movement (SAMAMO) expressed his dismay on the negligence on the part of DENR and MGB despite the heavy siltation on surrounding shores and yet they still allow the shipment of the minerals. Badilla claims that the destruction of the sea takes place during loading process of the mines to the barge.
As of this writing, a barricade is still set up by anti-mining residents on the premises of the HMC port to stop any attempt to transport the stockpile.
Asked as to how the department could resolve the crisis, De Castro answered, "We will talk to the people and explain to them the order of the department." "I'm sure there will be compromises on both sides. We are one with the community to stop the mining activities in the area," he added.
Part of De Castro's visit to Region 8 is to see for himself the former mining site in Bagacay, Hinabangan, Samar. "The order of the Secretary is to clean Bagacay up. The government doesn't want its lands to be left in an unproductive state," he stated.
A big area of this barangay had been heavily damaged due to irresponsible mining many years back. Its destruction has reached as far as Taft, Eastern Samar through Olot River that flows from the site to this town.
DENR 8 Regional Executive Director Leonardo Sibaluca of meanwhile denied that there are mining operations in the town of Jaibong also of this province. He said there could be explorations going on but it's not mining yet. A considerable part of Samar province is believed to be rich in bauxite, a principal component of aluminum.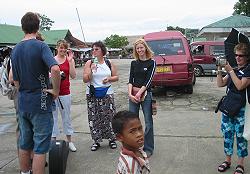 DOT urges Fil-Am groups to support its tourism programs
By PDOTSF/ PNS
(March 5, 2005) San Francisco, California - In line with its outreach program, the Philippine Department of Tourism made a presentation on the government's tourism marketing and promotional programs to various community leaders and media during a breakfast dialogue under the auspices of Fil-Am Community Forum on February 26, 2005 at the Social Hall, Philippine Center in San Francisco. The DFA Ladies Association (DFALA) under the leadership of Consul General Maria Rowena Mendoza Sanchez served a Filipino breakfast and its proceeds would be used to finance its various community projects.
Philippine Tourism Director Rene de los Santos appealed for support to DOT's marketing and promotional programs among the participants in the face of government's budgetary shortfall to mount an aggressive tourism campaign in the United States. He also presented an overview of the tourism industry, various factors that affected the expansion of global tourism and the industry prospects in the coming years. Data released by the US Department of Commerce revealed that around 25 million Americans travel overseas annually, of which about 18% lives in California. San Francisco, San Jose and Oakland collectively account for 8% of total US outbound travelers.
De los Santos explained that the presence of a large Filipino ethnic community, about 2.5 million across the country, provides a good leverage in marketing the country as a tourist destination. "If all our kababayans will do personal selling on the country's positive attributes among their mainstream friends and colleagues, more tourists would be enticed to visit our country. Many Caucasians have reservations going to our country because of the US government's travel advisory. But, this can be counteracted if our kababayans make a sales pitch and assure them that the Philippines is a safe and beautiful destination" de los Santos said.
The role of Fil-Am organizations in tourism promotions was also emphasized. These groups can organize reunions, conferences and business mission to the country. Around 600 Fil-Am organizations are included in the registry of Philippine Consulate General in San Francisco. "If these organizations alternately bring groups to the Philippines annually, this would give a big boost to the country's tourism industry. They can also feature beautiful spots of their own province or town in their souvenir programs; or show a tourism video during dinner-dance functions", de los Santos added.
Statistics showed that the number of U.S. visitors to the Philippines grew by 23.3 percent, from 387,879 in 2003 to 478,091 tourists in 2004. The United States also maintained its position as the largest source of tourists for the Philippines. The outstanding growth of the US market is a manifestation of a strong confidence among American travelers on the Philippines as a safe and attractive vacation destination. This was achieved in spite of the travel warnings issued by the US government to its citizens.
Security has become the main factor that influences US traveler in deciding a place to visit following the terrorists' attack on the World Trade Center in September 2001. Americans prefer to undertake domestic travel or visit nearby destinations like Canada and Mexico. United Kingdom is the most popular long-haul destination among Americans with 17.15 million visitors, followed by France, Italy and Germany. In the Asia Pacific Region, Japan leads the pack of destinations with 1.06 million American visitors, followed by Australia, Hong Kong and China. The Philippines occupies ninth place among the preferred destinations of US international travelers.
The morning forum was culminated by a presentation on the forthcoming Ambassador/Consuls General Tour to the Philippines on July 13-19, 2005. The tour is organized to give people who have not been to the country for sometime to revisit their homeland. No less than Philippine Ambassador to the United States Albert F. del Rosario, together with all Philippine Consuls General in the U.S. will lead the delegation of around 550 people across the United States. One highlight of this tour is a visit to Malacañang Palace and a meeting with President Gloria Macapagal Arroyo and other national leaders.
People in the Bay Area and nearby states can avail of an affordable package rate of $1,183 per person, which includes economy round-trip ticket, San Francisco-Manila-San Francisco via Philippine Airlines and a twin-sharing accommodation at the Shangri-la or Peninsula Hotel from July 13-15, 2005. The package also includes a visit to Intramuros where participants can watch the newly opened Light and Sound Show, and witness the dramatization of Filipino way of life during the Spanish era. Tourism Secretary Joseph Ace Durano will host a dinner/reception with fashion show for participants.
Ombudsman slaps Samar guv et al criminal, administrative charges
By RICKY J. BAUTISTA
(February 24, 2005) CATBALOGAN, Samar - In the history of Philippine judicial system, this could be the first time that most of the officials of a province, if found guilty by the charges lodged against them, may be arrested and incarcerated en masse.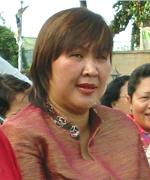 Gov. Mila Tan
The Office of the Ombudsman Central Office in Manila slapped the entire top officials in this most depressed province of Samar with Criminal and Administrative Cases, it was learned yesterday.
This stemmed after the Isog han Samar Movement represented by Rev. Fr. Noel Labendia of the Diocese of Calbayog, filed a letter of complaint with supporting papers to the Office of the Ombudsman in Manila alleging that Samar Governor Milagros T. Tan and her alleged accomplices "conspired and confederated" to each other in defrauding people's money.
Prior to this, many concerned Samarnons hold many streets rallies and protests condemning the "heartless" acts done by the provincial leadership. The street protesters mostly composed of militant groups, academe, church, non-government and people's organizations also lambasted the provincial board members for being "toothless and blind" and for letting themselves used as merely "puppets" to corruption.
As this developed, the accused provincial officials and employees received on Thursday (February 17) two separate orders, both dated January 24, 2005, issued by the authority of the Honorable Ombudsman Simeon V. Marcelo, through Jose T. De Jesus Jr., director of the Preliminary Investigation and Administrative Adjudication Bureau-A (PIAB-A) directing the respondents to file with the Ombudsman office within 10 days upon receipt their counter-affidavits and those of their witnesses with supporting documents, if any.
Charged for Administrative Case (OMB-C-A-05-0051-B) for Grave Misconduct, Dishonesty and Conduct Prejudicial to the Best Interest of the Service and Criminal Case (OMB-C-C-05-0049-B) for Plunder, both with CPL No. C-04-2045 includes Governor Milagros T. Tan, former Vice-Governor Ernesto Arcales, GSO Aurelio Bardaje, GSO Record and Inspector Officer Numeriano Legazpi, Administrative Officer Rolando Montejo, Provincial Treasurer Damiano Conde, Provincial Accountant Romeo Z. Reales, Provincial Budget Officer Maximo Sison, and Budget Office Representative Rosie Villacorte.
The entire 2001-2003 elected provincial board members were also included as respondents of the two cases filed. They were provincial board members Felix T. Babalcon Jr., Fe Arcales, Jimmy Dy, Juan C. Latorre Jr., Ma. Lourdes Uy, Bienvenida Repol, Susano D. Salurio, Ramon P. Dean Jr., Anamie Manatad, Bartolome R. Castillo III, Bartolome P. Figueroa, Zenaida A. Rosales, and Antonio R. Bolastig III.
The owner/proprietors of the three identified establishments who supplied the purchased materials in which according to the complainant, allegedly "conspired and confederated together with the public officials in defrauding various amounts" were also included in the charge sheet except for the Plunder case. They were Ludwig Lao of the M & J Hardware, Alberto Tan of the Tan King Mega Steel and Reynaldo Yabut of Raechell's Shopper's Plaza, all private suppliers based in this town.
The two separate orders, copies of which was obtained by this writer, directed the said respondents to answer the two charges in 10 days upon receipt. "Failure to file counter-affidavits within the aforesaid period shall be deemed a waiver of respondents' right to submit controvert evidence and the preliminary investigation shall proceed accordingly," Director De Jesus Jr. said.
The Ombudsman advised the respondents to submit the counter-affidavits in three legible copies to the Central Records Division, Office of the Ombudsman, Agham Road, Diliman, Quezon City strictly in 10 days without delay.
"No motion to dismiss or bill of particular (from the respondents) shall be entertained," De Jesus further said suggesting that, "their full name, salary grade and residential addresses" should be included in their answer so as to complete the records of the case.
To recall, several non-government, people's organizations wrote a letter of complaint dated October 7, 2004 to the Office of the Ombudsman Hon. Simeon Marcelo seeking justice for the alleged plunder committed by the governor and her back ups.
In that letter, they cited COA Audit Report dated August 13, 2004 done in the period from January 1, 2001 to April 2003 accusing the respondents, among others, of overpricing the purchased assorted goods, to wit: purchase of cement amounting to P32.30-million; purchase of medicines, assorted goods and rice amounting to P28.30-million; purchase of shirts and caps amounting to P11.70-million; purchase of electric fans amounting to P1.6-million, and various financial assistance worth P8.10-million.
"(Also), the 5% calamity fund was used even there was NO calamity. The use of the 20% Development Fund was not supported by the Annual Investment Plan (AIP) for it was intended, (but), the SP (still), drew purchase requests against this fund," Rev. Labendia, who represent the Isog han Samar Movement said.
The group of Labendia further alleged that this funds "misuse" has resulted in the collapse of the basic services that the provincial government should deliver to the people of Samar. "There was no medicine and supplies (in the Samar Provincial Hospital); the funds for the DSWD and DA has been reverted to the office of the governor for her to dispose of as she wishes," Labendia said.
To balance the issue, this writer on Wednesday tried to reach the governor's side at the capitol but she was not there. Employees interviewed, however, informed that Governor Tan wasn't holding office at the capitol, or even at the Himyangan, official residence of the governor. She transact business at her private own house located at Barangay Mercedes, this town," the source said.
The governor's staff "Cheche" also refused to answer queries when asked the whereabouts of the governor. She hinted, however, that she (governor) is not ready yet for press interview at that moment.
Meanwhile, after the news on said case spread like wildfire in Samar, most, if not all, of the respondents' mobile phones were out of reached. Only BM Susano "Sonny" Salurio dared to come up and answered press inquiries, through his mobile phone.
"As of this moment (February 21), most of us (BMs) were having caucus now. We are discussing on what is the best thing to do to answer (the charges filed against us)," Salurio said. "(But) we will submit our affidavits at least before the 10 days period expired," he said without admitting or denying the accusations hurdled against them.
Salurio stressed that they (respondents) were planning to make two answers - one as a group plus of the governor herself. "To the best of our knowledge and belief, we will answer the issue. Were still gathering more evidences and witnesses," he cut the phone interview. (send your comments to this article)
Bachelor of Laws may soon be equivalent to Masters Degree
By Rowena B. Bundang, PRID/ PNS
(February 24, 2005) Manila, Philippines - Here is a consolation for those who fail the bar examinations.
Lanao del Sur Rep. Faysah Dumarpa has proposed to declare the conferment of a Bachelor of Laws equivalent to a Masters degree to thousands of law graduates who did not hurdle the bar examinations as a form of compensatory reward for years of "burning eyebrows" to become agents of law.
The proposal embodied in House Bill 3699 seeks the conferment of Bachelor of Laws degree by an institution of higher learning duly accredited by the Commission on Higher Education of the Department of Education and the Supreme Court as equivalent to a masters degree for purposes of appointment to positions requiring such educational attainment.
Dumarpa said the bar examinees should be compensated somehow because the study of laws entails much time and effort, with the most difficult part law graduates face is how to hurdle the bar examinations.
"It has been said the study of law is an exacting mistress. Every year thousands of bar candidates coming from different provinces flock to Manila to try their luck and fulfill their dreams of becoming counselors-at-law. But only a number of them emerge triumphant six months after the rigorous and arduous examination," Dumarpa said.
Dumarpa said thousands would wallow in defeat but most of them remain optimistic that their time to become lawyers would soon come. "It may be a cliché, but the saying "try and try until you succeed" still gives them the hope to re-take the exam."
While many pass the bar examinations after several attempts, Dumarpa said the Supreme Court came out with a resolution limiting the taking of bar examinations for five attempts only.
The Supreme Court resolution seems unfair to man bar flunkers, but they have to comply with this," Dumarpa said.