First female Military Police chief installed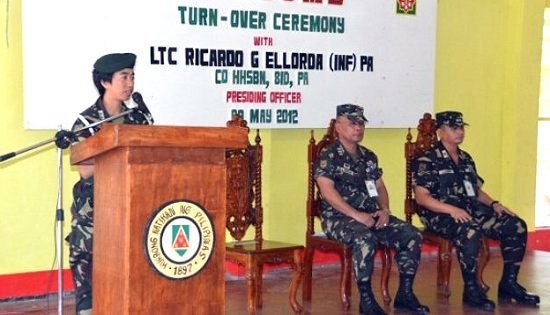 By DPAO, 8ID PA
May 9, 2012
CAMP LUKBAN, Catbalogan, City Samar – The 8th Infantry (Stormtroopers) Division, Philippine Army held a simple yet remarkable Change-of-Command ceremony of the Military Police (MP) Company at 8ID Multi-purpose Hall at around 9AM today presided by LTC Ricardo G Ellorda (Inf) PA, Commanding Officer of Hqs & Hqs Service Battalion, 8ID, PA.
1LT Julie G Fadchar (OS) PA, former Admin Officer of the Office of the Assistant Chief of Staff for CMO, is the first ever female officer this Command to assume the post as Commanding Officer of Military Police (MP) Company replacing Maj Noel B Luoang (Inf) PA, the outgoing Commanding Officer.
LTC Ellorda welcomed and challenged the newly installed female Commander in her new field of assignment. Her designation is in recognition of her leadership qualities to command a company of men in uniform entrusted to enforce military law, order and camp regulations. In her assumption speech, 1LT Fadchar expressed her gratitude to BGen Gerardo T Layug AFP, Commander, 8ID for the trust and confidence bestowed upon her.
Traffic resumes in E. Samar's coastal road as DPWH, Mac Builders repair Quinapondan Bridge
By BRYAN M. AZURA
May 9, 2012
QUINAPONDAN – Incoming and outgoing traffic in Eastern Samar's south coastal road was restored yesterday evening after it was closed down when Quinapondan bridge collapsed and rendered it impassable while workers were doing rehabilitation works on the said bridge.
According to District Engineer Ricardo Odita of Eastern Samar District Engineering Office, the bridge collapsed around 3'oclock in the morning of Tuesday, May 8. Upon receiving a call from Quinapondan Mayor Nedito Campo right after the incident, immediately Odita dispatched a group of personnel, to check on the condition of the bridge and of the area.
Engr. Domcelio Natividad, chief of the maintenance division of DPWH Borongan, said that the bridge incurred major scour and the approach had collapsed. "We had no other option yesterday but to inform the public that the south coastal road was closed to traffic to avoid further discomfort among motorists," Natividad said.
Going to and from Borongan City, were advised to use the alternate route which is the Taft-Buray route. "However, we made sure that the contractor made the urgent repairs in order to restore traffic in the area," Odita said. By 7:15pm last night, light vehicles were already allowed to pass by the bridge using steel plates as temporary running board.
Natividad said that by today, concrete slabs were scheduled for installation to allow heavy vehicles to pass through but this was hindered as the crane to be used in the work was reported to be in non-working condition. As of press time, only light vehicles are allowed to pass through the bridge.
The bridge is undergoing repair and retrofitting with Mac Builders as the contractor. Per latest report of the contractor, project is almost 50% complete. "This will definitely affect the progress of the project but I am optimistic the contractor will make the necessary steps in order to finish the project on schedule knowing that Mac Builders is known for its quality work," Odita explained.
Another Ormoc lass named Leyte IDOL Season 7 Grand Champion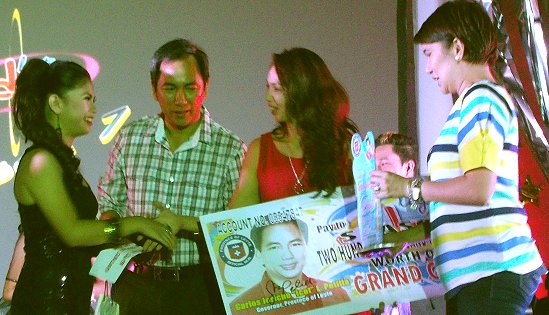 Ormoc City's Chelka Mae Sebuguero was chosen as Leyte IDOL Season 7 Grand Champion during the Grand Finals Night held at the Leyte National High School Gymnasium. Leyte Gov. Carlos Jericho Petilla together with wife Frances Anne, and TV and radio host Amy Perez handed over the check and trophy to Leyte's newest singing sensation. (PMRC)
By Provincial Media Relations Center
May 8, 2012
TACLOBAN CITY – Months after grueling competition, Leyte IDOL Singing Search Season 7 named another Ormoc belter, Chelka Mae Sebuguero as this year's Grand Champion during Sunday's Grand Finals Night held at the Leyte National High School Gymnasium.
Chelka Mae gave out a consistent performance in the three categories that each of the eight grand finalists went through to compete for the top three spots. She is the second Leyte IDOL to hail from Ormoc City and the Grand Champion title this year earned her P200,000 worth of prizes. In 2010 during Leyte IDOL's 5th season, May Oballo of Ormoc was named the grand champion.
Meanwhile, Carla Mae Enfermo of Tanauan, Leyte, wowed the crowd with her performance earning her the second place. Tanauan town, most of the time, manages to field out a contestant who lands in the eight grand finalists. Carla Mae did not disappoint her townmates when she bagged one of the top three spots this year and won her P100,000 worth of cash prize with her second place finish.
On the other hand, another Hilongosnon, Jessa Vilbar, a self-confessed rock enthusiast, grabbed the third place and winning herself P50,000 worth of prizes.
Judges in this year's Leyte IDOL were TV and radio host Amy Perez and APO Hiking Society members Danny Javier and Boboy Garuvillo who also revived their well-love APO Hiking songs on stage.
The Grand Finals Night opened with a production number from the eight grand finalists who were joined by former Leyte IDOL winners and finalists including Monica Sacay who won third place in ABS-CBN's Star Power Search of the Sharon Cuneta Show last year.
Governor Jericho "Icot" Petilla, said that the program will continue for as long as there would be singing talents to be discovered in the province of Leyte.
Seven years after, Leyte's top singing talent pool has grown big while a number has already made names for themselves. In Season 1 there was Daryll Gariando, Season 2 produced Monica Cuenca now more popularly known as Monica Sacay, Season 3 made the charming belter Reggie Tortugo as the grand winner, Season 4 had Brian Gilles of Southern Leyte, Season 5 named young mother May Oballo, Season 6 chose young nurse Krystel Charisse Daya, and Season 7 named Ormoc lass Chelka Mae Sebuguero as the newest addition to the singing talent pool.
Congress must act vs. NPA violence and greed, says ANAD
By ANAD Partylist
May 8, 2012
QUEZON CITY – Amidst the series of killings of civilians and government security personnel, torching of equipments, reckless and relentless detonation of Improvised Explosive Device (IEDs), unabated exploitation and manipulation of Indigenous People (Lumads) violently perpetrated by the Maoist terrorist New Peoples Army (NPA) in the different parts of the country, Congress is not doing and has not done anything to address this nagging problem faced by the country for more than 4 decades.
ANAD Rep. Jun Alcover pointed to the strafing of the civilian houses in Barangay Taylor, Las Navas, Northern Samar killing a 4-year old John Lloyd Elizalde, last April 26; and the killing of about 11 soldiers and a civilian in Brgy. Gumhang, Tinoc, Ifugao, last April 25 saying that these are the most bizarre of all the 30 violent incidents deliberately perpetrated by Maoist terrorists, while Congress was on recess from March 15 to May 6, 2012.
"Yet government has not done anything to address this serious concerns," he said adding that even media seems not interested in reporting the NPA initiated violence in their respective outfits. Rep. Alcover was referring to the failure of media to report the death of John Lloyd resulting from the strafing of the houses in Brgy. Taylor.
Referring to the effective manipulation and use of government resources, particularly the perks and privileges of Congress, by personalities from Maoist and other communist organizations (under the partylist system of representation), "(They) are making their respective mark in the decisions and actions of government…their entry and permutations in the pedestal of power and authority already has exhibited the distortions and fallacies they could make and enforce!" the sole pro-democracy solon said as he described them as 'stoically silent, numb, deaf, and dumb on the unrivaled violence and oppression committed by the Maoist terrorist NPAs against innocent and helpless Filipinos, in the countryside.
Rep. Alcover lamented the fact that Malacañang, particularly the Office of the Presidential Assistant on the Peace Process (OPAPP) failed, if not refused, to send to Congress, particularly the Committee on Peace, Unity, and Reconciliation, the 'meats and bones' of the recently signed agreement by the government with the MILF. "No one should fault us for coming out with this kind of understanding and assertions of situations and conditions because most of us here are forced to subsist on what has been reported by media," he added.
On the issue that the House leadership seems dependent on Malacañang's order, Rep. Alcover asked, "Do we still have to wait for signals from Malacañang before Congress acts or moves? Has Congress abrogated its duties, responsibilities, and everything that we've sworn before the Filipino people to the formidable powers of the Executive?"
Making clear ANAD's position that lowly and innocent people are made to suffer for the miscues, 'ineptness' and failure of government to appropriately address these serious and violent security concerns, "(This representation) fervently hopes that the leaders this House shall wake up from their deep slumbers to hoist high the flag of real freedom and the spirit of democracy in this land."
Catarman police apprehended illegal gambler
By RPCRD, Police Regional Office 8
May 8, 2012
CAMP RUPERTO KANGLEON, Palo, Leyte – PNP PRO 8 being constitutionally tasked of enforcing the law has always been persistent in implementing the Anti-Illegal Gambling Law (Republic Act 9287) which imposes harsher penalties for violators of the law.
On May 4, 2012 at about 9:10 PM, a composite team from Northern Samar Police Provincial Office - Police Special Operations Group and Catarman Police Station led by PSInsp Joseph Abalos Imperial served the search warrant issued by Honorable Jose Ocenar, Presiding Judge of 10th MCTC Catarman-Lope de Vega, Northern Samar for violation of RA 9287 (Philippine law on Illegal Gambling) at the residence of Salvador O. Infante at Annunciation Street, Barangay JP Rizal Catarman, Northern Samar.
It resulted to the arrest of a certain Archie Cui Infante, 32 years old, single, jobless and a resident of said place.
Confiscated from his possession and control were: one (1) Riasograph Machine marked RISO CZ180; Sanyo television; one unit back-up (ES SDO APC); yellow and brown paper with different number combinations; seven (7) rims short bond paper, two (2) paper cutters; Nokia cellphone; seven bundles ¼ sized brown paper with different number combinations; blade cutter; sign pen; USB and bet money amounting to Seven Thousand Eight Hundred Fifty Four (P7,854) pesos.
The search was conducted in the presence of Kagawad Arnel Sy and Emil Rosales with a media representative identified as Ma. Cristina Abaral from DYSL Radio.
Subject person together with the confiscated gambling paraphernalia were brought to Northern Samar PPO for proper disposition.
PCSupt Arnold Rayala Revilla, Regional Director, PNP PRO 8 considers community involvement a potent factor in running after wanted persons and putting then behind bars. He also enjoins the public to support the programs of the police for the maintenance of peace and order.
Martial Law victims disgusted over Imelda as 2nd richest solon
By SELDA
May 7, 2012
QUEZON CITY – Martial law survivors were enraged and aghast at Imelda's occupying the second richest seat in the Philippine Congress. "Her being one of the richest among those who wield power in Philippine politics even after the dictator was deposed only affirm what we have been saying and fought for during the dark dictatorship years – that the Marcoses used their position to amass wealth," said Angie Ipong, SELDA secretary general.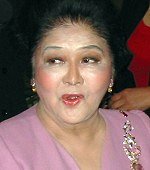 Former First Lady Imelda Marcos
Saying that it is the height of impudence to be flaunting her supposed wealth that the courts have ruled came from "illegal provenance" and being used to buy her hold on power in this screwed political system in the country, members of SELDA said that the practice of political accommodation must stop and the victims who suffered must be given due recognition and indemnification.
"We are very insulted with Imelda's flaunting of her 'wealth,' while Martial Law victims are denied of justice and indemnification," SELDA secretary general Angie Ipong said who, together with other victims of Martial Law will troop to the Senate when it resumes session on Monday.
News reports said Imelda Marcos' declared worth rose last year because of assets that had been surrendered to the government by Marcos cronies.
SELDA lambasted the Marcos family who said they will still recover their so-called "wealth." Both the government and the Marcoses are contesting the recovered assets.
"The nerve! How did she or her family gain such wealth, if not by looting from the coffers of a country they once led and violated? And she still has the gall to flaunt HER SUPPOSED WEALTH!" a visibly disgusted Trinidad Herrera, Martial Law victim and current board member of SELDA declared.
The Marcos Victims Compensation Bill has been pending for approval since the 10th Congress in 1998. It has not been passed into law after three presidents.
"We continually remind President Aquino that it was not only his father and family who suffered during Martial Law. Thousands of Filipinos experienced a much worse plight, and they continue to endure the pain and scars of that dark period," Herrera said.
Ipong also said, "We remain vigilant against those responsible for the massive human rights violations of that time as they persistently remain unapologetic, unaccountable and worse remain in power because they continue to hang on to the wealth they obviously stole from the Filipino people and use to stay in power."
The Lower House signed its version, House Bill 5990, in March of this year. The Senate version, Senate Bill 2615, remains at the Technical Working Group in the Committee on Justice.
The bill, when enacted into law, will indemnify victims of human rights violations during Martial Law through monetary compensation and recognize their contribution in the people's fight against tyranny. It acknowledges the fact that the Marcos regime is guilty of crimes against humanity and that no succeeding administration should make the same mistake.
2 NPA members arrested, 2 surrendered
By RPCRD, Police Regional Office 8
May 7, 2012
CAMP RUPERTO KANGLEON, Palo, Leyte – PCSupt Arnold Rayala Revilla, Regional Director PNP PRO 8 commends Can-avid Municipal Police Station, Eastern Samar Police Provincial Office and Philippine Army, 8th Infantry Division for the arrest of two (2) CPP/NPA members and one (1) surrendered, on Sunday.
On May 6, 2012 at about 3:00 PM, joint elements of Can-avid MPS, ESPPO and 43rd Infantry Battalion, PA, 8ID led by PSInsp Ricardo Ramirez Nebrija and 2Lt Regor Pamitan, PA arrested suspected members of the CPP/NPA under Rado Platoon.
Subject arrested persons were identified as spouses Rodulfo Bula Capacite alias "Caloy", 54 years old and Belinda Obin Capacite alias "Calay", 49 years old, both residents of Barangay Boco, Can-avid, Eastern Samar. Both were arrested at their residence by virtue of Warrant of Arrest issued by Honorable Judge Filotea M. Estorninos of regional Trial Court branch 4, Dolores, Eastern Samar docketed under Criminal Case number 352-10-8 for Robbery in Band, 351- 10 – 8 for Murder and 390-11-1 for Multiple frustrated Murder.
Arrested persons were temporarily placed under the custody of 43rd IB, PA for tactical interrogation.
On the same date, two (2) CPP/NPA members surrendered to the same joint elements identified as certain Shelame Morallos Bengayan alias "Jean/Apple, 19 years old from Barangay Boco, Can-avid, Eastern Samar and Rafael Orosco Liad alias "Akim", 24 years old from Barangay Dorillo, Jipapad, Eastern Samar.
Both were temporarily placed under the custody of 43rd Infantry Battalion, PA for same interrogation.
PNP PRO 8 has assumed a more active role in internal security operations claiming that the strength of the communist movement in the region has already reduced and weakened.
ALU fires Herrera for double-dealing, asked to return 535K salaries and allowances
By Associated Labor Unions (ALU)
May 7, 2012
QUEZON CITY – The Associated Labor Unions (ALU), the biggest confederation of private and public sector labor unions in the country, yesterday announced that it has retroactively fired ex-Sen. Ernesto Herrera for double-dealing.
The announcement was made after the ALU is receiving reports that Herrera himself was representing ALU-Metal in soliciting funds from ALU foreign and local affiliates and partners despite being sacked since March 7 this year.
"The ALU announces today that Mr. Herrera, effective March 2012, is no longer connected with the organization. We would like to inform the public that he is no longer connected with ALU. Thus, any representation by him or in behalf of Mr. Herrera using ALU or ALU-Metal is not authorized by the organization," said Alan Tanjusay, ALU Policy Advocacy Officer.
Mr. Herrera has been with the ALU for 43 years. He started as a industrial relations officer in 1968. Recently he was receiving salary and allowances from us (ALU) as Senior Vice President. But he was forced to admit in November 2011 and was discovered at the Department of Labor and Employment (DOLE) that he was also president of another federation all at the same time for fifteen months.
"These actions are the highest form of disloyalty. These acts are gross violation of work and professional ethics. That is why he was fired," added Tanjusay.
In the letter of ALU to Herrera dated March 7, it said that: "During the November 18, 2011 TUCP General Council meeting, you disclosed for the first time that you are the president of AMAPO (Alyansa ng Manggagawa at Pilipinong Organisado, a small labor federation) and that you represent it in the said council. The representatives of ALU were surprised to hear about it since you have been representing in the TUCP the ALU-Metal, one of the industry unions affiliated with TUCP."
"Your transfer to, and membership in AMAPO without the knowledge, consent, and approval of the ALU-Metal, its Board and executive officers is tantamount to conflict of interest and betrayal of trust and confidence reposed on you by the ALU-Metal, its Board and executive officers, and even in the general membership of the Union. This is a desecration of the integrity not only of ALU but the TUCP as well," the letter also said.
"Further, you continuously collect your salary from ALU-Metal even when you are already with AMAPO being its president since September 2010. In view thereof, we have no recourse but to consider you and your services terminated from ALU/ALU-Metal retroactive September 15, 2010, the date you were elected and became president of another organization," the letter added.
Tanjusay said: "In effect, the ALU is asking Mr. Herrera to return the salaries and allowances he got from September 2010 to November 2011 – which is about 535,000 pesos. This also means he was dishonourably terminated and will not be able to get any benefits or back pay."
Herrera was earlier kicked out as secretary-general of the Trade Union Congress of the Philippines for failing to answer third-party audit showing TUCP monies diverted into his personal bank account. The ALU is a major affiliate of TUCP.