40-day Climate Walk to Tacloban kicks off in Luneta
Press Release
October 2, 2014
MANILA — Climate change advocates from various sectors urged world governments to "walk their climate talk" as they launched the Climate Walk, dubbed as "A People's Walk for Climate Justice."
From the starting point at "Kilometer Zero" in Rizal Park, Manila, the groups will walk 1,000 kilometers in 40 days to arrive in Tacloban, ground zero of Yolanda (Haiyan), on November 8, exactly a year since the super typhoon first made landfall.
The festive send-off program for the Climate Walk included Manila Vice Mayor Isko Moreno, National Youth Commissioner Jose Sixto 'Dingdong' Dantes III, Climate Change Commissioners Heherson Alvarez and Yeb Saño, running priest Fr. Robert Reyes, representatives of a broad group of civil society organizations, and the Catholic Church.
"The Climate Walk is dedicated to all people in the Philippines and around the world who confront the reality of climate change. It aims to empower communities and help them become resilient to the impacts of disasters and climate change," Saño said before they departed from Luneta.
The advocates called on governments to do their fair share in keeping global warming below the tipping point to save the Filipino people, and all others who are most vulnerable to climate change.
"Peoples and nations around the world should act with haste to significantly cut, if not end, all our ill ways that are causing our worsening climate. And we should begin talking green not because it is fashionable but because we care for the welfare of younger Filipinos, our future," Dantes said.
The Walk was launched a week after two landmark events in New York: The People's Climate March, in which 400,000 people marched to call for urgent climate action, followed by the United Nations Climate Summit, wherein over 160 world leaders announced their commitments to solve the climate crisis.
"This walk is about fighting back! We need to unite as a people and demand a climate treaty that will give justice and compensation to countless families, communities and municipalities that are already being severely affected and devastated by climate change impacts. We must reclaim our people's rights to a safe, secure and sustainable future," Von Hernandez, Executive Director of Greenpeace Southeast Asia stated.
"The importance and urgency of addressing climate change demands more than action. We need to fundamentally change the way we live, and the way things work in our planet. We need to galvanize public actions towards solutions to fight climate change," said Nityalila Saulo, musician and core member of the artist group, Dakila. "It is time for a climate revolution and switch the power from world leaders to the people to decide our survival."
Climate Walk
People who are deemed most vulnerable to the effects of climate change – farmers and fisherfolk – as well as members of youth, faith groups and the public in general are invited to join the Walk, which will traverse parts of Metro Manila, Laguna, Batangas, Camarines Norte, Camarines Sur, Albay, Sorsogon, Northern Samar, Samar, and Leyte.
On November 8, the participants will cross San Juanico Bridge towards Tacloban City. The Walk is also expected to continue on to communities in Cebu, Negros, Panay Island, and Palawan, provinces that were likewise heavily damaged by Yolanda.
Climate and disaster resilience toolkits, a set of resources which can be used to enhance community planning for climate change and assist in the protection of communities from climate disaster risks, will be handed over to LGUs and communities in the areas reached by the Climate Walk. Along the path of the walk, events will also be held in select towns to highlight the different issues of climate change affecting these areas, including (and not limited to) deforestation, mining, and renewable energy. This can help form the narrative of the concrete demands that can define the Walk. These events will be educational as well as creative and celebratory and will include concerts, film showings, mural painting, prayer sessions, dance and music festivals.
Walk the talk
Participating civil society organizations also urged the current administration, as well as global leaders, to take concrete actions in solving the climate crisis.
"While we support the Climate Walk's global call for climate action, we also challenge the Aquino administration to walk its own climate talk," said Melvin Purzuelo, convener of the civil society network Aksyon Klima Pilipinas. "We hope that this initiative to roll out local climate plans will only be the start of concerted efforts to make local and national policies coherent, particularly in adaptation, energy, and finance."
"The government should step up by demanding deep emissions cuts from the US and developed countries, by demanding from them real solutions that would ensure concrete adaptation programs and projects on the ground and by abandoning its bias for corporations and businesses in the entire rehabilitation process and put the people at the center," said Gerry Arances, National Coordinator, Philippine Movement for Climate Justice (PMCJ), a national grassroots movements advancing climate justice.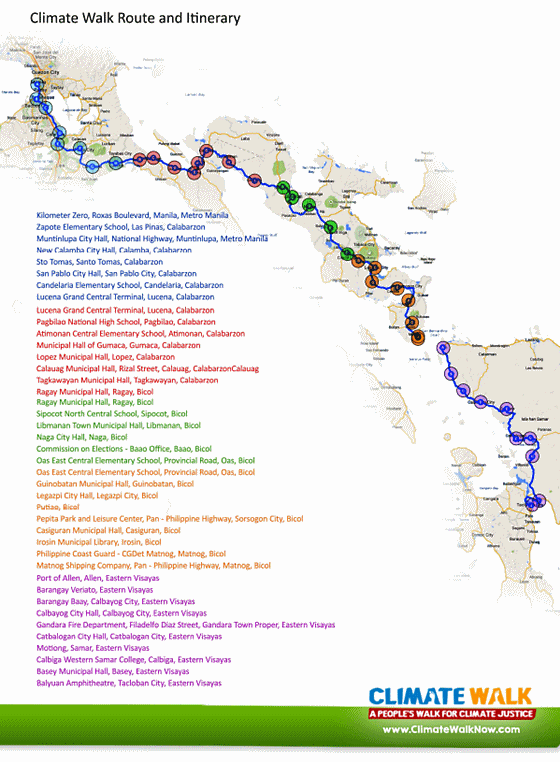 VAN ARALAN mobile computer school launched in Catbalogan City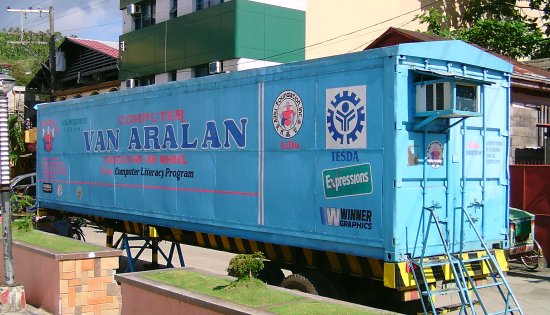 By LAIMINH MABULAY
October 2, 2014
CATBALOGAN CITY – "We live in a society where information can be obtained at the push of a button. These days, the speed with which we can produce, share or receive data spells the difference between moving at an average pace and functioning at a competitive level", was how City Mayor Stephany Uy-Tan explained the importance of computer literacy in today's world.
Knowing how this skill is in-demand both in school and the workplace, the City Government has forged a partnership with a Manila-based non-profit organization that gives free computer classes to interested individuals.
Through a partnership with the Aihu Foundation, the City Government of Catbalogan has brought the Van Aralan Project to the City to address the gap in computer literacy among Catbaloganons. "This is what today's workplace is in need of. This is the kind of edge that our students, graduates, jobhunters or employees must have in order to perform well in their chosen fields", she said.
After a well-received registration period weeks prior, the said project was launched at the City Plaza this September 27, 2014. City Mayor Stephany Uy-Tan led the activity together with Aihu Foundation President Alex S.E. Sy and his wife CEO Mila Sy. Hon. Coefredo Uy, Hon. Ernesto Arcales, and Hon. Maximo Pescos were among the city officials who graced the affair to show their support for the project.
They were joined by other special guests including Mayor Gemma P. Zosa from the Municipality of Sta. Margarita, which was where the project was previously implemented; TESDA Provincial Director Rolando Juanillo, who represented TESDA Regional Director Cleta Omega; Ms. Corazon S. Abella, who represented Department of Education Regional Director Luisa B. Yu and City Division Supervisor Ms. Maribel Ruedas, who attended in behalf of OIC-City Division Superintendent Editha S. De Veyra.
The Van Aralan Project is a mobile computer school that conducts free classes in towns and cities that they visit. In Catbalogan City, registration of out-of-school youths, persons with disabilities and senior citizens were given priority.
"Labis kong ikinatuwa ang pagdagsa ng maraming Catbaloganon – kabilang na ang mga estudyante, mga out-of-school youths, maging ang mga Persons with disabilities at mga senior citizens upang magparehistro sa isasagawang training," she said about this turn-out which she credited to the coordination among barangay officials and the city's community facilitators.
Ipinapakita nito ang inyong interes na mapabuti pa ang inyong pamumuhay at ang inyong kagustuhang mapabuti ang inyong sarili sa pamamagitan ng karagdagang kaalaman sa computer. Higit sa lahat, dito ay napatunayan nating hindi balakid ang kahirapan upang magsumikap na maiangat ang kalagayan ng isang tao," she added.
Speaking in behalf of the Division of Catbalogan City, Ruedas said that the project is an "avenue of quality education" for Catbaloganons "with the aim of transforming them or continuously improve their ability to be globally competitive".
The container truck which houses the mobile class is supposed to stay in Catbalogan City for a total of nine weeks from September 29 until November 29. The registrants shall be divided into 5 classes consisting of 20 participants, which shall run for a total of three weeks. Upon completion of the course, a trainee will receive a certificate of completion from TESDA.
Mayor Step also lauded the partnerships that were made with various agencies to jumpstart the project. Aside from the Dep. Ed. and TESDA, she also thanked the Samar Electric Cooperative II for providing the electricity and Aksyon Radyo - DYMS for helping disseminate information about the project.
"To sum up this whole endeavour, the Van Aralan Project is the latest feather in our cap of public-private partnerships. As with our previous activities, it has once again proven that tapping the different segments of our community is the best way to serve our people".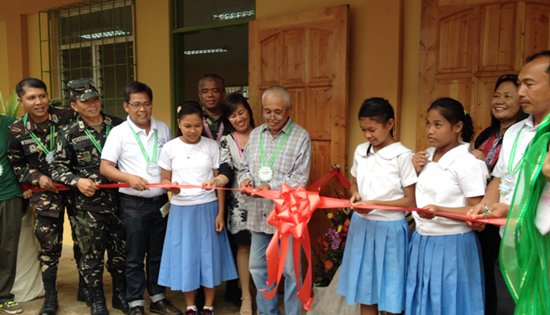 Military, local officials, students and faculty members of Lucsoon National High School witnessed the ceremonial cutting of ribbon which symbolizes the formal turn-over of the two-classroom school building in Brgy. Lucsoon, Naval, Biliran on September 29, 2014.
Biliran gets school building from Sagip Kapamilya
By 19th Infantry Battalion, 8ID PA
October 1, 2014
NAVAL, Biliran – A concrete two-classroom school building was formally turned-over to Lucsoon National High School by the ABS-CBN's Sagip Kapamilya Foundation on Monday, September 29.
The school building was Sagip Kapamilya's first partnership project with the Philippine Army's 19th Infantry Battalion and 546th Engineering Construction Battalion in the province of Biliran.
The ceremonial turn-over of the school building was witnessed by Lt. Col. Edgar Yerro, Commanding Officer and Maj. Joselito Alday, Operations Officer of 546th ECB; Maj. Roy Mendoza Jr., Executive Officer and Cpt. Christopher Badong, Civil Military Operations Officer of 19IB; Mayor Susan Parilla of the municipality of Naval, DepEd officials, barangay officials, students, parents and faculty members of Lucsoon National High School.
The blessing of the aforesaid facility was officiated by Rev. Fr. Fidel Dandan, the parish priest of St. Roche in Naval.
Ms. Triciana Rosalla, the principal thanked the proponents of the P1.2 M worth building which will benefit more students as the school implements the K+12 basic education program.
The new learning facility will be added to Lucsoon National High School's 15 classrooms which are currently accommodating more than 700 students.
In his message, Mr. Marcel Miñon who represented Ms. Tina Monson-Palma, the Sagip Kapamilya Program Director stressed that the building was materialized out of donations and that the ABS-CBN network is not expecting any material return from its beneficiaries.
For her part, Ms. Lani Cervantes, the assistant schools division superintendent of DepEd-Biliran lauded ABS-CBN network and the Armed Forces of the Philippines who joined hands in ensuring the completion of the building through bayanihan concept despite various adversities caused by Super Typhoon Yolanda.
Cervantes added the project is a concrete manifestation that the stakeholders believe in education, as a vital tool in curing ignorance.
Lucsoon National High School, a twenty minutes ride by "habal-habal" (motorcycle) from the province's capital town was chosen as the school building's beneficiary upon the recommendation of the 19th Infantry Battalion last year.
Cpt. Christopher Badong, Civil Military Operations Officer of 19IB said the military have seen the necessity to put up the project in Lucsoon National High School, which is catering high school students from six (6) nearby feeder barangays. The construction of the building was in full swing on December 2013 and took longer than expected due to super typhoon Yolanda's aftermath.
Mayor Step gives temporary shelter to typhoon-affected families
By LAIMINH MABULAY
October 1, 2014
CATBALOGAN CITY – Seventy-two families will now be able to start anew after being displaced from their homes when Typhoon Glenda struck two months ago. After weeks of being cramped in evacuation centers, the said families were able to move into their home in a place with a community-like ambiance.
What seemed like a dream for then finally became a reality after the City Government turned-over the constructed wooden bunkhouses to its intended beneficiaries under the Share a Temporary Home Program (STEHP). The turn-over ceremony was conducted last September 22, 2014 at the Villa Paula Subdivision, the site where the resettlement area was located.
The said program was undertaken with the support and assistance of various agencies as well as overseas Catbaloganon organizations. The Katbaloganon's Association-East Coast, Katbaloganon's Association-Canada and Katbaloganon's Association-USA, along with DJ MOD, the resident disc jockey of the afternoon variety show "It's Showtime" were given plaques of appreciation for donating funds for the construction of a playground in the resettlement area.
Also given the same citation were the Villa Paula Subdivision for lending a portion of their property for this program as well as service providers like the Samar Electric Cooperative II (SAMELCO) and Catbalogan Water District (CWD) for their assistance in enhancing the facilities of the said area.
City Mayor Stephany Uy-Tan also expressed her gratitude to the Department of Social Welfare and Development - Regional Office VIII for its donation of 100 sacks of rice in the typhoon's aftermath and the Department of Health - Regional Office VIII for its pledge of medicines intended for a planned anti-tigdas immunization for the children in the resettlement area. Representing the two agencies were DSWD-RO8 Assistant Regional Director Nestor B. Ramos and DOH Representative Dr. Tony Tirazona respectively.
The Memorandum of Agreement signed by the City Government, represented by Mayor Uy-Tan and the Villa Paula Subdivision, represented by its owner Rosario Tan-Pomida, stated that the short-term relocation site shall be occupied for a period of 8 months from September 22, 2014 until May 22, 2014.
Aside from the 810 square meters meant for the bunkhouses, the site also included a 66 square meter comfort room and wash area and 72 square meter – mini playground. The beneficiaries shall be staying there while a permanent relocation in Brgy. Lagundi is still being prepared.
Typhoon Glenda ravaged the city last July 15, 2014, resulting to the displacement of 586 families most of whom were residing along the sea wall and coastal areas of Catbalogan City. Whereas other survivors were able to find relatives that will temporarily take them in, 72 families were still left at the evacuation centers with no options.
Despite the damages caused by the typhoon, the mayor remained optimistic that the good consequences still outweighed the bad - particularly in showing the resilience and unity of Catbaloganons.
"This particular episode has indeed made us realize how blessed we are to be in a community where charity, compassion and concern for others are a way of life. Hinaot kunta nga magpadayon kita ha pagburublig para malapusan an iba pa nga mga challenges nga maabot ha aton", she said.
Army helps re-build livelihoods in Samar far-flung areas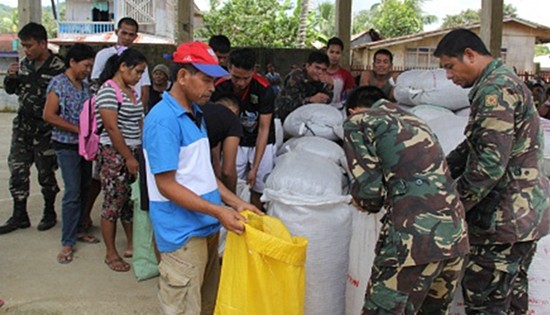 By JAZMIN BONIFACIO
September 29, 2014
BARANGAY CALAPI, Motiong, Samar – Ten months after the onslaught of Typhoon Yolanda, farmers in Motiong, Paranas and San Jose De Buan, Samar are still struggling to survive. They have to travel nearly 35 km, over poor roads, to sell their agricultural products in extremely rough conditions. Making things worst, middlemen continue to exploit the farmers' misfortune.
Aware on such situation, the 87th Infantry Battalion (87IB) planned to help the farmers establish a productive and friendly agri market closer to home. Not only would the farmers save on travel costs, they would also avoid paying middlemen, as buyers come directly to them. This will help increase their profits by nearly 50%.
Rosita Gabin of Brgy. Hinicaan, Motiong, Samar and hundreds of farmers from nearby villages has re-established again their farmlands amidst the hardship of poverty. With the expected earnings coming from their small vegetable gardens they would be able to send their children to school and imagine a better future for them. "We are praying that peace and abundance will stay here forever," Gabin said.
Rosita Gabin is one of more than hundreds of farmers in Samar who are rebuilding their livelihoods through the Cadac-an Peanut Growers Association. The 87IB is helping these small farmers to improve their incomes and recover from the destruction of typhoon Yolanda.
Conflict and poverty are inextricably linked. As Lt. Col. Antonio Dulnuan, Battalion Commander of the 87IB said "conflict is one of the traps that keeps under develop countries remains poor". It's a vicious cycle-conflict reduces incomes, whole poverty heightens the risk of internal instability. On the other hand, economic growth reduces the risk of conflict.
According to Col. Dulnuan "giving people the opportunity to earn a living is one of the best way to guarantee a lasting peace". In this sense, members of 87IB understand that healthy farming communities are vital to Samar's success. The Cadac-an Peanut Growers Association reflects 87IB commitment to building long-term, sustainable growth opportunities by stimulating the local market in places that need them most. Indeed, this kind of initiatives helps farmers improve their peanut yields and connect to better markets.
"We want to secure the rights of people living in poverty to food and income security and decent work within the context of eradicating extreme poverty and hunger; thus, reducing inequality, and ensuring the sustainable use of land and water." Col. Dulnuan said.
Further, he stated that "to prioritize helping people manage risk and adapt their livelihoods in the face of such risks must include the campaign to transform the policies, power relations and politics that drive hunger, poverty and vulnerability".
These guidances push the Cadac-an Peanut Growers Association members to learn proper farming techniques for peanuts; strengthen their internal administration; while influence participation of the local government unit and other organizations. Truly, the members of Cadac-an Peanut Growers Association now see farming as a business, not just a means of subsistence.
Meanwhile, Josephine Dacanay, of Brgy. Calapi, Motiong Samar and other farmers planned to increase the amount of peanut plantation and expecting significantly bigger harvest this year. "I was privileged to plant this peanut and I will continue growing peanut because it can even help me and my family have a better life. It's a real pleasure to see the support of the 87IB and we are optimistic that through the cooperative we will work together, share information and work to obtain maximum value for our crops," Josephine added. These words project the hope and spirit of voluntarism necessary in pursuit of peaceful, productive and prosperous community.
Transforming the Eiffel Tower into a catwalk
Jessica Minh Anh chose Paris for her eighth history-making fashion show around the globe
Press Release
September 29, 2014
Fashion Week may be fabulous, but it pales in comparison to Jessica Minh Anh's history making catwalks at the most iconic venues in the world." – Fox5 New York.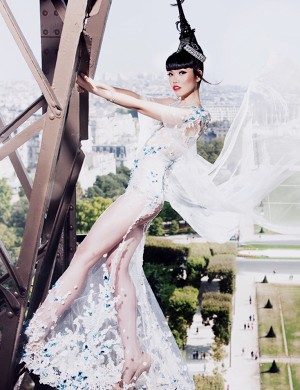 Global fashion sensation Jessica Minh Anh will transform the most famous architectural wonder and the symbol of the fashion capital, the Eiffel Tower, into the world's newest catwalk on 31 October 2014. Covering the panoramic view of Paris, the highly anticipated J Autumn Fashion Show will present extraordinary collections from eight countries and mark Jessica's eighth history making catwalk around the world.
Visually pushing the envelope, Jessica Minh Anh has designed a two-tiered outdoor catwalk, which spans over 150 metres across the first floor of the symbolic tower. Her master plan also includes a special VIP seating area heated up with Dyson's latest AM05 technology, and a breakfast area filled with Italy's finest Pozzetto's bakeries and beverages. It is no doubt that exclusive guests, who are ambassadors and ministers, business and fashion leaders, and international press, will enjoy the historic moment in style.
Similar to Jessica Minh Anh's previous fashion phenomena on London's Tower Bridge, Grand Canyon Skywalk, and One World Trade Center, J Autumn Fashion Show 2014 will present a combination of art, culture, architecture, and fashion. Over 120 haute couture and ready-to-wear pieces from Europe, Asia, and America have been carefully selected for the one-of-a-kind catwalk. Participating fashion brands embrace tradition, yet experiment with innovative techniques of modern designs.
Bahraini powerhouse Dar Naseem AlAndalos will premier a new breed of haute couture with a French-Moroccan fusion collection. Emphasizing on luxurious caftans and fashion-forward detailing, the mother-daughter team beautifies lavish, modern women. Another representative from the Middle East is Qatari luxury brand Debaj, who uses intricate embellishments and floral art. Inspired by Parisian elegance, Debaj will transform Islamic Abayas into original masterpieces. Joining the region's finest is Saudi designer Omaymah Azzouz of OM Fiore, who blends Arab embroidery threads into European fabrics.
Returning to Jessica Minh Anh's iconic catwalk is Vietnamese "King of the Red Carpet" Hoang Hai. The celebrity Haute Couture designer will premier his dream-like collection, which includes hand-beaded details and creative cuts. Merging the East and the West on a global platform, Indian sensation Shilpa Reddy will present a bold statement with clean structure, premium fabrics, and impeccable finishes.
Inspired by her native heritage, Danish designer Beinta Poulsen of Soul Made will showcase her authentic Autumn Cool knitwear collection. Similarly, Canadian talent Sho Sho Esquiro uses Native American techniques to create a brand new collection of classic silhouettes in alluring colour palettes. Adding a refreshing dynamic to the unconventional catwalk, Jessica Minh Anh is introducing for the very first time a 6-piece collection by American designer Kate Walz. The 17-year-old talent has managed to impress the young entrepreneur with her innovative concepts and fabric manipulation techniques.
Besides the garment collections, Jessica Minh Anh has handpicked German brand Mont Blanc to add luxury and heritage to the unique catwalk.
To compliment Jessica Minh Anh's extraordinary vision, Paris' very own Before Beauty Bar is currently preparing architectural hairstyles and flawless makeup looks. The show is also supported by Unexpected from Paris and Elite Marking in London.
Considering Jessica Minh Anh's previous symbolic catwalk venues, it came as no surprise that her choice for Paris is the Eiffel Tower. "I see a strong connection between fashion and the best of locations. The most exquisite designs should be displayed at architectural masterpieces" said Jessica. "Eiffel Tower represents an artist's dreams, and inspires their many creations. I want to make those dreams attainable".
For more information about J Autumn Fashion Show 2014, visit www.jmodelmanagement.co.uk and www.facebook.com/jmodelmanagement.