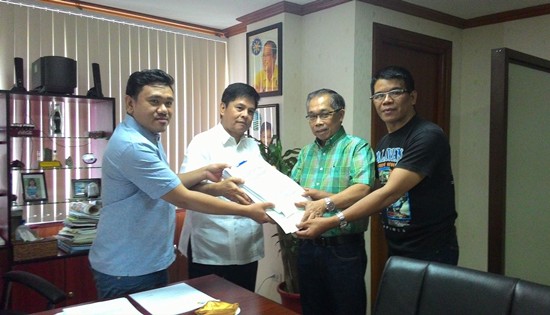 Rodne Galicha of the Climate Reality Project, MGB-IVB Regional Director Roland de Jesus, PNP General Orville Gabuna, Ret., and Dr. Tomas Faminial of Romblon State University and Romblon Ecumenical Forum Against Mining (Photo credit: Dennis Evora/Romblon News Network)
Romblon opposes mining anew
Press Release
June 27, 2016
MANILA - Led by Governor Eduardo C. Firmalo, residents from seven municipalities of Tablas Island lodged a complaint today at the Mines and Geosciences Bureau (MGB) Region IV-B against an offshore mining application of Asian Palladium Mineral Resources, Inc. (APMRI).
In April of this year, APMRI filed an application for Financial Technical Assistance Agreement (FTAA) for the exploration of palladium, platinum and other related mineral deposits in certain municipal waters in Tablas Island with a total of about 10,000 hectares.
Accepting the complaint, MGB Regional Director Roland de Jesus said that "we are mandated by law to facilitate the mining application process and we are also mandated to inform the stakeholders to know their stand and sentiments."
According to Director de Jesus, the bureau is always open to engagement with the civil society and communities as they are committed to inclusiveness and transparency. The complaint will be forwarded to the Panel of Arbitrators for resolution.
In a letter both addressed to Department of Environment and Natural Resources (DENR) outgoing Secretary Ramon Paje and incoming Secretary Regina Paz Lopez, Governor Eduardo Firmalo said that "the Province of Romblon, as a whole, we would like to inform your god office that we strongly object to the application of Asian Palladium Mineral Resources, Inc., to conduct any mining activity in the water areas of the island. No to metallic mining both on land and under the water has long been the united stand of the people of Romblon."
The LGUs and communities were technically assisted by a special committee created by Romblon State University (RSU), with the formal complaint compiled by Romblon Ecumenical Forum Against Mining (REFAM) and the Alliance of Students Against Mining (ASAM), which included 81,630 signatures, resolutions from the municipal, barangay and non-government organizations.
The complaint enumerated reasons of opposition such as protection, preservation and saving rich marine resource and livelihoods of fisherfolks, for the people of Romblon and the next generations to come; and Romblon is composed of critical island ecosystems.
Bishop Ronelio Fabriquer, chairperson of REFAM, said that "the people of Romblon will continue to oppose any mining activity as we take care of God's creation which should be used sustainably addressing our present needs without compromising the capacity of the next generation to survive."
In 2011, Governor Firmalo signed a moratorium on metallic mining and REFAM mobilized 10,000 people to oppose another mining application which eventually backed-out due to lack of social acceptability.
Rodne Galicha, co-chair of the Economic Development Committee of MIMAROPA Regional Development Council (RDC) and country manager of The Climate Reality Project said that "the stance of the provincial government of Romblon and its people is consistent with Sustainable Development Goals (SGD) targets especially on sustainable communities, climate action, and life below water."
"Tourism and agriculture are the best industries for Romblon and the region as a whole, considering our fragile island ecosystems and beautiful destinations and cultures," said Galicha.
Those who lodged the complaint were Professor Tomas Faminial of Romblon State University, Joje Mesana of ASAM, PNP General Orville Gabuna, Ret., from the municipality of Looc and witnessed by Rodne Galicha of The Climate Reality Project.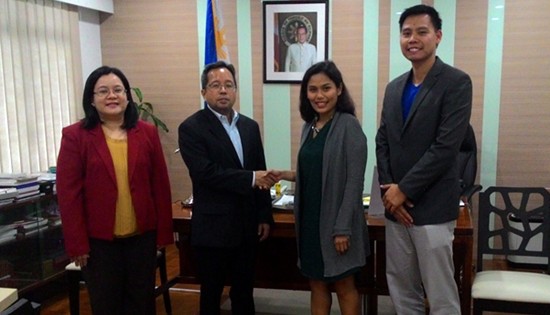 From left to right: First Secretary and Consul Edna May G. Lazaro, Amb. Antonio A. Morales, Ms. Lites M. Viloria, Cehief Executive Officer of Edukasyon.ph and Mr. Daniel J. Macusi, Jr., Client Engagement Manager of Edukasyon.ph
Filipino social enterprise www.Edukasyon.ph calls on Philippine Embassy in Singapore
Press Release
June 23, 2016
MAKATI CITY – Representatives of educational technology social enterprise www.Edukasyon.ph paid a courtesy call on Ambassador Antonio A. Morales on 20 June 2016 at the Philippine Embassy in Singapore.
"Our team is honored to have met with the Philippine Ambassador to Singapore H.E. Antonio A. Morales. We are happy to be one of the Top 100 Echelon Asia qualifiers. We are happy to represent the Philippines and share the work that we are doing to help OFWs, particularly parents, on finding the right education for their kids," said Ms. Lites Viloria, CEO of www.Edukasyon.ph.
Edukasyon.ph was in Singapore recently for the E27 Top 100 Echelon Asia. Edukasyon.ph is one of the ten Philippine start-ups who made it to TOP100 Echelon Asia. The Top 100 Echelon Asia brought together shortlisted start-ups from 14 countries across Asia. Key investors and start-up community leaders judged the start-ups, and one start-up from each TOP 100 Qualifier will be crowned the Judges' Choice.
"We are proud of our Filipino start-ups that are making waves in Asia with their work that helps improve the lives of fellow Filipinos overseas through the web technologies they are developing. Education is a concern of every Filipino, specially our OFW parents who are working hard to ensure their kids are able to get to school," said Amb. Morales.
Edukasyon.ph is a website (www.edukasyon.ph) that helps Filipino high school students and parents search, apply and pay for the right senior high schools, colleges, tech-voc courses that will help them get to the careers they aspire to. It has over 7000 schools and 4000 courses that can be found all over the Philippines.
"We want to help our OFW parents participate in their children's education regardless of how far they may be. As www.Edukasyon.ph reaches out to more parents across the world, www.Edukasyon.ph is bringing the Filipino youth closer to their dreams. We believe introducing www.Edukasyon.ph and the work it does to the different embassies and consulates across the world is one of the many steps we have to take in order to provide our parents quality information that can lead their kids to jobs," said Henry Motte-Munoz, Founder, www.Edukasyon.ph. "www.Edukasyon.ph intends to participate in the different information sessions and Filipino community meetings that are regularly organized by the Philippine Embassy in Singapore. And we will be tapping www.Edukasyon.ph volunteers based in Singapore to conduct these sessions," Munoz added.
On the value of these activities, Amb. Morales said "We welcome initiatives such as these that reach out to our OFW parents in improving the educational choices of their kids back home. We look forward to seeing more home-grown digital initiatives like this that bring families together and improve their lives."
www.Edukasyon.ph was established by French-Filipino Henry Motte-Muñoz in 2014. A graduate of the London School of Economics and Harvard Business School, Henry was inspired to launch an education website in the Philippines because of the poor sources of information on academic opportunities in the country and overseas. He is the only Filipino who made it to the Class of 2015 Asia 21 Young Leaders, a network of young leaders from across the Asia Pacific, representing the private, public, and non-profit sectors. Henry is one of 10 Filipinos included in the Forbes 30 under 30. The list features young entrepreneurs, innovators, and leaders in Asia across 10 fields.
Fisherfolk, conservation groups call on Duterte to end illegal fishing in 6 months
Press Release
June 21, 2016
QUEZON CITY – A week before President-elect Rodrigo Duterte assumes office, leaders of fisherfolk and marine conservation groups bared their recommendations toward improving the lot of fishing communities and the health of the country's marine ecosystems by putting an end to crimes happening at sea and in coastal communities. In a presentation to media today, the groups also called for the creation of a separate Department of Oceans and Fisheries to be able to better plan, monitor and implement reforms and contribute towards food security.
"We are here to request for a dialogue and to remind incoming President Duterte of his campaign promise to address fishers' and marine issues, and to end very high poverty incidence among people directly relying on seas for food and for a living. His administration will play a critical role in the country's transition to sustainable fishing. We expect nothing less than strong, resolute implementation of the amended fisheries law against illegal, unreported and unregulated fishing (IUUF). Doing less is a disservice to millions of Filipinos who have been clamoring for change," said Vince Cinches, oceans campaigner of Greenpeace Philippines.
According to data from the Philippine Statistics Authority in 2014, the poverty incidence among fisherfolk reached 39.2 in 2012, the highest among the basic sectors of society, followed by farmers at 38.3%, and children at 35.2%.
"Coherent and holistic programs should especially be quickly put in place that recognize our vulnerability to climate change. We need focused and sustained efforts in combating crimes against the oceans and to allow a better playing field for our small fishers and fishing communities. We strongly urge the incoming administration to target an end to illegal fishing within their first six months of office," said Dennis Calvan, executive director of the NGOs for Fisheries Reform.
During the election campaign period, fishers, marine conservationists and environmental groups pushed for the 10-Point Blue Agenda to be taken up by the Presidential candidates. This includes the delineation of municipal waters; the implementation of traceability mechanisms for fishery products; sustainable fishing; and capacity-building for fisherfolk to better adapt to climate change.
"To ensure the sustainability of our fishery resources and secure the livelihood of our Filipino fishers for long-term economic prosperity and food security, we strongly support the creation of a Department of Oceans and Fisheries for improved fisheries governance and strict enforcement of Republic Act 10654," said Joann Binondo, overall project manager of the WWF – Partnership Program for Sustainable Tuna.
"We call on the new administration to immediately address the crime of illegal fishing and start rehabilitating our overfished waters. We look forward to seeing political will in the new government's campaign against crime to include its focus on prosecuting plunderers of our oceans, to protect the people's right to healthy marine ecosystems and ensure food security for all Filipinos," said Atty. Gloria Estenzo Ramos, vice president of Oceana Philippines.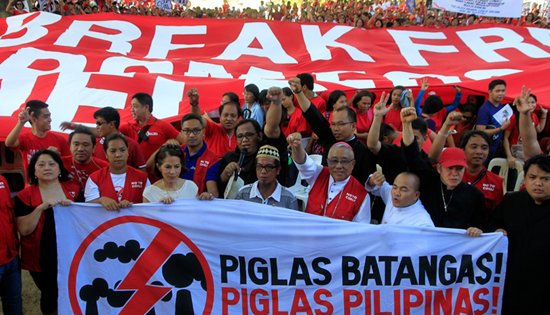 Around 10,000 Filipinos march in Batangas City, where the 600-megawatt coal-fired power plant is proposed, to demand to the next administration to cancel all proposed coal plants nationwide and hasten a transition to renewable energy. The campaign is part of a worldwide movement and the first in Asia to join "Break Free from Fossil Fuels 2016", a global wave of peaceful actions within 12 days and across six continents, including Indonesia, Nigeria, Brazil, the United States, Germany and Australia. (Jimmy A. Domingo/Greenpeace)
Saying yes to coal plant construction, Batangas city council leaves dirty legacy
By The Climate Reality Project Philippines
June 20, 2016
QUEZON CITY – With a vote of 6-4 in favor of the dirty coal plant to be built in the city of Batangas, the council gave a company locational clearance for the building of the new coal power plant (2 boiler units of 300 MW each) in the city.
Rodne Galicha, Philippine manager of The Climate Reality Project, a global movement founded by Nobel Laureate and former US Vice President Al Gore, said that "the council denied its people especially the children of their right to a healthful and balanced ecology in favor of a facility which historically emits the biggest cause of extreme weather conditions. In so doing, the council left the next generations of Batangas a dirty legacy. Allowing coal plants is tantamount to sleeping with the killer of thousands of lives when Typhoon Haiyan hit the country."
"The science is clear, hence countries adapted the Paris Agreement to address the cause and ill-effects of the climate crisis. Sustainable Development Goal 13 aims to 'take urgent action to combat climate change and its impact' and every local government unit is tasked to achieve its targets."
"We assume that the council is informed about the Climate Change Commission's Resolution 2016-001 signed by President Benigno Aquino III affirming the commitment to mainstream a low-carbon development pathway in accordance with the country's commitments under the United Nations Framework Convention on Climate Change (UNFCCC) and in the light of the submitted Intended Nationally Determined Contribution (INDC) to significantly and conditionally reduce carbon emissions by 70% by the year 2030. Eventually, the president signed Executive Order 206, s. 2016, stating clearly that 'consistent with the Philippines contributions under the UNFCCC, the government hereby adopts the policy of ensuring sustainable RE resource management in the country."
Given the recent international and national policies, the council of Batangas City would have shelved the proposal pending the national policy review and framework development ordered by government and the fact that existing development framework and policies fall under the Sustainable Development Goals. We hope that the new set of councilors be enlightened by science; strengthened by the will of the people and be guided by their city's mission: "To improve the quality of life of the citizens through sustained efforts to attain a balanced agro-industrial development; to promote a business-friendly environment; to generate more employment opportunities and to adequately provide the basic infrastructure utilities, facilities and social services necessary for a robust and liveable community."
Why we care? Apolinario Mabini, a Batangueno, in his "Ang Tunay na Sampung Utos" says:
"Kaya habang di pa napapaui ang mga patuto ng bawa't bayan o kaharian, na itinayo at inaalagan ng mga lahi at angkang walang pinagsasakitan kundi ang kanilang sariling kaginhawahan, sa kanya lamang dapat kang makisama sa ganap na pakikipag-isa, tungkol sa hinahangad at pag-aari, upang magkalakas ka hindi lamang sa pakikilaban sa kaaway ng lahat, kundi naman ng maidaos ang lahat ng pinupunta ng kabuhayan ng tawo." (Because of this, while the borders of the nations established and preserved by the egoism of race and of family remain standing, you must remain united to your country in perfect solidarity of views and interests in order to gain strength, not only to combat the common enemy, but also to achieve all the objectives of human life.)
The Climate Reality Project is a member of Piglas Pilipinas movement in which on May 4 mobilized 8,000+ people in Batangas City, where JG Summit Holdings aims to put up a 600-Megawatt coal fired power plant that is set to occupy a 20-hectare site in Barangay Pinamucan Ibaba, Batangas City.
The people demand the cancellation of the coal plant in Batangas as well as all 27 other proposed plants in the Philippines.
Group alarmed by Oplan RODY expansion in provinces
By Samahan ng Progresibong Kabataan (SPARK)
June 18, 2016
QUEZON CITY – A youth group expressed alarm after more local government units and their respective police commands have begun implementing or are planning to duplicate Oplan RODY or Rid the Streets of Drunkards and Youth in an effort to curb vices and petty crime.
The Samahan ng Progresibong Kabataan or SPARK has asked city officials to suspend the implementation of their ordinances and make it in tune with the recent societal changes brought about by programs of the national government such as the K-12 program of the Department of Education as well as the student employment program of the labor department which commenced only in 2009.
Oplan Rody is reportedly to be in full swing in the cities of Quezon City, Las Piñas, Manila, Pasay, Caloocan, Malabon, Mandaluyong and Makati.
Recently, the cities of Bacoor in Cavite and Lipa in Batangas have as well "activated" their long-standing ordinances to prohibit minors outside their homes from 10pm to 4am. Police officials in Mandaue City in Cebu province also intends to implement its curfew ordinance which was passed in 1999. The Mayor of Baguio City has also publicly expressed his support for Oplan Rody.
"On one side, we admit that local government units have the responsibility to curb petty crime and vice but then again it counteracts other programs that the national government has implemented only recently," said Joanne Lim, member of the National Secretariat of SPARK.
The Diliman-based activist lamented that the city mayors and police have mindlessly and indiscriminately enforced their "Jurassic" ordinances in an effort to get into the good side of the next administration without taking into account the day-to-day struggles of commuting and working students.
"If Oplan Rody's implementation in Metro Manila systematically and indiscriminately victimized students in the past weeks, how much more if implemented as well in the cities and municipalities around Metro Manila where they are enrolled and employed," Lim reasoned.
"If only students do not suffer from horrendous traffic jams, flooded streets in the rainy season and inadequate public transport systems on a daily basis then it can be implemented as early as 10pm but that is not the case. The immense volume of people travelling to and from Cavite, Rizal and Laguna, many of them students will require longer travelling hours".
"Senior High students as well as working students will need more latitude and consideration from authorities," she said.
Lim added that, "to implement the curfew in the manner which is done as seen on television is not only traumatic but also indiscriminate. Such draconian measures and methods cannot be implemented without violation of human rights because all minors found past 10pm, are under the presumption of criminal activity not unless proven to be enrolled or came from their graveyard shift at work".
Karapatan welcomes GPH-NDFP Joint Statement to pursue peace talks
By KARAPATAN
June 17, 2016
QUEZON CITY – "On June 15, we received two good news for peace and human rights advocates," Karapatan Secretary General Cristina Palabay said in a press conference of advocates led by Pilgrims for Peace.
Representatives of the National Democratic Front of the Philippines (NDFP) panel and the incoming Duterte administration signed Wednesday a joint statement to hold the formal peace talks in July. Also, on Wednesday afternoon, political prisoners Sharon Cabusao and Isidro de Lima were released from the Taguig City Jail and the Special Intensive Care Unit-1 at Camp Bagong Diwa.
"We welcome the Joint Statement of the NDFP and the peace panel of the incoming Duterte government. We fully support the efforts to finally address the roots of the ongoing civil war through the peace talks, which the Aquino regime had intentionally bungled in the last five years," Palabay said. The Joint Statement said the July peace talks would also tackle the Amnesty Proclamation for all political prisoners.
"We hope that all political prisoners – victims of illegal arrest, torture and detention because of their activism and political beliefs – will be immediately released, as the GPH's obligations under the Comprehensive Agreement on the Respect for Human Rights and International Humanitarian Law (CARHRIHL) and the Joint Agreement on Safety and Immunity Guarantees (JASIG)," Palabay continued.
The fabricated charge of illegal possession of firearms and explosives against Cabusao, de Lima and NDFP peace consultant Adelberto Silva was dismissed by the Bacoor Cavite RTC Branch 19. The said court granted Silva's motion to dismiss, saying that the search and seizure conducted during their arrest is "unreasonable," as the purported evidence is the "proverbial fruit of the poisonous tree."
Said Court decision is similar to the basis of withdrawal of charges against the 43 health workers or the "Morong 43", whose arrest and detention, like Cabusao, de Lima, Silva and all political prisoners, is illegal because the charges against them are fabricated and "planted; and their right to due process was grossly violated in the conduct of the illegal search and seizure.
"At least 297 out of 509 political prisoners (as of May 31, 2016) were illegally arrested under BS Aquino. Almost all of the 509 were slapped with trumped-up criminal charges to hide the political nature of their arrest," Palabay said.
"Let us bring home more political prisoners by standing up for them and with them. The Aquino regime, as in the past regimes, violated their rights because they stood up and fought for the people's rights and welfare. Let us hold these regimes accountable for the injustice done to political prisoners. Let us bring the political prisoners back to their families and to the people they unselfishly served," Palabay concluded.
Philippines based brand impressed Paris with a stunning collection on the Seine river
Miranda Konstantinidou joined "Queen of the catwalk" Jessica Minh Anh on her iconic floating catwalk
Press Release
June 17, 2016
PARIS, France – Jessica Minh Anh celebrated another phenomenal catwalk success in the fashion capital yesterday with Philippines based brand Miranda Konstantinidou as J Summer Fashion Show 2016 lightened up the Seine River.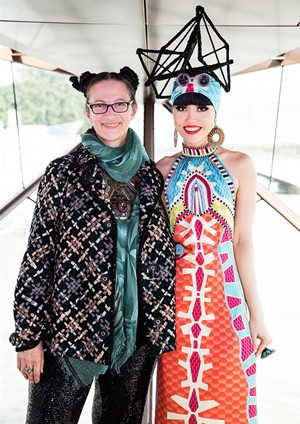 Guests were strategically seated facing the multi-faceted glass windows of Le Jean Bruel to watch models walking in front of them as if they were walking on water.
A perfect portrait of modern beauty with limitless energy, Jessica Minh Anh opened the highly anticipated showcase in a striking multi-colored exotic creation by Miranda Konstantinidou. Following the stunning catwalk producer is a youthful line up of models in intricate silk dresses teamed with architecturally cut statement jewelry. Miranda's collection, which added a lot of excitement to classic chic, defined the concept of "extroverted but relaxed" luxury.
J Summer Fashion Show 2016 also premiered innovative designs by Lebanese haute couturier Antoine Kareh, Polish designer Teresa Rosati, Pakistani talent Syeda Amera, Icelandic jewellery brand NOX, Saudi Arabian designer Ot Kutyr Turk Jadallah, and Ukrainian brand LaFress.
The red carpet event was supported by Compagnie des Bateaux Mouches, DJ Battle, SLA Academy Paris, Neville Salon London, Opéra Cadet, Singer France, The Invite Shack London, Surrey Banners, and First Hotel Paris among others.
For more info, visit www.jmodelmanagement.co.uk and follow @jessicaminhanh on Instagram for the catwalk video release.