From left to right: Monique Castro, PCPPI Senior Manager Corporate Affairs and Communications; Joy Juson, Task Force Bangon Marawi; Butch Meily, President PDRF; Bombit Alonto Adiong, Vice Governor of Lanao del Sur, and Bob Flores, PCPPI Cagayan De Oro General Manager during the turnover of the water tank in Bahay Pag-asa, Brgy. BatoItua, Marawi City.
Pepsi Philippines and PDRF turnover first 20,000-liter water tank in Marawi City
By PDRF
September 3, 2018
MARAWI CITY – The country's major private sector driver and coordinator for disaster resilience, the Philippine Disaster Resilience Foundation (PDRF), together with Pepsi-Cola Products Philippines Inc. (PCPPI) turned over the first water tank from their "Water for Peace in Marawi" project.
This project aims to provide 10-12 cylindrical stainless steel water tanks with 20,000-liter to 40,000-liter capacity to underserved transitional shelter sites across the province. With the support of the Task Force Bangon Marawi (TFBM) Working Group for WaSH concerns, part of this project aims to conduct community training on water management and hygiene that will form part of the Marawi City Water Sanitation and Hygiene (WASH) masterplan.
"For quite some time now, there is scarcity of water in these shelters, and with the water tanks given by Pepsi Cola through PDRF, our constituents would be able to enjoy this basic need until such time that they can finally go back to their homes in the Most Affected Area of MarawiCity", said Lanao del Sur Governor Bedjoria Soraya Alonto Adiong. Vice Governor Mamintal Alonto Adiong Jr. was present during the turnover.
"We hope that with the water, the people will have a renewed determination to pursue the rebuilding of the city. The doors of Pepsi are always open and we will be with you every step of the way," added Pepsi CDO Plant general manager Bob Flores.
Last November 10 2017, PDRF together with the Philippine Business for Social Progress (PBSP), the Makati Business Club (MBC), United Nations Development Programme (UNDP), Association of Foundations (AF), and CODE-NGO formed the United for Marawi consortium. This private sector-led group pledged their support for the rehabilitation and recovery of Marawi.
"Water is the most important thing in the world. The UN calls it a fundamental right. Thanks to Pepsi, people will be able to quench their thirst, wash their hands and bodies to prevent disease, and feel human again," said PDRF president Butch Meily.
The partnership between PDRF, PCPPI, Task Force Bangon Marawi, and the Lanao del Sur Provincial Government encourages participation of different stakeholders in the rehabilitation efforts in the war-stricken area.
PDRF first worked with Pepsi last year for the donation and installation of 1,000 gasera lights and 500 solar street lamps in Marawi.
Teachers worry over BuCor's recruitment of teachers, calls on gov't to increase teachers' salaries
By Alliance of Concerned Teachers
September 3, 2018
QUEZON CITY – The Alliance of Concerned Teachers expressed concern over the recently released call for licensed teachers to apply for Correction Technical Officer positions under the Bureau of Corrections, saying that this might lessen further the already inadequate number of active teachers in public schools.
ACT research shows that BuCor Technical Officers receive a starting salary of P29,668.00. Entry-level teachers under the Department of Education, on the other hand, get only a monthly salary of P20,179.00. BuCor Technical Officers got more than 100% salary increase in March 2018, when the salary adjustments for BuCor personnel were implemented to harmonize with the existing salary levels of uniformed personnel which were doubled in January.
"DepEd recently said that that the reason why many teaching positions remain unfilled is because of insufficiency in the number of qualified applicants. If this is true, how will the education system cope if teachers would be forced out of the profession in search of decent and livable wages?" asked Raymond Basilio, Secretary-General of the Alliance of Concerned Teachers Philippines.
He explained further that the situation only prove the "dilemma and inconsistencies that come about when salary adjustments in government are done one-sidedly."
"While Budget Secretary Benjamin Diokno speaks about studying the salary scheme in government to match the prevailing rates in the private sector, what he should be doing instead is to remedy the distorted salary scheme within the government itself by effecting immediately a substantive increase in the salaries of civilian public employees to be at par with the uniformed personnel," Basilio asserted.
He explained that teachers are suffering the double burden of insufficient number of teachers and low salaries. A major factor in the overloading of teachers and large class size is the insufficient number of active teachers. Teachers' salaries, on the other hand, could no longer meet the needs of their families. He stressed that, "by the day, the purchasing power of teachers' salaries gets eroded by inflation and they are in no way commensurate to the multiple roles which teachers take on in school," Basilio said.
"We unfortunately see no signs of the promised wage hike for teachers as the Duterte government proposed for budget cuts in education in 2019 while DepEd Sec. Leonor Briones betrayed the teachers when she readily accepted the cuts in the recent Congress budget hearing,' said Basilio.
Earlier last week, the DBM-proposed budget for DepEd was deliberated in Congress, in which a P77B cut on DepEd's proposal for 2019 was presented to the Committee on Appropriations.
"If we want to improve the education system, we must allot ample resources for it, which include budget for higher salaries and additional staff. Otherwise, it is our fear that the number of educators will continue to go down and transfer to jobs with better pay such as the ones in BuCor," explained Basilio.
Basilio called on the President to make good on his promise to teachers, "if the President can do it for uniformed personnel as well as employees in BuCor, surely he can and he must do the same for teachers."
"Teachers' Month is fast approaching, with the opening only three days away. Teachers and their significant contribution to society can best be honored by implementing a salary increase and by providing a higher budget for education," concluded Basilio.
Ministers draft blueprint to conclude RCEP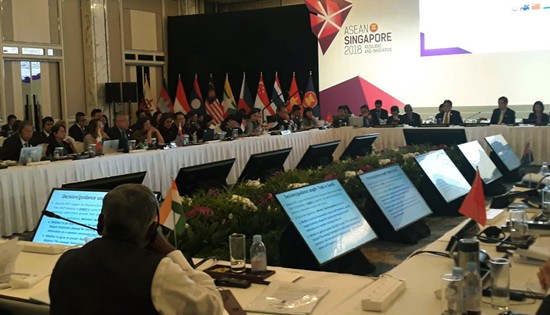 By DTI-OSEC-PRU
September 3, 2018
SINGAPORE – The sixteen (16) Regional Comprehensive Economic Partnership (RCEP) Ministers from ASEAN, Australia, China, India, Japan, Korea and New Zealand adopted the "Package of Year-End Deliverables" that lays down the blueprint for concluding the negotiations during the 6th RCEP Ministerial Meeting on 30-31 August in Singapore.
This document, which was developed by the Trade Negotiating Committee, also tasked negotiators to redouble efforts in order to advance the political mandate.
"All Parties are eager and ready to work towards achieving the targets set by the end of this year, with each country wanting to bring home a good deal for their peoples. RCEP will send a positive signal to the world that the RCEP region is open for business," said DTI Secretary and Philippines RCEP Minister Ramon M. Lopez.
RCEP will be the largest Free Trade Agreement that the Philippines will be part of once concluded. It covers the 3.2 Billion market size of the RCEP participating countries. It is also a mega-regional trade pact that the ASEAN ever engaged in with the huge contribution in terms of GDP and consumer-based patronage.
This will provide market opportunities to all the participating countries, which will impart a higher standard of living due to the vast choice of goods and services as well as contribute greater job generation.
"These ministers are cognizant of the key elements of the agreement that we started last year under the Philippine chairmanship and we built on it. Time allowed some Ministers to develop more acceptable parameters, and extreme flexibilities were also exercised. The negotiations are already at the stage wherein high-level policy calls need to be made, keeping in mind that the quality of the final outcomes for the RCEP should not be sacrificed nor compromised," Secretary Lopez added.
The negotiations were provided a boost by the conclusion of the Chapters on Customs Procedures and Trade Facilitation and Government Procurement, which will serve to facilitate expedite trade in merchandise goods. The Small and Medium Enterprises (SME) and Economic and Technical Cooperation (ECOTECH) Chapters were completed by in 2016.
New Zealand will host the 24th RCEP Trade Negotiating Round in end-October. The Round is critical as negotiators prepare for their report to RCEP Ministers and Leaders.
Second quarter chicken situationer in Eastern Visayas
By PSA-8
September 1, 2018
TACLOBAN CITY – The chicken industry in Eastern Visayas posted a 4.6% decrease in production during the second quarter of 2018. Based on the preliminary data, the total chicken production in the region went down to 13,097 metric tons (MT) in the second quarter of 2018 from 13,734 MT in the same quarter last year.
Region VIII accounted for 2.8% of the country's total chicken production during the second quarter of 2018. It ranked seventh among the regions with low chicken production in the country.
Meanwhile, as of 1 July 2018, the total chicken population in Eastern Visayas stood at 3,291,860 birds. This registered an increase of 2.0 percent from its 3,226,769 inventory as of 1 July 2017.
Among provinces, Leyte recorded the highest number of chicken at 1,813,210 birds, which comprised more than half or 55.1% of the total chicken population in the region. Samar ranked second with 496,335 birds, which accounted for 15.1% of the region's total chicken inventory. Eastern Samar, meanwhile, registered the lowest inventory of chicken with 2.9% share or 95,913 birds.
By type, layer chickens stood at 428,206 birds as of 1 July 2018. This posted a significant growth of 25.0% from the 342,643 inventory as of 1 July 2017. All provinces registered increases except for Leyte which recorded a decrease of 10.4%, and Eastern Samar which had the same inventory of 5000 birds from 1 July 2017. Northern Samar posted the highest increase at 936.4%, to 72,550 birds as of 1 July 2018 from 7,000 birds as of 1 July 2017.
On the other hand, broiler chickens decreased slightly by 0.8% to 1,207,163 birds as of 1 July 2018 from 1,216,834 birds as of 1 July 2017. Increases registered in Leyte (15.3%) and Southern Leyte (27.6%) were negated by the decreases registered in Biliran (93.0%), Northern Samar (68.2%) and Samar (21.1%). Eastern Samar, meanwhile, retained their inventory at 1,000 birds.
Similarly, the number of native/improved chickens slightly went down by 0.6% with a total inventory of 1,656,491 birds as of 1 July 2018 from 1,667,292 birds as of 1 July 2017. Contributing largely to this decrease are Eastern Samar and Biliran with a double digit drop in inventory of 17.7% and 11.5%, respectively.
A little more than half or 50.3% of the total chicken population in the region were native/improved chickens. Broiler chickens accounted for 36.7%, while the remaining 13.0% were layer chickens.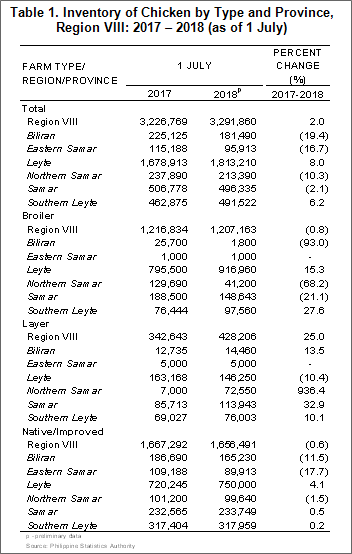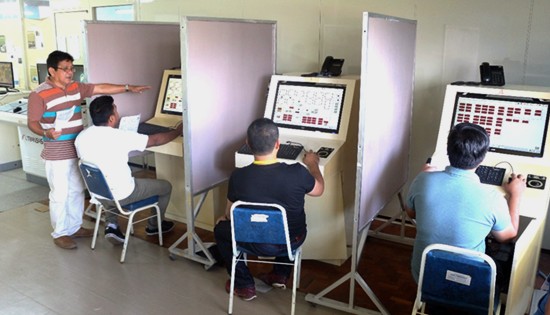 NMP's 1st Batch of Updating Training for Officers In Charge of an Engineering Watch with their instructor CE Salvador C. Esquibel, Jr. (left).
NMP offers updating training for officers in charge of an engineering watch
By National Maritime Polytechnic
September 1, 2018
TACLOBAN CITY – The National Maritime Polytechnic (NMP), serving within its mandate on upgrading the skills and competencies of the country's seafarers continues to pursue priority thrusts on training quality, access and relevance and responsive maritime researches.
With its intention of addressing the shortage of Filipino merchant marine officers, the Agency intensified its activities on the development of new training courses which include among others the Updating Training for Officers In Charge of an Engineering Watch (UTOICEW) - Functions 1, 2, and 4 (Parts A and B).
It can be recalled that the NMP submitted its application for accreditation for the said course in CY 2016. MARINA conducted its initial inspection last 12-15 December 2016 and issued a corresponding Notice of Deficiencies on 22 February 2017.
NMP submitted its compliance to the deficiencies noted by MARINA on 24 March 2017. In order to validate if indeed the deficiencies noted were duly rectified, MARINA conducted a re-inspection on 23-24 January 2018.
As per formal letter received from MARINA dated 14 August 2018, NMP was granted full course approval valid for a period of three (3) years along with the accreditation of instructors, assessors and supervisors who will be handling the said course.
During the said period, announced and unannounced visits will be made by MARINA STCW Office or its duly authorized representatives to ascertain NMP's compliance with MARINA's rules and regulations.
NMP is required to submit the records of review and validation of the aforementioned course within six (6) months from the date of its conduct. Moreover, the records of implementation of corrective actions for audit results both internal and external, records of review and validation of the courses including the assessment and statistical record of trainees enrolled / certificated must be made available during the conduct of monitoring.
NMP's first batch of classes for UTOICEW Function 1 – Part A opened on 27 August 2018 and will end on 04 September 2018 with five (5) participants. Same enrollees will take the Function 2 – Part A (05-07 September 2018) and Function 3 – Part A (10-13 September 2018).
UTOICEW is a 39-day course divided into three (3) Functions. Function 1 (Marine Engineering at the Operational Level) has five (5) modules; Function 2 (Electrical, Electronic and Control Engineering at the Operational Level) with two (2) modules; and Function 4 (Controlling the Operation of the Ship and Care for Persons on Board at the Operational Level) with four (4) modules.
Engine officers who have taken up the course are expected to have acquired competence to be able to: maintain a safe engineering watch; operate main and auxiliary machinery and associated control systems; manage the operation of propulsion plant machinery; plan and schedule operations; operate surveillance, performance assessment and maintain safety of propulsion plant and auxiliary machinery; operate electrical, electronic and control systems; manage operation of electrical and electronic control equipment; ensure compliance with pollution prevention requirements; apply leadership and team working skills; control trim, stability and stress; and monitor and control compliance with legislative requirements and measures to ensure safety of life at sea, security and the protection of the marine environment.
Meanwhile, NMP continues to upgrade its facilities and provide maritime trainings required pursuant to the STCW Convention as amended in 2010 including value-adding courses towards improving the qualifications of Filipino seafarers for their employment acceptability and enhanced competitiveness. It also regularly conducts maritime studies to come up with policies for the improvement of the manpower sector of the industry.
Buying power of workers minimum pay down to P200 a day
By ALU-TUCP
September 1, 2018
QUEZON CITY – THE buying power of workers standard daily minimum pay in the private sector nationwide fell to P200 a day beginning today, according to monitoring by workers group Associated Labor Unions-Trade Union Congress of the Philippines (ALU-TUCP).
Without a serious government social safety program in place and a significant wage increase to address the worsening economic depression, a decreasing buying power of wage bears harmful effect to workers' health and capacity to produce quality goods and services needed by employers and business owners to thrive.
In their monitoring and evaluation of the inflation versus the daily minimum wage, ALU-TUCP spokesperson Alan Tanjusay said the average total daily minimum wage nationwide fell today to P200 a day effective this week from P208.83 in June 2018.
In June 2018, the total average of different daily minimum wage rates across the country was P335 and its equivalent buying power is P208.83.
In April 2018, the total average rate of various daily minimum wage rates nationwide was P330.47 and its equivalent buying power to buy goods and pay for services was P208.38 a day. In October last year, P327 and its equivalent capacity to buy goods and pay for services is P212.45 a day.
"What can workers buy for him and for his family nowadays with the value of his minimum pay of P200 a day?" Tanjusay said warning: "without government and employers interventions, this amount will go down further next month."
According to the National Economic Development Authority (NEDA), the amount needed by a family of five in order to live decently is P44,000 a month or P1,400 a day.
The segment of work force already affected by the crisis are those entry-level, rank-and-file, contractual, short-term, and Endo (end-of-contract) employees receiving minimum pay working in manufacturing and services sector.
However, the most heavily affected segment of workers by high inflation and decreasing purchasing power are those 11 million unemployed and those 15.6 million workers working in the informal economy.
"The unemployed obviously are scraping what's left at rock bottom and very susceptible to any means to survive. While workers in the informal economy – since they have no fixed income – are also very insecure," Tanjusay said.
With this, the group expects a lower output contribution to the country's Gross Domestic Product (GDP) by workers affected by shrinking value of their pay and continuously rising prices.
The shrinking value of their salary, the group says, impacted the workers health and their productivity particularly their capacity to produce quality goods and services needed by employers and business owners to prosper.
"With the poor workers option to buy quality and nutritious food for him and for his family has been decreasing, expect an unhappy and less productive employees in the weeks ahead. Take note that these very vulnerable segment of workers are already have no security of tenure, no fixed income, inadequate social protection benefits and confronted by difficult and stressful external forces," said Tanjusay.
TUCP Party-list Rep. Raymond Mendoza has filed a bill in the House of the Representatives seeking a P320 a day across-the-board wage increase for workers in manufacturing, agriculture and service sectors.
The ALU-TUCP has also sought government for a P500 monthly grocery subsidy for minimum wage earners to help them cope with rising inflation and eroding wages.
The group also has petitioned the 17 regional wage boards nationwide to increase workers' pay by P320 a day. However, only nine regional wage boards have made wage adjustments since May this year ranging from P10 to P56 a day on installment basis.
Rotary Club of Calbayog receives special award from DepEd Calbayog
By LEVIRESA GETIGAN-BARNIZO
September 1, 2018
CALBAYOG CITY – The Rotary Club of Calbayog received a special award as one of the Outstanding Stakeholders of the Department of Education (DepEd), Schools Division of Calbayog City, yesterday, August 31, 2018 at the Calbayog Convention Center, Brgy. Capoocan, Calbayog City, Samar.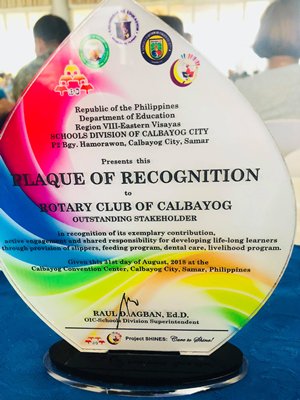 The plaque was awarded in recognition of the club's exemplary contribution, active engagement and shared responsibility for developing life-long learners through provision of slippers, feeding program, dental care, livelihood program, and provision of school supplies to Happy Valley Clustered Schools located at the far flung barangays in Calbayog and Alternative Learning System (ALS) - Calbayog Arts and Design School of Eastern Visayas (CADSEV), Brgy. Gadgaran, this city.
DepEd Calbayog encouraged all its stakeholders to continue supporting the Division Office most especially its learners that will pave way into producing graduates as a means for poverty alleviation and economic growth involving the working class, business sectors, local farmers, government and non-government owned organizations, among others.
The club qualified as a special awardee based on the monetary consideration and number of schools which availed of its significant programs and services.
The club recognizes the relentless and unwavering support of its partners including the Philippine Army, Philippine National Police, People's Outreach Program, Kalipayan-Katitirok-Kasangkayan, and Boleros Basketball Club in the successful delivery of its projects, programs and services.
Other special awardees who received the plaque of recognition are the key officials of the respective offices of the Local Government Unit of Calbayog City including City Mayor Ronaldo P. Aquino, Congressman Edgar Mary Sarmiento, Philippine National Police, 8th Infantry Division, Philippine Army, Bureau of Fire Protection, Filipino Chinese Chamber of Commerce Inc., Puno ng Buhay, DYOG-Radyo Pilipinas-Calbayog and broadcasters, etc.
Stop the blacklisting of non-Filipino human rights defenders – Karapatan
By KARAPATAN
August 31, 2018
QUEZON CITY – "President Duterte is obviously easily ticked-off by non-Filipino human rights defenders and activists expressing solidarity and grave concern on the human rights situation in the Philippines. His regime's intolerance and harassment of these foreigners, while working in concert with the US, China and other governments in the plunder of the country's resources and in pursuing anti-people policies, betray the hollowness of his rhetoric on national sovereignty and independent foreign policy," said Cristina Palabay, Karapatan Secretary General.
Last August 30, Australian missionary Sr. Patricia Anne Fox was informed of the decision of the Phil. Bureau of Immigration (BI) denying her appeal regarding her deportation case. BI considered Sr. Fox as an "undesirable alien" for allegedly participating in political activities in the Philippines. Sr. Fox is set to file her appeal regarding the said decision before the Department of Justice next week.
Prior to Sr. Fox, three Methodist missionaries namely Tawanda Chandiwana of Zimbabwe, Adam Thomas Shaw of USA and Miracle Osman of Malawi were ordered deported by the BI for their participation in an international fact finding mission in Mindanao.
Last August 7, lawyer and human rights defender Prof. Gil Boehringer, who has dual citizenship in the US and Australia, was barred from entering the country. Boehringer was included in the blacklist order along with several other foreign human rights defenders and activists for their alleged participation in the November 2015 Asia-Pacific Economic Cooperation (APEC). Boehringer denied his participation in the said rally.
The list, which was made public by media, also included former US Member of House of Representatives Cynthia McKinney, Palestinian freedom fighter Leila Khaled, Australian human rights activist Peter Murphy who serves as the Chairperson of the Global Council of the International Coalition for Human Rights in the Philippines, Guatemalan rights activist Samuel Villatoro, among many others.
"These unintelligent and sloppy 'intelligence reports' by the Bureau of Immigration has repeatedly been used to justify the exclusion of non-Filipinos from the country because according to the bureau, they are "threats to public safety and order." These non-Filipino rights defenders have been linked to so-called 'communist-terrorist' groups. These accusations are unfounded, without any bases, malicious and dangerous," added Palabay.
The BI argued that these foreigners were involved in political activities in violation of immigration laws particularly the Immigration Operations Order SBM-2015-025 prohibiting foreigners from participating in rallies in the Philippines.
"Sr. Fox's deportation case will set a dangerous precedent if we allow the Duterte government to continue harassing foreigners doing missionary and human rights work in the country by simply deporting and blacklisting them. Contrary to the BI's claims, the biggest threat to public order and safety in the country is, in fact, President Duterte himself, along with his fascist minions. They are the purveyors of State policies that result to unabated human rights violations, including Duterte's counter-insurgency campaign, martial law in Mindanao, and the war on drugs," ended Palabay.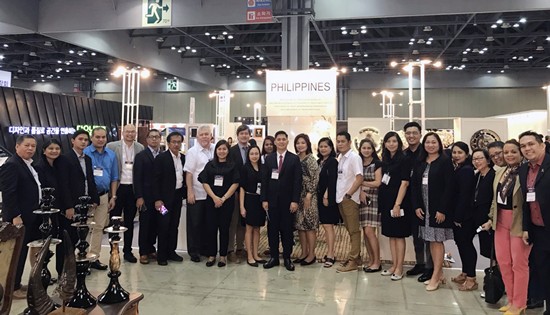 PH furniture makers in South Korea. Ten (10) Philippine companies selected by the ASEAN-Korea Center (AKC) are currently participating in the Korea International Furniture and Interior Fair at the KINTEX Exhibition Center, Gyeonggi, Korea from 29 August to 02 September, 2018.
DTI opens new markets for PH furniture exporters
By DTI-TIPG-EMB
August 31, 2018
MAKATI CITY – The Department of Trade and Industry through its Export Marketing Bureau (DTI-EMB) in collaboration with the Philippine Trade and Investment Center (PTIC) in Seoul and the ASEAN Korea Centre (AKC) are supporting Philippine exporters in expanding their market reach in South Korea through the country's participation at the Korea International Furniture and Interior Fair (KOFURN) 2018 happening from 29 August to 02 September 2018 at the Korea International Exhibition Center in Gyeonggi, South Korea.
Ten (10) Philippine companies assisted by the DTI-EMB through its Regional Interactive Platform for Philippine Exporters (RIPPLES) Plus Program were selected by the ASEAN-Korea Center (AKC) to showcase their products and services at the AKC ASEAN Exhibition Area of the KOFURN.
These Philippine furniture and furnishing companies which are members of the Chamber of Furniture Industries of the Philippines, Inc. (CFIP) and Pampanga Furniture Industries Foundation, Inc. (PFIF) include Azcor Lighting Systems, Calfurn Manufacturing Philippines, Country Accents, Filipino Creazione De Mano, Furnitureville, Markline Home Furnitures, More Than A Chair, Natures Legacy Eximport, Venzon Lighting Manufacturing, and Weavemanila.
KOFURN is the largest furniture exhibition in South Korea which features home, office and kitchen, interior furniture including the woodworking industry, and a design competition which started in 1984 under the active support of the Korean Government.
More than 350 representative firms are expected to display examples of contemporary bed furniture, office furniture, kitchen and bath products, sofas, lightings, carpets and flooring, wall coverings, textiles, raw materials, accessories and outdoor furniture for residential and commercial interiors and woodworking machinery for furniture and related products and publications. Also expected to visit the KOFURN 2018 are nearly 50,000 visitors both from the domestic and overseas fronts.
The Philippine Pavilion under the AKC ASEAN Exhibition Area of KOFURN will be joined by other ASEAN-member countries such as Indonesia, Malaysia, Myanmar, Singapore, Thailand, and Vietnam.
In 2017, South Korea was among the top export markets of the Philippines with total export values of $4.3 billion.
Second quarter swine situationer in Eastern Visayas
By PSA-8
August 31, 2018
TACLOBAN CITY – The swine industry in Eastern Visayas posted a 9.0% increase in production during the second quarter of 2018. Based on the preliminary data, the total swine production in the region went up to 18,316 metric tons (MT) during the quarter in review from 16,802 MT in the same quarter last year.
Eastern Visayas accounted for 3.3% of the country's total swine production during the second quarter of 2018. It ranked fifth among the regions with low swine production in the country.
As of 1 July 2018, the total swine population in Eastern Visayas stood at 321,346 heads. This registered a slight increase of 0.2% from its 320,775 heads as of 1 July 2017.
Among provinces, Leyte recorded the highest number of swine at 168,381 heads, which comprised more than half or 52.4% of the total swine population in the region. Northern Samar ranked second with 46,594 heads, which accounted for 14.5% of the region's total swine inventory. Biliran, meanwhile, registered the lowest inventory of swine with 3.8% share or 12,109 heads.
By farm type, swine population raised in commercial farms stood at 11,636 heads as of 1 July 2018. This posted a decrease of 14.7% from its 13,639 heads as of 1 July 2017. All provinces registered decreases, except Samar, the only province that exhibited an increase of 541.4% to 930 heads as of 1 July 2018 from 145 heads as of 1 July 2017. Southern Leyte posted the highest decrease at 35.3%.
On the other hand, the number of swine raised in backyard farms inched up slightly by 0.8% to 309,710 heads as of 1 July 2018 from 307,136 heads as of 1 July 2017, where increases registered in Eastern Samar (3.0%) and Leyte (2.4%) offset the decreases registered in Samar (2.2%), Southern Leyte (1.9%), Northern Samar (0.7%), and Biliran (0.3%).
Almost all or 96.4% of the total swine population in the region were raised in backyard farms while the rest (3.6%) were in commercial farms.