Eastern Visayas records 0.1% deflation in September 2019
By PSA-8
October 18, 2019
TACLOBAN CITY – Eastern Visayas recorded a 0.1 percent deflation in September 2019, the slowest pace since March 2016. This figure is 0.7 percentage point lower compared with the 0.6 percent IR a month ago, and 6.6 percentage points lower compared with the 6.5 percent IR recorded in the same period last year.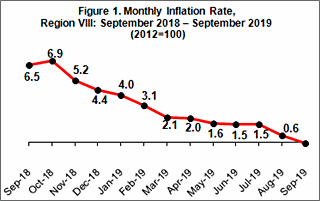 The regional inflation rate is 1.0 percentage point lower than the 0.9 percent national average in September 2019.
The provinces of Eastern Samar, Leyte, Samar and Southern Leyte registered lower IRs in September 2019 compared with their figures in the previous month. Southern Leyte recorded the biggest drop, from 0.3 percent IR in August 2019 to 1.9 percent deflation in September 2019. On the other hand, Biliran registered a 2.2 percentage points increase, from 1.7 percent deflation in August 2019 to 0.5 percent IR during the reference month. Northern Samar inched up by 0.2 percentage point, from 1.8 percent deflation a month ago to 1.6 percent deflation in September 2019. Samar and Southern Leyte posted the lowest with 1.9 percent deflation. Leyte, meanwhile, recorded the highest IR during the month in review at 0.6 percent (Table 1).
Majority of the commodity groups in the region exhibited lower IR in September 2019 compared with their rates in August 2019, or had retained their previous month's rates.
The heavily weighted food and non-alcoholic beverages commodity group registered the biggest drop of 1.9 percentage points, from 0.3 percent deflation in August 2019 to 2.2 percent deflation during the month in review. Lower IRs were noted in majority of the food items, with rice registering the highest decrease of 3.7 percentage points pushing its deflation to 8.5 percent in September 2019 from 4.8 percent deflation a month ago. Bread and cereals, fruits, and fish indices continued to register deflations at 6.4 percent, 5.2 percent, and 0.4 percent, respectively.
Transport commodity group slowed down to 1.1 percent during the reference month from 2.2 percent in August 2019. This can be attributed to the deflation recorded in the index for the operation of personal transport equipment.
Health and Clothing and Footwear commodity groups eased down by 0.1 percentage point each, settling at 3.2 percent and 3.0 percent, respectively. On the other hand, housing, water, electricity, gas and other fuels picked up by 1.1 percentage points, from 2.0 percent deflation in August 2019 to 0.9 percent deflation in September 2019.
IR for recreation and culture was recorded at 2.2 percent during the month in review, an increase of 0.9 percentage point from its 1.3 percent IR in August 2019.
IR for furnishings, household equipment and routine maintenance of the house commodity group likewise went up by 0.4 percentage point, pushing its IR to 6.3 percent in September 2019.
The rest of the commodity groups retained their previous month's inflation rate.
The Purchasing Power of Peso (PPP) of the region remained at P0.80 in September 2019. This PPP implies that P100.00 in 2012 (base year) is worth P80.00 only in September 2019.
Samar posted a P0.01 increase in PPP compared with its figure in August 2019, while Biliran's PPP weakened by P0.03. The rest of the provinces sustained their PPP last month. Leyte and Southern Leyte recorded the strongest PPP at P0.82. Biliran ranked second at P0.81, followed by Eastern Samar at P0.78. Northern Samar and Samar posted the weakest PPP at P0.77.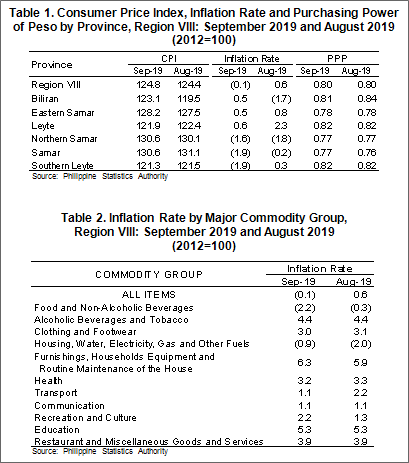 DPWH-DA FMR projects to improve road links in Leyte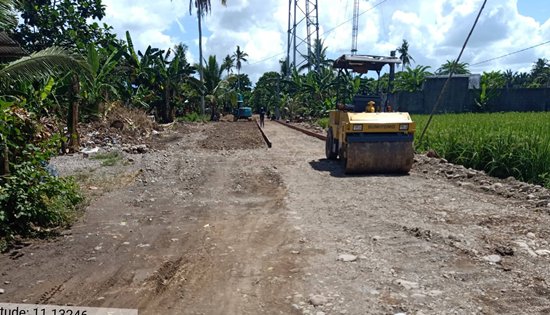 By DPWH 2nd LED
October 18, 2019
PASTRANA, Leyte – To promote a fast progressing agricultural field in the province, the Department of Public Works and Highways (DPWH) Leyte Second District Engineering Office (L2DEO) ties up with Department of Agriculture (DA) to build worth P15 million of Farm-to-Market Road (FMR) project in Pastrana.
According to District Engineer Gerald Pacanan, the concreting project will be in the Barangays of Sapsap to Manaybanay; Socsocon to Lima; and Cancaraja to Arabunog.
"This project will have a great impact in the economy of the municipality as this would enhance and develop their agricultural ground," added Pacanan.
The completion of the said project will benefit the residents of these barangays since farmers can transport their products easily to any points of Pastrana, Leyte or even in their neighboring towns.
This development will also be advantageous to the people commuting in the area as this would provide them smooth and convenient travels.
FMR projects is funded under the convergence program of the DPWH and the Department of Agriculture that aims to promote inclusive growth and poverty reduction in the country's hard to reach areas through better road connectivity.
For CY-2019 L2DEO is task to implement nine (9) DA projects amounting to P50 million.
Ambassador Tejano lauds potential of newly enlisted Stormtroopers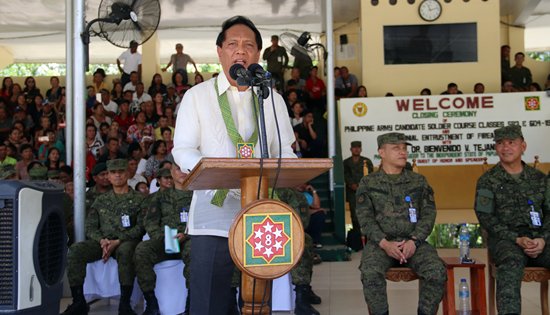 By DPAO, 8ID PA
October 15, 2019
CAMP LUKBAN, Catbalogan, Samar – His Excellency, Dr. Bienvenido V. Tejano, Philippine Ambassador to the Independent State of Papua New Guinea lauded the potential of newly enlisted soldiers where the said diplomat served as the Guest of Honor and Speaker during the graduation ceremony of the Philippine Army Candidate Soldier Course Classes 583 and 604.
A total of 283 new soldiers of the Philippine Army took their oath of duty to serve the Filipino people and the country as regular members of the Armed Forces of the Philippines (AFP) in a closing ceremony held at the parade grounds of the Army's 8th Infantry Division Headquarters in Catbalogan City, Samar on Monday morning October 14, 2019 at 9:00 A.M.
The emotional and teary eyed Ambassador Tejano who hails from Mapanas, Northern Samar said "Your combat skills demonstrations impressed me and I feel so confident that you young people could protect us and our homeland. But deep inside of me, I realized what is happening in some areas of the region and in some parts of the country wherein some of our own countrymen are trying your combat prowess and such situation also exposes your lives to risks. I have been praying and crying for peace. We in the civilian side are very thankful to you for dedicating yourselves in this noble profession. Mga kababayan kong nandito ngayon at sa lahat, panahon na para tayo ay maghawak kamay at magtulungan. Let's support our soldiers who are protecting us and our country."
The activity culminated with a ceremonial entrustment of firearms that represents responsibility, duty and authority bestowed upon the soldiers in protecting the Filipino people and the country. The graduates completed the Basic Military Training (BMT) conducted by the 8th Division Training School (8DTS).
The 8DTS molded the physical, mental and psychological aspects of the candidate soldiers to become professional and combat ready soldiers. The parents of the new privates were also cited for their support to their sons and for entrusting them and their future to the Philippine Army. Aside from their physical, mental and psychological development, the new soldiers have become closer to God and their families. Part of our training is strengthening the Filipino family unlike the Communist New Peoples' Army Terrorists who are deceiving the youth and forcing them away from their families and loved ones.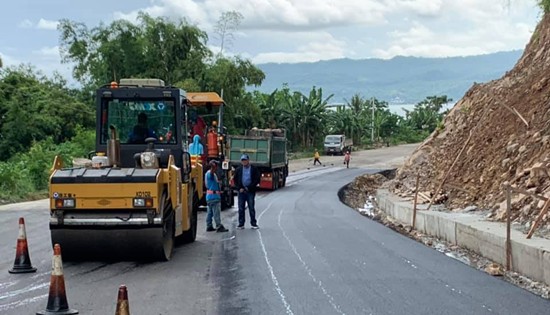 David P. Adongay Jr., District Engineer (wearing black jacket) inspects the on-going asphalt overlay project along Biliran Circumferential Road.
DE Adongay inspects major infrastructure projects in Biliran
By DPWH-Biliran
October 11, 2019
NAVAL, Biliran – David P. Adongay Jr., District Engineer (DE) of the Department of Public Works and Highways (DPWH) Biliran District Engineering Office (DEO) inspects on-going infrastructure projects in Biliran on October 10, 2019.
Major projects inspected are the on-going P75.96M road widening project at Brgy. Busali-Brgy. Bato in Biliran town, P70.48M asphalt overlay at Brgy. Lucsoon in Naval town along Naval-Caibiran Cross Country Road (NCCCR), P62.23M asphalt overlay at Brgy. Canila in Biliran town along Biliran Circumferential Road (BCR), rehabilitation of national roads with slips, slope collapse and landslide at Brgy. Looc, in Cabucgayan town worth P42.4M and at Brgy. Julita in Biliran town worth P18.8M.
Also inspected is the on-going construction of socio civic center at Brgy. Salawad in Cabucgayan town worth P3.42M. This is part of the P17.12M construction of socio civic center in the different barangays in the Municipality of Cabucgayan funded under 2019 Local Infrastructure Program (LIP).
During inspection, Adongay instructed the contractors 'personnel not to conduct concrete pouring activities unless there is an approved pouring permit from the DE following the Quality Assurance Section Quality Control testing requirements both in the laboratory and field particularly in the Field Density Test (FDT).
According to Adongay, his inspection within the district is always unannounced to the contractor to make sure that plans and specification were strictly followed during the implementation.
"Compliant naman sila (contractors)," Adongay said, referring to his assessment after the inspection.
DPWH-Biliran DEO has a total of 92 projects for 2019 implementation with a total amount of P1.28B. Adongay said these projects are being fast-tracked for completion in order to meet the district's target accomplishment.
Longest-running DTI trade fair returns to the mainstream market showcasing Bicol's pride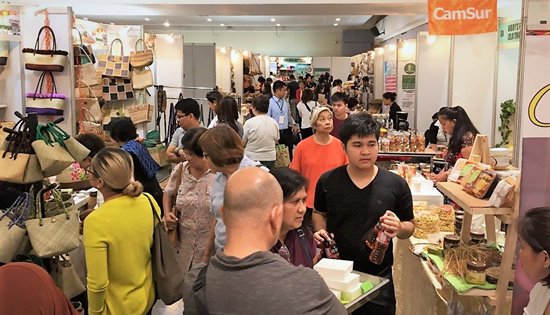 By DTI-ROG
October 11, 2019
MAKATI CITY – Flaunting their preeminent crafts and delicacies made by the participating 297 micro, small and medium enterprises (MSMEs), the Department of Trade and Industry (DTI) successfully launched the comeback of the longest-running DTI-initiated Orgullo Kan Bikol (OKB) 2019 Trade & Travel Fair at the Megatrade Halls 1 and 2, SM Megamall, Mandaluyong City last October 9 and will run until October 13, 2019.
On its 23rd year, the five-day grandest edition of OKB Trade Fair features a wide array of products carefully selected from the six provinces across Bicol Region ranging from processed food, ceramics, furniture, jewelry, wearables and homestyle, holiday decors among others.
Gracing the launch, Trade Secretary Ramon Lopez mentioned the importance of market access in the DTI's accelerated 7Ms strategy for MSME development, like setting up various Trade Fairs and establishing Go Lokal stores and OTOP Hubs for the MSMEs.
"We give them market exposure, so this is only one, ito pong Trade Fair. Isa po ito sa mga paraan namin ng pagtulak sa kanilang mga produkto na mabigyan sila ng exposure. Ang DTI po, kasama ng mga partner agencies natin, ay 360 degrees ang suporta sa mga micro enterprises – para 'yong mga MSMEs natin ay hindi lang parating micro and small forever, sila po ay lumalago. Ito po ang susi tungo sa tagumpay – ang panlaban sa kahirapan," said Secretary Lopez.
Partnered with the OKB Association, Inc. and the Department of Tourism (DOT) – Region 5, DTI endeavors to provide MSMEs better avenues to exceptionally promote their products and encourage them to explore the global market.
"We encourage everyone to support our local MSMEs by buying their products as they provide jobs in their respective communities. We also invite foreign buyers to take a closer look and become more aware of what these 297 entrepreneurs produce," said DTI – Region 5 Regional Director Jocelyn Blanco.
Present also in the event were Committee on Trade, Commerce & Entrepreneurship Chairman Senator Aquilino "Koko" Pimentel III, DTI Regional Operations Group Undersecretary Blesila Lantayona, Special Concerns Assistant Secretary Ameenah Fajardo and other DTI - Region 5 officials.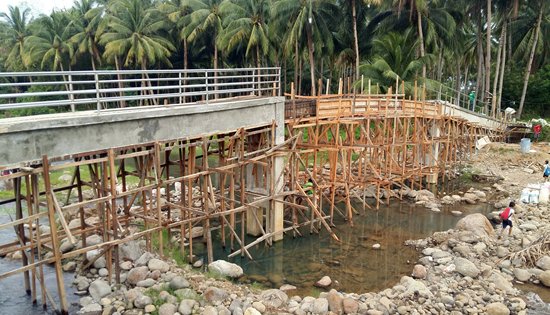 On-going construction of footbridge at Sitio Tigbao, Brgy. Binohangan, Caibiran, Biliran.
Footbridge construction at Sitio Tigbao, Caibiran, Biliran underway
By DPWH-Biliran
October 10, 2019
NAVAL, Biliran – The footbridge construction at Sitio Tigbao, Brgy. Binohangan, Caibiran in this province is now underway to serve more or less 500 residents of the place.
The Department of Public Works and Highways (DPWH)- Biliran District Engineering Office (DEO) is currently implementing this project under 2019 Local Infrastructure Program so that the residents within the area will have a safe access in crossing the river.
As of September 30, 2019, this project has already an accomplishment of 70.02%.
According to David Adongay Jr., District Engineer, the project was prioritized because the previous footbridge at Sitio Tigbao was damaged during tropical storm Urduja on December 16 & 17, 2017.
The project entails the construction of a 45-meter length footbridge, a height of 4.5-meter and a width of 1.3-meter.
"The design has been elevated and is much higher compared to the previous one," Adongay revealed.
Aside from the construction of footbridge, the project also includes the installation of four pieces solar lights and railings and a construction of flood control structure at Sitio Tigbao side. The flood control structure has a length of 5 meters and a height of 3.5 meters.
The project has a total budget cost of P1.94M and has a target completion date on October 21, 2019.
The completion of the footbridge project will connect Sitio Tigbao to Barangay Binohangan where elementary school, barangay health center, public market and other important facilities are located.
"With this structure, people of Sitio Tigbao especially the children will no longer be bothered for their safety in crossing the river specially during rainy days," said Adongay.
Sugar workers receive tractors from DOLE RO-8
By NORMA RAE S. COSTIMIANO
October 9, 2019
TACLOBAN CITY – Some fifty-one (51) sugar workers from the Block Farm-Quezon Jr. Farmers Association of Ormoc City receive farm equipment from the Department of Labor and Employment Regional Office VIII during the turnover ceremony last September 25, 2019 in Brgy. Quezon, Ormoc City.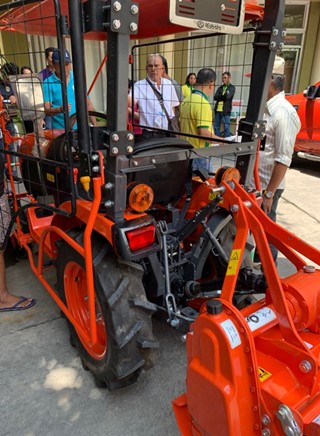 Through the efforts of the DOLE Western Leyte Field Office (WLFO), the livelihood project entitled "Farm Mechanization: Kubota Tractor with Rotavator and Sugarcane Cultivator" amounted to P747,402.00 was approved and is intended to assist the association in maximizing their output and eventually augment their income. Said tractors and cultivators were awarded to the beneficiaries complete with 1,448 liters of diesel oil, 20 liters of hydraulic oil and 40 liters of engine oil.
DOLE RO VIII Regional Director Yahya A. Centi, who graced the simple turnover, was beyond happy to finally award the farm equipments. He encouraged all the sugar workers present to use the machineries responsibly to achieve optimized production.
"Let me congratulate you all for having your own farm machineries. With these, we at DOLE are expecting improvement on your output to an optimum level. Of course we all want to see you progress as an organization through our livelihood program", said Director Centi.
The project was made possible through coordination with the Sugar Regulatory Administration led by Ms. Rena Juntila, SRA Central Visayas-Junior Agriculturist and the District Tripartite Council-Ormoc-Kananga Chapter in the Sugar Industry chaired by Director Centi.
Meanwhile, twenty-five (25) of the beneficiaries were parents of child laborers identified in Ormoc City. With the provision of livelihood assistance to the parents, DOLE intends to assist the family and eventually withdraw the children from doing child labor. (with report from Darwinda Labastida)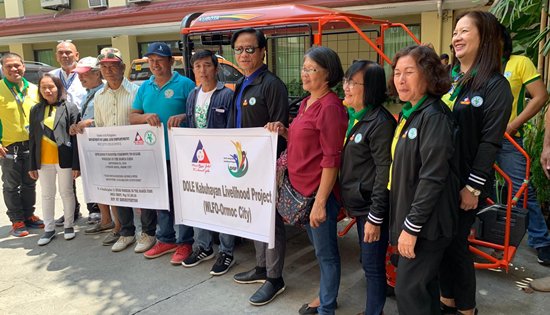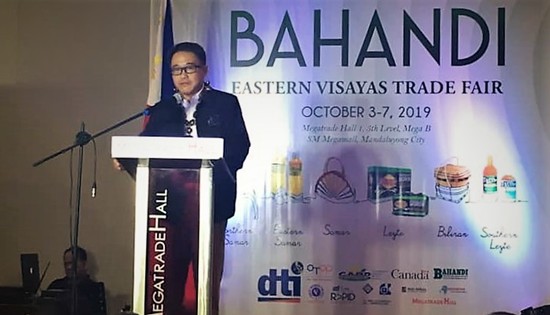 DTI Undersecretary and Chief-of-Staff of the Office of the Secretary, Rowel S. Barba in his keynote message on behalf of DTI Secretary Ramon M. Lopez, reiterated DTI's support for the MSMEs.
Treasures of Eastern Visayas at "Bahandi" Regional Trade Fair 2019
By DTI-ROG
September 8, 2019
MAKATI CITY – Around 150 micro, small, and medium enterprises (MSMEs) from Eastern Visayas converged to bring the treasures of the island to Metro Manila.
The Megatrade Hall of SM Megamall in Mandaluyong City turned into a festivity area as the 22nd "Bahandi" Eastern Visayas Trade Fair formally launched last October 3.
During the opening ceremony, DTI Undersecretary and Chief-of-Staff of the Office of the Secretary, Rowel S. Barba delivered the keynote message on behalf of DTI Secretary Ramon M. Lopez.
In his message, Secretary Lopez, through Undersecretary Barba, reassured that DTI firmly supports trade fairs like the annual Bahandi Trade Fair because it serves as a marketing platform where big buyers do business with regional producers. Undersecretary Barba also associated "Bahandi" to MSMEs as they serve as treasures of the Philippines. The opening ceremony was also graced by key officials from the local government units in Eastern Visayas and other key officials of DTI Region 8 lead by OIC-Regional Director Celerina T. Bato.
"Bahandi" Trade Fair features the treasures of the provinces of Northern Samar, Eastern Samar, Samar, Leyte, Biliran, and Southern Leyte in the form of fashion accessories, housewares, decors, furniture, and artisan food. The 150 participating MSMEs came from the Wearables and Homestyle and Processed Food sectors assisted by the different programs and projects of the Department.
This annual trade fair aims to provide a trade venue for producers from the region, link the producers with institutional and walk-in byers, and showcase the programs and projects designed for the MSMEs such as Shared Service Facilities (SSF), OTOP Next Generation and CARP. The five-day trade fair aims to generate at least P35M total sales for producer-exhibitors.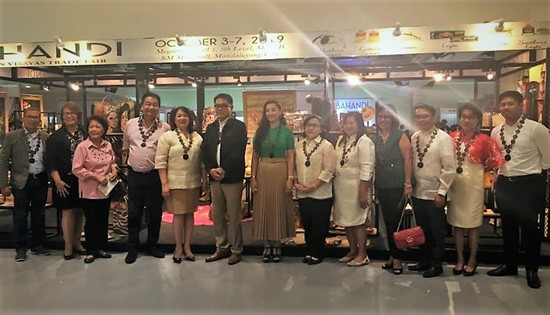 DTI Undersecretary and Chief-of-Staff of the Office of the Secretary, Rowel S. Barba, DTI Region 8 OIC Regional Director Celerina T. Bato, and key officials from the local government units in Eastern Visayas during the official launching of Bahandi Eastern Visayas Trade Fair.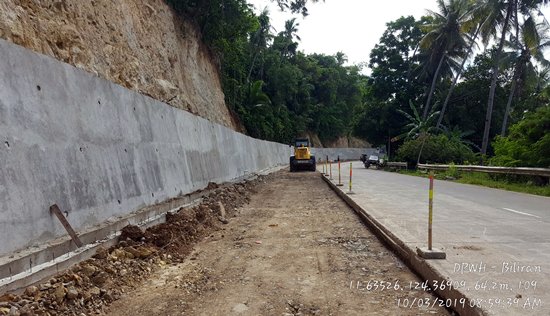 On-going compaction for the rehabilitation of national roads with slips, slope collapse, and landslide project (K1036+520-K1037+178 )at Brgy. Pili-Talahid, Almeria, Biliran is on-going with 49.55% as of September 30, 2019. The project entails the construction of 2,066.0 square meters reinforced concrete retaining wall with drainage canal on two sections located at Brgy. Sabang, Naval, Biliran and Brgy. Pili-Brgy. Talahid, Almeria, Biliran along Biliran Circumferential Road with inclusion of concreting of one lane pavement and road shoulders with a length of 681.00 meters.
DPWH-Biliran DEO's 2019 infra projects posts 41.50% on 3rd quarter
By DPWH-Biliran
October 8, 2019
NAVAL, Biliran – The Department of Public Works and Highways (DPWH) Biliran District Engineering Office (DEO) has shown substantial progress on its 2019 project implementation on the 3rd quarter of the year.
David P. Adongay Jr., District Engineer said that from 25.29% accomplishment in the month of August, Biliran DEO has now accomplished 41.50% as of September 30, 2019.
"This is an increase of 16.21% from the previous month," he said.
Adongay reported that out of the 92 projects for this year's implementation, 60 are now on-going, 22 are completed while 10 are soon to be started.
For the month of September, DPWH-Biliran DEO has completed 10 projects as scheduled.
Recently completed projects include the construction of seawalls at Brgy. Acaban in Culaba town worth P1.9M and at Brgy. Inasuyan in Kawayan town worth P970,200.00.
Three barangay road concreting projects were also completed at Sitio Patag, Brgy. Salangi and at Brgy. Caucab, both in Almeria town and one at Brgy. Capińahan in Naval town with an amount of P1.9M each.
The district office has also completed one senior citizen building (completion) at Brgy. Salangi in Almeria town amounting to P970,000.00.
Relative to flood mitigation projects, one flood control under local infrastructure program was completed at Brgy. Julita in Biliran town worth P1.95M and one drainage construction at Pob. Almeria, Biliran worth P973,520.00.
Moreover, two barangay halls were also completed. These are located at Brgy. Looc in Culaba town worth P1.4M and at Brgy. Lico in Naval town worth P2.9M.
According to Adongay the improvement on the monthly accomplishment are the result of close monitoring of projects and their regular conduct of coordination meeting with the contractors.
73 percent of millennials in 15 countries say mental health is as important as water, food, shelter
By ICRC
October 7, 2019
GENEVA – Nearly three in four millennials (73 percent) surveyed across 15 countries said that mental health needs are as important as water, food and shelter for victims of wars and armed violence.
The data, taken from an Ipsos survey commissioned by the International Committee of the Red Cross (ICRC) of more than 15,000 people aged 20 to 35, shows growing awareness of the importance of mental health in conflict situations.
Of the 15 countries surveyed, the highest support for mental health among millennials came from Syria, where 87 percent of roughly 1,000 respondents said mental health needs are as important as water, food and shelter for victims of armed conflicts. The next highest countries were Indonesia (82 percent), Ukraine (81 percent) and Switzerland (80 percent).
"Mental health services have for too long been an after-thought in conflict settings. When traumas are invisible, they can be easily overlooked or deprioritized. Yet war has a devastating impact on the mental health and psychosocial wellbeing of millions. New mental health problems can appear, and pre-existing conditions may resurface. For some the effects will be life-threatening," said ICRC President Peter Maurer.
More than one out of five people in in conflict-affected areas live with some form of mental health condition, from mild depression and anxiety to post-traumatic stress disorder. That is three times more than the general population worldwide suffering from these conditions. The mental health and psychosocial needs of people caught up in conflict must be a part of the growing attention given to mental health around the world.
"Supporting people's mental health can be lifesaving in times of war and violence, just as much as stemming a bleeding wound or having clean water. Hidden wounds are no less dangerous," said Mr. Maurer.
This week, coinciding with World Mental Health Day, the ICRC is calling on all States to prioritize mental health and psychosocial support in situations of violence and armed conflict, as critical to the first wave of humanitarian assistance, and as an integral component in domestic and international emergency response systems.
NMP accepts IMO MC 3.12 & 6.10 OWWA scholars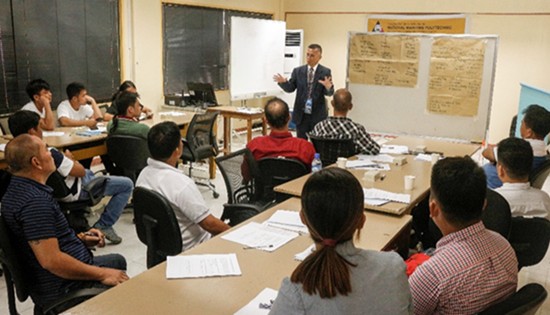 By National Maritime Polytechnic
October 4, 2019
TACLOBAN CITY – As a premier provider of the training courses for maritime instructors and assessors, the National Maritime Polytechnic (NMP) accepts and encourages enrollees to avail the NMP-Overseas Workers Welfare Association (OWWA) Skills-for-Employment-Scholarship Program (SESP) for the Training Course for Simulator Instructors and Assessors (IMO Model Course 6.10) and Assessment, Examination, and Certification of Seafarers (IMO Model Course 3.12) courses.
With the aim to support the capability-building of the would-be maritime instructors and assessors, NMP Executive Director, Joel B. Maglunsod, wrote to the Department of Labor and Employment (DOLE) Secretary, Silvestre H. Bello through its Undersecretary, Renato L. Ebarle who was then the NMP's cluster head under the Employment, Migrant Workers Welfare, and Administrative Services Cluster, a request for inclusion of the IMO MC 6.10 and 3.12 in the OWWA Scholarship Programs for seafarers. The said request was raised during the DOLE's Cluster Mid-Year Performance Assessment (MYPA) and as an offshoot, the inclusion was approved during the conduct of the OWWA's Board of Trustees (BOT) meeting.
Subsequently, in a Memorandum of Instruction (MOI) issued by the OWWA dated 29 August 2019, the guidelines governing the implementation of SESP were amended to include the two (2) additional courses in the list of applicable maritime courses covered by the SESP in addition to the existing sponsored course, the Training Course for Instructors (IMO MC 6.09) which is also offered by NMP.
The SESP is a scholarship program offered by OWWA that promotes the welfare of the Overseas Filipino Workers (OFWs) and their dependents. OWWA assumes the training cost amounting to Fourteen Thousand Five Hundred Pesos (P14,500) in any vocational or technical courses accredited by TESDA and other government institutions. This shall be paid directly by OWWA to the concerned school or institution once Confirmation Slip of enrolment has been received by the office. Important documentary requirements for the claim include proof of OWWA membership for member, and proof of relationship to OFW-member, if dependent/beneficiary.
Since 2016 to April 2019, there were One Thousand Four Hundred Fifty-One (1, 451) trainees who took the IMO Model Course 6.09 under the said program.
Moreover, the NMP also accepts scholars from the Seafarers Upgrading Program (SUP) of OWWA. The program intends to upgrade the skills and expertise of the Filipino seafarers with the use of the advanced technology and maritime standards. The applicant is provided with Seven Thousand Five Hundred Pesos (P7,500) training assistance. Seafarers with valid OWWA membership contribution at the time of application shall be entitled to avail of the SUP.
Per NMP's record, Two Hundred Fifty-Four (254) NMP trainees took various upgrading courses covered by the SUP from 2016 to April 2019.
Accordingly, the trainee who opts to avail the scholarships must first visit the NMP for the issuance of Proof of Registration as one of OWWA's requirements in availing the programs. NMP on the other hand, will only consider the trainee to be officially enrolled once a Notice of Award (NOA) from OWWA will be presented.
The IMO MC 6.09 is a pre-requisite of IMO MC 3.12 which will enable the trainees to plan and prepare effective teaching and instruction, select appropriate methods of instruction and teaching materials, and evaluate the teaching and learning processes.
Meanwhile, IMO MCs 6.09 & 3.12 are pre-requisites of IMO MC 6.10. IMO MC 3.12 helps maritime instructors, faculty members of maritime schools and merchant marine officers holding 6.09 certificate to be adept in administering and supervising assessment of seafarer competence in accordance with the provisions of Section A-I-6 of STCW Code. Subsequently, future maritime instructors who undergo the IMO MC 6.10 should be able to contribute in formulating a training policy both the macro and micro level and develop individual simulator instructor traits.
Further, in its sound efforts to fulfill and realize its mandate, NMP continues to upgrade its facilities and provide maritime trainings required pursuant to the STCW Convention as amended in 2010 including value-addition courses towards improving the qualifications of Filipino seafarers for their employment acceptability and enhanced competitiveness. It also regularly conducts maritime studies to come up with policies and procedures for the improvement of the industry's manpower sector.