Uy seeks DILG inquiry vs. Grey's murder raps and alleged drug involvement
By ROMMEL L. RUTOR
November 15, 2006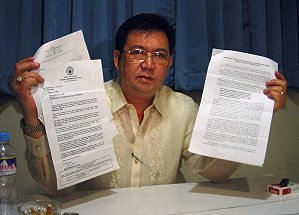 Mayor Joseph Grey shows to the media copy of the petition letter of Congressman Reynaldo Uy (at his right hand) addressed to DILG Secretary Ronaldo Puno while at his left is his letter in answer to the alleged offenses charged against him during a recently held press meeting in Tacloban City.
CALBAYOG CITY, Samar – Anchored on the numerous senseless killings in Samar's first district, Congressman Reynaldo S. Uy here filed a petition to the Department of Interior and Local Government Secretary Ronaldo Puno to investigate the alleged killings being masterminded allegedly by San Jorge Mayor Joseph V. Grey.
In his letter last October 12, 2006, Cong. Uy pointed out that Mayor Grey has been allegedly involved in various killings in the town of San Jorge, which is within the first district of Samar, and revealed that two murder cases had been filed against the mayor last month.
The same letter likewise sought the DILG to dig unto the display of wealth of Mayor Grey, specifically pointing out to the number of houses and vehicles which are owned by the San Jorge chief executive both in Samar and in Metro Manila, this is on top of the solon's allegations of Grey's involvement in illegal drug trade.
"I am appealing to you Mr. Secretary to immediately order an investigation of the illegal drug activities and the killings committed by Mayor Grey", the solon stipulated in his letter to the DILG.
Attached to the solon's petition is another letter which has been circulating lately signed by certain Arnel Dela Cruz of Brgy. La Paz of San Jorge town, enumerating at least 20 people, who have been allegedly killed by the alleged goons of Mayor Grey on his order.
The petition was submitted during the time when the so-called "suspension festival" is a hot national issue, giving Mayor Grey's camp the impression that the solon from the first district is allegedly pushing for Grey's possible suspension as San Jorge's chief executive.
But retorting to the allegations stipulated in Cong. Uy's DILG petition, Mayor Grey in an interview stressed that the solon's petition will not in anyway prosper for having no concrete evidence that will link him to the said illegal activities.
Mayor Grey revealed that the solon from Samar's first district is apprehensive that he will lost in next year's congressional election against him, that is why "at this early, he is already plotting false accusations against me to condition the mind of the people that he is still the better choice for them in the first district, kasi kung maniniwala nga naman ang mga tao na mamamatay tao ako at drug lord ako, e wala nga naman akong ipinagka-iba sa kanya", Grey disclosed.
"Hindi man lang siya narimarim sa mga akusasyon niya laban sa akin, e lahat ng mga iyon parang mga gawain niya at sa akin niya pinapasa", he added.
Mayor Grey clarified that the murder raps that was filed against him is purely a political ploy to demolish his integrity as a true public servant, he however did not elaborate the details of the charges but he vehemently denied any involvement in the said killings but alleged that congressman Uy is behind the filing of the said cases.
"Saka hayaan na natin na ang korte mismo ang humusga sa kasong iyan, tapos ako ng abogasya at may tiwala ako na umiiral pa rin an tunay na hustisya sa bayan natin, handa akong harapin ang mga paratang nila sa akin, dahil malinis ang konsensiya ko", he said.
In defense to the other allegations stipulated in Cong. Uy's letter to the DILG, Grey showed the media a certification from the Philippine Drug Enforcement Agency (PDEA) clearing the San Jorge chief executive of any drug involvement; the clearance was issued last September 20, 2006.
"A drug test result will likewise prove that I am not a shabu user gaya nang gusto nilang palabasin, baka kamo siya ang gumagamit ng shabu pati asawa niya, e obvious naman at alam nang lahat ng mga tao sa Samar ang katotohanan na iyan", Grey further alleged.
"At kung sinisilip niya ang bahay at mga sasakyan ko, ito lang masasabi ko kay Cong. Uy, may bahay at mga sasakyan na ako bago pa ako pumasok sa pulitika, e siya, nagka-sasakyan na yata siya at nakabili nang mga bahay nung maging pulitiko na siya, sa palagay niyo ba kasya ang suweldo niya para makapag-pundar siya ng mga properties na meron na siya ngayon, kaya huwag ang mga ari-arian ko ang silipin nila, dahil hindi ko ito ninakaw sa taong-bayan, pinaghirapan ko ito sa pagta-trabaho ko, at gagawa na rin lang naman sila ng propaganda, puro palpak pa, e lahat naman nang mga akusasyon niya sa akin, e dapat binabato niya sa sarili niya", he stressed.
Grey is confident that Secretary Ronaldo Puno of the DILG will not waste his time into considering the solon's petition.
Exhibit series on political killings slated
By KAREN OCAMPO FLORES
November 15, 2006

An artwork of PIYETA by Emmanuel Garibay
MANILA, Philippines – An alliance of artists advocating human rights announced Sunday that it will be holding a series of art exhibits on the political killings, starting this mid-November.
Based on data from the human rights group KARAPATAN, there have been 779 victims of extra-judicial killings under the Arroyo regime from January 2001 to November 5, 2006. Of this number, 338 are with known political affiliations.
Dubbed PERSPEKTIBA, the series of exhibits by Tutok Karapatan (TutoK) will open on November 21 at the Beato Angelico Gallery, University of Santo Tomas (UST) with live installation by Jeho Bitancor.
The exhibit will run at UST until December 2. As part of the Perspektiba-UST event, TutoK will hold a forum on November 29, with multi-awarded novelist Jun Cruz Reyes as the main speaker. And live actions in the evening with artists Jose Tence Ruiz, Jef Carnay, Cos Zicarelli, and award-winning poets Roberto Ofanda Umil and Angelo Suarez.
Among the artists participating in the Perspektiba-UST event are painters Antipas Delotavo, Boy Dominguez, Gene de Loyola, and Emmanuel Garibay; multi media artist Claro Ramirez, Lyra Abueg Garcellano, Don Salubayba, Ed Manalo, Benjo Elayda, Mark Ramsel Salvatus III and Buen Calubayan; and art groups Anting anting and UGAT Lahi;
The PERSPEKTIBA series of exhibits will next run at St. Scholastica's College in January next year, and at the University of the Philippines (UP) in Diliman, Quezon City in February.
PERSPEKTIBA is just one among several events slated to be held by TutoK starting this month.
PERSPEKTIBA is curated by Mideo M. Cruz with Raoul Rodriguez as co-curator for exhibition and Victoria Deocampo as co-curator for live actions.
TutoK was formed late last year as a response from the artistic community to the deteriorating human rights situation in the Philippines.
Baybay town on the verge of citihood
By Philippine Information Agency (PIA 8)
November 15, 2006
TACLOBAN CITY, Leyte – Baybay town may soon become the third city of Leyte and the fifth city in Eastern Visayas.
This was learned from Congresswoman Carmen Cari of the fifth district of Leyte, in a chance meeting with PIA, recently.
The optimism that Baybay will soon become a city arose from the fact that the Bill has hurdled the second reading in Senate. It is only awaiting for the third reading and the final approval of the Senators.
Congresswoman Cari passed House Bill No. 01380 entitled An Act Converting the Municipality of Baybay, Province of Leyte into a Component City to be known as the City of Baybay, in 2004. It was passed by the House of Representatives but it has to be passed by the Senate, too, before it becomes a law.
It was passed by the House of Representatives together with the other municipalities in the country which filed for city hood almost in the same year as Baybay. Months thereafter, both Houses of Congress agreed that there will be moratorium in the conversion of status of Local Government Units.
The League of Cities in the Philippines was vehemently objecting to the conversion of municipalities to become cities as it will reduce their share in the Internal Revenue Allotment (IRA). The IRA which is the mandated share of the Local Government Units under the law, is divided by the four LGU groups namely Provinces, Cities and Municipalities and Barangays. Hence, adding more municipalities to the cities will definitely reduce the share of the existing cities while the municipalities will individually increase their share as their number reduced.
Congresswoman Cari is positive, however, that majority of the senators will support her bill and eventually convert Baybay into a city. Once converted, Baybay will enjoy more income from the IRA and from local taxes, thereby, improving as well the delivery of basic services to its constituents.
Baybay is classified as a first class municipality composed of 92 barangays. Of this number, 23 are in the poblacion composing the zones. The remaining 69 are rural barangays. Covering an area of 46,050 hectares, Baybay is situated on the western coast of the province of Leyte. The most common crops grown are rice, corn, root crops, fruits, and vegetables. Industries operating include the Specialty Products Manufacturing, Inc. and Visayan Oil Mill. Various cottage industries can also be found in the municipality such as bamboo and rattan craft, ceramics, dress-making, fiber craft, food preservation, mat weaving, metal craft and other related activities.
Baybay has great potentials as a tourist destination. It is not only rich in biodiversity and history it also houses the renowned magnet attractions like the campus of the Leyte State University and the Jungle Valley Park. Likewise, it has river systems fit for river cruising, numerous caves for spelunking, forests, beaches, and marine treasures.
This richness coupled with friendly Baybayanos will be an element for a successful City in the near future.
Calbayog City mayor wins Konrad Adenauer Award
By MYLES JOSEPH E. COLASITO
November 13, 2006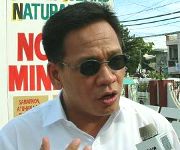 Mayor Mel Senen Sarmiento
TACLOBAN CITY, Leyte – Mayor Mel Senen S. Sarmiento of Calbayog City has been selected as the Konrad Adenauer Medal of Excellence (KAME) national winner as a highly performing city government.
DILG-8 Regional Director William C. Paler sent his congratulations to Mayor Sarmiento, upon receiving a letter from Konrad Adenauer Stiftung (KAS) Country Representative Klaus Preschle and Nestor N. Pilar, Chairman of the Board of Judges of the Local Government Development Foundation (LOGODEF) which sponsored the search. Director Paler added that the awards ceremonies will be held at the Manila Hotel on December 6, 2006.
Other winners in their respective categories are: Governor Erico B. Aumentado of Bohol (provinces), Mayor Dixon Q. Yasay of Opol, Misamis Oriental (municipalities) and Punong Barangay Carlos C. Rigor of Barangay Paco, Mankayan, Benguet (barangays).
KAME, named after the first German Chancellor, is an award for best managed local government units in the Philippines. It is given to local executives for their constructive leadership, accomplishments and visions as political leaders of their communities.
A search committee composed of local government experts from the academe, foreign and local government agencies evaluated the candidature of LGUs for the KAME award.
Nominees are evaluated according to eight (8) criteria: accountability, responsiveness, management innovation, public-private sector partnership, local government citizen interaction, decentralized management, networking and human resource management.
Nominations for the KAME award could come from a non-government organization registered with the Securities and Exchange Commission (SEC), a civic organization competent and knowledgeable in local government administration, an association or league of local authorities, a church or parish, or an international organization working with LGUs.
2 firearms recovered in another encounter in Leyte
By Maj. VICTOR D. TANGGAWOHN JR (INF) PA
November 13, 2006
CAMP LUKBAN, Catbalogan, Samar – Elements of 83rd Division Recon Company, 8th Infantry Division, Philippine Army under Lt. Guillermo Mabute encountered more or less 20 communist terrorists (CTs) belonging to the NPA's Northern Leyte Front, Eastern Visayas Regional Party Committee (EVRPC) of the Communist Party of the Philippines (CPP) under Fr. Santiago Salas at vicinity Caabangan, La Paz, Leyte on November 8, 2006 at 7:30 am.
A report reaching the 8th Infantry Division Headquarters stated that the troops received information from concerned residents who noticed the presence of heavily armed communist terrorists in their area. Lt. Mabute and his men immediately responded and engaged the terrorists in a running gun battle that resulted to the recovery of one (1) M16 armalite rifle with one (1) long magazine and one (1) caliber .45 pistol with six (6) live ammunitions.
The encounter also led to the killing and wounding of several CTs as evidenced by bloodstains in the scene of encounter and testimonies from the civilian populace who witnessed the fleeing CTs dragging along with them their casualties. There was no casualty on the government troops.
MajGen. Rodrigo F. Maclang, the 8th Infantry Division Commander commended the troops for the job well done and said "the capture of two (2) high powered firearms is a result of our unrelenting effort to neutralize and counteract terrorists attacks. The NPAs possible plan of inflicting harm and sowing terror against defenseless and innocent civilians were then thwarted. We will continue to be on the offensive and will guard against possible counterattacks from the CTs as they have been suffering from significant losses in recent clashes. Clearing and pursuit operations will continue until the terrorists are decimated."
Eastern Samar's 41st Founding Anniversary closes with Employees Day
By BRYAN M. AZURA
November 13, 2006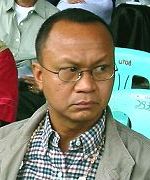 Governor Ben Evardone
BORONGAN, Eastern Samar – Governor Ben P. Evardone showed his care upon the people who are working with him by giving the provincial employees a special day on the post celebration of Eastern Samar's 41st Founding Anniversary on November 10, this year at the Capitol, this town.
Hailed as the Capitol Employees Day, this occasion is meant to give the employees a special attention for the hard work they have displayed in order to give the people of the province a better, if not, first-class service.
"I am personally thanking the employees of the capitol because you are playing a great role in providing services and implementing projects and programs to our constituents," Evardone said. "We could have not achieved much especially on our battle against poverty had it not been for your support and hard slog," he continued.
The governor also said that the graduation of the province from the "Club 20" or the poorest of the poor provinces was achieved because the workforce of the province moved. "If these people have done much for Eastern Samareños benefits, isn't it just but appropriate that we give them due acknowledgement," says Evardone.
Evardone extended also his praises to the men and women working for the national agencies who had been assisting him closely in his programs. Among those that he mentioned are the provincial offices of the Department of Education, Department of Health, Department of Trade and Industry, Department of Agrarian Reform, Department of Agriculture, the Philippine National Police, the Philippine Army, among others.
"These are the people who have truly contributed much to the development of the province," he said. Evardone however challenged the provincial employees to work harder. "Let's not be contented with what we have professionally earned but let's strive more," he urged.
The provincial chief recently admitted that there's still much to be done especially in lifting the people in Eastern Samar from the quagmire of poverty and in maintaining peace and order in the province.
In the visit of Sec. Michael Defensor, keynote speaker during the anniversary ceremony, he reassured the governor and the people that President Gloria Macapagal-Arroyo will continue to give full support to the programs and projects of the province.
The province celebrates it's founding anniversary on every 9th of November.