PNP, army forge MOA on internal security
By JUN ARCENO (PIA Samar)
September 1, 2007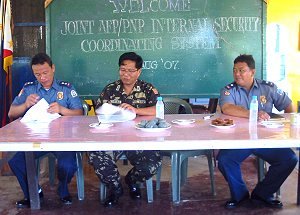 CATBALOGAN CITY, Leyte – As part of the Executive Order Number 546, that mandates the Philippine National Police to undertake active support to the Armed Forces of the Philippines (AFP), the 46th Infantry Battalion headed by its commanding officer LtCol. Luis Vincent Tacderas and the Samar Police Provincial Office (PNP) headed by Provincial Director PSSupt Asdali Idja Abah signed a Memorandum of Agreement (MOA) on Internal Security.
Both high ranking officials and 15 other Chiefs of Police attended the signing of the MOA on the AFP and PNP Security Coordinating System. The said MOA covers 15 Municipalities from Sta. Margarita to Paranas and the City of Catbalogan.
The general provisions stated that the 801st Infantry Brigade and 803rd Infantry Brigade shall continue to discharge its primary responsibility in undertaking Internal Security Operations (ISO) and assuring the security in the region.
On the other hand, Samar PPO QUAD (Operation Intelligence, Police Community Relations and Investigations) Operation shall support the 801st and 803rd triad (combat operation, intelligence and CMO) operations. The SPPO shall perform these support functions with its capability.
It also added that the SPPO shall focus its active support to the 801st and 803rd IB in addressing the Communist Terrorist Movement (CTM) political, military and united front components in urban areas/major cities or white areas.
Similarly, the MOA enumerated the degree of operations involvement of both AFP and PNP in the conduct of operation, legal offensive, participation of Army Civil Military Operation (CMO) and PNPs Police Community Relation (PCR).
The 801st or 803rd IB and Samar PPO, when applicable, shall work as a joint force in the conduct of CMO and PCR activities such as, but not limited to activation and operation of the 801st IB or 803rd IB and SPPO Communication and Information Company (JAPCIC) concept and conduct Special Operations Team White Area (SOTWA).
Samar PPO-PCR in support of the 801st IB or 803rd IB CMO/PSYOPS activity shall adopt a two pronged strategy its anti insurgency tasks which shall be undertaken through the conduct of intensified information and establishment of counter organization.
The PNP communication plan (SANTINIG) shall include the regular conduct of Police information and Continuing Education especially on issues effecting interior security, while continuing information campaign to expose the evil brought about by the insurgents wanton atrocities, merciless killings and human rights violation.
This shall be undertaken through various tri media outlets, personal contacts and the use for information technology.
The organization plan (SAMBAYAN) shall involve activities relative to the PNP AOM Model (awareness, organization, mobilization for coordination linkages, networking and organizations).
Finally, the regional joint AFP and PNP Internal Security Coordinating Committee (ISCC) shall convene at least once every quarter or as often as maybe deemed necessary.
Tacloban City government provides alternative livelihood for flesh workers
By Philippine Information Agency (PIA 8)
September 1, 2007
TACLOBAN CITY, Leyte – Nine sex workers in the city of Tacloban are now undergoing trainings under the program of the City Government of Tacloban to provide opportunities and alternative livelihood to disadvantaged women.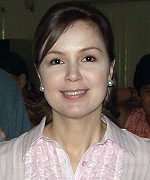 City Councilor Romualdez
Honorable Cristina Gonzales-Romualdez who is the chairperson of the Committee on Social Services informed that these women are among those apprehended during the saturation drives of the City DSWD and the City PNP.
She said that these women are now on their second week of training on cosmetology. Later, they will also be taught on handicraft making and food preservation and when they are able to decide what livelihood they will go into, they will be given initial capital for them to start their own business.
Councilor Romualdez said that the city government would like these women to network with the other sex workers and bring them to the group so that the others will also have the chance to change their lives for the better.
In the press conference on August 29, Hon. Romualdez handed in P1,000 to each of the women so that they can already start buying manicure set and go on with a productive activity.
These women who are from the poor barangays of the city have pledged not to go back to their trade for as long as they will be helped to find alternative sources of income.
One of the women sex workers is a twenty three year old mother of two who is on her eight week of pregnancy. Asked whether she has a husband, she answered to the positive. When PIA asked her whether her husband knows her job, she said yes which almost made PIA to collapse in disgust.
The oldest of the sex workers is 47 years old but still she claims to still have customers who pay P1,500 for her service. Another one said that one time a foreigner took her and threw her on the bed. She told him that she is newly operated and so the foreigner took pity on her and paid her P1,500 without asking her to give her services. The other one, who is the most good-looking of them all, is a mute without any sign of emotions on her face.
The women and children of Tacloban deserve better treatment from the public. These women sex workers are not to be condemned but be pitied. One thing is sure, these women sex workers will not continue engaging in their trade if there are no men who tolerate them. If the men of Tacloban respect their fellow Taclobanons, they will not use them as sex slaves especially if these women are young enough to be the daughters, sisters or mothers of these men.
Tacloban City government heightens drive vs. women and children abuses
By Philippine Information Agency (PIA 8)
August 31, 2007
TACLOBAN CITY, Leyte – For the first time in decades, the city government of Tacloban is giving one hundred percent full support for the protection of women and children in the city.

Mayor Romualdez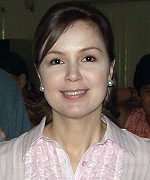 Councilor Romualdez
Ms. Liliosa Baltazar, City Social Welfare Officer said during a press conference held Wednesday at the Tacloban City Hall, that under the leadership of Mayor Alfred Romualdez and First Councilor Cristina Gonzales-Romualdez who is the chairperson for the Committee on Social Services, the concerns of women and children are now being looked into.
The City Social Welfare Officer said that she has worked with five City Mayors and it is only now during the term of Mayor Alfred that the plight of women and children in the city are really given priority importance.
The past weeks, the City Social Welfare Office in partnership with the City Philippine National Police, with Mayor Alfred and Hon. Cristina joining them, has been conducting operations looking into the minors who are working in videoke bars and internet cafes, vagrants and women and minors who are working as sex workers.
Ms. Baltazar said that for the period of January to July 2007, the City Social Welfare and Development Office has already recorded and attended to twelve cases of crimes against children, from rape, sexual abuse, sexual harassment, trafficking and illegal recruitment. These children are in the ages of 14-17.
In the same period, 45 cases of domestic violence have been attended to, Ms. Baltazar said. At least seven of those cases involve battering of women. Domestic violence is very critical because it develops trauma in children who look up at their parents for security and protection. When they see their father battering their mother physically, financially, physically, these children are confused and they end up when they grow older either as being battered or battering.
Of the 45 cases of domestic violence, three women have been granted permanent protection from their husbands, three have been given temporary protection and four have been given barangay protection. The City SWD has answered 20 rescue cases.
On sexual workers, at least nine are now being served by giving them training on livelihood skills like manicure and pedicure, handicraft making and food processing so that they will no longer go back to the sex trade. The nine women who are now being served were present during the conference, their ages ranging from 23 to 47, and one of them is eight months on the family way.
The City government is also looking into the problem on street children and working minors, Ms. Baltazar said. In fact, the nightly operations also include the violators of the minors curfew ordinance.
The City is seeing to it that the Tacloban internet scandal will no longer be repeated because it is not only demeaning to the City but also the citizens, Ms. Baltazar stressed.
Ms. Baltazar appealed to the barangays to implement the laws of the country and the city ordinances so that women and children will truly be protected.
Samar's child rights advocates to launch protection center for women and children
By NINFA B. QUIRANTE (PIA Samar)
August 31, 2007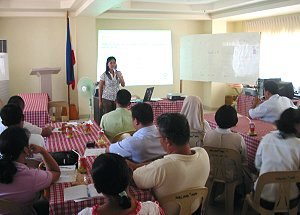 CATBALOGAN CITY, Samar – The Samar Provincial Sub-Committee on the Welfare of Children will launch the Samar Women and Children Protection Unit (WCPU) on October 10, 2007.
On Thursday, as the committee met with their number one supporter Plan Philippines, the group decided (after a year of hibernation) to finally open the facility to serve Samar's abused, molested and trafficked women and children.
In an emotional appeal, Natividad Silurio, Project Unit Manager of Plan-West Samar, urged the committee to push the signing of the Memorandum of Agreement (MOA) between Plan and the provincial government.
Silurio recalled the case of one Janine Paulin, a 15-year old victim who was found dead and burned in a local grocery shop almost a year ago.
The case created waves as it involved the scion of a rich and influential family who owns the grocery building where the dead girl was discovered. The accused though has recently been acquitted.
While the Center can not do anything to revive the girl, it could have assisted the family on the court proceedings.
The WCPU is a facility near the Provincial Social Welfare and Development Office (PSWDO). It has been equipped with facilities for the management of the victims by the so called Multi-Disciplinary Team (MDT) composed of a physician, PNP and a social worker.
These personnel have been duly trained sponsored by Plan Philippines.
Plan who is hailed as child protector insists that if abused women and children do not report the violence or abuse, the cycle will not be severed and the culprit would go unpunished.
With Samar's burgeoning population and extreme poverty, the WCPU facility could just be one of the means to cuddle in its bosom the abused and abandoned woman and child.
Cong. Mercado leads planting of 3,000 trees
By BONG PEDALINO (PIA Southern Leyte)
August 30, 2007
DANAO TREE PARK, MAASIN CITY – Close to 3,000 seedlings of trees have just been planted on Wednesday in this watershed, eco-tourism park as a fitting birthday celebration of a lawmaker whose entire life revolves around planting trees in words and deeds as a way to offset climate change and global warming, among others.
"We will continue planting trees in this part of Maasin," Cong. Roger Mercado, the birthday celebrator, declared in an imprumtu program held shortly after the tree-plating activity.
He acknowledged that the lush vegetation in this site was a "product of so many years, developed not by one man or one program, but encompassing all other sectors of society" who had contributed their share in time and effort, making the area beautiful for nature lovers to appreciate and enjoy the natural sights.
Among the tree species planted were Palawan Cherry, Fire Tree, and Acacia Mangium.
Those who joined the activity included local officials from the city, province, and Mayors from the rest of the other towns. Heads of national line government agencies, representatives from the private sector, the NGOs, barangay officials from the city's 70 barangays, the military, Army reservists, and the Philippine National Police (PNP) also participated actively.
Vice-Governor Mike Maamo earlier cited Cong. Mercado as the counterpart of former US Vice-President Al Gore, who has been touring around the world as a staunch environment advocate.
He stressed that the Sangguniang Panlalawigan will allocate for next year's budget an amount for tree-planting as their way of showing support to the continuing initiative of Cong. Mercado.
City Vice-Mayor Effie Sabandal likewise expressed the city government's support to the solon's vision, while City Mayor Maloney Samaco announced that the forthcoming Boy Scouts Regional Jamboree, comprising Regions 7 and 8, will be held in this place in January 2008.
Gov. Damian Mercado, younger brother of the Congressman, also aired an all-out support to the project, as he called on those who had planted to visit the seedlings in the succeeding months to see if those had survived, and replaced those that died.
It was during the term of Gov. Mercado as City Mayor then that the 320 hectare Danao reforestation site was turned over to the city government for further development and maintenance from the Department of Environment and Natural Resources (DENR).
The whole site, which is about twenty kilometers away from the city proper going up north, has been the source of water for city residents who are concessionaires of Maasin Water District (MWD).
Leyte's plant oil stove catches interest of PNOC-AFC chair
By Philippine Information Agency (PIA 8)
August 30, 2007
TACLOBAN CITY, Leyte – Always on the look-out for alternative sources of fuel, Secretary Renato Velasco, chairman of the board of the Philippine National Oil Company-Alternative Fuels Corporation, learned about and became interested in Leyte's Protos, a stove which makes use of plant oil.
Chairman's Velasco has a good reason to be enthusiastic. After requesting a friend in Leyte to buy one for him, Chairman Velasco is now a proud owner of Protos stove which is now being manufactured and marketed in the province of Leyte, a cost-saving alternative for cooking because it is powered by plant oil such as that of coconut, jatropha or "tuba-tuba", soya bean, corn, golden shower, talisay, peanut, cotton, sunflower and many more.
Chairman Velasco is indeed very committed to his work at the PNOC-ADF which is primary mandate is to explore, develop and accelerate the utilization and commercialization of alternative fuels in the country.
Protos plant oil stove is an answer not only to the worries and headaches of households due to soaring price of Liquefied Petroleum Gas, it is also an answer to the worldwide concerns on the health of the people and on the protection of the environment.
Plant oil stove is more economical to use than LPG. Based on the experience of pilot households, a typical family of five can consume about P185 worth of fuel in a month's time. In contrast, the same family using LPG would spend approximately P300 per month on fuel. The initial cost of purchasing the Protos unit is comparable to the price of an LPG-powered stove with an empty tank.
An unapparent advantage is when the stove runs out of fuel, the housewife can continue to cook in Protos with only 1 liter of coconut oil worth P28 while an LPG user needs to purchase one whole tank worth almost P500. This feature of Protos Stove is a big help to the minimal wage earners.
The family can even extract their own plant oil from coconut which is abundant in the country or from jatropha which is now what Secretary Velasco and the PNOC-Alternative Fuels Corporation, is currently advocating.
The health and environmental concerns are not only because of the continues burning of fossil-based fuels that resulted to global warming. The fact remains that there are still more than three billion people all over the world who continue to depend on solid fuels including biomass fuels like wood, dung, agricultural residues, and coal for their energy needs.
Cooking and heating with solid fuels on open fires or traditional stoves result in high levels of indoor air pollution. Besides, the very low heat utilization efficiency of open fire cooking of about 5% to 10% of the ever-growing population in developing countries have resulted to high consumption of firewood that lead to the destruction of forests which in turn cause serious ecological problems like soil erosion, desertification and flooding, among others.
As forests are denuded, collection of firewood becomes more time-consuming and more expensive than the food to be cooked.
With the Protos Stove, gas emissions of Carbon Dioxide and other hydrocarbons are significantly reduced and heat utilization efficiency is higher by about 30% to 40%.
Thus, Protos Stove, which was developed by the Plant Oil Technology Center of the Visayas State University in Baybay City, Leyte, is a healthful, ecological and economical cooking alternative.
The Visayas State University has established the technology and equipment for processing plant oil at the village level and has proven the use of different plant oils and used vegetable oil as fuel of the Protos Stove.
It has also set up several hectares nursery for jatropha seedlings which are intended to be sold to potential jatropha farmers.
Mayor Sarmiento nominated to chair RDC 8
By Philippine Information Agency (PIA 8)
August 25, 2007
TACLOBAN CITY, Leyte – Members of the Regional Development Council in Eastern Visayas (RDC8), in a re-organizational meeting held on August 24 at the NEDA Conference Room, nominated Calbayog City Mayor Mel Senen Sarmiento to be the next RDC Chairperson and Private Sector Representatives Agustin Docena of Eastern Samar and Dr. Leo Blanco of the Chamber of Commerce and Industry for the RDC Co-Chair.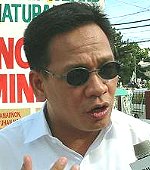 Mayor Mel Senen Sarmiento
Their names will be submitted to President Gloria Macapagal-Arroyo to give her the prerogative to choose who to appoint.
RDC Vice-Chair NEDA Director Buenaventura Go-soco Jr. who acted as the presiding officer, said that what was requested was to submit four names to the President, two names of Local Chief Executives and two names of Private Sector Representatives. However, the members did not nominate any other local chief executive.
Mayor Sarmiento when ask for a statement informed the body that he does not want to make any promises except that if the President will appoint him, he will continue what was started by former RDC Chairs Remedios L. Petilla and outgoing RDC Chair Rosette Lerias.
Mayor Sarmiento has been an active member of RDC for many years. During the last term, he also signified his intention to serve as RDC Chair but at the last minute, he gave way to Governor Rosette Lerias.
Mayor Sarmiento is currently a second termer as the secretary general of the League of Cities of the Philippines. He is known for initiating innovative practices in local governance.
No provincial governor was observed to be present during the RDC meeting, but they were ably represented.
Secretary Victor Domingo, the Presidential Assistant for Eastern Visayas observed the election proceedings.