Evardone swears in new provincial Liga ng mga Barangay president
By BRYAN M. AZURA
January 12, 2008
BORONGAN CITY, Eastern Samar – Governor Ben P. Evardone presided over a simple oath-taking ceremony of Franc Daniel Lucero, the new provincial president of Liga ng mga Barangay at the Governor's Office, provincial capitol, this city.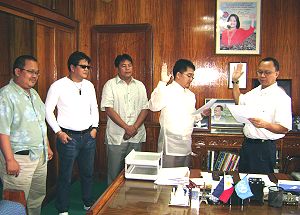 Gov. Ben P. Evardone (right) swears in Franc Daniel Lucero (2nd from right) as Provincial Liga ng mga Barangay President at the former's office. Witnessing the simple event are (L-R) Provincial Atty. Jesus Apelado, Vice Governor Leander Geli and Atty. Celerino Bagro.
The affair was witnessed by Vice Governor Leander Geli and some lawyer friends of Lucero including Atty. Jesus Apelado and Atty. Celerino Bagro.
Evardone said that the election of Lucero is a welcome to the provincial government as the administration is geared towards uplifting the 597 barangays of Eastern Samar.
"Eastern Samar's progress will start from our barangays and Lucero, given the trust and confidence of his fellow municipal Liga (ng mga Barangay) presidents, will give leadership to barangay developments in the province as he sits in the Sanguniang Panlalawigan," Evardone said.
Vice Governor Geli is as well optimistic to what the new provincial LB leader will contribute to the Sangunian. Lucero is the newest SP member and thus completing the seats of the Sangunian.
Lucero is from the municipality of Dolores and won over Mark Pol Gonzales of the southern municipality of Guiuan in the Liga elections held last December 17, 2007.
This young politician is not as new to politics as he is the son of former Northern Samar Congressman Wilmar Lucero.
Meanwhile, the new SP member is calling upon his colleagues to support him and the Liga. "Let's unite now as elections are over and act to bring about advancement in our barangays," Lucero said.
"The Liga, under my guidance, will continue to support in the programs of Governor Evardone and his programs," Lucero added.
Meanwhile, Evardone has expressed support also to the Liga through his various programs and projects to the barangays.
PhilPost-8 now accepts cargo services
By MARIVIC ALCOBER (PIA 8)
January 11, 2008

The Catbalogan City Post Office is located near Imelda Park.
TACLOBAN CITY, Leyte – Here's good news for those who wants to send goods or some items to their friends and relatives in Leyte and Samar. The Philippine Postal Corporation (PhilPost), Region 8 headed by Regional Director Fabioleta P. Ferraris is proud to announce that their office now accepts transport of cargoes from one city or municipality to another for a minimal fee.
According to PhilPost Information Officer Designate Oscar E. Bioco, said postal service is facilitated through their mail service vehicle to and from the following post office points: Tacloban City-Ormoc City and way offices; Ormoc-Kanaga-Palompon-Isabel-Merida and way offices; Tacloban-Catbalogan City-Calbayog City-Catarman and way offices; and Tacloban-Borongan, Eastern Samar and way offices.
Bioco added that other postal points are: Ormoc-Albuera-Baybay City; Tacloban-Baybay-Maasin and way offices; Maasin-Sogod, Southern Leyte and way offices; Sogod-Silago-Abuyog-Tacloban and way offices; Guiuan, Eastern Samar-Borongan, Eastern Samar; and lastly, Borongan-Oras, Eastern Samar and way offices.
Interested parties who want to avail of this cargo service, known as Priority Express or PREX, are required to inform the consignee to pick up said cargo at the post office destination point. Bioco said that Philpost guarantee's a same day delivery of items posted within the specified cut-off time.
For more details, Bioco advises interested parties to visit the post office in their respective localities.
Five days medical and dental civic action program launch
By 1Lt. FREDERICK M. CHICOTE (INF) PA
January 11, 2008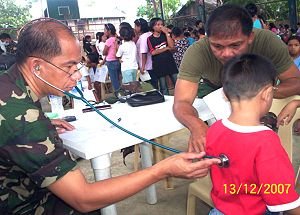 Cpt. Allan P. Parayao (MC) PA, conducts medical check-up/consultation to one of the beneficiaries during the conduct of five days Joint MEDCAP.
SOGOD, Southern Leyte – In an effort to bring free health services to the less fortunate constituents, the 43rd Infantry (We Search) Battalion, 8th Infantry Division, PA under the leadership of LCol. Mario G. Lacurom INF (GSC) PA, in tandem with the Federation of Omega Beneficiaries Incorporated (FOBI), a non-government organization (NGO) that promotes community-based development services for children, youths and families under the supervision of Mr. Edgar Mero, Board of Trustees President, with the assistance of the World Vision Development Foundation and in coordination with the Rural Health Units facilitated a five days Medical and Dental Civic Action Program (MEDCAP) with one target municipality each day.
Medical and Dental Officers from Camp Lukban Station Hospital (CLSH) stationed at 8th ID, PA, Camp Lukban, Maulong, Catbalogan City, Samar and personnel from 43IB, 8ID, PA were able to provide free circumcision, medical consultation, dental services, haircut and other services to the community. Likewise, the Federation of Omega Beneficiaries Incorporated (FOBI), with the assistance of the World Vision Development Foundation, shouldered the medicines needed for the said activity, as well as, provided Medical and Dental doctors.
On December 11, 2007 at about 7:30 in the morning, Medical and Dental Team from CLHS under 1Lt. Frederick M. Chicote PA, Civil-Military Operations Officer of 43IB, together with the medical and dental doctors of the RHU of Maasin City and the Federation of Omega Beneficiaries Incorporated headed by Ms. Sofia B Pono, FOBI Project Coordinator arrived at the Municipality of Macrohon, Southern Leyte, the first venue of the five days MEDCAP.
The group provided medical and dental consultations, circumcision and other health services to the community. The activity ended at about 5:00 in the afternoon benefiting a total of 417 less fortunate constituents.
On the following day, same group of medical and dental personnel with Maj. Emiliano M. Toling Jr, Executive Officer of 43IB arrived at the Municipality of Padre Burgos, Southern Leyte for the continuation of the MEDCAP that benefited 417 beneficiaries. On the succeeding three days, the group proceeded to the Municipality of Bato, Leyte; Brgy Asuncion, Maasin City and Brgy Caridad Sur, Matalom, Leyte to conduct same activity which benefited 399, 421 and 562 patients, respectively.
The week long MEDCAP culminated on December 15, 2007 benefiting a total of 2,117 less fortunate constituents.
Catbalogan PNP soon to have a new building worth P4.5M
By NINFA B. QUIRANTE (PIA Samar)
January 10, 2008
CATBALOGAN CITY, Samar – Elements of the Philippine National Police (PNP) Catbalogan will soon be occupying a new building worth P4.5M.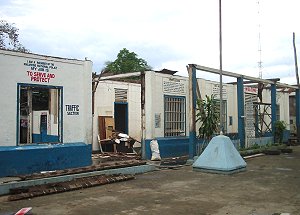 The old Catbalogan Police building now under demolition.
This was learned from the Catbalogan PNP on Wednesday through chief of police PSupt. Ramil Ramirez.
Presently, his office is temporarily housed in the new Catbalogan Market stalls in this capital city of Samar.
Mano Noe Mabulac, 65 who was in the police station to get his police clearance said the new PNP headquarters is far more accessible to the public than its old site.
However, Ramirez said that the place is very temporary. He added he is studying other public buildings where security is better than the one in the market place.
As to the new building, the chief added that the funding comes from the PNP Trust Fund. He said the old building is already more than fifty years old and not even a repair could save it.
When asked whether a new building is necessary to function effectively as a police officer, he replied that it is not necessary but it sure could help a person think properly if his surroundings feel safe, secure and orderly.
Presently, demolition of the old police building is in progress, he said that the dismantling job is not covered by the cost of the building and such is done through his own initiative.
On January 21, he expects to receive news from the regional office 08 that a Notice to Proceed with the building is in order.
Season 3 Leyte IDOL search names its eight grand finalists
By Provincial Media Relation Center (PMRC Leyte)
January 10, 2008
TACLOBAN CITY, Leyte – The fever is up again on who would get the province's top singing talent as the provincial government of Leyte is set to hold the Grand Finals night for its Season 3 Search for Leyte IDOL on February 24.
After months of searching, eight grand finalists have emerged to compete in the grand finals and take a chance at the coveted prize of P200,000 and the chance to be Leyte's singing sensation for 2008.
2008's Grand Finalists include Angela Vasquez, 17 and Reggie Tortugo, 16, both of Ormoc City; Joseph Virgil Lucinario, 20 of Tacloban City; Jeffrey Bermudez, 20 of Tolosa, Leyte; Pio Rommel Aureo, 20 of Bato, Leyte, Ryan Roa, 21 of Mac Arthur, Leyte, Dexter Relevo, 19 of Jaro, Leyte and Francess Rodelle Antonette Go, 21 of Tabon-tabon, Leyte.
Aside from being judged of their performance during the finals night, the grand finalists would also be judged for their popularity via phone vote, where their supporters can call in their votes through a Bayantel Span number.
While the grand champion would receive P200,000, this year's second placer will get a cash prize of P100,000 and the third placer would win P50,000.
The non-winning finals contenders would still be awarded a consolation prize of P20,000.
Meanwhile, the IDOL secretariat is enjoining all supporters, friends and family of the eight grand finalists to phone in their votes to add points to the total score of the eight contenders.
The Bayantel span numbers are 327-0724 for Angiela Vazquez, 327-0725 for Joseph Virgil Lucinario, 327-0726 for Jeffrey Bermudez, 327-0727 for Pio rommel Aureo, 327-0728 for Ryan Roa, 327-0729 for Dexter Relevo, 327-0730 for Reggie Tortugo and 327-0731 for Frances Rodelle Antonette Go.
The provincial government of Leyte through Leyte Governor Carlos Jericho Petilla vows to continue to discover singing talents and help them develop and explore their potentials for personal development and later for professional practice.
LTO 8 chief assumes post as LTO 7 head
By Philippine Information Agency (PIA 8)
January 9, 2008
TACLOBAN CITY, Leyte – Land Transportation Office Regional Office 8 Director Raul Aguilos assumed on Tuesday his new post as the LTO Regional Director in Region 7. He replaced Director Alex Leyson who will be transferred to Eastern Visayas as the LTO director.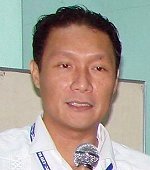 LTO Director Raul Aguilos
The turn-over ceremonies was witnessed by LTO Chief Reynaldo Beroya on January 8, in Cebu City.
On January 9, Director Leyson will officially assume his post during the turn-over will be conducted at the LTO 8 Office in Tacloban City.
Director Aguilos is not new to LTO Region 7 because prior to his promotion as head of LTO-Eastern Visayas, he was assigned to LTO Region 7 as assistant regional director in the mid 1990's.
His transfer to LTO Region 7 will fulfill the clamor of Cebu Auto Dealers Association President Jose Manuel Cuenco when he said "we need to see who the replacement would be, if he is a righteous person who can also impose discipline to his people."
With Director Aguilos' track record of good performance and untarnished reputation as head of the LTO Region 8, there is no doubt that he will be able to transform LTO Region 7.
Director Aguilos was able to obtain ISO Certification for the Tacloban City Licensing Office. Right now, Director Aguilos is working for the ISO Certification for the LTO 8 Licensing Offices in Calbayog, Catbalogan and Ormoc.
It would be recalled that LTO Region 7 has been under hot waters amid allegations that the Office faked the car registration papers of the 81 luxury cars seized in Makati City in December.
Although Director Leyson accepted the relief order like a good soldier, he denied colluding with LTO officials to falsify the car registrations of the seized luxury vehicles valued at P200 million.
On December 20, the Presidential Anti-Smuggling Group (PASG) seized from a repair shop on Pasong Tamo Street, Makati City, 84 luxury cars, 81 of which were found lacking in documentation. Expensive cars which include 21 BMWs, 16 Mercedes Benzes, 11 Porsche sports cars, four Jaguars, 3 Volvos, and a Lamborghini were confiscated from the Auto Sports 24 shop in Makati.
Ferraris, Carera, Boxter, Land Cruisers, Range Rovers, Cherokee and a Mini Cooper were also found in the repair shop. Thirty of the confiscated cars, including high-end models, could be worth P70 million to P100 million, according to DOTC's statement quoting the PASG.
Allegedly, the 81 seized vehicles lacked documents to support the legality of the importation of these cars. Also, it was alleged that most of the seized vehicles in Makati were believed to be smuggled from Cebu.
The PASG also found out that the registration papers of the smuggled vehicles were issued by LTO offices in Cebu, particularly in Toledo.
The report of PASG apparently prompted Secretary Mendoza to order SLES to investigate on the issuance of faked car registrations in the LTO regional office under Leyson.
It is hoped that the investigation will clear Director Leyson and lead to the identification of those responsible for the alleged anomalous registrations.
Escudero junks National ID scheme, says Filipinos already have existing ones in PhilHealth Cards
Press Release
By Office of Senator Chiz Escudero
January 9, 2008
MANILA, Philippines – Opposition Senator Chiz Escudero on Tuesday slammed the government's plan to revive the National ID scheme saying the plan has doubtful benefits with only one clear purpose which is to put dog tags on every Filipino.
Escudero said there is no need to issue a consolidated singular ID since Filipinos already possess one with a clear provision for social services in the form of the Phil Health cards.
"An ideal national ID should be a social services tool. It should be one that would entitle the holder to assistance and benefits and not as a security instrument foisted at the expense of the peoples privacy" Escudero said.
He went on to say that the PhilHealth Card fits the bill as it is already a de facto national ID. Republic Act 7875, the National Health Insurance Act of 1995, mandates the universal and compulsory coverage of Filipinos in a national health insurance system.
Escudero said Section 2 of the said act requires all citizens to enroll in the system to avoid adverse selection and social inequity. Section 8 meanwhile entitles the bearer to a "health insurance card" to be issued by the local PhilHealth office for the purpose of identifying the members, verify eligibility and record utilization of benefits.
Instead of embarking on a Holy Grail-like chase for a national ID, Escudero said it would do well for government to expand PhilHealth. "The new ID system will only create a lucrative ID lamination industry out of yet another public document with low social acceptability because of its equally low social purpose".
The senator said Malacaňang should instead just use the PhilHealth card as national ID to save on unnecessary expenses. A national ID system designed in the security mold, Escudero said, will be costly. "Either, it will be given gratis, which will burn a hole in the government's pocket, or be subjected to a fee, which will invite complaints from an already overtaxed public". Periodic renewal should also be factored in as updated information should be an ID's security feature.
PhilHealth ID cum National ID will even earn money for the government or at best revenue neutral as people will voluntarily buy health insurance if they see value for money in it.
If the National ID will be intertwined with PhilHealth, Escudero said the government will be ensuring health and public security at the same time. "Palace should seriously consider using the existing PhilHealth card as National ID. This way the burden of performance, of enrolling more people in PhilHealth will fall on the government rather than on the people, should an ID designed by the security apparatus of the state will be foisted on them."
Anti-trafficking advocates unite for the effective implementation of anti-trafficking law in the region
By Philippine Information Agency (PIA 8)
January 8, 2008
TACLOBAN CITY, Leyte – The Anti-Trafficking in Persons Local Technical Group and the American Center for International Labor Solidarity under the Strengthening the Enabling Environment to Improve Response to Trafficking in Persons and Related Cases (STEER) conducted a consultation meeting at Hotel Alejandro in Tacloban City, on Monday, January 7, 2008 and resolved to improve the coordination among the various stakeholders in government and in the private sector in the Region in order to effectively implement the Anti-Trafficking Law in the Region.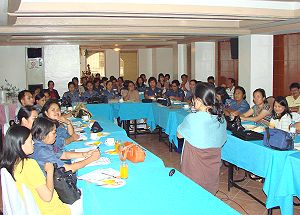 The participants from the 6 provinces of Eastern Visayas agreed that there is a need to improve the database maintenance and operations through expanded submission of Trafficking in Persons data and information for the database.
The target is for the submission and encoding of at least 200 trafficking complaint standard reporting form. It was observed that very few of the actual cases of trafficking in persons are reported.
The STEER project also aims to encourage the local government units with the most number of persons being trafficked to have trained local persons in charge of databanking, start local databases, and allocate budget for the database IECs.
The project also identified law schools and possible private law groups and practitioners who will commit volunteer services for TIP victims in terms of legal assistance and counseling.
In order to address the problem on the transportation of the victim in going home, the group identified possible partnerships and signing of memorandum of agreement with various transport industries in the region including bus companies and shipping companies plying in the region.
Aside from monitoring the major ports in the Region, it was suggested that the monitoring agencies must also look into the minor ports which the traffickers are now using.
Through the STEER project tarpaulins informing the victims the agencies and non-government organizations which could be of assistance to them. These tarpaulins will be posted in ports, terminals and places which are accessible and visible so that the victims will know that there are organizations they can call in times of distress.
Statistics show that in 2002, about 7.58 million Filipinos lived and worked in foreign countries. About 1.6 million of them were irregular migrants and are believed to have been victims of Trafficking in Persons.
About 1,006 cases on trafficking in persons have been recorded from 1993 to 2001. It is believed that there are more actual cases and that a more systematic reporting and recording of data is needed.
Around 53% of the victims are women and 25% of these women victims were forced to land in prostitution.