8ID calls on sectors to respect court processes on Acosta's case
By EMY C. BONIFACIO, Samar News.com
April 26, 2011
CATBALOGAN CITY – While the 8ID command acknowledges the right of everyone to express their opinions, they did not fail to show their disappointment over the misleading stories and twisted facts that brings about the brewing sympathy of a few sectors over the arrest of Ericson Acosta.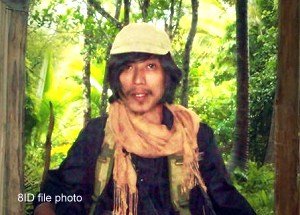 Ericson Acosta, 37 years of age, is presently detained at the Calbayog sub-provincial jail for a criminal charge on illegally possessing explosives docketed as Criminal Case # 11-050 filed at RTC Branch 41 in Gandara, Samar.
"It is anticipated that the legal front of the CPP and its allied organizations will stage propaganda activities in order to deny affiliation of Acosta in their mother organization", the 8ID spokesperson commented.
Major General Mario Chan, 8ID's commander, reiterates to the public that the rights of Acosta were respected during and after his apprehension.
"Acosta was accorded with respect by the apprehending troops. As we've done so in the past, we continue assuring our people that we will always be observant of human rights," the good general adds.
"In fact, his right to counsel and defend himself in court has been duly respected, a clear manifestation of our cognizance for a due process of law. A case has already been filed in court, so let's just wait for the case to take its due course. We submitted the case to the proper courts for resolution." Chan clarifies.
The statements came after reading reports that certain groups are calling for Acosta's immediate release from detention in a recently launched "Free Ericson Acosta Campaign", spearheaded by Acosta's former colleagues from the UP Philippine Collegian, UP Alay Sining and UP Amnesty International, as well as his former schoolmates from St. Mary's College, UST High School, his family and friends. (read Artists, journalists, academe call for release of detained cultural worker)
The Free Ericson Acosta Campaign has been calling on all concerned artists, freedom-fighters and human rights advocates to unite against political repression and attacks on human rights and civil liberties.
The campaign organizers claim that Acosta was illegally arrested last February 13 in San Jorge, Samar by members of the AFP's 34th IB on mere suspicion that he is a member of the New People's Army (NPA). "Moreover, he was in the company of a local barangay official when he was arrested and held for three days without charges and was subjected to continuous tactical interrogation by the military. He has been charged with illegal possession of explosives", Acosta's allies insist.
The 8ID leadership made it clear that they are not contesting Acosta's gift of intelligence and artistic skills as evidenced by the educational records, his past literary works and accomplishments in his chosen field as well as his alliances with other prominent personalities who have been working for the country's development.
"It was commendable of him to have those past accomplishments, as presented by his colleagues. We do not question that. Indeed, there are a lot of cultural workers who are openly advocating for reforms and they are given their freedom to exercise their expertise. However, on Acosta's case it seems that these groups have failed to establish the fact that he was arrested in the hinterlands of Samar. Did anyone of his colleagues wonder why he was in Samar, whom he was working with and what his project was before and during the time of his arrest? It is not even true that he was unarmed because documents/personal belongings retrieved showed pictures of him armed with an M16 rifle. If he's a plain media or cultural worker, why is he armed?" explains MGen. Chan while showing pictures of Acosta to the media.
Initially, the Commanding General refuses to offer more information regarding this case as this has already been forwarded to the court for resolution, but was forced to shed light on queries from the local media.
Reports on the case revealed that Ericson Acosta was arrested in the vicinity of Brgy. Bay-ang in San Jorge, Samar while about to board on a motor boat. When intercepted, he allegedly attempted to draw out from his pocket a hand grenade.
An informant positively identified Ericson Acosta, alias August Lim, to be working under the Instruction Bureau of the National Education Department of the CPP-NPA-NDF's Central Committee. Some other local villagers voluntarily offered testimonies on the alleged activities of Acosta.
Furthermore, it was learned that Acosta was sent by the CPP to facilitate the production of various propaganda materials such as "Ang Bayan", an underground movement newsletter. Troops also recovered from Acosta one (1) laptop notebook with complete accessories and spare battery, an external hard drive, Globe tattoo (USB globe broadband), one (1) unit Nokia 3530, 6 pcs SIM cards, a cash amounting to Four Thousand Eight Hundred pesos (P4,800.00) only and his personal belonging.
As of this writing, www.samarnews.com published at its discussion board, Acosta's press statement, dated April 15, 2011. (read Acosta's writing)
It was learned that Acosta personally drafted his own counter-affidavit and had it sent to his defense lawyers which is being handled by a legal team from the National Union of People's Lawyers (NUPL), led by Atty. Jun Oliva and Atty. Rey Cortez.
Particularly, he mentioned that he has completed draft of a regional human rights situationer that focused on the cases of human rights violations in Barangay Bay-ang in San Jorge, Samar.
"I was in Bay-ang at the time of my arrest precisely to follow-up on these cases", adds Acosta.
"The heat inside the cell is simply oppressive – there is no ceiling here, the lone window is less than a square foot, and my tarima is just beside two charcoal stoves that burn non-stop. The noise outside and the frenzied – sometimes juvenile, sometimes zombie-like goings on among my 12 kakosas inside a stifling, cramped-up space are just too distracting, disorienting", was Acosta's description of the Calbayog jail while trying to apologize for his rambled writing.
He calls on human rights advocates to amplify his case in order to put on pressure to the government that would ultimately free all political prisoners. He explained that while he is the principal subject of the Free Ercison Acosta Campaign, he is enlisting himself to be its principal mass leader and propagandist as well.