Hiked hate crimes, anti-gay rhetoric provoke campus Pride parade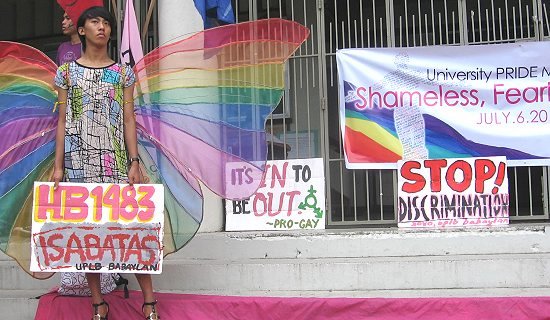 By PROGAY Philippines
July 7, 2011
LOS BAÑOS, Philippines – Rising homophobia and violence against members of the lesbian, gay, bisexual and transgender (LGBT) persons across the country convinced around 500 people that included LGBT students and heterosexual supporters to gather in the University of the Philippines campus in this city for a Pride parade aiming to raise awareness about human rights for gay people.
Dubbed "Shameless, Fearless Equality" the event was organized in this city 50 kilometers south of Manila by the LGBT group UPLB Babaylan with militant groups Bayan Muna and Gabriela. A giant rainbow flag carried by exuberant protesters snaked through the major car lanes around the forested university which rang with shouts demanding justice for murders and a stop to rising anti-gay messages from what they called "hate groups". The school icon, a nude male figure called Oblation, was festooned with giant butterfly-shape wings in the colors of the rainbow to symbolize the flight of gay rights in the campus.
The leftist Bayan alliance instigated a simultaneous sympathy LGBT pride parade in Rosario Cavite.
"We are overjoyed to see overwhelming support of even from heterosexuals, despite threats of bad weather and the short notice we issued," PROGAY Southern Tagalog spokesperson Corinna Hope Marañan said.
Rep. Teddy Casiño of the BAYAN MUNA Party and Hon. Angelica Jones Alarva of the National Movement of Young Legislators supported the Pride parade. Also present was the controversial Metropolitan Community Church, the gay religious group that set the city of Baguio abuzz with a publicized same sex wedding for eight homosexual couples.
"We decided to organize this Pride march in support of our brothers and sisters in other parts of the country who are presently being persecuted and even killed on the basis of their sexual orientation and gender identity," said Jan Erick Abay Alim who serves as the punong babaylan or head shaman of UPLB Babaylan. Alim was referring to the frenzy of anti-gay actions initiated by religious groups in Baguio in response to the same-sex union ceremonies.
Alim claims that even in UP Los Baños, considered as the bastion of democracy in the region, rights of the LGBT are continuously violated. "Some transgendered students are prohibited to express their gender identity, on the pain of not being allowed to graduate," Alim added.
He also said the parade is a sounding board to the campus community to report to the UPLB Babaylan incidents of violence, hate language and discriminatory acts against LGBTs. The group already submitted to Rep. Raymond Palatino of KABATAAN Youth Partylist a partial list of violations that school authorities inflicted on some transgender and lesbian students in connection with the congressman's measure, House Resolution No. 1333, that called for the investigation of unjust discrimination against LGBT in schools.
BAYAN MUNA Southern Tagalog coordinator Adrianne Mark Ng ended the parade with a somber candle-lighting memorial for 160 LGBTs murdered since 1996.
House Bill 1483 or the "Anti-Discrimination Bill" is authored by Rep. Teddy Casiño of Bayan Muna Partylist, a steadfast straight supporter of LGBT rights. He also authored House Bill 4385 calling for a declaration of a National Day against Homophobia and Transphobia, which the participating organizations also support.