DPWH Samar I delivers CY 2017 project updates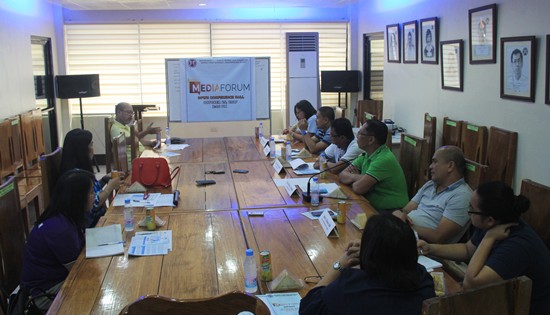 By MAE ANGELICA R. COMOTA
November 10, 2017
CALBAYOG CITY – Samar First District Engineering Office, in its effort to properly disseminate project information to the public, conducts a media forum on the afternoon of October 25, 2017 at the DPWH Conference Hall. Representatives from different local media partners were present, namely, Ms. Jennifer Sumagang-Allegado, Ms. Carina Caranzo, and Mr. Gene Navilon.
Across the table, Ma. Nenita Y. Gomez, Chief of Administration and PIO Designate, leads the DPWH panel which includes Engr. Carlos G. Rañola, Chief of Construction; Engr. Ramon Anselmo C. Calagos, Chief of Maintenance; Engr. Enrico N. Cobacha, Head of Procurement; Engr. Raquel Y. Sumayo, Chief of Quality Assurance; and Carlo C. Rivera, CPA, Chief of Comptrollership & Finance.
The press kit for the forum contains a report on the status of the Carry-Over Projects and Regular Infrastructures Projects as of October 15, 2017. The media partners raise questions about the status and date of completion of the carry-over projects from CY 2016 and the on-going regular infrastructure projects for CY 2017, inquiries on possible future projects, project allocations, other administrative matters as well as application for ISO certification of Samar First.
The DPWH panel successfully answers all of the questions and appreciates the media's presence in its pursuance of continuous information dissemination to effectively and efficiently serve the public by informing them on status of the various projects for transparency.