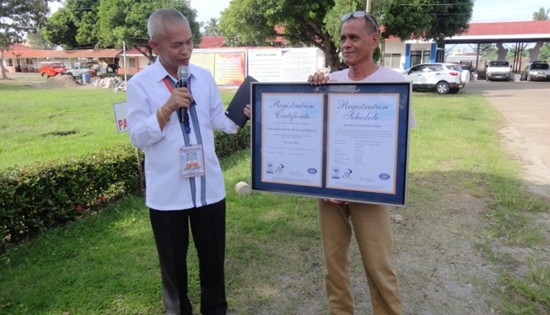 Assistant District Engineer Alfredo L. Bollido (left) as he shows the Registration Certificate and Registration Schedule to all employees during the Flag Ceremony last October 30, 2017.
DPWH-BDEO: ISO 9001:2015 certified
By CARL MARK D. PEDRERA
November 13, 2017
NAVAL, Biliran – The Department of Public Works and Highways - Biliran District Engineering Office (DPWH-BDEO) has recently been certified with the International Organization for Standardization (ISO) 9001:2015. Having been assessed by the AJA Registrar and found out to be complying to the requirement of the standardization process.
ISO (the International Organization for Standardization) is a worldwide federation of national standard-setting bodies (ISO member bodies). The work of preparing the International Standards is normally carried out through ISO technical committees. Each member body interested in a subject for which a technical committee has been established has the right to be represented on that committee.
International organizations, governmental and non-governmental, in liaison with ISO, also take part in the work. ISO 9001 is the international standard that focuses its requirements for a quality management system (QMS) including a strong customer focus, the motivation and implication of top management, the process approach and continual improvement. Organizations uses these standards to establish themselves as providers of quality products and services that meets the customers satisfaction.
According to Assistant District Engineer Alfredo L. Bollido, ISO 9001:2015 will be delivering many benefits to the office. These benefits are enhancing continuous improvement of the organization, leadership, managing risks, performance measurement and integrated approach. He also added the 6 Mandatory Documented Procedure (i.e. Control of Documents, Control of Records, Internal Audit, Control of Nonconforming Products, Corrective Action and Preventive Action) and the 5S Method (i.e. Sort, Straighten, Shine, Standardize and Sustain).
Through the leadership of our District Engineer, every Section Chiefs and its staff have cooperated with each other efficiently. The process on implementing projects has been improved and meets the deadline without compromising its quality.