P40M road project connecting school to national road near completion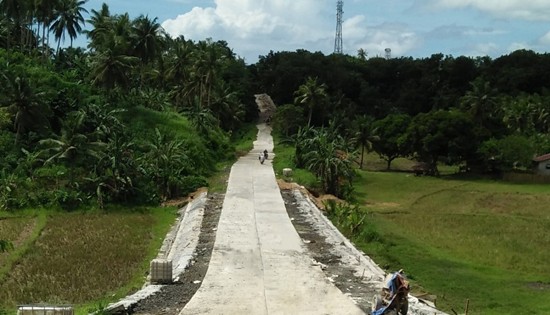 By JASON T. DE LOS ANGELES
November 17, 2017
CALBAYOG CITY – Samar First District Engineering Office substantially completes the Construction of the Missing Gaps connecting to National Road, including Road of Way (ROW), located at Rueda Extension near North West Samar State University (NWSSU) campus. It is accessible by a 2-minute motor ride from the City Proper.
The construction of 1.01 kilometer road project is implemented by DPWH-Samar I and is under contract with CDU Construction with a total appropriation of P40 million from the FY 2017 GAA Fund.
It is directly beneficial to the residents and the students from far-flung barangays because it serves as a shortcut when they go to work and school. Farmers and motorists no longer have to endure a longer travel time as they can expect better traffic condition from now on.
Mr. Renaldo Pactor, the caretaker of the NWSSU agricultural farm, said that this concrete road was a big benefit to them, because now their equipment and vehicle can pass through to transport their agricultural products and the students need not traverse through muddy land when going to school.
The newly paved roads ensure the robust economic growth in the city as the transfer of agricultural goods and other products is hastened.