DILG lauds "Harvest of Good Governance" in Eastern Visayas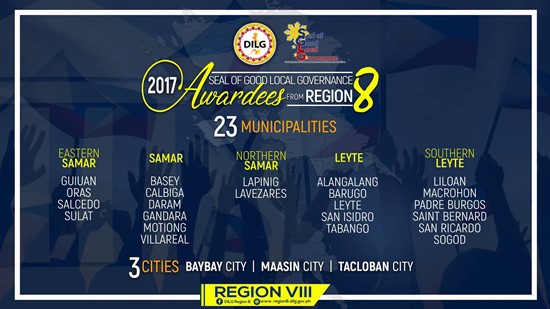 By Rena Fabilane & Myles Joseph E. Colasito
November 21, 2017
TACLOBAN CITY – "Good governance is everybody's business, not just that of local government units (LGUs), DILG or of national government. Good governance is equivalent to creating better life for the people," emphasized Regional Director Marivel C. Sacendoncillo of the Department of the Interior and Local Government (DILG) during a press conference on Popularizing and Sustaining the Seal of Good Local Governance (SGLG) Gains on November 20, 2017 at Ironwood Hotel, Tacloban City.
DILG launched the SGLG as an incentive program to encourage LGUs to embrace good governance. Twenty-six (26) of the 448 SGLG awardees nationwide are from this region, an increase from 12 in 2016 and seven (7) in 2015.
Three cities in the region (Baybay, Maasin and Tacloban) passed the SGLG. The 23 SGLG winner-municipalities are as follows: From Eastern Samar, Guiuan, Oras, Salcedo and Sulat. From Samar: Basey, Calbiga, Daram, Gandara, Motiong and Villareal. From Northern Samar the winners are Lapinig and Lavezares. From Leyte: Alang-alang, Barugo, Leyte, San Isidro and Tabango. From Southern Leyte: Liloan, Macrohon, Padre Burgos, Saint Bernard, San Ricardo and Sogod. The town of Barugo is the region's sole three-time SGLG winner.
Director Sacendoncillo lauded the LGUs for this "harvest of good governance" due to greater receptiveness among mayors of the SGLG. DILG-8 initiated a series of dialogs with LGUs and partner agencies and focused on closer mentoring to address the most challenging SGLG indicators. She sought the help of media and the public in creating a climate of good local governance by using SGLG indicators in demanding better performance from local officials.
The press conference led off with an overview of the SGLG by Pia Lovete, Chief of DILG-8 Local Government Monitoring and Evaluation Division, followed by the welcome remarks of DILG RD Sacendoncillo.
Present to share their insights were Mayors Ma. Rosario C. Avestruz of Barugo, Leyte; Ma. Luisa A. Menzon of Lapinig, Northern Samar; Atty. Melchor L. Melgar of Salcedo, Eastern Samar; Arnold James Ysidoro of Leyte, Leyte; Hermenigildo Culpa of Padre Burgos, Southern Leyte; as well as Atty. Irene Chiu representing Mayor Cristina G. Romualdez of Tacloban City.
In attendance were representatives of ABS-CBN, ATV24, Philippine Daily Inquirer/Leyte Samar Daily Express, Tacloban City Information Office, Philippine Star/Freeman, Business Mirror/EV Mail, Kaugop RTV, IBC 6, DYVL, Magik FM, Bombo Radyo, RMN Tacloban, and San Juanico Balita.
The mayors, who will receive the award in Manila on November 27, 2017, expressed gratitude to their hardworking employees and community for the SGLG award. They expressed resolve to sustain their efforts in complying with the expected new indicators in next year's SGLG evaluation.
The 2017 SGLG follows the "4+1 principle" where LGUs must pass all four Core areas: 1) Financial Administration, 2) Disaster Preparedness, 3) Social Protection, and 4) Peace and Order, which was added this year as a Core area. The areas considered Essential, which LGUs must pass at least one are: Business Friendliness and Competitiveness; Tourism, Culture and the Arts; and Environmental Protection.
SGLG winners can access the Performance Challenge Fund (PCF), which may be used for projects such as disaster risk reduction and management, local economic development, potable water and construction of local water impounding stations.