Eastern Visayas' inflation rate accelerates further by 5.7% in March
By PSA-8
April 17, 2018
TACLOBAN CITY – The annual Inflation Rate (IR) of Eastern Visayas accelerated further by 5.7% in March 2018. This IR was 1.4 percentage point faster compared to the 4.3% IR a month ago, and 2.8 percentage points faster than the recorded 2.9% IR in the same period last year. The regional inflation rate was 1.4 percentage point faster than the 4.3% national average in March.
Four provinces in the region – Biliran, Samar, Leyte, and Eastern Samar posted faster inflation rates in March compared with their figures in the previous month. On the other hand, Southern Leyte registered decreased IR, while Northern Samar had sustained its inflation rate from February. Northern Samar registered the highest IR at 7.1%, while Southern Leyte posted the lowest IR at 0.9% (Table 1).
By major commodity groups, Alcoholic Beverages and Tobacco, Housing, Water, Electricity, Gas and Other Fuels, Food and Non-Alcoholic Beverages, Transport, Furnishings, Household Equipment and Routine Maintenance of the House, Health, and Education exhibited higher annual growths from February to March.
Annual price changes in Clothing and Footwear slowed down from February to March. The rest of the commodity groups retained their previous month's rates.
The Purchasing Power of Peso (PPP) of the region was recorded at P0.82 in March 2018. This is weaker compared with the P0.83 PPP registered in the previous month. This PPP implies that goods and services worth 100 pesos in March 2018 only costs 82 pesos in 2012.
Biliran, Leyte, and Samar registered decreases in PPP compared with their figures in February. Southern Leyte recorded a 0.01 centavo increase in PPP, while the rest of the provinces had sustained PPP. Leyte recorded the strongest PPP at P0.85, followed by Southern Leyte at P0.84. Northern Samar and Samar, meanwhile, posted the weakest PPP at P0.77 (Table 1).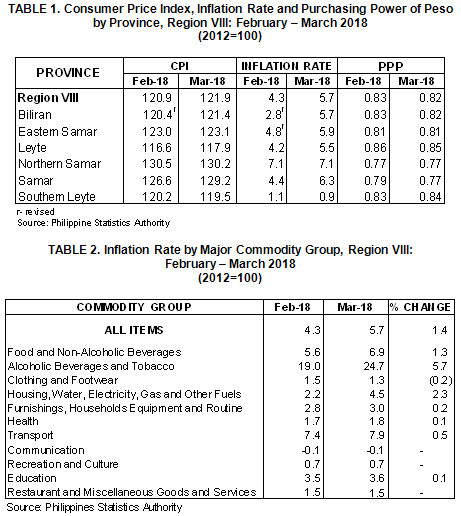 Envi groups, electricity coops, consumers decry corruption in CA overturn of ERC commissioners' suspension
Press Release
April 17, 2018
QUEZON CITY – A coalition of household electricity consumers, people's and environmental groups, faith-based groups, and electricity cooperatives slammed the Court of Appeals' issue of a permanent injunction against the Ombudsman's order of suspension of four ERC Commissioners alleged to be in collusion with Meralco and its affiliate coal-sourced electricity generation companies.
"For the second time, and to the grave detriment of public interest, the Court of Appeals has turned a blind eye to the rampant corruption being committed in the ERC," said Power for People Coalition Convenor and Sanlakas Secretary-General Atty. Aaron Pedrosa.
"In spite of well-established facts illuminating the favors given by key ERC officials to Meralco and its sister energy companies, the Court of Appeals halted these commissioners' rightful suspension and now has allowed them to return to their posts untouched," continued Pedrosa.
"Moreover, this permanent injunction by the Court of Appeals is an injunction against the cheaper, cleaner, and safer energy sources. The CA has sealed electricity consumers' fate to costly, dirty, and deadly energy," he said.
The Power for People (P4P) Coalition cited the graft charges filed by a number of petitioners in the Ombudsman against Commissioners Alfredo Non, Gloria Yap-Taruc, Josefina Patricia Magpale-Asirit and Geronimo Sta. Ana for their act of exempting the Power Supply Agreements submitted by Meralco and other major energy companies from the coverage of the Competitive Selection Process, a legally required process which seeks to ensure that electricity consumers are given the cheapest, most competitive source of electricity.
P4P Coalition Convenor Erwin Puhawan of Freedom from Debt Coalition also slammed the judicial body for "normalizing the culture of corruption within the Energy Regulatory Commission."
"The Court of Appeals keeps protecting these commissioners from the legal repercussions of their collusion with private companies – all under the guise of preserving the stability of ERC's operations," Puhawan said.
"But it is clear as day that the ERC has long been operating on corruption, and it is high time that the Commission is made to answer for its repeated violation of its public mandate. Otherwise, the public is doomed to suffer through dirtier and costlier electricity alongside the rising prices of other goods," he continued.
According to Cris Palabay from Save the Beauty of La Union, the contested Power Supply Agreements irregularly accommodated by the ERC all compel the generation of electricity from coal, an energy source known for being detrimental to the environment and to the health of coal-hosting communities.
"The Court of Appeals and the ERC are effectively allowing for the continuation of these coal companies' destruction of our communities," said Palabay whose group, Save the Beauty of La Union, is currently resisting the efforts of Global Luzon Energy Development Corp. (one of the questionable PSAs) to build two 335-MW coal-fired power generating facility in Brgy. Luna, La Union.
Center for Energy, Ecology, and Development (CEED) Legal and Policy Officer Atty. Avril De Torres also called out the coal industry's continuing influence over key agencies in the government, which in turn hinders the entrance and development of cleaner and cheaper alternative, renewable energy sources in the Philippine market
"At present, the cost of solar and wind are drastically decreasing, with recently the cost of wind at P3.50/kwh already leagues away from the present cost of coal. This is notwithstanding the current cost of solar which is at P2.99/kwh," stated De Torres.
"The cost of RE is projected to decrease even more in the coming years. If the ERC, with the help of the CA, goes on to greenlight the contested PSAs entered into by Meralco, they will be stealing at least 20 years of cleaner, more affordable energy from Filipino communities and electricity consumers," she continued.
Philippine Movement for Climate Justice National Coordinator Ian Rivera expressed alarm at what he called the administration's "repeated failure" to address corruption, an inaction that largely benefits corporations while exposing the public at large to burdens of costlier goods, and damaged communities and environment.
"The solution following the complaints against the ERC Commissioners has been very straightforward: to remove the accused commissioners from their posts and to immediately replace them in the continuation of ERC operations," said Rivera.
"Instead, gross inaction on the part of the administration has culminated to a resumption of posts by these highly contested commissioners who are now in the position to approve the Power Supply Agreements that greatly prejudice public interest," he continued.
"This incompetence in addressing corruption is a betrayal of the entire administration's promise to uphold an accountable government," he concluded.
78 private universities in NCR intend to hike fees
By National Union of Students of the Philippines
April 16, 2018
QUEZON CITY – Among the private universities and colleges in the National Capital Region (NCR), 78 submitted petitions to raise their tuition and other school fees.
National Union of Students of the Philippines (NUSP) spokesperson Mark Vincent Lim slammed the proposed fee increases as a sign of the "worsening system of profiteering" on education.
"Rising prices of goods and commodities due to the TRAIN Law have already been a great burden to Filipino families under the Duterte administration. Even the cost of education is no exemption. There are no signs that Duterte will stop fee increases so as to allow capitalist educators to amass more profits by selling education," said Lim.
According to the student union, private school owners already "milked" millions of pesos from the Filipino youth. Among those are Lyceum of the Philippines University (LPU), Far Eastern University (FEU), and University of the East (UE) who topped the list with at least 600 million pesos each in gross revenue for 2016 from collecting fees.
"At the end of the day, kawawa ang mga kabataan if the Commission on Higher Education (CHED) and the Duterte government will favor the interest of capitalist educators way more than the welfare of students. There is not a time in history when the interests of big businessmen were not factored in the policy making of CHED," claimed Lim.
Included in the 78 schools are Ateneo de Manila University, De La Salle University - Manila, De La Salle Araneta University, Far Eastern University, University of the East, Centro Escolar University, Adamson University, and University of Asia and the Pacific.
More profits from public funds
"Profiteering is not just about the collection of tuition and other school fees in private schools anymore. Capitalist educators found a way in tapping the public funds, which are supposedly intended for free education, for their profit," said Lim.
Lim added that the recently released implementing rules and regulations (IRR) of the free ed law allow owners of private schools to rake in profit from the national budget.
From the data gathered by the Union, the P40 billion funding for the "free education law" is allotted for various programs: P16 billion and P7 billion for free education in SUCs and in technical-vocational programs, respectively; P16 billion for the Tertiary Education Subsidy (TES), from which the tuition and other school fees of students in private schools can be billed; and P1 billion for student loans.
"Duterte's free and accessible education is just pure press releases and soundbites. While 1 in every 4 students of state universities and colleges (SUCs) still paid tuition and other school fees in AY 2017-2018, a huge portion of funding in the form of the TES go straight to the pockets of private school owners, at the expense of the students' right to free education. This is the government's way of assuring businessmen that they will not run out of enrollees and source of superprofits," added Lim.
"Duterte is exposed as insincere in making education more accessible to all. Collection of various fees is still rampant both in private and public schools. There is indeed a necessity for us to stand up against Duterte for his anti-student and pro-businessmen policies disguising as pro-student reforms. We call on the youth to carry out protest actions on April 19 in opposition to fees collection and increases in their respective campuses," ended Lim.
Duterte order to Calida and Alvarez to oust Sereno destroys system of checks and balances
By Movement Against Tyranny
April 10, 2018
QUEZON CITY – President Rodrigo Duterte's livid response to Chief Justice Ma Lourdes Sereno's acceptance speech in yesterday's Parangal Ng Kagitingan awards displays how he has swept away the checks and balances so necessary for democracies to function.
An irate Duterte said he would personally ensure Sereno's ouster from the Supreme Court: "I will egg (Solicitor General) Calida to do his best. Ako na mismo maglakad, magkalaban sa 'yo."
Duterte also said he would ask Congress to "go into the impeachment right away" and "to ask Speaker Alvarez now, kindly fast track the impeachment of Sereno."
Directly addressing Sereno, Duterte said: "Sige ka diyan, daldal nang daldal, sige, upakan kita. I will help any investigator, talagang upakan kita. I am putting you on notice na I am now your enemy and you have to be out of the Supreme Court."
In declaring himself an enemy of the Chief Justice and guaranteeing her ouster from the Supreme Court, the President also declared war on a Constitution that clearly stipulates the co-equal status of the executive, legislative and judicial branches of government.
Likewise, his brusque order for the House of Representatives to fast track an impeachment process his solicitor general has tried to derail gives lie to his efforts to wash his hands off this persecution of Sereno.
Speaker Alvarez's swift assurance that his lord's order be done only cements the reputation of the House of Representatives as a chamber of servile, venal politicians who have reduced Congress to a rubber stamp of Malacañang.
We challenge Supreme Court justices: pull back from the brink. Show the tyrant that there are lines you will not cross.
But we are sure of one thing. Even if our so-called democratic institutions crumble from the rot of corruption and the iron-hand of tyrannical rule, the Filipino people will resist, we will not give up the fight.
2 CNTs captured, 1 high powered firearm recovered in N. Samar
By DPAO, 8ID PA
April 6, 2018
CAMP LUKBAN, Catbalogan City – A platoon from 43rd Infantry (We Search) Battalion while conducting security patrol in Brgy. San Vicente, Catubig, Northern Samar encountered undetermined number of CPP-NPA Terrorists (CNTs) at around 4:05 A.M. April 5, 2018.
Troops were in the area to check the validity of the information relayed to them by the populace on the extortion activities of the armed group. The encounter resulted in the apprehension of two (2) suspected CNTs (their names are presently withheld) and the recovery of one M16A1 Elisco rifle SN:039188, two magazines long, two magazines short, 79 rounds for 5.56mm ammunition, one Lenovo laptop, three USB drive, one memory card, two card readers and, two cellphones. There was no casualty or injury on the government side.
Maj. Gen. Raul M. Farnacio, Commander 8ID lauded the troops for a job well done and urged them to be aggressive against the CNTs who continue to harass civilian communities thru armed threats and deceptions.
In his statement, Maj. Gen. Farnacio said that, "troops are there in the area to protect the people and safeguard the ongoing PAMANA Projects and other government projects in Northern Samar. This incident clearly shows that these CNTs are desperate to incur casualties to government troops to slow down the delivery of basic services of the government to the communities."
"This terrorist group is responsible for large-scale extortion activities, and other criminal acts that instill fear and anxiety in the hearts and mind of the peace-loving Filipinos that greatly affects their day-to-day activities," Farnacio added.
Duterte urged to sign Endo EO & free millions of Filipinos from bondage of contractualization
By ALU-TUCP
April 5, 2018
QUEZON CITY – Labor group Associated Labor Unions-Trade Union Congress of the Philippines-Nagkaisa (ALU-TUCP-Nagkaisa) is urging President Rodrigo Duterte to fulfill his promise to end the precarious short-term Endo work scheme in the country by signing the Executive Order drafted by labor groups and free millions of Filipino workers kept in poverty by contractualization arrangement.
"We are calling on President Duterte to read the latest Executive Order on contractualization that he asked us to draft which was submitted February 7 to his office during our dialogue with him in Malacanang," said Michael Mendoza, ALU-TUCP-Nagkaisa National President.
"This EO drafted by labor is consistent with Article 106 of the Labor Code which says that the DOLE Secretary may prohibit or regulate the contracting out of jobs. Further, the DOLE Secretary is just the alter ego of the President so the EO is feasible contrary to the views of some cabinet officials," said Mendoza.
"The President is a lawyer. By going through the draft, the President will find that labor groups are no longer pushing for an absolute, total ban on contractualization and that there is no need to transfer the end contractualization matter to Congress to amend the law. There's no need to amend any laws," explained Mendoza.
This latest version of the EO is different from the first and previous drafted EO from labor which practically abolishes the practice of all forms of short-term employment including contractualization, Endo (end-of-contract), and "555" (referring to five months contract duration).
In recognition of President Duterte's concern that an absolute ban on contractualization may discourage new investors in the country, labor organizations revised the first EO draft by giving business-owners flexibility to hire the services of contractual or seasonal jobs on top of the regular and directly-hired workforce.
Section 2 of the EO drafted by labor group says that: "The Secretary of Labor and Employment may, however, in consultation with the National Tripartite Industrial Peace Council under Article 290 of the Labor Code, as amended, by appropriate regulations, determine activities which may be contracted out."
On the other hand, Article 106 of the Labor Code says: "The Secretary of Labor and Employment may, by appropriate regulations, restrict or prohibit the contracting-out of labor to protect the rights of workers established under this Code. In so prohibiting or restricting, he may make appropriate distinctions between labor-only contracting and job contracting as well as differentiations within these types of contracting and determine who among the parties involved shall be considered the employer for purposes of this Code, to prevent any violation or circumvention of any provision of this Code."
"We hope the President would fulfill and not renege on his commitment to free millions of workers from the bondage of abusive labor slavery under contractualization. We hope he would keep his promise to end contractualization," said Mendoza.
Around 30 million Filipinos of the 41 million labor force are working under contractualization scheme without security of tenure and other benefits received by regular workers. They are paid poverty wages, and accorded with poor social protection insurance benefits despite having rendered labor throughout their productive years.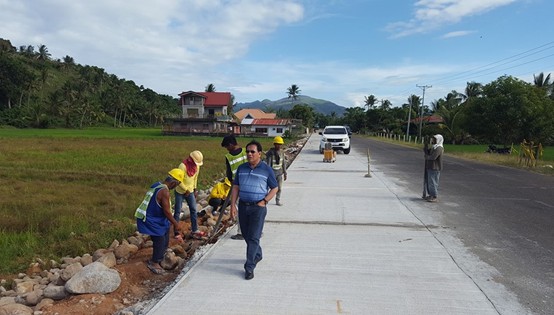 District Engineer David P. Adongay Jr., (wearing shades) inspects the on-going road widening project along Biliran Circumferential Road (BCR) - Burabod, Biliran Section on March 6, 2018. Completion of this project will accommodate huge number of vehicular users. It is target to be completed on May 1, 2018.
DPWH-Biliran DEO's 2017 projects posts 67.93% accomplishment
By DPWH-BDEO
April 4, 2018
NAVAL, Biliran – Engr. David P. Adongay Jr., District Engineer of the Department of Public Works and Highways Biliran District Engineering Office (DPWH-DEO) said that the district will finish the on-going 2017 projects based on their target schedules.
Biliran DEO posts 67.93% accomplishment for 2017 projects with a negative slippage of 5.55% as of March 31, 2018. This is already behind of the district's 73.48% planned target accomplishment.
Adongay said that contractors were ordered to speed-up the implementation of the on-going 2017 projects for completion.
"Ginagawa talaga namin ngayon, una, we are requiring the contractor to render overtime even during night time. Pangalawa, to add their additional resources, yung mga equipment nila," said Adongay.
Adongay revealed that delayed projects for 2017 implementation were those projects with an allocation budget of P50M and above.
"Projects more than P50M were delayed because the approval of the authority to bid and implement just happened on the 1st quarter of year 2017," he said.
As of March 31, 2018, out of the 57 projects, 51 were completed while six are on-going.
Among the on-going projects for year 2017 implementation are the P61M Rehabilitation of Slope Protection along Naval-Caibiran Cross Country Road (NCCR), P54M Access Road Leading to Naval Port, P49M Rehabilitation of Slope Protection along Biliran Circumferential Road (BCR), P172M Widening along Biliran Circumferential Road (BCR) and another P125M Widening along BCR on six road sections and P128M Rehabilitation of Maripipi Circumferential Road.
Aside from the late approval to implement the projects, Adongay said that the devastation of typhoon Urduja last December, 2017 is also one of the main reasons for the delay of project implementation in the province.
"Naapektuhan tayo sa pagtransport ng ating aggregates, kasi yung ating CarayCaray Bridge hindi madadaanan ng Malaki (heavy vehicles), so they have to travel to the alternate road which is 90 kms, malayo din yun," he said.
The CarayCaray Bridge is one of the main bridges of the province which was damaged by the onslaught of typhoon Urduja. It is the only shorter access in going in and out of Mainland Leyte.
According to Adongay, remaining 2017 projects will be finished on May and June this year except for the Maripipi Circumferential Road which is scheduled to be completed on October, 2018 because of the difficulties in transporting the equipment and materials to the island town.
"With the good weather, hindi naman sana mangyari yung katulad sa Urduja, walang reason na hindi namin matatapos lahat to'," Adongay said.
DTI-DOST to expand MSME marketing capabilities through OneSTore.ph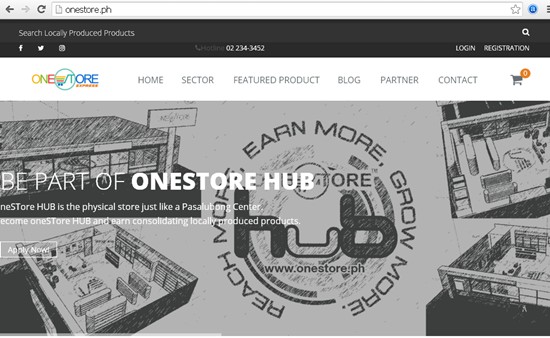 By DTI-ROG
April 4, 2018
MAKATI CITY – The Department of Trade and Industry (DTI) will tie up with the Department of Science and Technology (DOST) to help micro, small and medium enterprises (MSMEs) expand their market and reach clients online with the OneSTore.ph.
"MSMEs are the backbone of the Philippine economy. And as part of President Rodrigo Duterte's whole-of-government approach to assist MSMEs, we are teaming up with DOST to impact the lives of more Filipino entrepreneurs," said DTI Secretary Ramon M. Lopez.
The OneSTore.ph is a first government e-commerce platform (Business–to-Customer and Business-to-Business platform) dedicated to marketing high-quality Filipino products of MSMEs through the worldwide web by "bringing quality products at Filipino doorsteps."
This comes as DTI intensifies marketing capabilities of MSMEs to help them reach the mainstream market.
Under the OneSTore.ph agreement, DTI will promote the oneSTore.ph to MSMEs through Negosyo Centers as a platform where they can market their products on-line.
At the same time, DTI will make Negosyo Centers accessible to clients of DOST and allow clients to display and dispatch their products with its payment and logistic partners in One Town One Product (OTOP) Philippines HubStores, subject to availability of space and to DTI priorities and promote oneSTore and provide signage for the spaces provided for oneSTore.ph and oneSTore hub in every OTOP Store identified as co-branded hub, among others.
The One Town, One Product (OTOP) Philippines is DTI's collaborative program with national government agencies and local government units as a customized intervention to level up the products of various localities and drive inclusive local economic growth.
DOST, on the other hand, will develop and maintain oneSTore.ph where its accredited Regional Hubs and MSMEs may sell products and services to its clients and engage with payment and logistics partners and provide better oneSTore.ph services to its accredited Regional Hubs, MSMEs and its partner agencies.
DOST will also provide priority to jointly identified OTOP products for product development initiatives including improvements in packaging and labeling, subsidy or discounts in testing fees, equipment support such as the Small Enterprise Technology Upgrading Program (SETUP), and strengthen research and development efforts.