Inflation rate in Eastern Visayas eases to 2.0% in April 2019
By PSA-8
May 22, 2019
TACLOBAN CITY – The Inflation Rate (IR) in Eastern Visayas eased to 2.0 percent in April 2019. This IR is 0.1 percentage point lower compared with the 2.1 percent IR a month ago, and 3.4 percentage points lower compared with the 5.4 percent IR recorded in the same period last year. The regional inflation rate is 1.0 percentage point lower than the 3.0 percent national average in April 2019.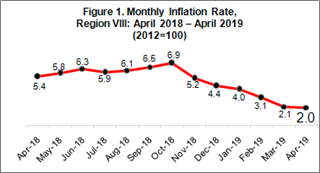 The provinces of Biliran, Eastern Samar, Samar and Southern Leyte registered lower IRs in April 2019 compared with their figures in the previous month. Eastern Samar recorded the biggest drop of 1.9 percentage points, from 3.7 percent in March 2019 to 1.8 percent in April 2019. On the other hand, Leyte and Northern Samar registered 0.3 percentage point increase each settling at 3.5 percent and 1.6 percent, respectively in April 2019. Biliran posted the lowest with negative IR at 2.0 percent. Leyte, meanwhile, recorded the highest IR during the month in review at 3.5 percent (Table 1).
Among the commodity groups, Housing, water, electricity, gas and other fuels commodity group registered the highest decrease of 1.6 percentage points, from 1.8 percent in March 2019 to 0.2 percent during the month in review.
The heavily weighted food and non-alcoholic beverages declined by 0.5 percentage point to 2.5 percent in April 2019 from its previous month's rate of 3.0 percent. Higher inflation rates noted in vegetables; sugar, jam, honey, chocolate and confectionery products; oils and fats; milk, cheese and eggs; and non-alcoholic beverages were offset by the slower price increases in rice; bread and cereals; food products not elsewhere classified; fruits; fish; corn; and meat. Rice registered the biggest drop of 1.2 percentage points, from 1.4 percent in March 2019 to 0.2 percent in April 2019. Fruits index continued to register a negative inflation rate at 5.1 percent.
Slower IR was also exhibited in health at 3.5 percent registering a 0.1 percentage point decrease from its figure a month ago.
Meanwhile, transport IR increased to 5.5 percent during the reference month, 3.5 percentage points higher compared with the 2.0 percent IR in March 2019. This can be traced to higher IRs in the indices for transport services and operation of personal transport equipment.
IR for the commodity groups of alcoholic beverages and tobacco; and furnishings, household equipment and routine maintenance of the house increased by 0.7 percentage point each, settling at 4.1 percent and 5.9 percent, respectively, during the month in review.
Restaurant and miscellaneous goods and services increased to 2.3 percent in April 2019 from 2.0 percent last month. While clothing and footwear inched up to 2.9 percent during the month in review from 2.8 percent in March 2019.
The Purchasing Power of Peso (PPP) of the region remained at P0.80 in April 2019. This PPP implies that goods and services worth 100 pesos in April 2019 only cost 80 pesos in 2012.
Biliran and Eastern Samar registered a 0.01 centavo increase in their PPP compared with their figures in March 2019, while Leyte recorded a 0.01 centavo decrease. The rest of the provinces sustained their PPP last month. Biliran recorded the strongest PPP at P0.84. Southern Leyte ranked second at P0.82, followed by Leyte at P0.81 and Eastern Samar at P0.79. Northern Samar and Samar posted the weakest PPP at P0.76.
Brigada Eskwela, band aid solution to degenerating basic public education
By Alliance of Concerned Teachers
May 20, 2019
QUEZON CITY – As teachers, students and parents troop to public schools today for the first day of Brigada Eskwela, the Alliance of Concerned Teachers said that the program is a 'manifestation of the degenerating state of basic public education' and that the National Schools Maintenance Week is a 'mere band aid solution to the convulsions of the educational system.'
"The concept of 'bayanihan' to promote community appreciation and sense of responsibility towards education could have been good if it is not depended on as the alternative to fill in the gaps which the government refuses to address," said Joselyn Matinez, national chairperson of ACT Philippines.
ACT argued that the approved 2019 budget exposes the government's lack of vision to improve the fundamental learning environment of students as only P25.7 billion was allocated as Maintenance and Other Operating Expenses for the operations of more than 50,000 basic public schools nationwide. The 2019 General Appropriations Act allotted some P13.2B for the operations of elementary schools; P9.7B for junior high schools; and P2.8B for senior high schools.
"The school operations budget only amounts to a little over P1,000 per student for the whole year. This shall cover expenses in electricity, water, communication, transportation, school-based trainings, supplies and even minor repairs," explained Martinez.
She pointed out that the allocation, while 12.7% higher than last year's, will do nothing to upgrade the learning environment in schools as it will only be enough to cover the increase in the cost of operations due to the steep inflation last year, following the implementation of the TRAIN Law.
"The budget is all the indication we need to say that the Duterte government has no plans of saving our public schools from deterioration. With Brigada Eskwela, the state tries to gloss over this neglect by passing over the responsibility to teachers, students, parents and the community," explained Martinez.
Martinez added that Brigada Eskwela is a great burden and challenge to teachers as they were pressed to raise funds and mobilize people for the maintenance works needed to prepare the classrooms in time for the school opening.
"The teachers know very well the importance of having a conducive environment so that there will be an effective learning process in the classroom. Making this the teachers' burden, however, is unfair. They are even pressed to solicit for financial and material support which lay them vulnerable against criticisms and allegations of corruption," lamented Martinez.
ACT maintained that however the Department of Education pursue Brigada Eskwela, 'it can never and will never effect qualitative improvement in the school's learning environment.' The group said that what it can do at most is to 'pump in the barest essentials just so that the rotting educational system may operate.'
Around 30,000 new businesses registered from Jan to May 2019
Total registered businesses now 1.42 million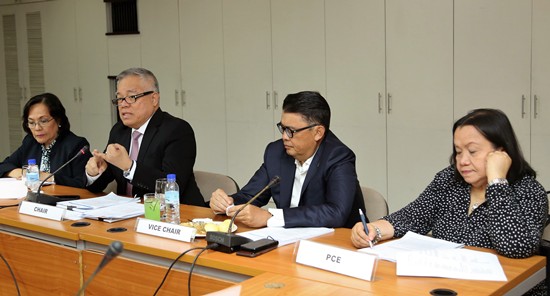 From L to R: DTI Undersecretary Zenaida Maglaya, DTI Secretary and MSMED Council Chair Ramon Lopez, Presidential Adviser on Entrepreneurship and MSMED Council Vice Chairman Jose Ma. Concepcion III, and Go Negosyo Adviser on MSME Development Merly Cruz at the 11th MSMED Council meeting on 14 May 2019.
By DTI-OSEC-PRU
May 20, 2019
MAKATI – The MSME Development (MSMED) Council reported that registered businesses in the Philippines climbed to 1.42 million in May 2019 from 1.39 million in December 2018. This is around 30,000 new businesses in five months. Trade Secretary and MSMED Council Chair Ramon Lopez said this indicates that it's a good time to do business in the Philippines, given that the country is the 2nd fastest growing economy in the ASEAN region.
During the 11th MSME Development Council meeting on 14 May 2019, Sec. Lopez said that programs for micro, small, and medium enterprises (MSMEs) should be felt at the barangay-level. The MSMED Council, composed of public and private sector representatives, is the group tasked to advance the interests of Filipino MSMEs.
"Part of fulfilling President Rodrigo Duterte's promise of Tapang at Malasakit is providing job and business options to help Filipinos live more comfortable lives. So even if the DTI's budget is only up to the provincial-level, we will find ways for our programs to reach MSMEs at the grassroots," said Sec. Lopez.
The Department of Trade and Industry (DTI) further committed to inform the public on the benefits of the Barangay Micro Business Enterprise (BMBE) law. Sec. Lopez clarified that entrepreneurs can still register as single proprietors in DTI, even after the Securities and Exchange Commission (SEC) allowed the registration of one-person corporations. This is due to the much simpler registration requirements in DTI.
The MSMED Council is also looking into synchronizing statistics produced by the Philippine Statistics Authority (PSA) and the National Economic Development Authority (NEDA) on MSMEs. It also wants to count the MSMEs in the informal sector, or those who have yet to get business permits. These statistics, according to the Council, will help DTI, Bangko Sentral ng Pilipinas (BSP), and other finance institutions grasp where microfinancing is needed.
Upcoming events for MSMEs include the MSME Summit in July and the three-leg Youth Entrepreneurship Program Roadshow in Visayas by June, Cebu by July, and Luzon by November.
Also present during the MSMED Council meeting were Presidential Adviser on Entrepreneurship and MSMED Council Vice Chairman Jose Ma. Concepcion III, DTI Undersecretary Zenaida Maglaya, Assistant Secretaries Jean Pacheco and Blesila Lantayona, Bangko Sentral ng Pilipinas Director Pia Roman-Tayag, Small Business Corporation OIC-EVP Melvin Abando, Credit Information Corporation (CIC) President Jaime Garchitorena and private sector representatives Jim Ayala (MSME Sector), Jeannie Javelosa (Women), Archie Florendo (Youth), and representatives from the labor, banking, and microfinance sectors.
DPWH adopts a school in Carigara, Leyte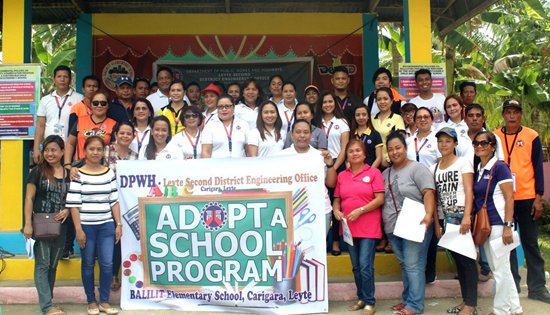 By DPWH 2nd LED
May 17, 2019
CARIGARA, Leyte – A more conducive learning facility will welcome the pupils of Balilit Elementary School in Carigara town, the recipient of "Adopt-a-school" project of the Department of Public Works and Highways (DPWH) field office here.
On May 16, 2019, employees of the department volunteered at the said school for the repair and repainting of tables and chairs, cleaning of classrooms, and beautification of school grounds.
According to Gerald Pacanan, DPWH Leyte 2 head engineer, this is the first time that the district conducted this type of activity through the initiative of the organization.
"Employees whole-heartedly donated for the funding of this program. I am glad that despite heavy workloads in the office and short time of preparation, we still manage to realize this project," he said.
Aside from helping in various school preparation activities, the office also distributed bags with school supplies and a pair of slippers to each pupil of the recipient school.
Clarissa Delos Santos, Balilit ES School Head, expressed her sincere gratitude to the whole DPWH family. She added that this is timely occasion for them as they will represent their area for the small category best Brigada Eskwela implementor.
Aside from this adopt a school program, DPWH will also deploy its maintenance force at various campuses for the weeklong Brigada Eskwela on May 20-24, 2019.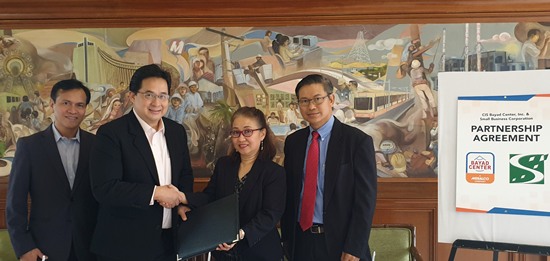 In photo (from L-R) are CIS Bayad Center Inc. SVP & COO Francispito P. Quevedo, CIS Bayad Center Inc. President & CEO Manuel L. Tuason, SB Corp President and CEO Ma. Luna Cacanando and SB Corp Board of Director Santiago Lim.
SB Corp partners with Bayad Center
By DTI-ROG-SB Corp
May 17, 2019
MAKATI CITY – The Small Business Corporation (SB Corp.), the financing arm of the Department of Trade and Industry (DTI), recently partnered with the country's pioneer in outsourced bills payment collection industry CIS Bayad Center, Inc. for its loans payment collection.
"Having an accessible and reliable payment facility is very important to the MSME sector. With this recent partnership, our MSME clients will have access to a payment facility near them with longer business hours than that of most banks," SB Corp President and CEO Ma. Luna Cacanando said.
Cacanando added that with the Pondo sa Pagbabago at Pag-asenso (P3) Program in full swing, SB Corp needs a loan collection partner that is known to many and has presence even in rural areas.
The P3 Program now has nearly 400 conduits and more than 80,000 micro borrowers nationwide.
Under the P3 Program, a micro enterprise can borrow P5,000 up to P200,000 depending on its business need and repayment capacity without collateral. For the loans, the interest rate and service fees are capped at 2.5 percent per month.
"Being the pioneer in outsourced bills payment collection, we have earned the confidence of the paying public. With Bayad Center's network, SB Corp's clients can now pay their loan amortization conveniently at any Bayad Center Branches and Authorized Partners nationwide," Bayad Center President & CEO Manuel Tuason explained.
Through the partnership, SB Corp loan clients can now pay their regular loan amortization at the nearest Bayad Center starting this June.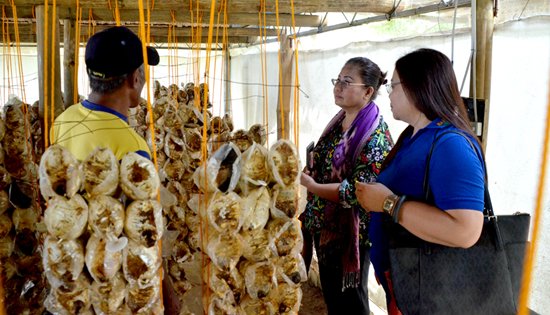 Pablo Silva (back to camera), President of the Sumangga United Farmers Association (SUFA), shows to Regional Director Sheila Enciso (right) and Assistant Regional Director Ma. Fe Malinao of the Department of Agrarian Reform their mushroom production project.
Installed ARBs now live a better life
By JOSE ALSMITH L. SORIA
May 8, 2019
ORMOC CITY – Regional Director Sheila Enciso of the Department of Agrarian Reform (DAR) was amazed how the agrarian reform beneficiaries (ARBs), the DAR installed into their awarded lots in recent years, have improved their quality of lives.
Last week, Enciso, accompanied by Assistant Regional Director for Administration and Land Tenure Security Program, Ma. Fe Malinao together with the Municipal Agrarian Reform Program Officers of Ormoc and Tacloban, and Chief Agrarian Reform Program Officer Tomas Martinez, visited seven ARB organizations who were installed into their awarded lots under the Comprehensive Agrarian Reform Program (CARP) from 2016 to 2018 in different areas here and in adjacent Kananga town with the help of KAISAHAN, a non-government organization.
She was surprised to see the big difference in the ARBs faces and stories they tell before and at present.
These ARBs received their certificates of land ownership award (CLOAs) many years ago, but struggled for 16 to 20 years before they were able to take possession of the awarded lots either due to strong resistance from the previous landowners or conflict between two contending groups of farmers.
Enciso was happy to see these farmers, who once stared fiercely due to frustrations, now smiling and full of inspiring stories to tell, because aside from the support services extended by DAR, they also get assistance from other government agencies.
In Barangay Sumangga, Pablo Silva, 56, president of the Sumangga United Farmers Association (SUFA), installed in 2016, showed to Enciso their livelihood project, a mushroom production they started in December last year through the assistance extended by the Department of Science and Technology (DOST).
Silva disclosed that mushroom production is one of their sources of livelihood now. Mushroom grows fast and are sold at P300 for every kilo, Silva shared.
He added that in a day they could harvest nine kilos.
In Barangay Dolores, Benedicto Taneo, president of the Dolores Farmers Association (DOLFA), brought Enciso to their demo farm and shared that they will soon be graduating from the Farmer Field School (FFS) facilitated by the City Agriculturist's Office.
He disclosed that after FFS, they will be venturing in upland rice (locally known as calinayan) production and marketing.
In Barangay Salvacion, Bienvenido Matuguina shared that he invested part of his income, derived from the sugarland awarded to him, in calamansi production. At present, he has more than 100 calamnsi-bearing trees planted in another lot.
He also disclosed that their organization, the Salvacion Farmers Association, has likewise 300 calamansi trees planted in preparation for the calamansi processing project they are planning to venture once the project proposal they submitted to DOST is approved.
In Barangay Sabang Bao, Enciso was caught by surprise when the ARBs, who were installed in April last year, were already harvesting rice in their awarded lots when she arrived; while in Barangay Montebello, the ARBs were peacefully preparing their once contested land to be planted with corn.
Meanwhile, Arnulfo Perez whom we had interviewed two years ago, proudly announced that he is now the president of their organization, the Valencia Small Farmers Association (VASFA).
In the afternoon of the same day, all concerned ARBs gathered in Barangay Montebello for a dialogue with Enciso.
During the said occasion, Enciso expressed her happiness upon seeing them living an improved quality of life as envisioned under CARP.
She likewise reminded the ARBs to continue keeping the land productive. Further, she encouraged those who have children entering college this coming school year to avail of the DAR Scholarship Program for the Dependents of Agrarian Reform Beneficiaries (DSP-DARBs), a new assistance program extended by the agency to its ARBs.
DPWH paves road leading to Calabato Hot Spring in Leyte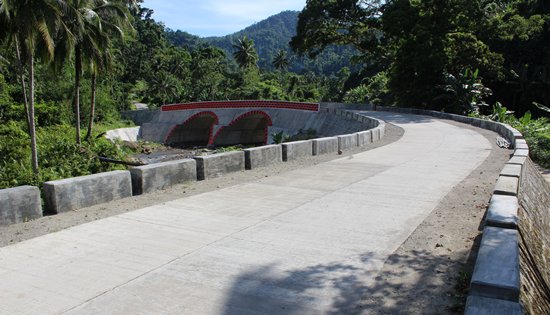 By DPWH 2nd LED
May 8, 2019
LA PAZ, Leyte – The road leading to Calabato Hot Spring in La Paz town is now serving the public with new concrete pavement, the Department of Public Works and Highways Leyte second district engineering office reported.
The government has poured out a total of P46 million for the concreting of 1.6592-kilometer two-lane road and construction of an arch bridge.
According to Gerald Pacanan, lack of convenient road access has been a problem by the local government here, prompting the agency to allocate funds for the road development project.
"Tourism is a great contributor for economic progress. That is why the DPWH and the Department of Tourism has strengthened its program in building more roads leading to tourist's destination," he said.
He added that the district also plans to develop the entire 8-kilometer road and install solar street lights.
"Communities living in this area will also benefit from this. Since most of them are farmers, this road network development will provide access to all kinds of vehicles, thus, transportation of commodities will be easier and cheaper," Pacanan said.
As of now, the local government of La Paz is continuously developing the town's top tourism destination after it was damage by super typhoon Yolanda in 2013. Number of visitors are also expected to rise.
DPWH-QAU inspects infra projects in Leyte 2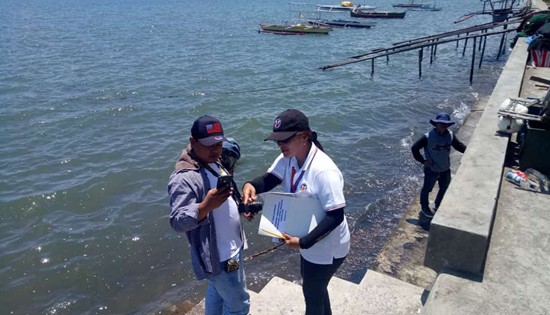 By DPWH 2nd LED
May 8, 2019
CARIGARA, Leyte – To ensure that all infrastructure facilities are in highest efficiency and quality in construction, the Department of Public Works and Highways (DPWH) – Quality Assurance Unit (QAU) conducted a two-day inspection of projects in Leyte second district.
QAU engineers, Esler Doblas and Dennis Racines led the inspection on May 2-3, 2019. Assigned engineer of each project accompanied the inspection team to provide necessary inputs and data regarding the project.
According to DE Gerald Pacanan, it is important that each infrastructure project is strictly compliant to the design and standard specifications of the department.
"Through this regular inspection of projects, we are able to monitor the quality of these structures and if there are issues, we can immediately address them," he said.
Among the projects inspected were the flood control structure in Pastrana town, flood mitigation and drainage system in Dulag, seawall in Capoocan, Multi-purpose building in Burauen, and road rehabilitation projects along Bagahupi-Babatngon-Sta. Cruz-Barugo-Carigara road and Palo-Carigara-Ormoc road.
"Building quality and safe infrastructure facilities is our utmost concern. So, we will continue to strengthen the monitoring of our project implementation," Pacanan said.
The QAU is a quality audit that conducts regular assessment to continuously monitor and assess the on-ongoing and completed projects undertaken by the district. The auditors aim to check whether all infrastructure projects are implemented in compliance to palns and standard specifications of the department.
Newly promoted civil engineers of Biliran DEO take oath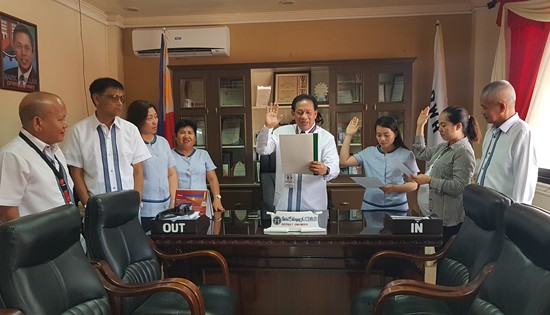 By DPWH Biliran
May 7, 2019
NAVAL, Biliran - Two newly promoted Civil Engineers (CE) of the Department of Public Works and Highways (DPWH)- Biliran District Engineering Office (DEO) take oath for Engineer II positions.
District Engineer David P. Adongay Jr. administered the oath-taking ceremony at his office on April 29, 2019.
The newly promoted CEs, Engr. Frechbee Sabile and Engr. Gloria Barbanida sworn in witnessed by Alfredo L. Bollido, Assistant District Engineer, Engr. Rosario B. Rosete, Chief of Planning and Design Section, Engr. Salvador G. Regis Jr., Chief of Construction Section, Mr. Bern L. Calomadre, Chief of Administrative Section, and Ms. Ma. Rosario Sorilla, Rank and File Employees Association (RFEA) President.
Engr. Sabile and Engr. Barbanida are both job order workers of Biliran DEO assigned in the Planning and Design Section and Construction Section respectively prior to their promotion.
Meanwhile, one electrical engineer also took oath for Engineer II position on March 18, 2019. Engr. Carl Mark D. Pedrera fill-in the Engineer II (Electrical Engineer) position vice Engr. Cesar D. Cordeta, retired.
Mr. Pedrera is assigned in the Planning and Design Section as electrical engineer where his plantilla position belongs.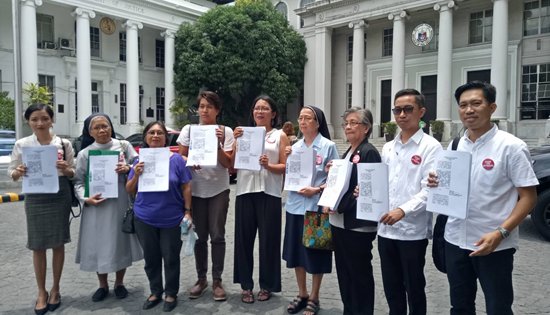 Representatives of Karapatan, Rural Missionaries of the Philippines (RMP), and Gabriela file a petition for the writ of amparo at the Supreme Court today, May 6. The petitioners include Karapatan Secretary General Cristina Palabay, RMP National Coordinator Sr. Elenita Belardo, Gabriela Secretary General Joan May Salvador, Karapatan Deputy Secretary General Roneo Clamor, and Karapatan National Council Members Edita Burgos and Jose Mari Callueng.
Karapatan, RMP, and Gabriela seek legal protection vs. threats, vilification at the Supreme Court
By KARAPATAN
May 6, 2019
QUEZON CITY – On May 6, 2019, Karapatan, together with Rural Missionaries of the Philippines (RMP) and Gabriela, with the assistance from lawyers of the National Union of People's Lawyers (NUPL), filed petition at the Supreme Court to seek legal protection from threats to life, liberty and security, amid accusations of being fronts of the Communist Party of the Philippines. Their petition for the writs of amparo and habeas data also sought for the disclosure and destruction of all files or record on the petitioners gathered by the respondents.
"Our filing of the petition for the writs of amparo and habeas data is a response to the worsening attacks, terrorist-tagging by the Philippine military and the ongoing smear campaign against human rights defenders. Human rights advocacy is not a crime, yet human rights workers are being killed, threatened, harassed, and jailed on trumped up charges. We have never taken all these attacks sitting down, as we continue to work to confront this perilous political climate with all available remedies," said Karapatan National Chairperson Elisa Tita Lubi.
Karapatan underscored that the dangerous rhetoric of the military, President Duterte, and his officials labeling the organization as a CPP-NPA front has resulted to glaringly numerous killings and other human rights violations against its human rights workers. "Moreover, the red tagging and labeling which emanated from the national task force to end local communist insurgency further aggravated the threats against the life, liberty and security of the petitioners because it is an expression of a government policy directed against legitimate civil society organizations, activist and human rights defenders in this case," according to the petitioners.
The organization cited the killings of its human rights workers and paralegals, including Karapatan Southern Mindanao Deputy Secretary General Benjaline Hernandez in April 2002, Karapatan Southern Tagalog Secretary General Eden Marcellana in April 2003, Karapatan Negros Oriental coordinator Elisa Badayos who was killed while leading a fact finding mission in November 2017, Kawagib rights worker Mariam Uy Acob who received threats from the military before she was killed in October 2018, and Escalante City councilor Bernardino "Toto" Patigas of Negros Occidental who was recently killed on April 23. Patigas, a long-time human rights advocate and a survivor of the Escalante massacre, was included in a poster of CPP-NPA sympathizers allegedly disseminated by the police. A few hours after Patigas was killed, Karapatan Secretary General Cristina Palabay and Clarizza Singson of Karapatan Negros received death threats through text messages.
"From 2001 to 2019, at least 48 human rights defenders of Karapatan have been killed by State forces. Most, if not all, of our human rights workers, even our former colleagues, are subjected to threats, surveillance, harassment, red-tagging, and judicial harassment. We have been publicly vilified even in online spaces, and we frequently receive death threats through text messages. Our chairperson was included in a malicious petition proscribing the CPP-NPA as a terrorist organization. These attacks can only come from those who see our work and advocacy for people's rights, our monitoring and documentation of human rights violations, our direct assistance to victims and kin, and our provision of platforms for human rights education as threats to the current status quo. Human rights defense and activism is not a crime; it is a right protected by international covenants and agreements as well as the Philippine Constitution," said Karapatan Secretary General Cristina Palabay.
The petition also cited incidents of red-tagging perpetrated by President Rodrigo Duterte himself, in six recorded and live telecast speeches, wherein Duterte maliciously tagged Karapatan as a "communist front." In response to Karapatan's allegation letter on these incidents, UN Special Rapporteur on the Promotion and Protection of the Right to Freedom of Opinion and Expression David Kaye, UN Special Rapporteur on Human Rights Defenders Michel Forst, and Special Rapporteur on the Promotion and Protection of Human Rights and Fundamental Freedoms While Countering Terrorism Fionnuala Ni Aolain sent a communication to the Philippine Government on April 23, 2018, which read in part as follows:
"Concern is expressed over the repeated, threatening and vilifying statements made by President Duterte, targeted at KARAPATAN, ostensibly due to the organisation's continued work in the defence of human rights. Further concern is expressed over the impression that such alleged statements, which distort the public narrative on human rights defenders and conflate their work with threats to national security, may have on the public and civil society, especially when delivered by the Head of State. In particular, we are concerned that the President's comments foster an intolerance and hostility which, considering his influence as a political leader, may lead to persons being incited to exercise violence against KARAPATAN and its members, who are already facing a severely hostile environment. We are concerned that such speech by the President undermines not only the work of civil society, but also the faith of civil society in State institutions and, thus, the quality and level of their participation in democracy."
Despite these views previously expressed by UN independent experts, Duterte and his officials continued their vilification of Karapatan. Among the recent incidents mentioned in the petition is the government junket by members of the national task force (NTF) to end local communist and armed conflict, which includes military officials who made rounds in diplomatic missions in the European Union to red-tag Karapatan, Ibon International, RMP, and even community schools in Mindanao. Belgian NGO partners of the AFP-targeted organizations spoke out in defense of Karapatan and their Philippine partners, attesting to the years of work and human rights advocacy of the rights groups under attack.
Respondents to the said petition are President Rodrigo Duterte, Gen. (Ret.) Hermogenes Esperon Jr., Maj. Gen. (Ret.) Delfin Lorenzana, Presidential Spokesperson Salvador Panelo, Gen. Benjamin Madrigal Jr., Brig. Gen. Fernando Trinidad, Maj. Gen. Erwin Bernard Neri, Lt. Gen. Macairog Alberto, Maj. Gen. Antonio Parlade Jr., Alex Paul Monteagudo, Vicente Agdamag, Senior Supt. Omega Jireh Fidel, and Undersecretaries Joel Sy Egco, Severo Catura and Lorraine Marie Badoy.
Members of Karapatan's National Executive Committee and National Council filed the petition on behalf of the alliance, which includes Lubi, Palabay, Karapatan National Vice Chairperson Reylan Vergara, Deputy Secretary General Roneo Clamor, Treasurer Kiri Dalena, and NC members Dr. Edita Burgos, Fr. Wilfredo Ruazol, and Jose Mari Callueng.
"We are appealing to the Supreme Court to see the merit of our petition, the dangers of our work, and eventually decide in favor of human rights defenders who have courageously stood alongside marginalized sectors in the country. We call on the Supreme Court to recognize that our work and activism involves the full exercise of our civil and political rights, and is in no way tantamount to a crime," Palabay ended.